Glastonbury Dance Platform, Shangri-La Somerset, England, Hot Utopian Bliss Project
Graviton – Glastonbury Dance Platform
Glastonbury Dance Stage, Somerset, England, UK: HUB design by Studio Weave
29 Jun 2010
Glastonbury Dance Platform
GRAVITON – HUB (Hot Utopian Bliss) Space, Shangri-La
Design: Studio Weave
'Charred reclaimed timber, light, smoke, resin jewel'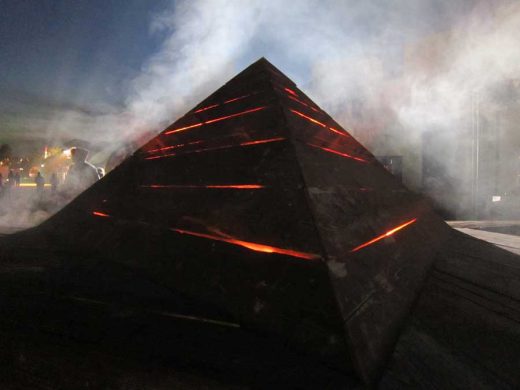 photos courtesy of architects
As resources grew scarce, and the citizens became preoccupied with preserving their paltry property, latecomers too slow or too cowardly to have exploited the paradise, and those too hedonistic to foresee its decline, were left with nothing to defend. Angry and adolescent, they began to hoard in the outlands; rescuing the dregs of fires and stealing debris from the wealthiest, they hunkered, biding their time.
They were ignored, written-off by their neighbours as mad or as pitiful. Until, when completely forgotten, at the dark core of the Hot Utopian Bliss, they brazenly built their own pseudo-monument to their pleasure ground that never was…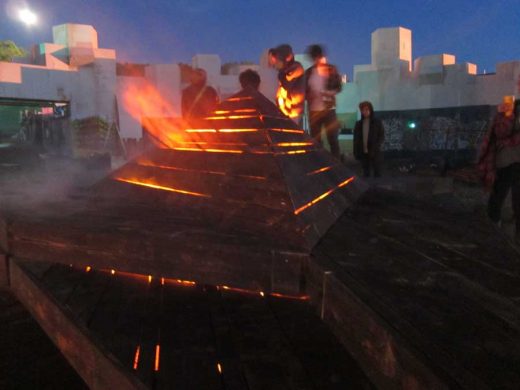 ABOUT GRAVITON
Graviton sits at the centre of the HUB (Hot Utopian Bliss) Space of Shangri-La, the "totally bizarre and brilliant" (Arts Council) festival within a festival at Glastonbury.
This year's vision for the key nighttime venue is a 'retro-futuristic fantasy dystopia, with an ultra-modern and digital-futuristic central square in the round belying a myriad of bizarre nano-venues in a seedy maze of wrongness'. (Paraphrased from the brief.)
Sitting at the very centre of these concentric interpretations of the future, Graviton consists of a sequence of trapezoid platforms of diminishing size made from charred reclaimed scaffold boards patched together imperfectly, evoking the glowing embers of a fallen edifice. At night, light and smoke break through cracks in the construction, creating a latent pulsing energy. Into the early hours, the pyramidal dance platform disappears under a swell in the crowd with only orange wisps of smoke visible between the dancers.
Graviton is named for the hypothetical elementary particle that mediates the force of gravity in the framework of quantum field theory. Unambiguous detection of individual gravitons is impossible with any physically reasonable detector, however certain properties can be deduced through measuring their behavior en masse as gravitational waves.
THE TEAM
Studio Weave, Designers
UP Projects, Public Art Agency
Price & Myers, Structural Engineers
Will Archer, Carpenters
Astral Design, Lighting and Effects
Funded by the Arts Council England
ABOUT STUDIO WEAVE
Studio Weave is a young energetic design practice working on art and architecture commissions across the country. We are currently working on a diverse set of projects from creating the world's longest bench along the south coast, to enhancing a number of high-profile and heritage public spaces in the City of London, and we recently completed two allegorical pavilions at Kielder Water and Forest in Northumberland.
We have done work for several local authorities including Arun, Blackburn with Darwen, the City of London, North Somerset and South Tyneside; as well as for art and architecture festivals and foundations including The Architecture Foundation, Cass Sculpture Foundation, Glastonbury Festival, the Institute of Contemporary Arts, Kielder Art and Architecture, the London Festival of Architecture, and Wysing Arts Centre. Our work has been published in magazines and books in the UK, Europe and Asia and we recently won the Prize for Best First Time Exhibitor at the Royal Academy Summer Exhibition 2009.
We aim to create places through playing into and exploring the narratives of spaces. It is important to us that our projects grow from the unique aspects of a place, through its physical and geographical qualities, its use both currently and historically, as well as its myths and legends.
We particularly appreciate the quirky and eccentric characteristics that make somewhere distinctive. We have used stories as a way to personify landscapes and design proposals, and have even realised designs that fictional characters have designed themselves!
Alongside and contributing to our design projects, we are involved in many other activities including singing, teaching, research, writing stories and pursuing cross-disciplinary collaborations.
Glastonbury Dance Stage, Somerset, images / information from Studio Weave
Location: Glastonbury, Somerset, England, UK
Architecture in England
Contemporary Architecture in England
Glastonbury Architecture – Selection
Glastonbury Sphere, England
Somerset Architecture – Selection
Key Architectural Project in south west England
Eden Project, Cornwall
Design: Grimshaw Architects
English Architect – England design office contact details
Comments / photos for the Glastonbury Dance Platform Somerset page welcome