Corian high-tech surface Product, Artishock Design, Russian Designers, Pictures
Corian high-tech surface : Milan Design Week 2012
Milan Design Week 2012, Italy
12 Mar 2012
DuPont™ Corian® high-tech surface interpreted by Arch Group, Atrium, Pole-Design, Totement/Paper, Yaroslav Galant, in collaboration with Artishock
Organizers and sponsors: DuPont™ Corian® and Artishock
Location: "Corian® Design Studio Milano", via Melzo 7, Milan, Italy
Dates/opening hours: Apr 17 – 22, 2012, H 9.30 – H 20.00
Opening cocktails: Apr 17, H 17.30 – H 20.00
Corian Russian Design
March 2012 – DuPont™ Corian® shows the creative energy of Russian architects and designers.
DuPont™ Corian® supports a new spring for Russian design: and it does that combining its expressive capabilities with the inspiration from five prominent architecture and design studios, each one with a different style, and with the technological excellence of Artishock, a leading Russian fabricator.
At the 2012 Milan week of design, DuPont™ Corian® and the Russian company Artishock will present "Corian® springs Russian design", an exhibition featuring a variety of unique creative furnishing interpretations exploring DuPont™ Corian® high-tech surface, conceived by five independent teams of architects and designers from Russia (Architectural Bureau Arch Group, Architectural studio Atrium, Pole-Design project group, Architectural bureau Totement/Paper and Yaroslav Galant innovative design).
"With the "Corian® springs Russian design" exhibition, we recognise the outstanding growth of Russian architecture and design and give exposure to Russian technological excellence in the fabrication of DuPont™ Corian®. Russia is one of the most important markets for DuPont™ Corian® and has seen regular and significant growth for many years. This exhibition – which is a tribute to over 15 years presence for DuPont™ Corian® in Russia – is a combination of a retrospective of design' works made with DuPont™ Corian® and new artistic pieces specifically created for this event.
DuPont is proud to propose this exhibition at the Milan week of design, blending design and technological excellence aligned with the highest international standards. We are confident that the interior design concepts using DuPont™ Corian® as shown in this exhibition, featuring a multidimensional trait typical of Russian design, will attract significant attention from the industryand indeed everyone who has a passion for design," says Ruslan Yusupov, DuPont Building Innovations, Business Development Manager, Europe Middle East and Africa.
"Corian® springs Russian design" will take place at the "Corian® Design Studio Milano", an inspirational facility which has been the platform for DuPont™ Corian® design exhibitions featuring internationally known personalities and players such as Amanda Levete Architects, Karim Rashid and Missoni, to mention just a few, and which hosted the April 2011 exhibition "The Fresh Light of Corian®" dedicated to lighting creations by designers from Eastern Europe.
The architects and designers participating in "Corian® springs Russian design" exhibition are:
Architectural Bureau Arch Group
The project: "TriTree"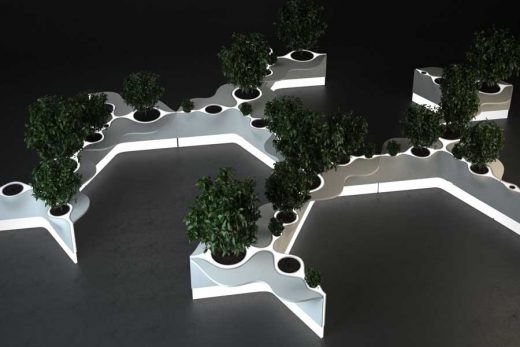 "TriTree" office eco-module in DuPont™ Corian®, design by Arch Group; fabrication by Artishock; rendering by Arch Group (all rights reserved on design and rendering)
Architectural studio Atrium
The project: "There is no bed"



"There is no bed" flexible bed environment in DuPont™ Corian®, design by Atrium; fabrication by Artishock; rendering by Atrium (all rights reserved on design and rendering)
Pole-Design project group
The projects: "Knot"


"Knot" concept, design and rendering by Pole-Design (all rights reserved on design and rendering)
Yaroslav Galant innovative design
The project: "Ukrainian Patterns"



"Ukrainian Patterns" furnishings in DuPont™ Corian® with embroidered decorative patterns; design by Yaroslav Galant; fabrication by Artishock; rendering by Yaroslav Galant innovative design (all rights reserved on design and rendering)
DuPont® Corian® images / information received 120312
Corian® High-Tech Surface
New Colour Palette



Leo Torri for DuPont™ Corian®, all rights reserved
Corian® High-Tech Surface
Corian Colour Evolution Milan Design Week



photo : Leo Torri for DuPont™ Corian®, all rights reserved
Corian Colour Evolution Milan Design Week
Location: via Melzo 7, Milan, Italy, southern Europe
DuPont Links – Selection
Corian Sphere, England
Selection of Architectural Products featured on e-architect
Libeskind House : Daniel Libeskind
Zaha Hadid Jewellery – Celeste Necklace
Comments / photos for the Corian high-tech surface page welcome