4th Quadrant of Victory Square Prague Competiiton Winners, Dejvice Praha, Czech design contest news
4th Quadrant of Victory Square Prague Design Contest
Dejvice Architecture Contest in the Capital City of the Czech Republic
post updated 22 + 21 September 2023
Benthem Crouwel Architects and OVA wins Architecture Competition for 4th Quadrant of Victory Square in Prague
Images below fo the winning design: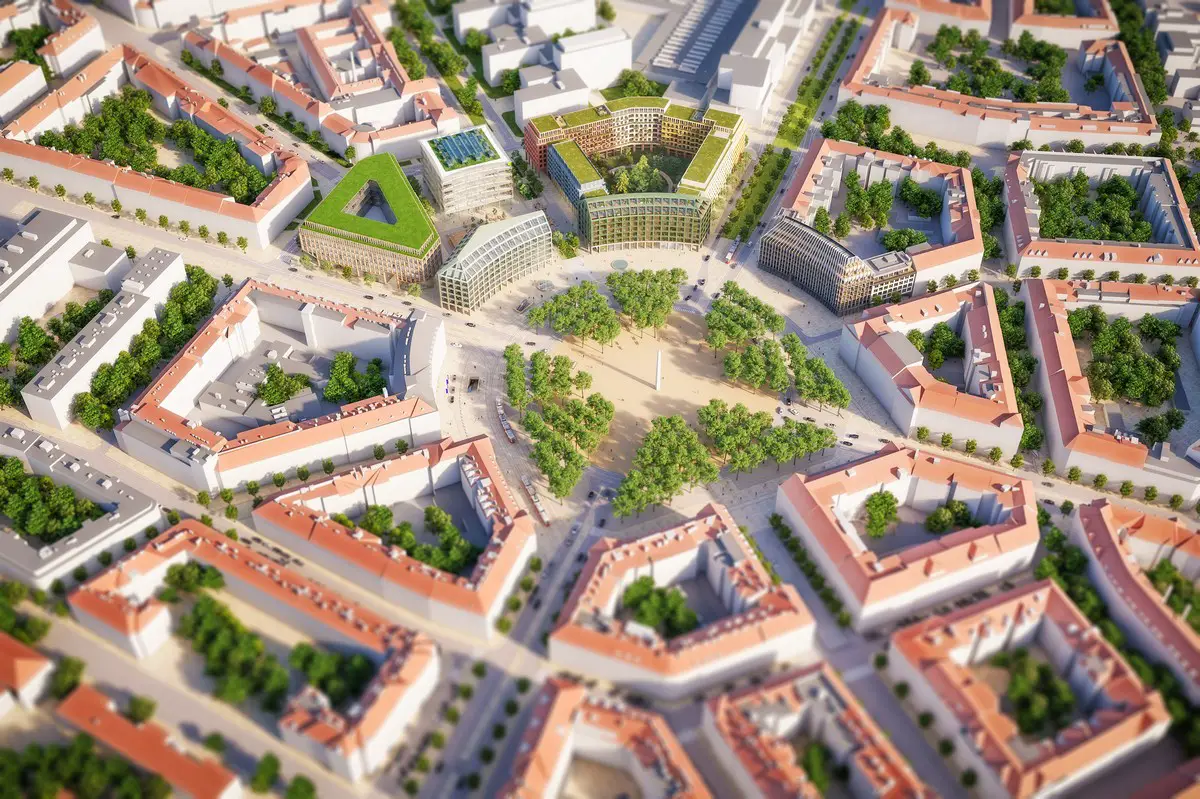 Prague Victory Square Design Competition 2023 Winners News
Dutch office Benthem Crouwel Architects and Czech OVA won the 4th Quadrant of Victory Square Competition in Prague
Prague, 21 September 2023 – Dutch firm Benthem Crouwel Architects in collaboration with Czech OVA have clinched the top spot in the International Architectural Competition for a 100,000 sqm mixed-use development on the 4th Quadrant of Prague's Victory Square. The second place went to German-Czech team of Cityförster and Studio Perspektiv and third place to the Czech office A69-architekti.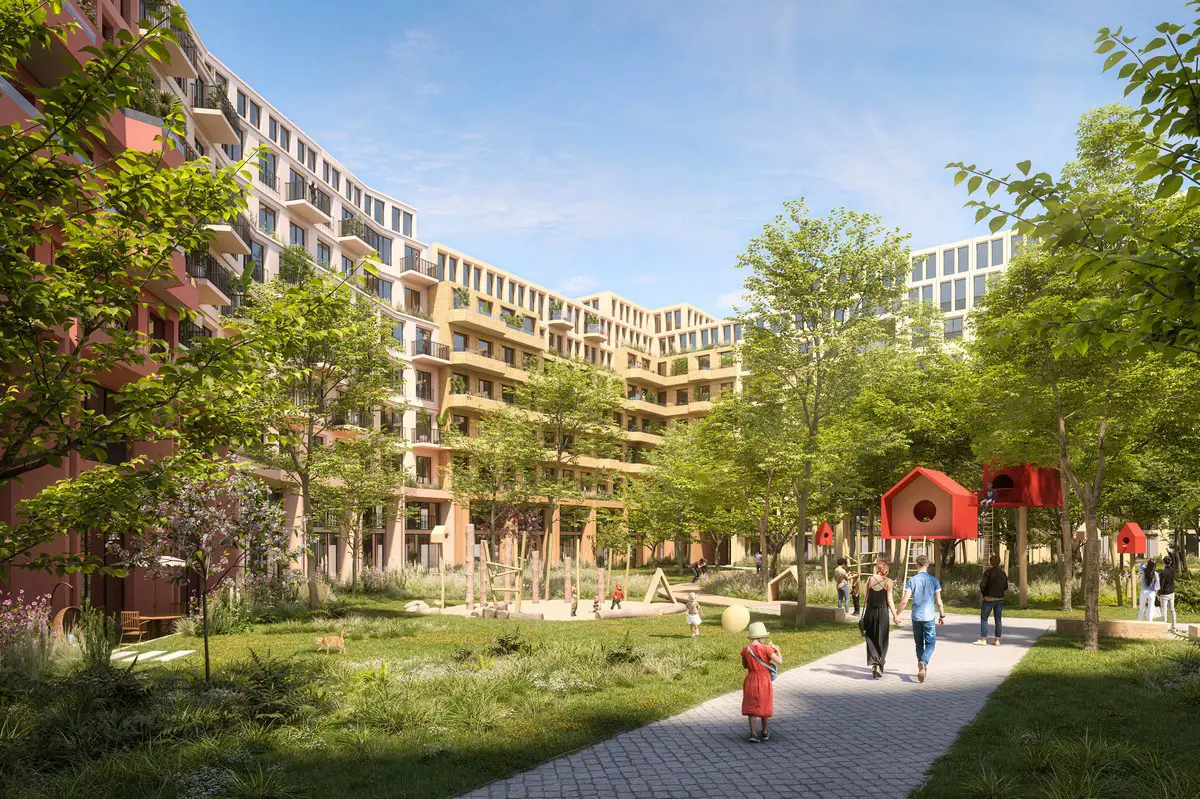 The winning design encapsulates a democratic architectural vision, echoing the foundational values of Antonín Engel's masterplan for Prague's district of Dejvice, which dates back to 1920s.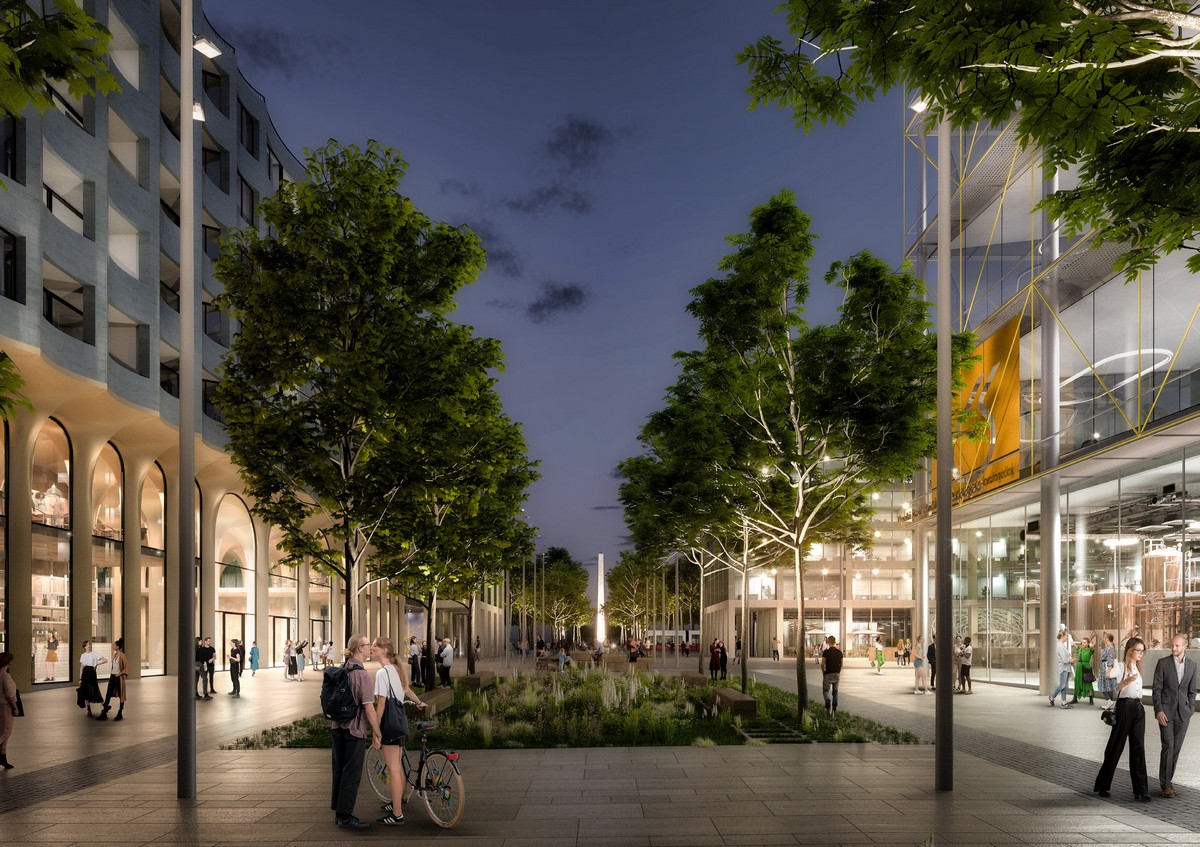 The jury, chaired by ETH Zurich professor Kees Christiaanse, recognized Benthem Crouwel Architects and OVA for blending Engel's design principles with contemporary design and for adequately addressing the needs of current and future users of the site. "The proposal simultaneously develops individual architectural identities for the different programmes, while maintaining a strong overall urban and architectural coherence in a beautiful setting of public and private spaces," stated Christiaanse.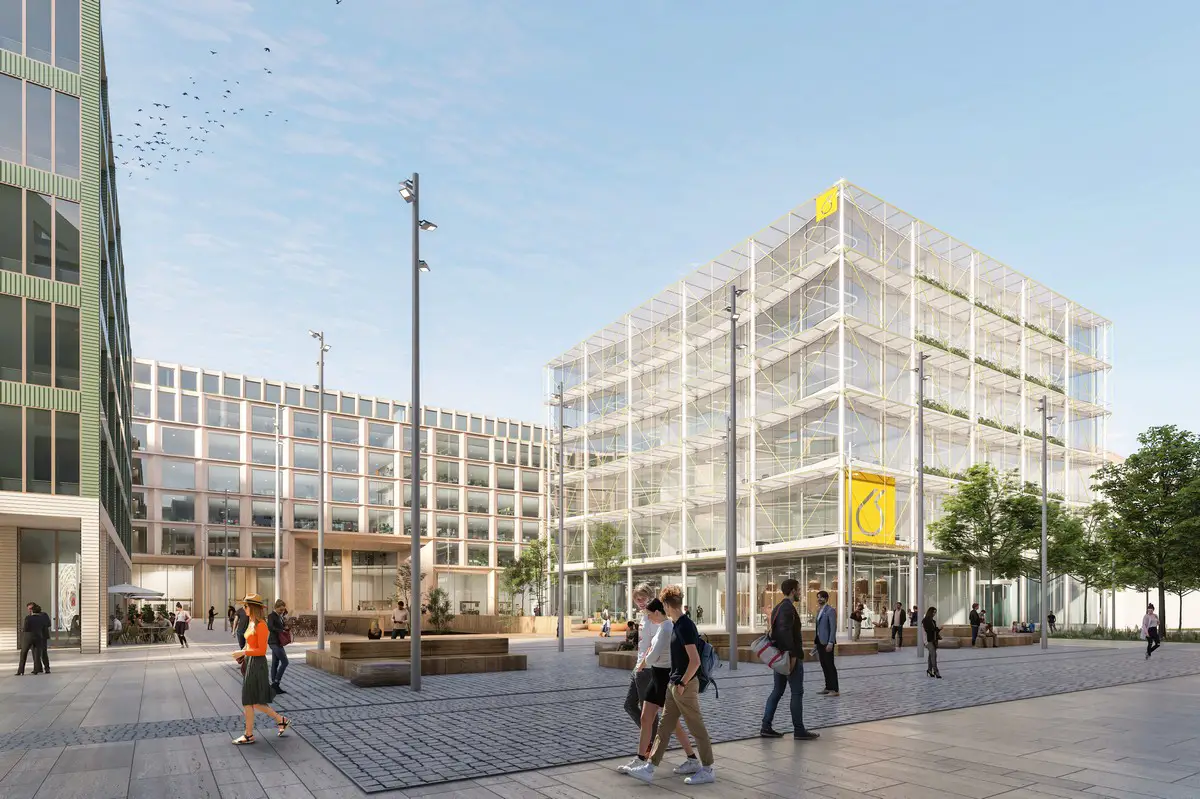 The project encompasses residential and office spaces, a new university building, retail arcade connected with the metro station, market hall and other civic amenities including a cultural centre, celebrating diversity in building typologies and optimizing public connectivity.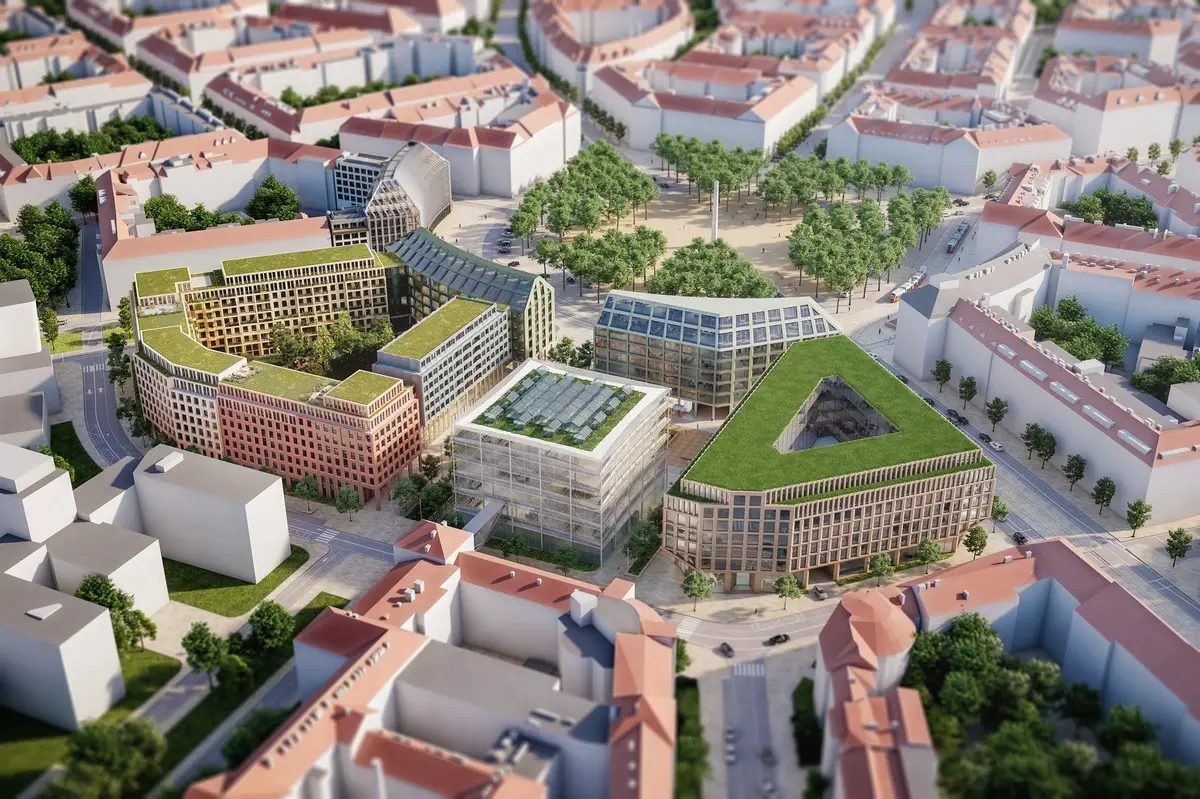 Pascal Cornips, a partner at Benthem Crouwel Architects who led the design, believes their proposal's strength rests on its harmonious diversity. There is a power of diversity of buildings and spaces, that however main a strong united whole. "I was personally struck by the totally different characteristics of the existing streets and public spaces around the site: the bustling boulevard of Evropská, the dynamic and monumental Victory Square, but also the relaxed atmosphere of the pedestrian zone in Technická street and the more classical Zikova street. Our approach is to build on these different qualities and to add new contrasts: on the one hand an urban oasis in the form of a semi-public microforest in the eastern courtyard, on the other hand, a vibrant new city square attracting a variety of residents, users and visitors in the western part," Cornips explained.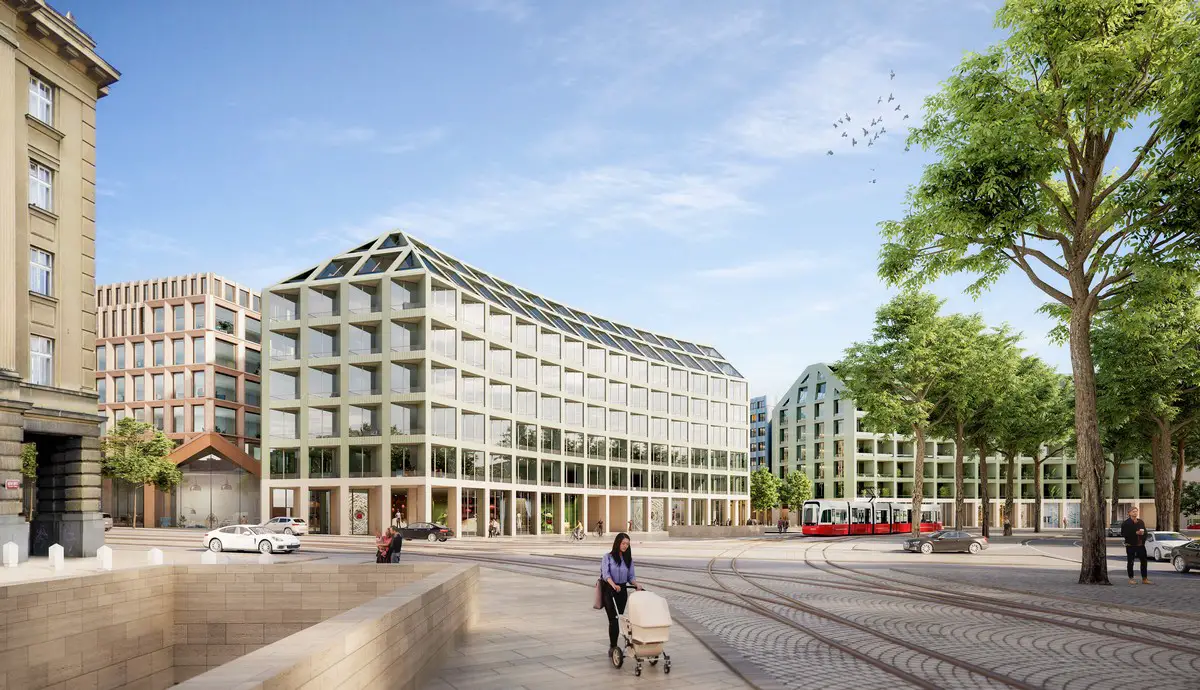 A century after Engel's vision for the Dejvice quarter, the 4th Quadrant remains a pivotal undeveloped space in the heart of a thriving neighbourhood with direct airport connections. "From the outset, public input was crucial," noted Petr Návrat of ONplan, the competition's organizer. "Local feedback shaped the competition brief, and public comments on shortlisted entries informed the jury's final decision."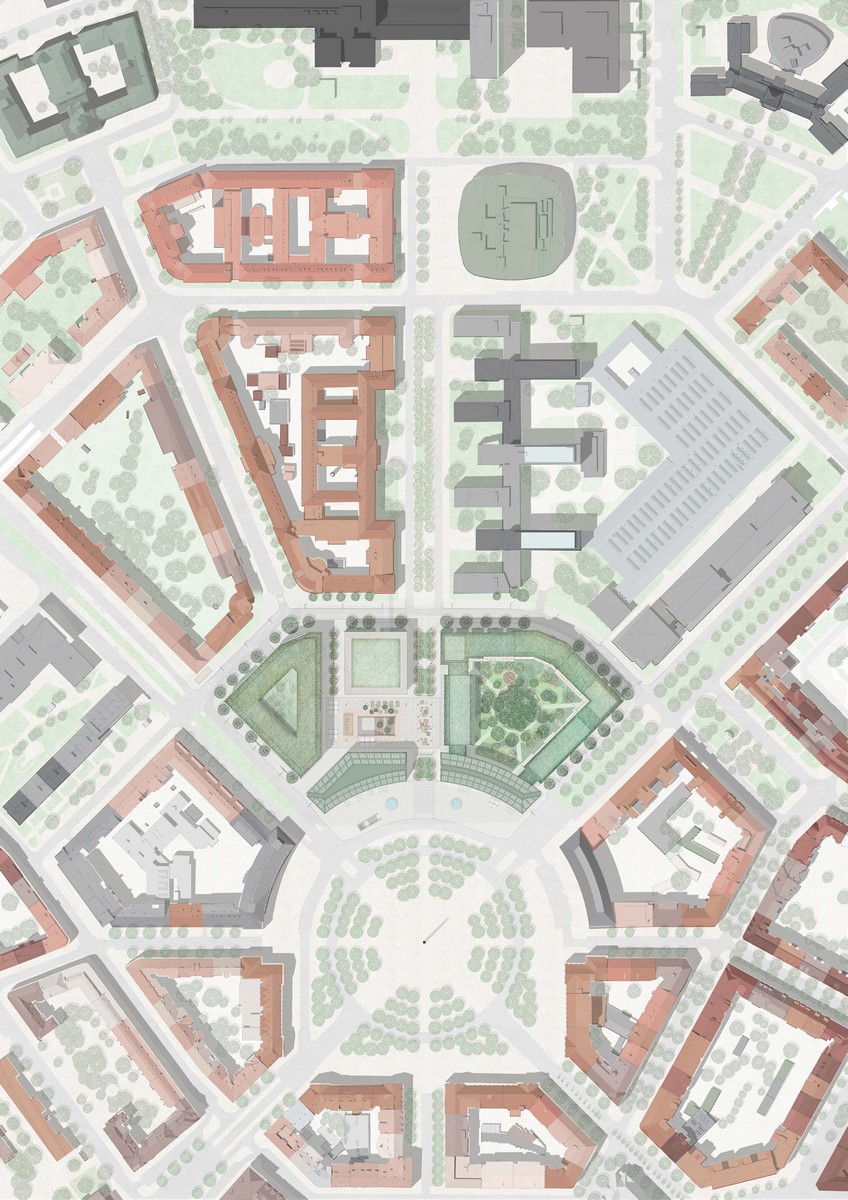 The development projects is a collaboration between the Fourth Quadrant Company (a consortium of Prague based investors Penta Real Estate, Sekyra Group, and Kaprain), University of Chemistry and Technology in Prague, the City of Prague, and Prague 6 District.
Tisková konference – Vyhlášení vítěze Mezinárodní architektonické soutěže 4. kvadrant Vítězného náměstí v Praze: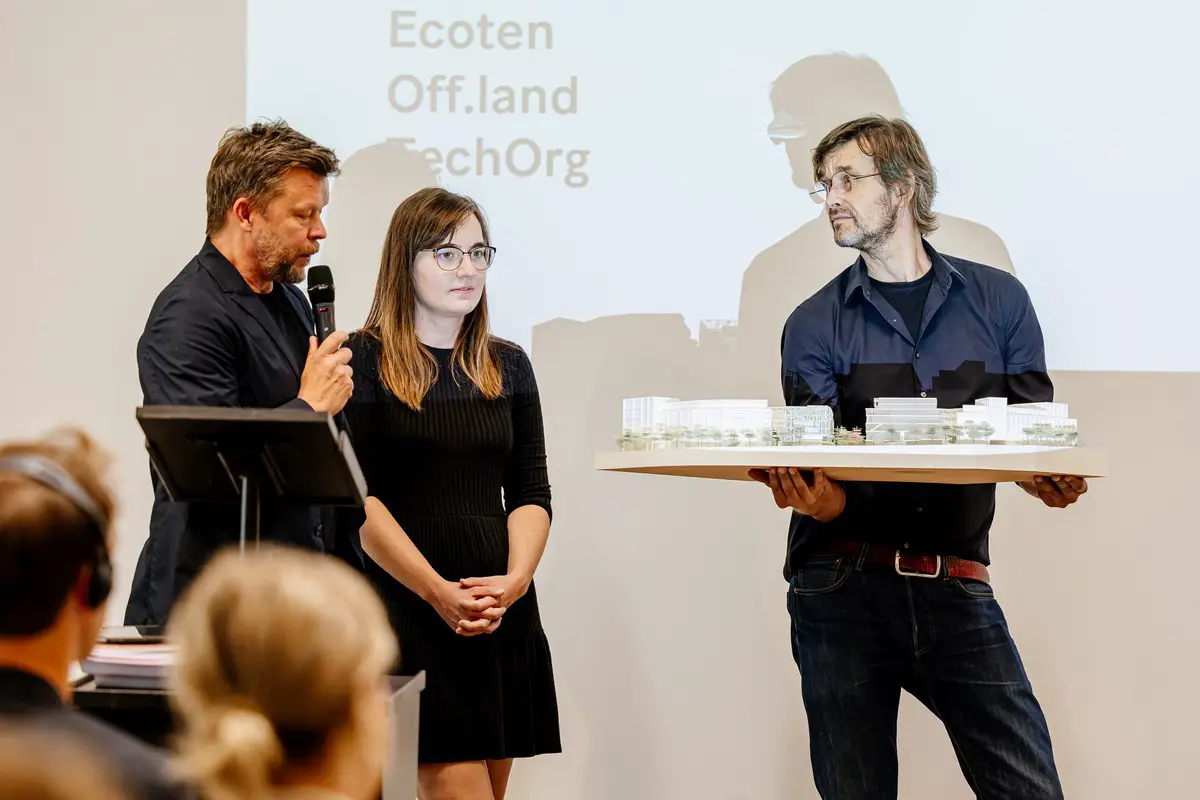 Petr Hlaváček, Deputy Mayor of Prague, praised the winning design for aligning perfectly with Victory Square's essence. "The proposal represents a triumph in collaborative urban design and emphasizes the synergy of city and private-sector partnership," Hlaváček stated.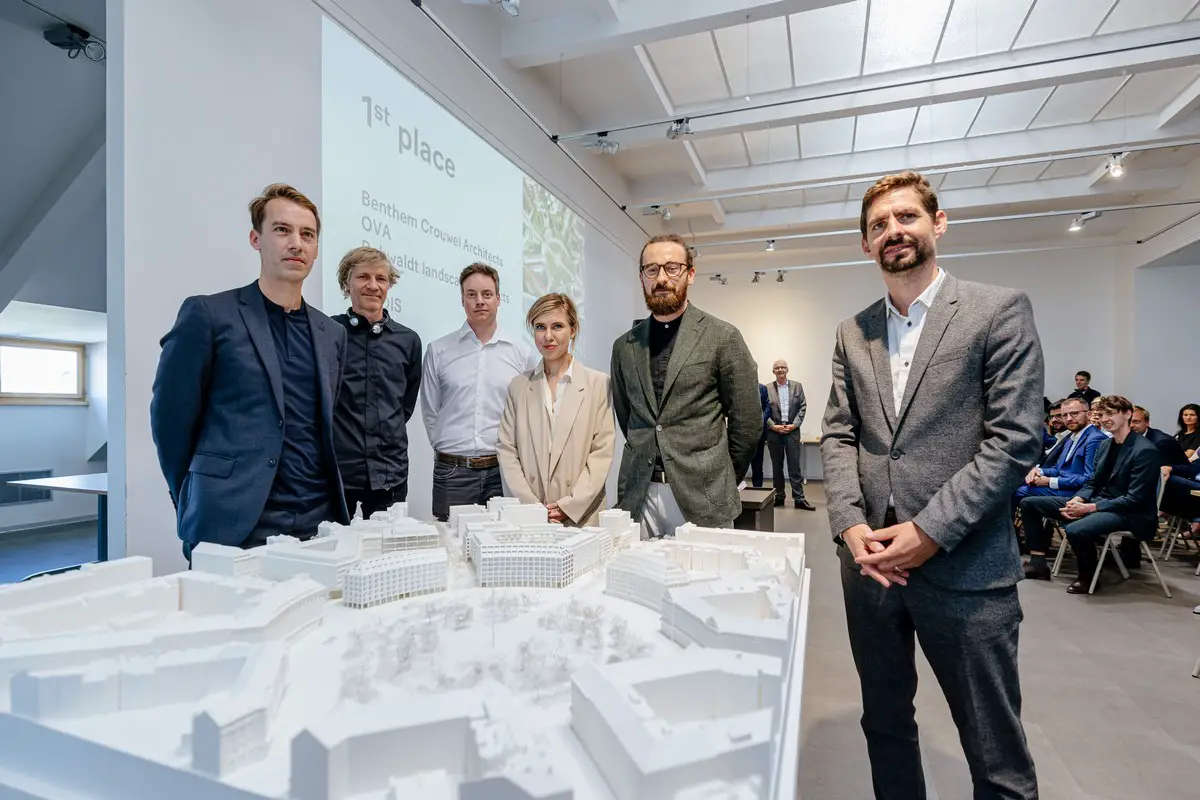 Leoš Anderle, CEO of Sekyra Group, remarked on the winning design's multifaceted approach: "It addresses not just the aesthetic but also functional aspects – ensuring privacy for residents while amplifying public high space quality bringing new values to the neighbourhood."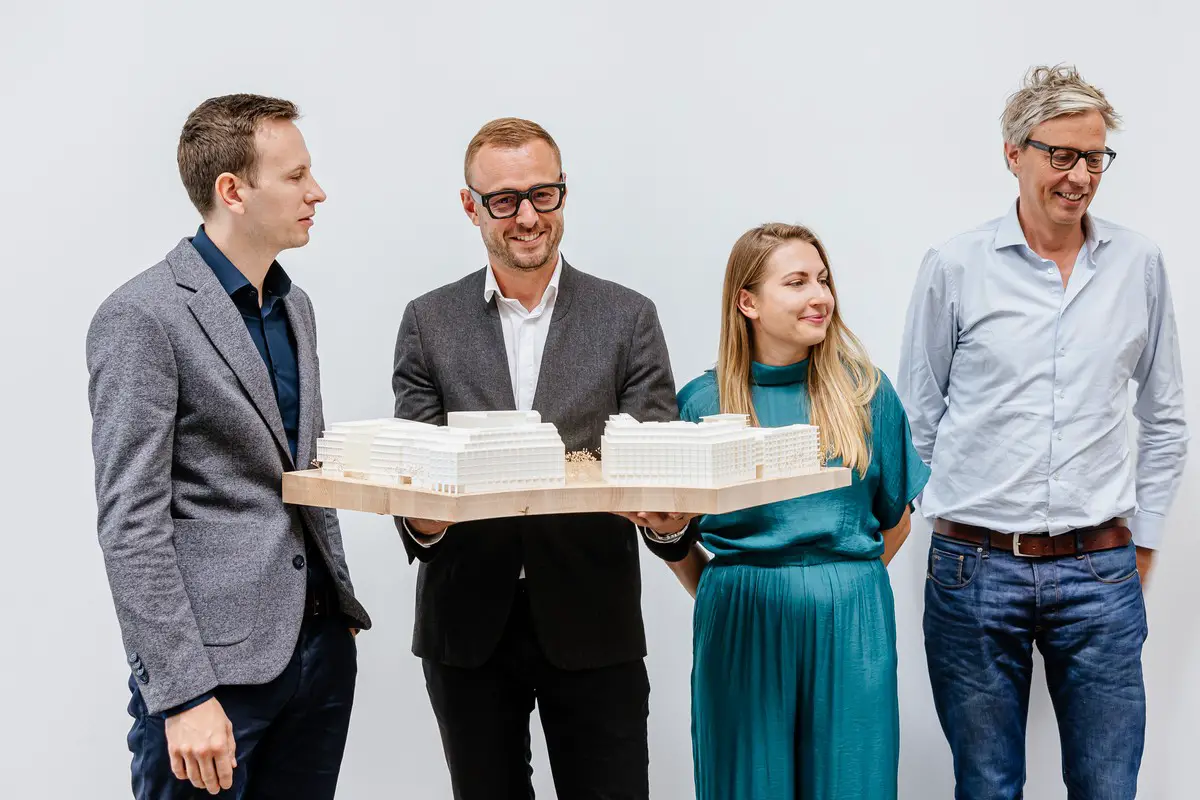 Jakub Stárek, Mayor of Prague 6, expressed enthusiasm for the project's potential, emphasizing its significance in reinforcing cultural and community foundation. The development aims to enrich Dejvice university campus and will introduce a new multipurpose cultural centre spanning 3,000 sqm, addressing a vital cultural infrastructure gap in this part of Prague.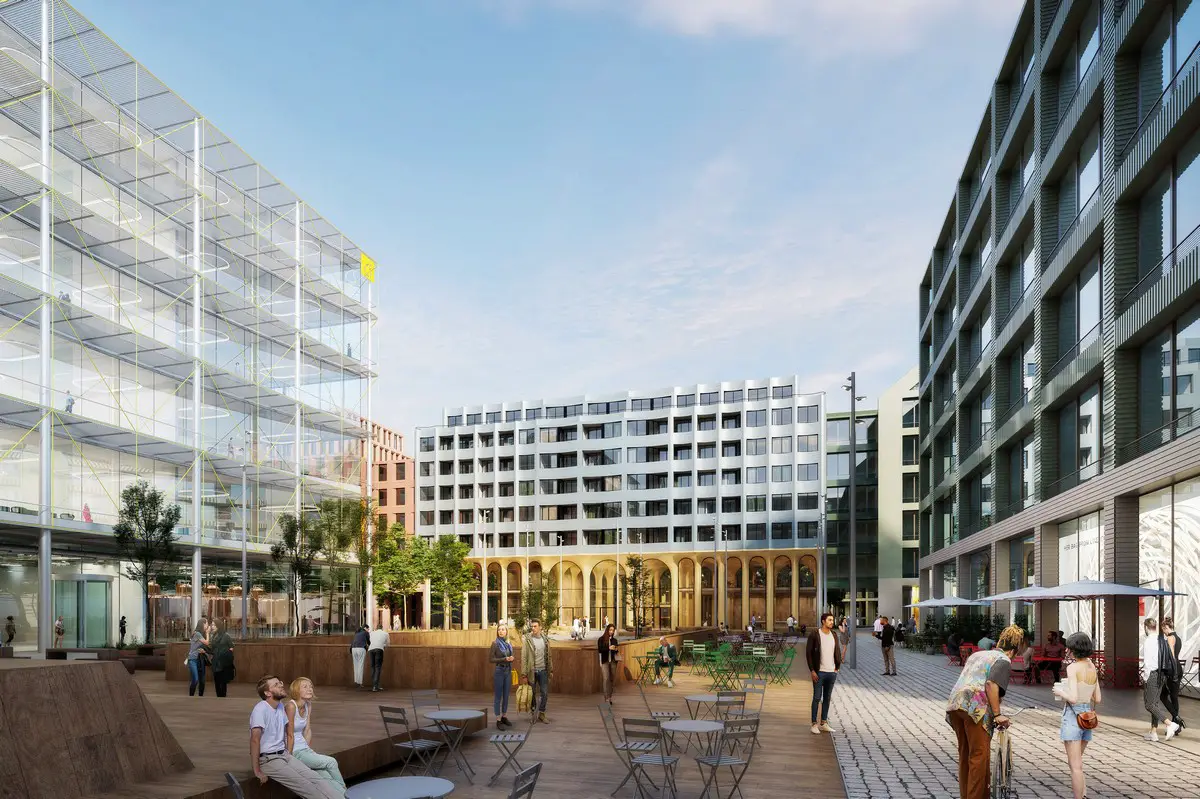 Petr Palička, Manging Director of Penta Real Estate, which is the leader of the investors' consortium, expects building completion around 2028/2029. He appreciated the competition's approach, lauding the focus on pedestrian zones, direct metro links, and spaces promoting community activities.
In total the competition saw 44 teams apply. Among the 10 participants chosen for the first round were esteemed offices like Snøhetta or MVRDV. Five finalists were then shortlisted, presenting their proposals in the second round held in June 2023.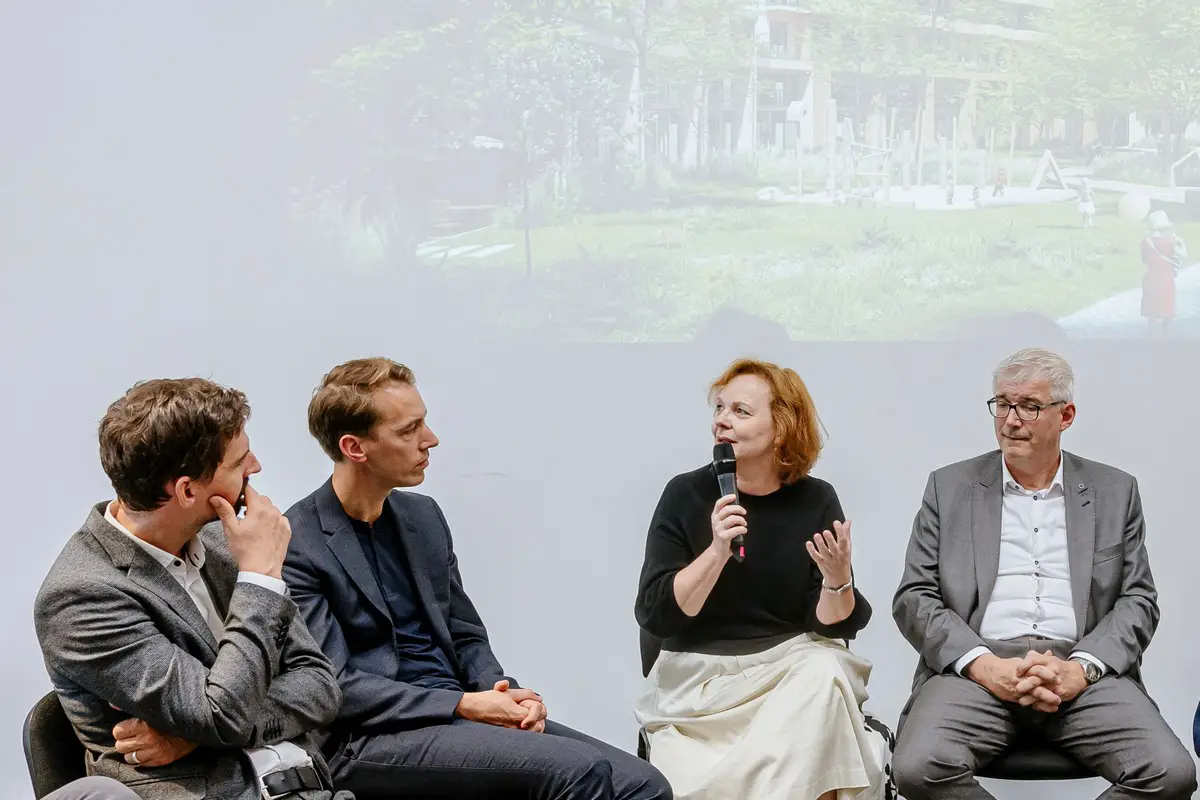 As Prague's urban landscape undergoes transformative growth, major regeneration and redevelopment projects are seamlessly integrating valuable heritage with modern architecture. The recently unveiled "Masaryčka" business hub, designed by Zaha Hadid Architects, has already secured a spot on the New York Times' must-see list—a testament to Prague's rising stature in global architecture. Following the urban design competition for the adjacent Florenc in the city centre and the victory of Danish studio BIG in the Vltava Philharmonic Hall contest, the 4th Quadrant competition further cements Prague's position on the radar of Europe's top architectural studios.
The winning design together with other eight competition entries will be showcased at CAMP, Prague's Centre for Architecture and Metropolitan Planning, exhibition starting from 23 October to 12 November 2023.
More information at: www.4quadrant.cz
Benthem Crouwel Architects, The Netherlands
Second place – German-Czech team of Cityförster + Studio Perspektiv: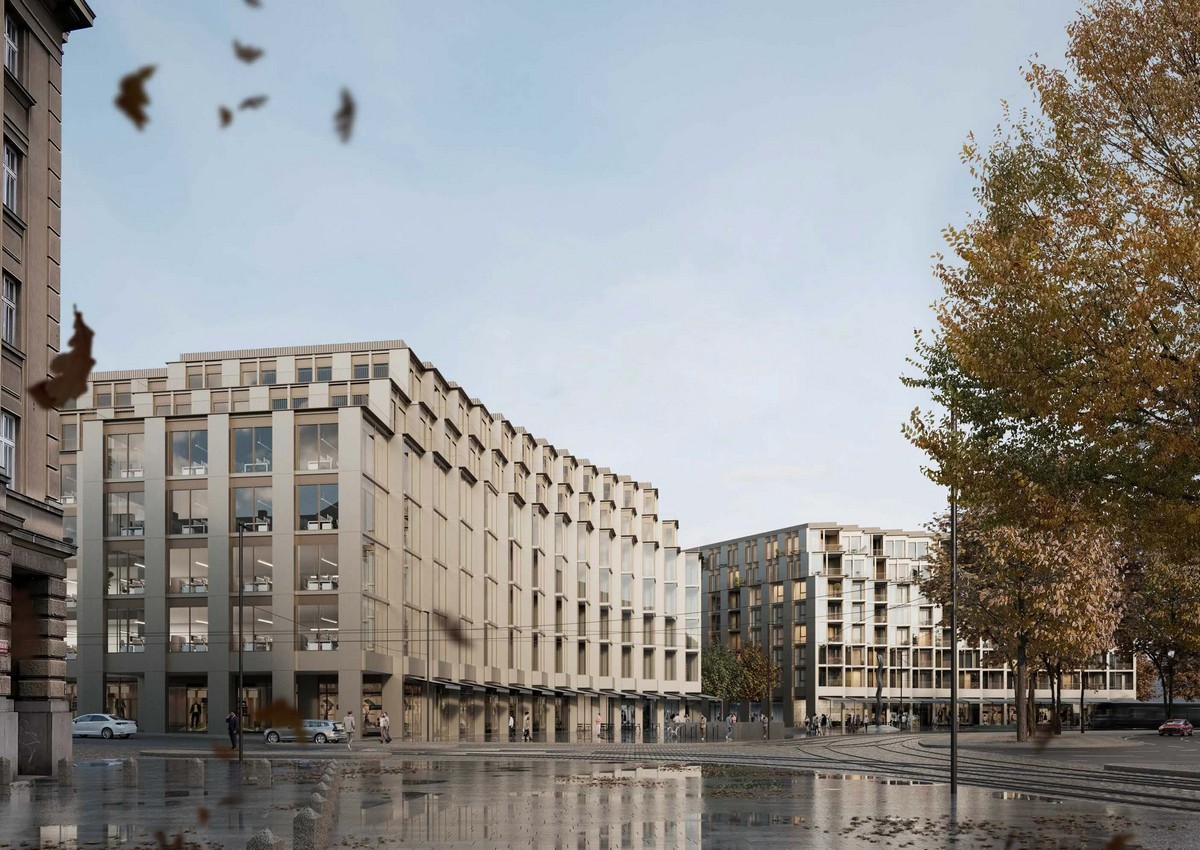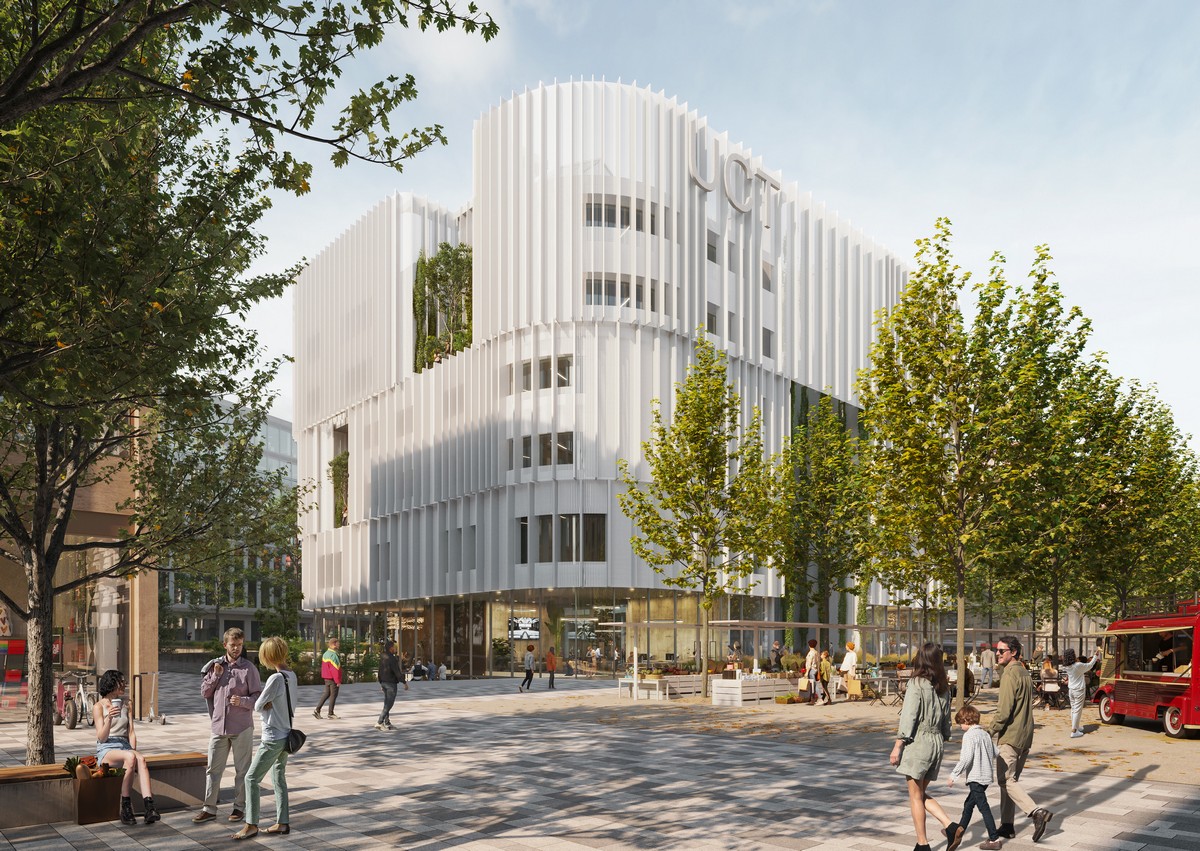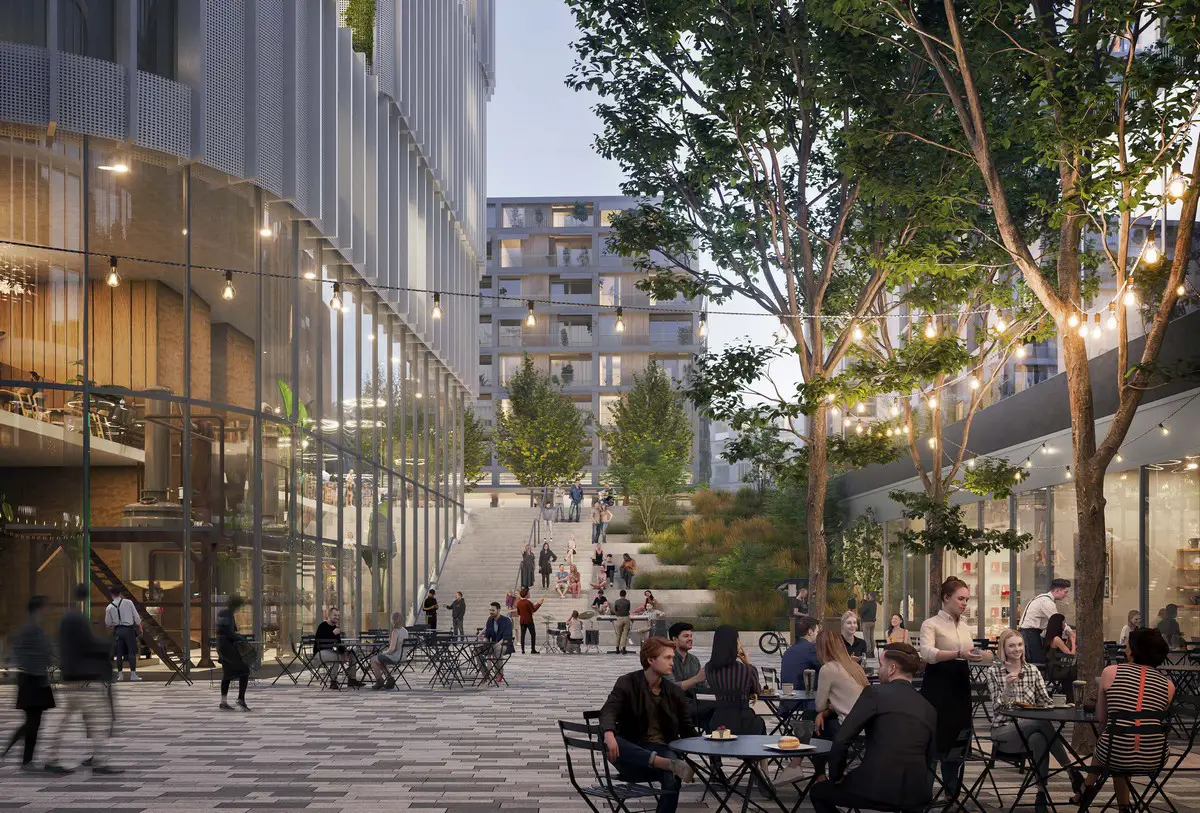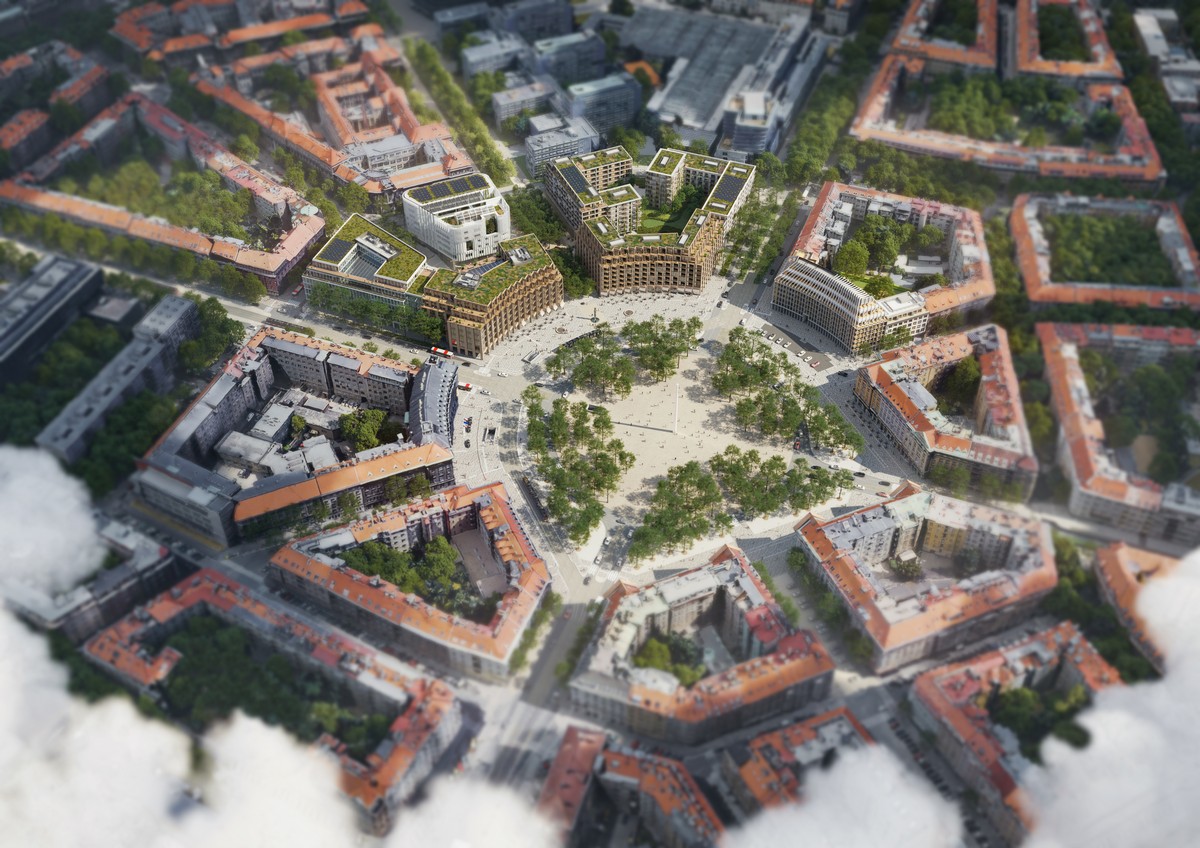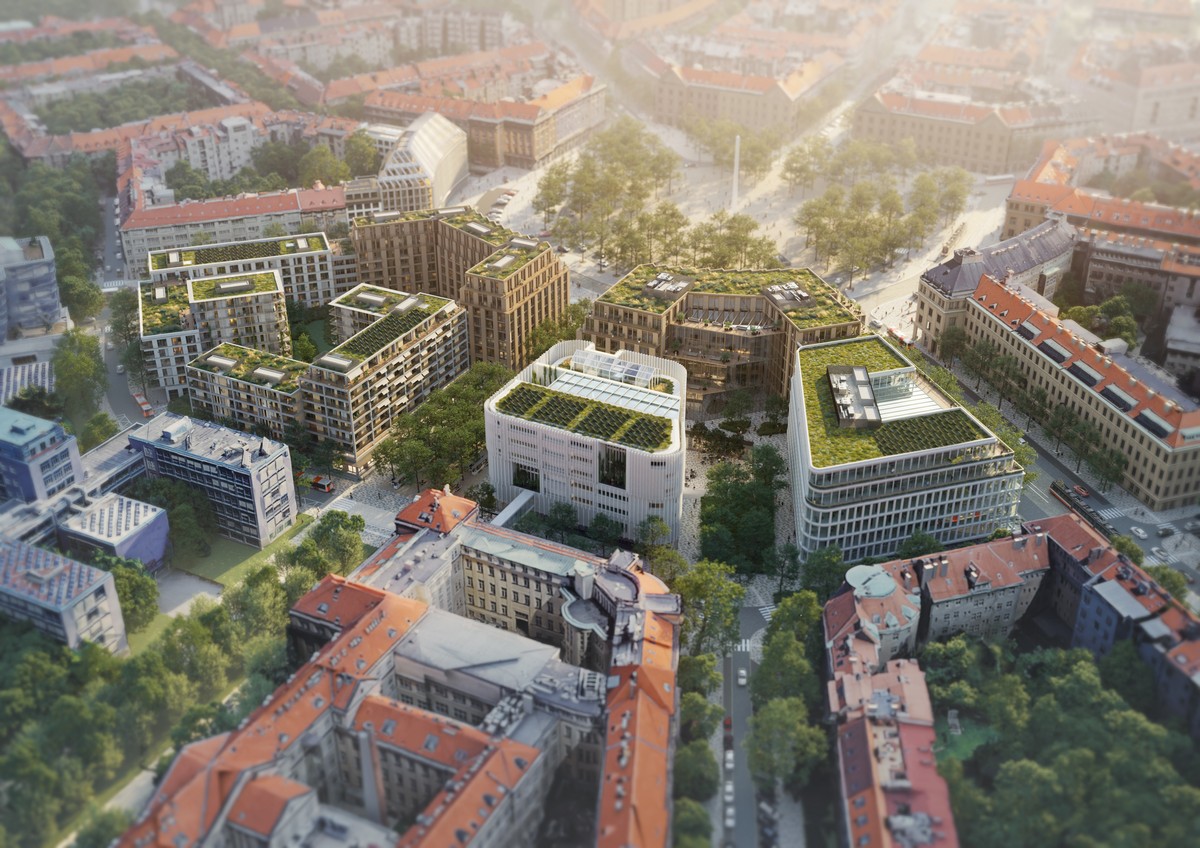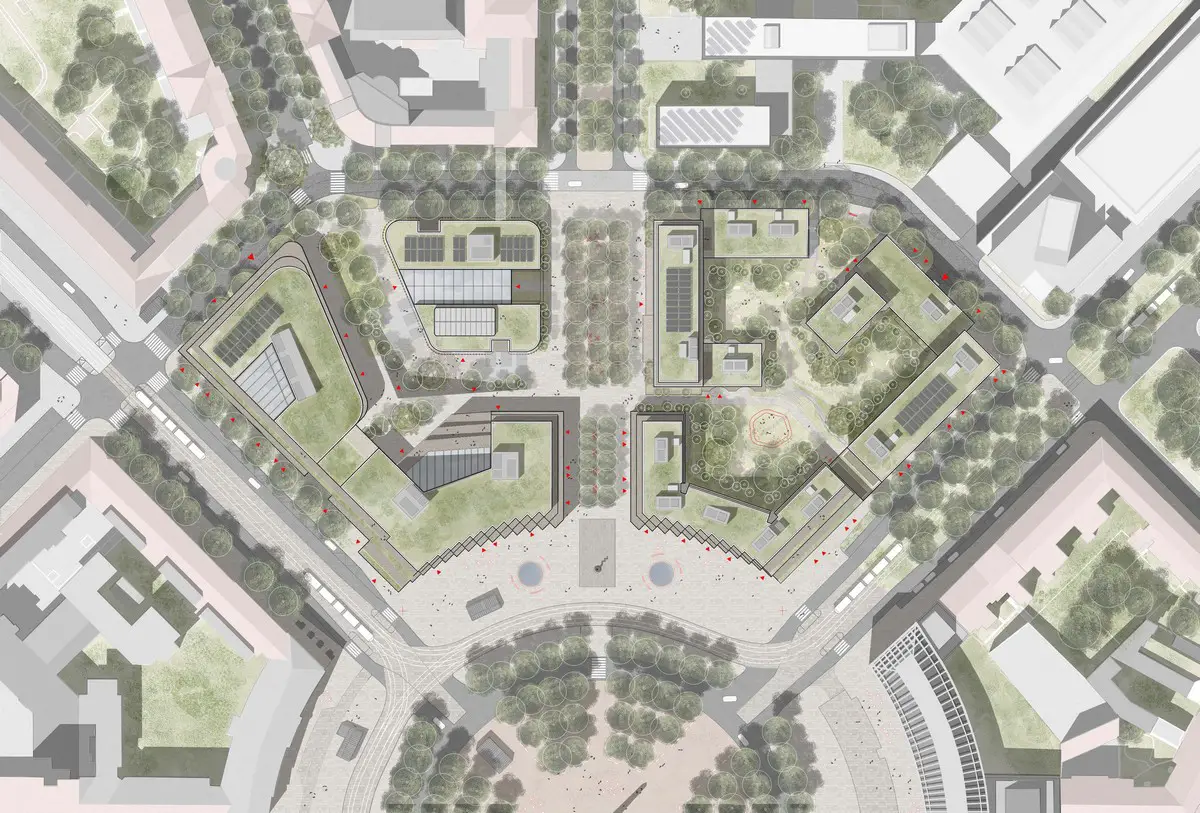 Third place – Czech office A69-architekti: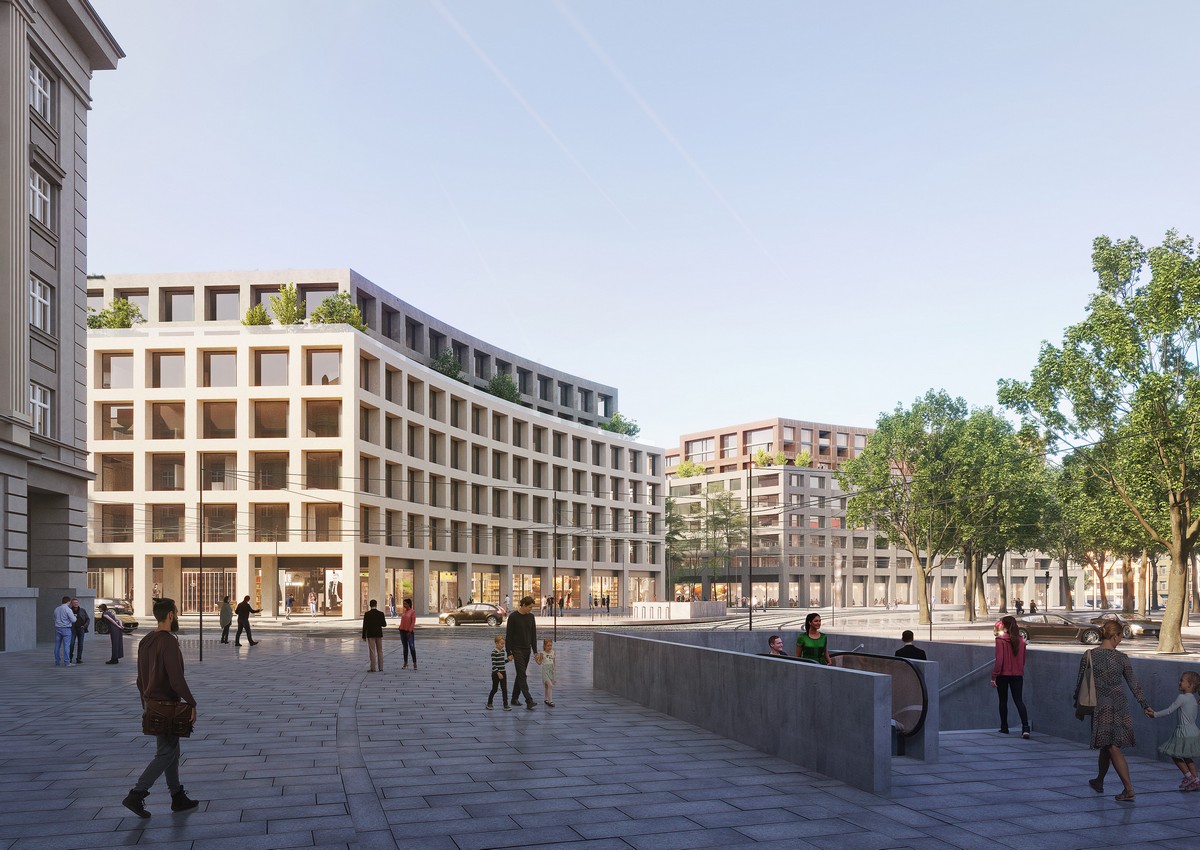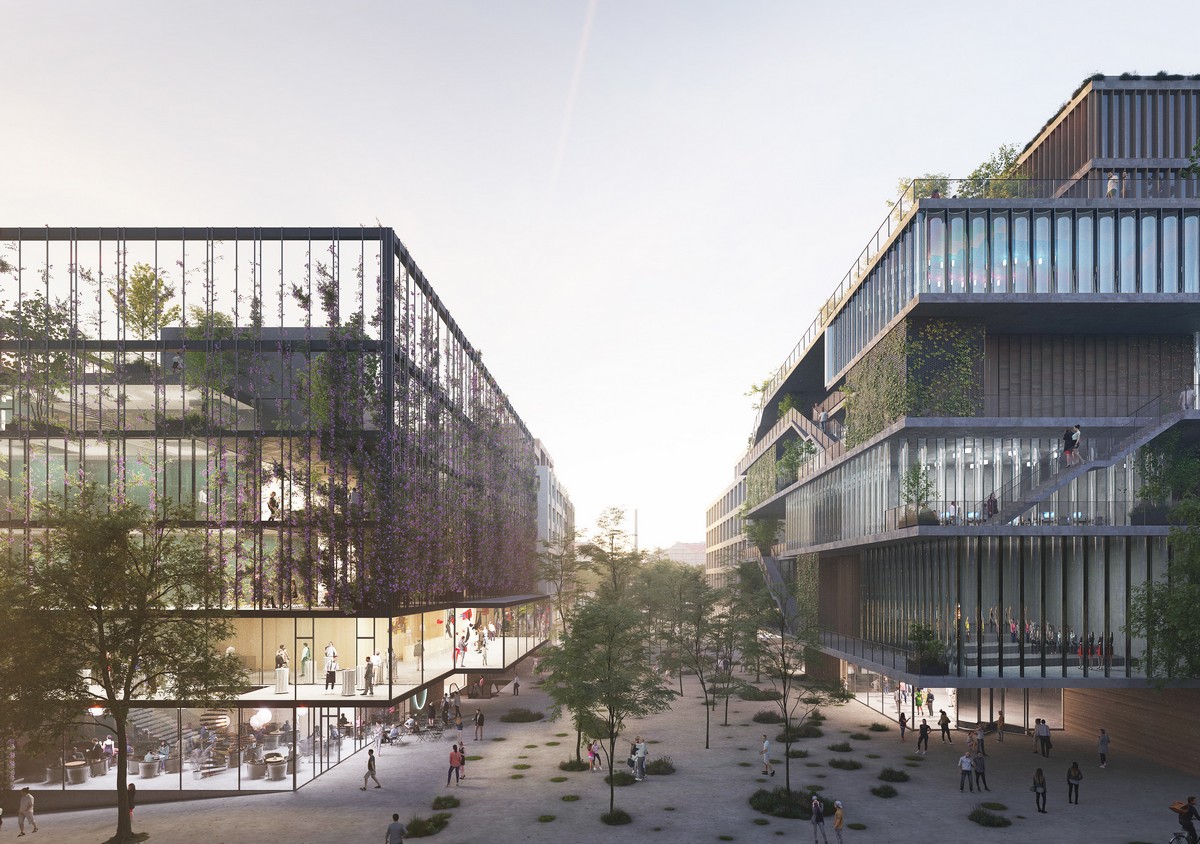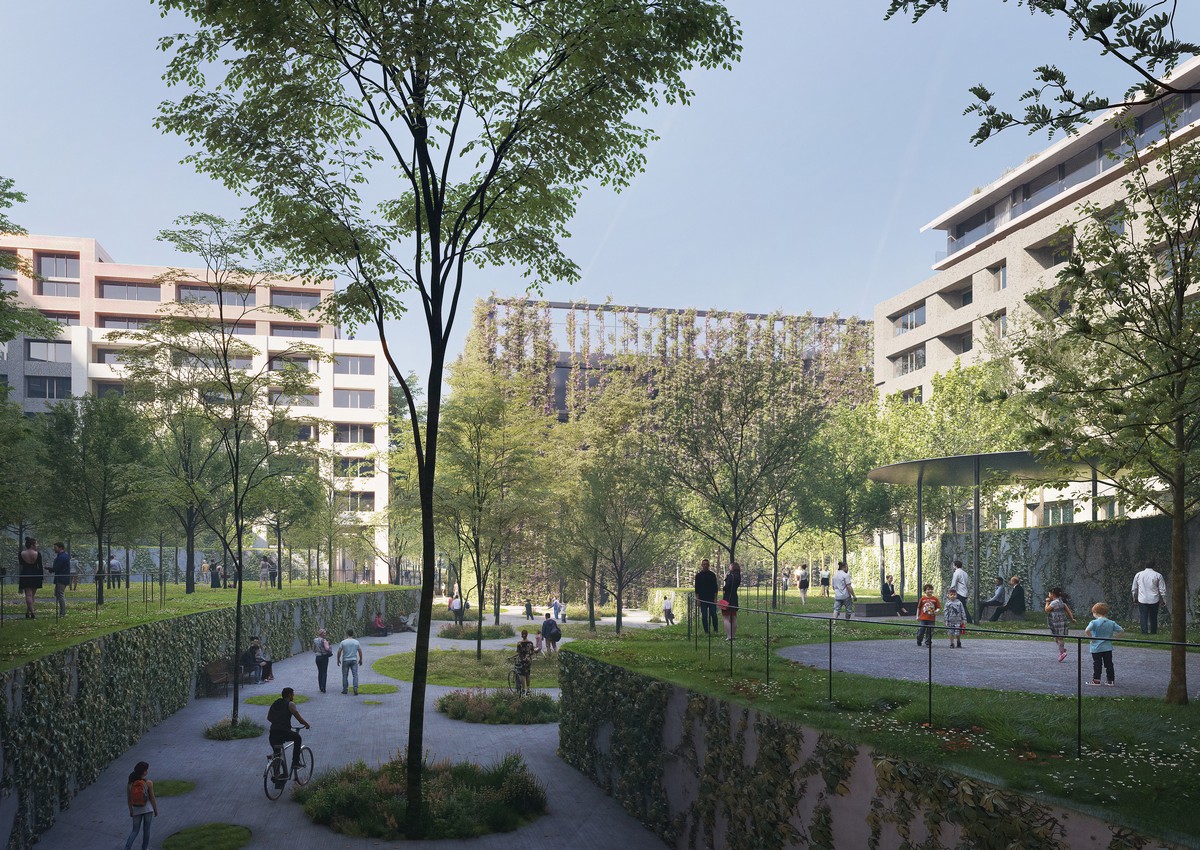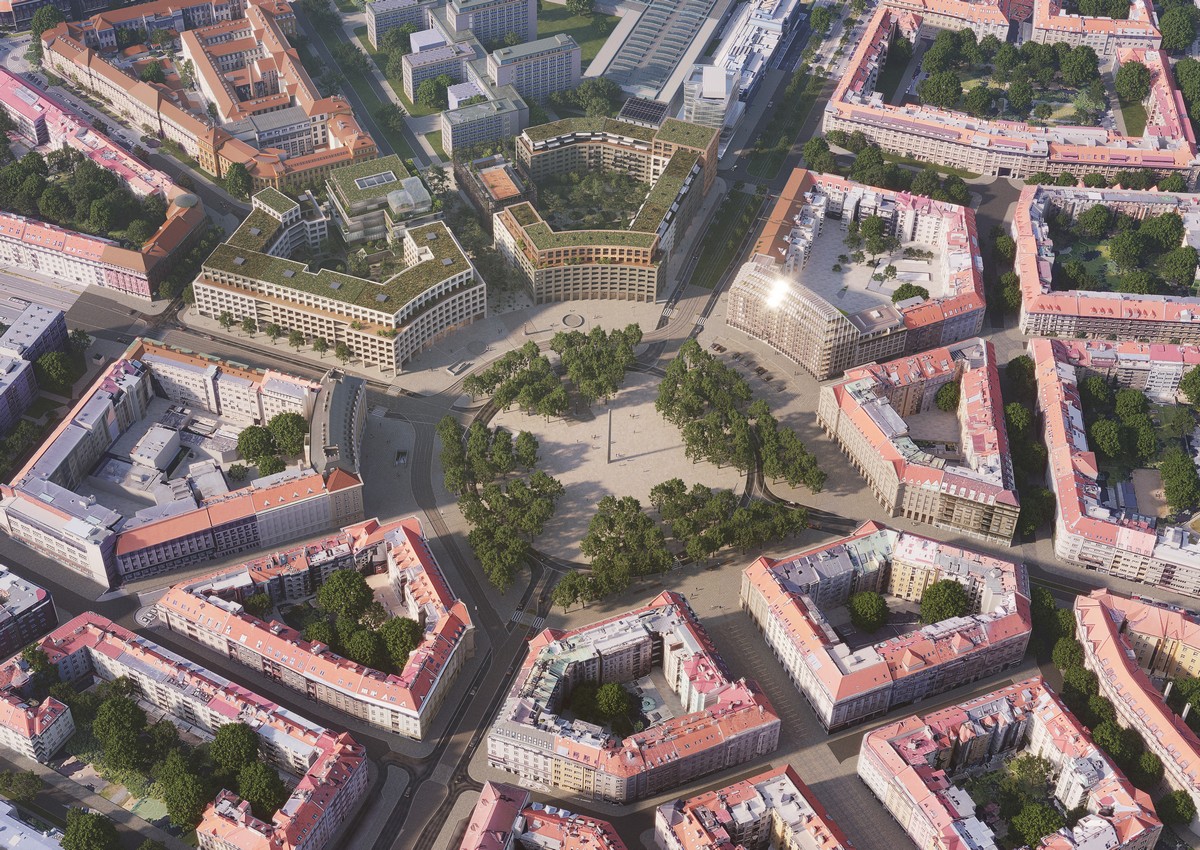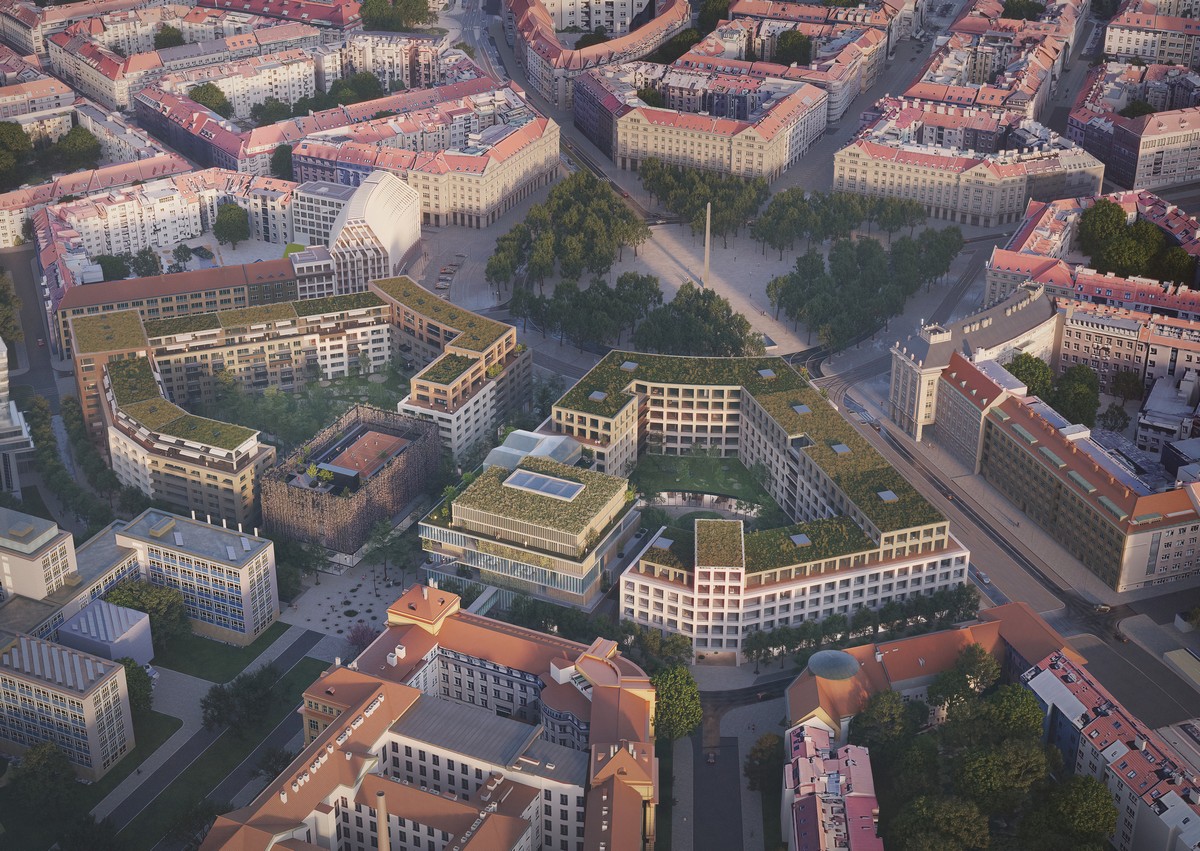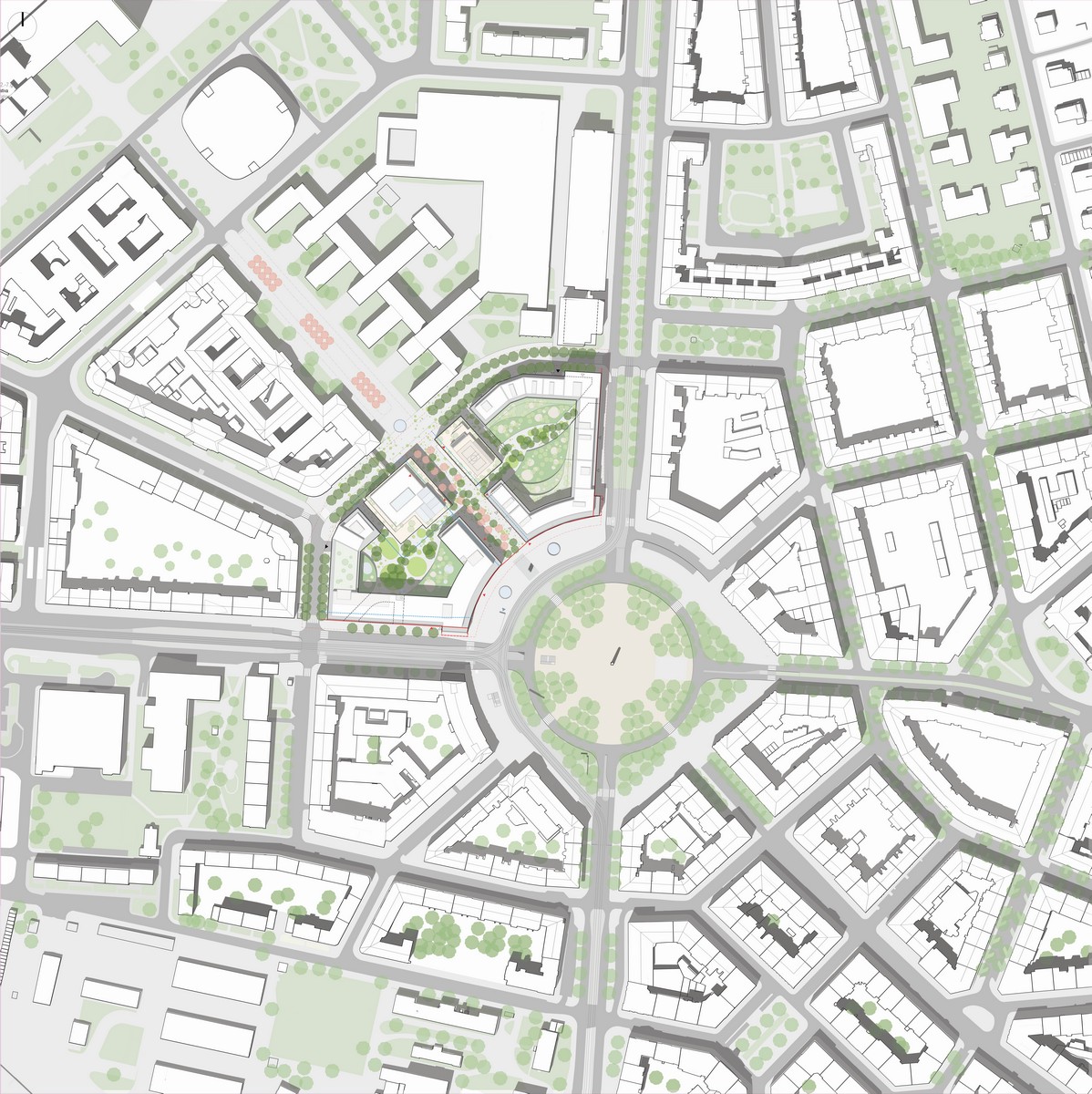 Previously on e-architect:
12 August 2022
Open Call for Applications: 4th Quadrant of Victory Square International Architectural Competition, Prague – Czech Republic
Location: 4th Quadrant of Victory Square located in Dejvice Neighborhood, , Prague 6 District, Czech Republic
A new architectural-urbanist competition for an important square in Prague, Czech Republic:
The 4th Quadrant of Victory Square International Architectural Competition
4Q Victory square from the North: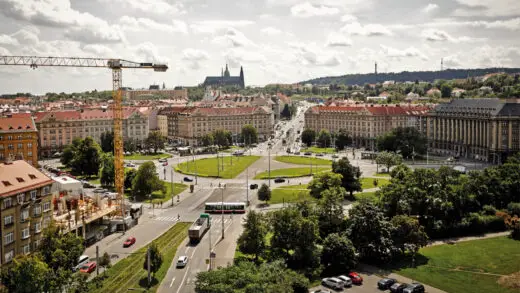 photo source : ONplan, photo: Libor Fojtík
Prague Victory Square Design Competition 2022 News
Prague, 11th August 2022 – An international two-round architectural competition under the title "4th Quadrant of Victory Square" was announced by the City of Prague and the site developer the Fourth Quadrant company. Leading architecture studios are encouraged to apply and design a mixed-use development of 100 000 m2 on Victory Square, Prague's third largest public space, gateway to university campus and the centre of Prague 6 District.
4Q Competition site aerial view: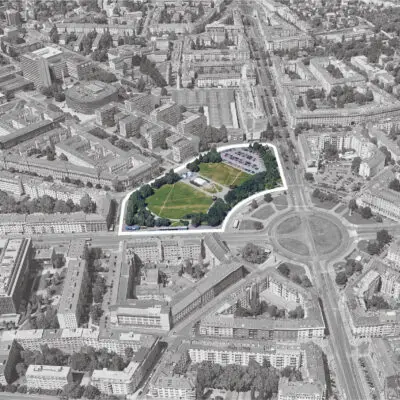 photo source : ONplan
The objective of this competition is to find an integrated development proposal for the so-called 4th Quadrant of Victory Square located in Dejvice Neighborhood, Prague 6 District. The mixed-use development shall offer spaces for civic amenities on the ground floor and housing and offices on the upper floors. "The new development of the 4th Quadrant shall become the main reason to visit Victory Square. It should become a place of authentic experiences, a venue of vibrant cultural and social life of the Dejvice community. The development should also generate new opportunities for the creation of highly skilled jobs and link business with world-class science and research located on the campus and on its surroundings," explains Petr Návrat from ONplan a planning consultancy organizing the competition.
Antonin Engel's Master plan of Dejvice (1924):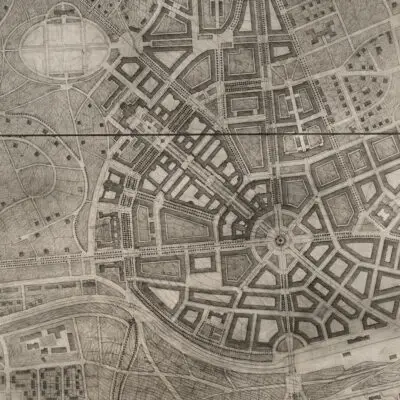 photo source : ONplan, photo: Libor Fojtík
The competition will take place in the form of three workshops, during which the jury, investors, local government and other stakeholders in the area will engage in dialogue directly with the competition participants. Those interested in participating in the competition must submit their applications with a portfolio of reference works by 16 September 2022. The jury will then select up to 10 teams to participate in the first round of the competition. For the second round 3-5 teams will be shortlisted by the jury to developed their concepts into a more detailed proposal. Prizes and remuneration will total 12 000 000 CZK (480 000 EUR).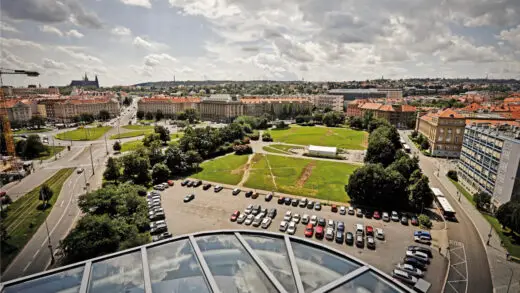 photo source : ONplan, photo: Libor Fojtík
"Antonín Engel's masterplan for Dejvice was one of the most ambitious projects of Prague in the interwar period. I am convinced that together with the investors we will manage to preserve and further develop qualities of his concept. We have excellent experience with the Florenc 21 international urban design competition, organized last year, where we managed to find common ground between public and private interests. Based on this success, the investors of 4th Quadrant approached the city right at the project beginning to cooperate on this competition," says Petr Hlaváček, Vice Mayor of the City of Prague in charge of urban development.
Antonin Engel's Model of Victory Square (1924):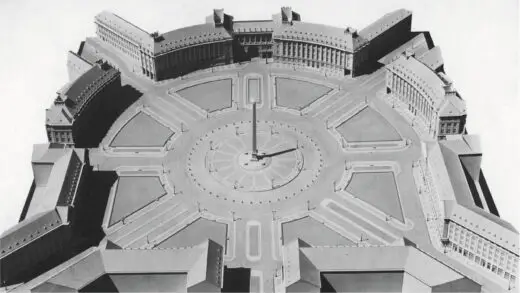 photo source : ONplan
The competition client, Fourth Quadrant company, is co-owned by three real estate companies – Penta Real Estate, Sekyra Group and Kaprain. Part of the site is owned by the University of Chemistry and Technology, which plans to build a new building housing classrooms as well as visitors centre with a microbrewery facility.
" Penta Real Eastate, as well as our partners in this project, Sekyra Group and Kaprain, have sufficient experience with large development sites in Prague. Victory Square's 4th Quadrant belong to the most valuable sites in our portfolio. We have approached the project with this in mind from the very beginning and thus expect the competition participants to propose developments that use the potential of the site and create new values for a wide range of users including local residents, students and staff of the university campus." adds Petr Palička, Country Director of Penta Real Estate.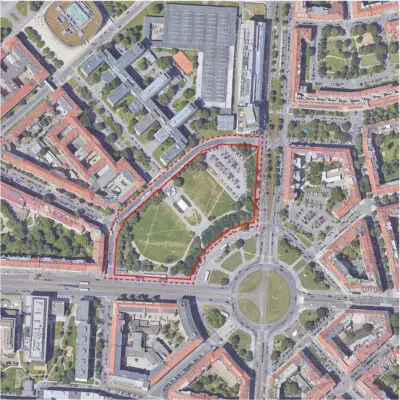 photo source : ONplan
The jury includes renown architects with extensive experience in large scale development projects in metropolitan centres including Kees Christiaanse /KCAP/, Alex Lifschutz /Lifschutz Davidson Sandilands/ or Martin Arfalk /Mandaworks/ among others.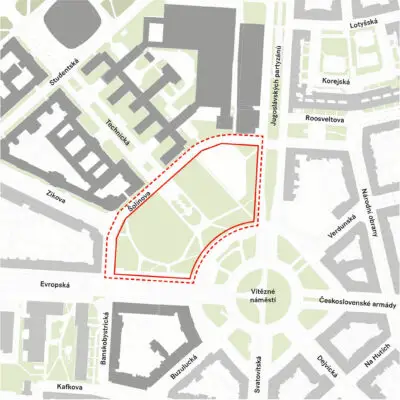 photo source : ONplan
The urban structure of Dejvice is based on the master plan by architect Antonín Engel from 1924. Engel designed Dejvice as a completely new district, with wide avenues leading to Victory Square, a monumental space in the shape of a horseshoe. On the square he placed the buildings of public institutions and tenement houses. Most of Victory Square and its surroundings were built according to this plan during the 1930s and 1940s. Its principles were also adopted by the current Prague city plan.
4th Quadrant of Victory Square Prague Design Competition visual: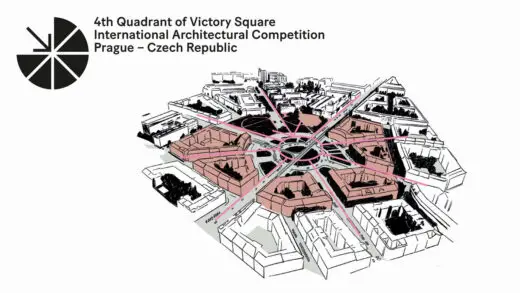 photo source : ONplan, illustration: Dana Ledl
Further details can be obtained from the competition website www.4quadrant.cz.
4th Quadrant of Victory Square Prague Design Competition images / information received 120822
Prague Victory Square Design Competition News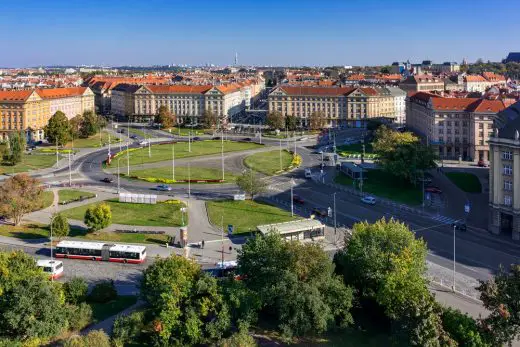 image courtesy of architecture contest organisers
Prague Victory Square Design Competition
Location: Vítězné náměstí, Praha
Architecture in the Czech Republic
Prague Architecture Tours : Building Walks in the Czech Republic by e-architect
Prague Architecture Designs – chronological list
Prague Design Competitions
Prague Congress Centre Design Competition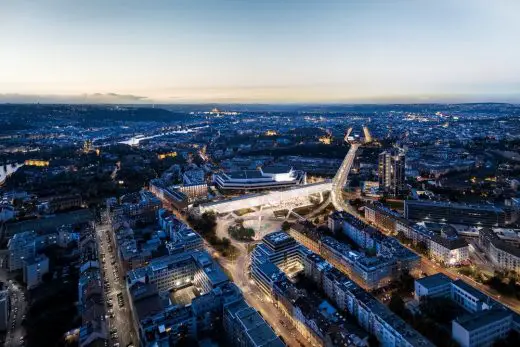 image courtesy of architecture contest organisers
Prague Congress Centre Design Competition
Vltava Philharmonic Hall Design Contest, Czech Republic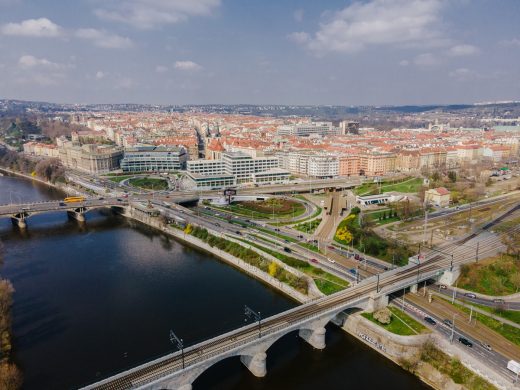 image courtesy of architectural contest organisers
Vltava Philharmonic Hall Prague Competition
Footbridge Holešovice – Karlín International Design Competition, Czech Republic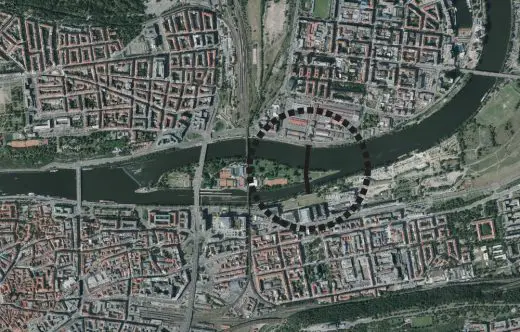 image courtesy of architecture contest organisers
Karlín International Design Competition
Bridging Prague Competition, Czech Architecture Contest
Czech modern architecture: Tugendhat Villa, south of Prague
Comments / photos for the 4th Quadrant of Victory Square Prague Design Competition page welcome
Website: Vítězné náměstí