Enjeu Capital(es), Paris Building, Project, Photo, News, Design, Property, Image
Enjeu Capital(es) Paris : Architecture
Centre Pompidou Architecture Exhibition, France, Europe
14 Sep 2009
Enjeu Capital(es)
International architectural colloquium Enjeu Capital(es) will take place at the Centre Pompidou on October 1st and 2nd 2009.
Those due to attend:
Alonso; Aureli; van Berkel; Branzi; Eisenmann; Galofaro; Geuze; Gregotti; Grimshaw; Jakob+MacFarlane; Koolhaas; Kuma; Mayne; Perrault; Spyropoulos; Tschumi; Watanabe; Wines; Yeang; Zaera-Polo.
Images relate to architects / designers attending Enjeu Capital(es)
Urban Jungle, 2008
by Team Jungle (Rob Stuart-Smith, Diego Perez-Espitia, Yiota Goutsou), Behavioral Urbanism, Design Research Lab (Tutor : Theodore Spyropoulos)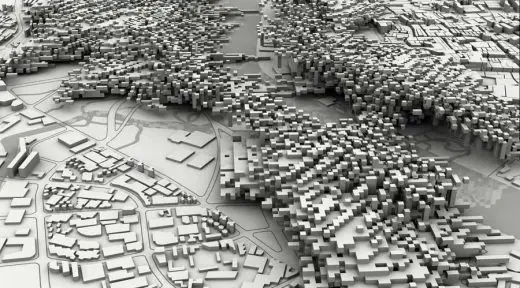 photo © Courtesy Architectural Association, London, 2008
THE CAPITAL ISSUE (ES) -MÉTROPOLES
LARGE SCALE
THE GRAND PARIS MEETINGS
INTERNATIONAL ARCHITECTURE SYMPOSIUM
OCTOBER 1 AND 2, 2009
LARGE ROOM, LEVEL -1
At a time when the question of a "Greater Paris" is at the heart of public debate, the Center Pompidou is organizing October 1 and 2, 2009 , at the initiative of Frédéric Mitterrand, Minister of Culture and Communication, an international conference bringing together the biggest names in international architecture such as Vittorio Gregotti, Rem Koolhaas, Thom Mayne, or Dominique Perrault.
These two days of reflection and debate will be devoted to the future of large-scale metropolises; they will offer a critical reading of the phenomena of urbanization by re-examining the major approaches (historical, economic, ecological) which shape the discourse on the city, based on reference proposals designed by the invited architects. The symposium will initiate a dialogue between confirmed figures and emerging players in architecture.
In order to ensure their wide distribution in France and abroad, these meetings will be broadcast live on the website (metropoles.centrepompidou.fr) created specifically for this conference. Internet users will also benefit from information on the guest architects, the main topics covered and a list of internet links.
Published in editions of the Center Pompidou prior to the meetings, a bilingual work in French and in English will reproduce the main challenges brought to light by the speakers by illustrating them with numerous examples of contemporary projects.
CONFERENCE PROGRAM
The debates will be moderated by Frédéric Migayrou, deputy director of the National Museum of Modern Art /
Industrial creation center, scientific director of the conference and Élias Guenoun, scientific advisor.
Archives Nationales de la Galice, Cité de la Culture de la Galice, Saint Jacques de Compostelle, Paris, 1999
by Peter Eisenmann



photo © Courtesy Foundation for the City of Culture of Galicia. Photo Pasajes Españoles
THURSDAY, OCTOBER 1, 9:30 a.m. – 1 p.m.
THE CITY AND HISTORY MEMORIES OF THE FUTURE
The post-war period posed crucially the question of historic cities and their future, breaking with modernist conceptions of planned development. In the late 1960s, the idea of a return to history and a city factory enriched representations of urban forms and generated innovative thoughts of complexity. This theory of the city must today be measured on development scales hitherto unknown which lead to an identity crisis of the historic city.
This debate will take part: Pier Vittorio Aureli (DOGMA), Peter Eisenman, Luca Galofaro (laN +), Vittorio Gregotti and Bernard Tschumi
THURSDAY, OCTOBER 1, 2:30 – 6 p.m.
FACING THE ECOLOGICAL CHALLENGE OF URBAN ECOSOPHIES
Biomass has become in a few years a permanent reference of any architectural project. As this notion is often technical, politicized or even popularized, it is important to return to the fundamental propositions which have forged its meaning and to confront them with the innovative practices of a new ecological reality.
Participeront à ce débat : Andrea Branzi, Adriaan Geuze (West 8), Neven Sidor (Grimshaw Architects), James Wines (Site) et Ken Yeang (TR Hamzah et Yeang)
Musée d'histoire de la Pologne, Varsovie
Xefirotarch / Hernan Diaz Alonso
Design Team: Nick Kinney, Louis Koehl, Terry Gibbs
Engineers: Bollinger + Grohmann



image © Xefirotarch
VENDREDI 2 OCTOBRE 2009, 9H30-13H
LA VILLE COMME ORGANISME VIVANT PERSPECTIVES MORPHOGÉNÉTIQUES
L'idée contemporaine d'une cité en perpétuelle mutation animée par des réseaux, a réactivé la conception organiciste de la ville. Hors de toute notion d'échelle, les systèmes «biotech» sont devenus des systèmes de conception susceptibles de contrôler tous les schémas de croissance des domaines dynamiques initiant ainsi un vocabulaire de formes jusqu'alors inconnues.
Participeront à ce débat : Hernan Diaz Alonso (Xefirotarch), Ben van Berkel (UN Studio), Yusuke Obuchi /Theo Spyropoulos (AADRL) Makoto Sei Watanabe et Alejandro Zaera-Polo (FOA)
Docks de Paris, Cité de la mode et du design
Jakob+MacFarlane



image from Jakob+MacFarlane
FRIDAY, OCTOBER 2, 2009, 2:30 p.m. – 6 p.m.
A PRODUCTIVE DISORDER? GENERIC CHAOS
The expansion of cities, the proliferation of heterogeneous networks, of hybridizations, the emergence of parallel economies, have led to the growth of increasingly uncontrollable urban systems. The model of rational planning seems to have failed in the case of western cities devoted to consumption logics as in that of excessive urban concentrations in emerging countries.
These veritable urban conflagrations which seem to respond to no economic and social logic, in fact hold unsuspected generic capacities to model the urban. Ultimate avatars of consumerist cities or models of a spontaneous order, are the metropolises of the future able to institute a new dispersive economy?
This debate will take part: Rem Koolhaas (OMA-AMO), Kengo Kuma, Brendan MacFarlane (Jakob + MacFarlane), Thom Mayne (Morphosis) and Dominique Perrault
Enjeu Capital(es) information from Centre Pompidou
Location: Centre Pompidou, Paris, France
New Paris Architecture
Contemporary Paris Architecture
Paris Architecture Design – chronological list
Paris Architecture Walking Tours by e-architect
Renaissance Paris Wagram Hotel
Pompidou Architecture
Pompidou Architecture
Pompidou Centre Paris Building
Centre Pompidou Acquires 12 Architectural Models by MAD Architects
Bernard Tschumi Exhibition, Centre Pompidou
Enjeu Capital(es) – Pompidou Architecture Exhibition
Comments / photos for the Enjeu Capital(es) Paris Architecture page welcome