Oxford University Campus Building, English Higher Education Architecture Images, Architect
John Henry Brookes and Abercrombie Building
Egland Education Building Development design by Design Engine Architects
17 Jun 2014
Oxford Brookes University
Design: Design Engine
Location: Headington Campus, Gipsy Lane, Oxford, OX3 0BP, United Kingdom
Oxford University Campus
In the context of historic piecemeal development, the need to address the campus as a whole was recognised. This was then enabled by the production of a masterplan in 2007. Originating as a standalone student centre, the concept was developed to more fundamentally and visibly connect the existing campus, and in doing so provide a suite of internal and external spaces of the highest quality, as befits the University's academic status.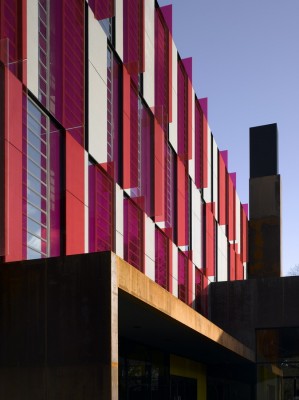 The design approach was closely allied to this ambition, and one of environmental performance. Close coordination between environmental engineer and architect was undertaken from the outset to develop and test iterations of the design in a virtual environment. The integration of structure, services and architectural elements brought similarly close, collaborative working amongst the design team.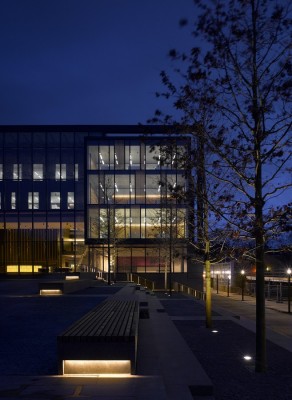 The building is principally of a hybrid insitu and precast concrete construction. Structural materials, in particular concrete, are integral to the appearance and environmental performance of the building. These are placed alongside and in contrast with other, largely self-finished materials.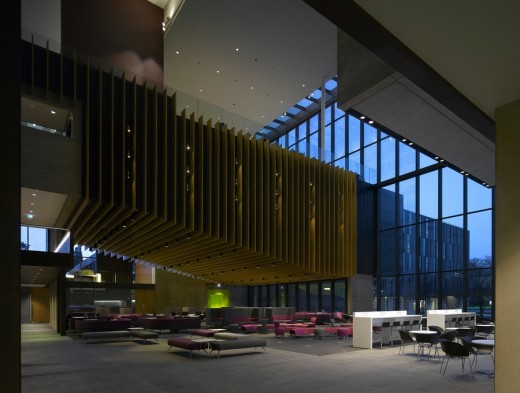 The exposed concrete provides thermal mass, which tempers heating and cooling loads in parallel with natural ventilation. Concrete's robustness is appropriate, and its use allows partitions to be demountable, providing a flexibility of accommodation in anticipation of changing teaching patterns. Precast elements are largely used where benefit can be gained from repetition. In situ elements include geometrically and structurally more complex components.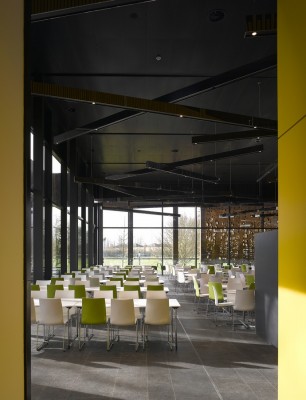 The project was subject of a two stage tender, with a 'mini package' process to select the final contractor from a shortlist of 2. Tender packages were reviewed in an open book forum for transparency and best value. Early contractor involvement enabled by the two-stage tender facilitated familiarisation with a large and complex construction project, development of construction methodologies and the bespoke facade systems. The project was undertaken under an NEC3 traditional contract.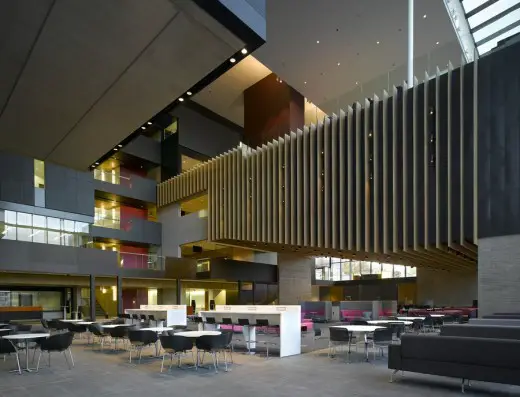 Ambition for architectural quality derived from the brief. Rigorous review was undertaken, including by the South East Regional Design Panel as part of the Planning process. Functional quality was addressed similarly, a consultation and briefing process included meeting with the University's Environmental Group. Close coordination among a design team incorporating specialist consultants addressed these ambitions.
Off-site manufacturing was used where appropriate. A unitised facade system allowed dimensional accuracy, environmental performance, and speed of construction.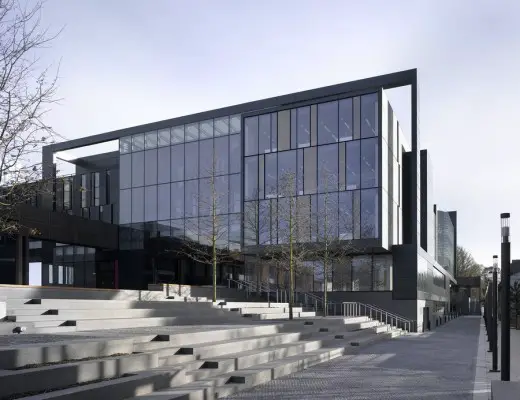 Full size mock-ups of concrete frame and facade elements allowed quality to be assessed and improved prior to fabrication. A full time on-site consultant team, the main contractor and specialist subcontractors worked closely to develop and coordinate subcontractor design. In conjunction with the NEC3 contract this organisation allowed timely identification and resolution of issues.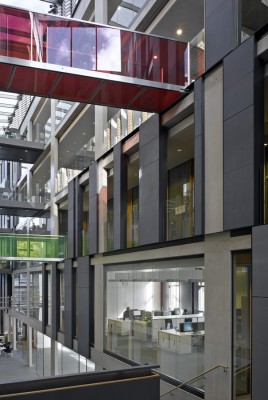 The project is of a scale not previously undertaken by the University. As such, it was subject to a process of tight cost control. Ultimate value perhaps derives from the realisation of an intervention on such a scale, in one step. As such, benefit to the experience of students, staff and public alike is greater than separate smaller buildings.
Since the opening of its new Abercrombie building in 2012, the School of Architecture has enjoyed an appreciable rise in applications to its courses, one indicator of the project's success. Indications since the opening of the John Henry Brookes Building in March 2014 are of a student body at home in their new building from the outset, and of University staff responding with great enthusiasm.
'…the beginning of a great modern cathedral of learning' Shami Chakrabarti, Oxford Brookes Chancellor, speaking at the opening of the new Abercrombie building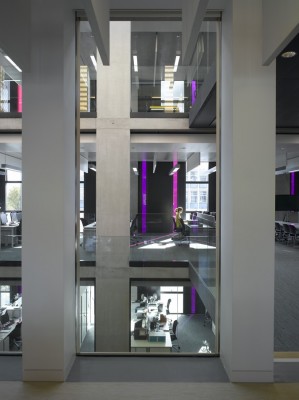 Oxford Brookes University – Building Information
Project Name: John Henry Brookes and Abercrombie Building
Company marketing contact: Phil Webb
Photography: Nick Kane
Project Details: Oxford Brookes University John Henry Brookes and Abercrombie Building
Date Completed: 31/01/2014
Date Project came into use: 24/02/2014
Cost of project on completion: £83,020,000
Commissioning Authority: Yannis Roussos, Oxford Brookes University
Principal Designer: Richard Jobson, Design Engine Architects
Principal contractor: Rob Cooper, Laing O'Rourke
Key Consultants
Structural and Civil Engineers: Ramboll UK
Environmental Services, Fire Consulants: Grontmij
Landscape Architect: Land Use Consultants
Specialist Lighting Consultant: Speirs & Major
Catering Consultant: Tricon Foodservice Consultants
Signage Consultant: Holmes Wood
Acoustic Consultant: Sandy Brown Associates
Access Consultant: QMP
Facade Access Consultants: Reef
Project Manager and Cost Consultant: Turner & Townsend
Contractors
Concrete structure: Expanded. Oran
Pre-cast concrete stairs: Bison
Structural steelwork: Bourne Engineering, London Engineering
MEPH Services: Crownhouse
Facade: Focchi
Stone cladding: Vetter
Roofing: Roofline
Maintenance and Access systems: Façade Hoists
Hard Landscaping: Vetter
Soft Landscaping: Laing O'Rourke
Stone flooring: Vetter
Flooring: Axiom
Carpentry, internal doors: SJ Eastern
Joinery: MJM
WC fit-out: MJM
Internal cladding: SAS
Internal glazed partitions: Planet
Dry-lining and ceilings: BDL
Blockwork: Laing O'Rourke
Painting and decorating: Harvey
Architectural metalwork: Glazzard
Glass Bridges: Littlehampon Welding
Catering fit-out: C&C
Lifts: Kone
Security services: Contact Security
Audiovisual systems: ProAV
Suppliers
Acoustic metal ceilings: SAS
Acoustic internal cladding panels: Decoustics
Internal timber doorsets: Leaderflush Shapland
Internal sliding partitions: Alcowall
Stone: Marhsalls
Fibre-concrete cladding: Rieder
Curtain walling systems: Focchi
Glass louvred ventilators: Colt
External louvres: Renson
Internal blinds: Levolux
Lighting DAL, Zumtobel, Enliten
Raised access flooring: Kingspan
Fire curtains: Cooper Fire
Firestopping: Kilnbridge
Loose furniture: Broadstock
Oxford Brookes University images / information from Design Engine
Location: Oxford University, Oxford, England, UK
Architecture in England
Contemporary Architecture in England
Architecture Walking Tours Oxford
Major Oxford building:
Ashmolean Museum Extension



photo © Richard Bryant / Arcaid
Ashmolean Extension
A recent Oxford College building design on e-architect:
Arts Centre at Lincoln College
Stanton Williams



image from architects
Lincoln College Arts Centre
Oxford College Building Designs
St. John's College Building
MJP Architects



picture © Peter Durant
St. John's College Oxford – The Kendrew Quadrangle
Keble College Building
Rick Mather Architects



image from architects
Keble College Building
Middle East Centre at St. Antony's College
Zaha Hadid Architects



image from architect
St. Antony's College Oxford Building
Comments / photos for the Oxford Brookes University John Henry Brookes and Abercrombie Building page welcome
Purcell – External Site