Top 4 Norway Universities, Norwegian Higher Education Advice, Scandinavian Learning
Top 4 Universities in Norway
6 Oct 2020
What comes to your mind when you hear "Norway"? An extremely cold Scandinavian country? Yet, this is actually false, Gulf Stream does not let the temperature fall below 24.8 Fahrenheit.
You might also think that Norway is one of the best countries to live in, and that is, in fact, true. The U.N. continually ranks Norway as the country with the highest human development. The government places it's focus on human rights and cultural freedom. Also, Norway pursues the right to education very diligently, and nearly every third Norwegian has gained a higher degree.
Norwegian education is affordable to everyone: most of the universities are state-supported; thus, mostly no tuition fees apply to those who want a degree. And although education is generally harder than in the US, you can always go to the essay writing service EssayPro to get some help. Campus life is vibrant and eventful; people enjoy their student time, focus on education, and visit extracurricular activities. For international students, the latter is a great chance to integrate into Norwegian society. Besides, international students can combine education and work (upper limit is 20 hours a week).
So what are the best Norwegian universities for international students?
The University of Oslo
It is the oldest and largest Norwegian university. Its location in the country's capital allows international students to experience a unique culture and traditions directly. The University of Oslo has eight different faculties to choose from: Dentistry, Education, Humanities, Law, Mathematics and Natural Sciences, Medicine, Social Sciences, Theology and Religion.
The university was established in 1811, and the main campus buildings were greatly inspired by those designed in Berlin by Karl Friedrich Schinkel, a famous Prussian architect.
The university cares about international students and offers them an opportunity to study Norwegian language while attending specifically tailored courses. You won't be limited to one option. If you do not have enough money to afford paid courses, you can take free courses online. It has an introductory level, but you will be able to understand basic Norwegian. Also, Summer School will facilitate your continuous education and advance your knowledge.
Here, you can check what you need to do before your arrival to Oslo. If you wish to obtain a Master's degree, be aware that your first semester will be held online because of the pandemic.
The University of Bergen
Bergen is the second-largest city in Norway, and its dam is one of the UNESCO sites. So, while studying at the University of Bergen, you will have another opportunity to learn and experience local culture, traditions and architecture.
The University of Bergen can offer you six faculties: Fine Art, Music and Design, Humanities, Law, Mathematics and Natural Sciences, Medicine, Psychology, and Social Sciences. Here, you can check the full list of studies.
The Energy and Technology building was designed by Arkitema Architects and Arkitektgruppen Cubus and is a prominent sight of the city. The whopping 17,500 m2 build includes a new street and a "Science City" meant to support development of technology and education.
You can visit this university based on exchange programs and choose from 400 courses. You can obtain a Master's degree here, and you can study in English within several faculties for two years.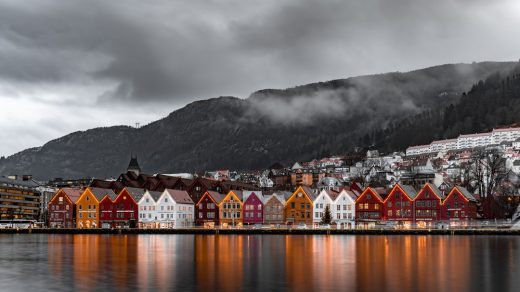 source: https://unsplash.com/photos/lE5-z4nTCTQ – Photo by Michael Fousert on Unsplash
If you wish to pursue an Undergraduate or a Bachelor's degree at the University of Bergen, you should be ready to offer none of them in English. Norwegian language only. But do not fret: the university will gladly help you in searching for affordable courses.
The Norwegian University of Science and Technology
Located in Trondheim, the Norwegian University of Science and Technology occupies the second place in Norwegian universities with the most number of students.
You can choose among seven faculties: Engineering, Information Technology and Electrical Engineering, Natural Sciences, Architecture and Design, Economics and Management, Medicine and Health Sciences, Social and Educational Sciences, and Humanities. Here, you can check all info you need on available programs. You can even sort it and find programs after completing a Bachelor's degree taught in the English language.
The Faculty of Architecture and Design is famous for its research in urban planning and visual arts. They offer 15 BA and MA programs, as well as PhD programs.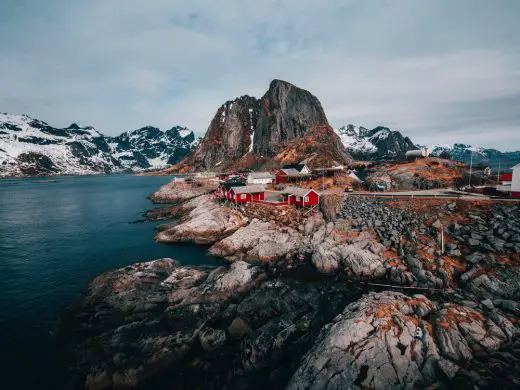 source: https://unsplash.com/photos/6f_ANCcbj3o – Photo by John O'Nolan on Unsplash
The university requires all international students to have good English language knowledge. So, you can skip the part with learning the Norwegian language if it is too difficult for you. For those who want to pursue a degree in the Norwegian language, the university has a requirement: to be proficient in Norwegian and English.
Еhis university will also not leave you without help with language courses. They have online courses as well as courses held in three cities.
Nord University
Nord University may become your favorite one if you have struggled with learning the Norwegian language. For international students, it has various Master's, Bachelor's, and one-year programs. Also, Nord University offers free courses of Norwegian for foreigners. So, you may consider giving a chance to this complicated language.
Nord University also offers five faculties: Biosciences and Aquaculture, Education and Arts, Nursing and Health Sciences, Social Science, and Business School. You will be surprised to learn that the university presents a checklist for new students coming to receive their degree here.
This is one of the newest universities out there, established in 2016 by merging the University of Nordland, Nesna University College, and Nord-Trøndelag University College. It has multiple campuses in different cities and towns, leaving you to choose where you'd like to live.
In addition to the things mentioned above, every university in this list has local museums and campuses. An international student will find a place to live and events to visit to learn more about unique Norwegian culture. Some of these universities can also boast famous alumni and Nobel laureates.
Norway is an impressive country. Apart from constant cramming and extracurriculars, you can also hike to see the most stunning views Norway has to offer. Fjords, mountains, islands and tiny cities will make you fall in love forever. You might even join an Arctic expedition as a tourist or as a sailor. Don't forget to check out aurora borealis, also known as the northern lights, one of the most impressive natural sights on Earth.
Comments on this Top 4 Universities in Norway advice article are welcome.
Norwegian Architecture
Contemporary Norwegian Buildings
Norwegian Building Designs – chronological list
Architecture Tours in Oslo by e-architect
Norwegian Architecture – selection
The Plus Furniture Factory, Magnor
Architects: BIG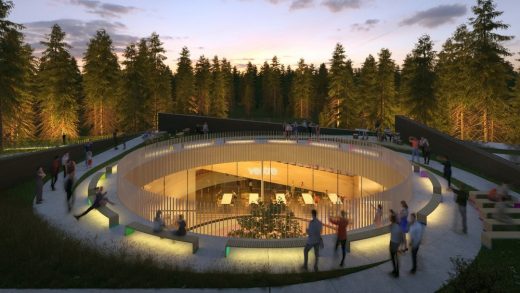 image © Lucian R
The Plus Furniture Factory, Magnor
The Twist at Kistefos, Jevnaker Museum
Architects: BIG-Bjarke Ingels Group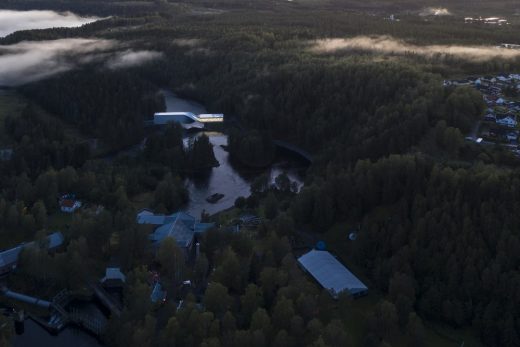 photo : Laurian Ghinitoiu
The Twist at Kistefos, Jevnaker Museum