Yellow Treehouse Restaurant, Warkworth Building, New Zealand Tree Project, Photo
Yellow Treehouse Restaurant New Zealand
Architecture Development in NZ – design by Pacific Environments Architects
25 Mar 2009
Yellow Treehouse Restaurant
Architects: Peter Eising and Lucy Gauntlett (Pacific Environments Architects Ltd.)
Photos: Lucy Gauntlett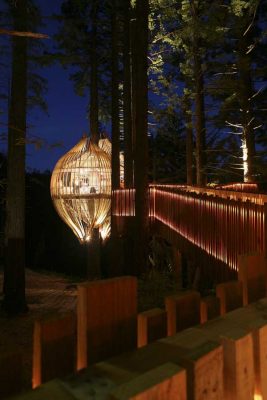 Yellow's ambitious advertising campaign to build a real restaurant ten metres high in a redwood tree has been completed.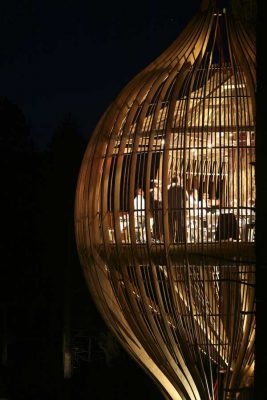 The striking pod-shaped structure was open to the public for a limited time from 9 January to 9 February 2009, and restaurant guests will be hosted by the face of the campaign, Tracey Collins.
But why a restaurant in a tree? Yellow Marketing Director Kellie Nathan explains that the advertising campaign set out to surprise people and help them see Yellow in a different light.
"We've had lots of people questioning whether the treehouse is for real because it is an ad campaign. Well, having eaten at the restaurant myself, I can assure people that Tracey, the tree, and the restaurant are very real.
"We wanted to prove that just about any mission could be completed using Yellow – the book, online or mobile. And I think we've done that!"
Ms Nathan says the campaign website has generated a lot of interest, with Tracey's blog receiving over 110,000 hits to date.
Inspired by nature, the treehouse's stunning design is by Peter Eising of Pacific Environment Architects, and has attracted international interest.
"I haven't designed a treehouse since my childhood, let alone built a restaurant in one. I've been amazed at the interest from media and the design community overseas and, now that it's completed, I'm really proud of the way it's turned out."
Yellow Treehouse Restaurant New Zealand – Building Information
Project Managers: The Building Intelligence Group – Gareth Skirrow, Blair Wolfgram, Joe Holden
Architects: Pacific Environments Architects – Peter Eising & Lucy Gauntlett
Engineers: Holmes Consulting – Chris MacKenzie & John Worth, Martin Feeney – Holmes Fire
Building Contractors: NZ Strong – Shane Brealey, Paddy Molloy, Megan Roberts; Citywide Construction Ltd – Jim Bellamy
Timber Fins: McIntosh Timber Laminates – Owen Griffiths, Sandy Sandiford
Lighting: ECC Lighting & Furniture – Renee Kelly
Equipment hire: Hirequip
Crane: NZ Access – John Morrow
Earthmoving: C&L Sorenson – Carl Sorenson
Timber: Timberworld
Hardware: Master Trade
Restaurant fit out: Carlton Party Hire
Catering: Dawsons – Graham Dawson
New Zealand Architect : Pacific Environments Architects – contact details
Treehouse restaurant inspired by nature
A striking pod-shaped structure built ten metres high in a redwood tree near Warkworth, north of Auckland, will soon become home to what is believed to be New Zealand's only treehouse restaurant.
The treehouse is the focus of a new and unusual advertising campaign for Yellow (currently on TVNZ and online).
The Yellow campaign follows Aucklander Tracey Collins' real-life mission to build a restaurant in a tree using only Yellow – the book, online and mobile.
Peter Eising and his team at Pacific Environment Architects, who were chosen through Yellow, say the project has been a unique challenge.
"I haven't designed a treehouse since my childhood, let alone built a restaurant in one," Mr Eising said.
"The brief was ideal for an architect because it was very open in terms of where and how the treehouse should be built. It's been up to me and my team to recommend a suitable site and design a treehouse that reflects its surroundings."
The treehouse will provide the restaurant's dining room while the kitchen and other facilities will be located on the ground. Access to the treehouse will be provided by an elevated tree-top walkway (see attached artists' impressions).
Mr Eising said the selected tree is one of the larger ones in the forest and presents some obvious engineering challenges.
"The key challenges are supporting the weight of about 18 people, and fixing the structure to the 1.7 metre diameter tree at a height of ten metres."
The project has been through the required resource and building consent processes, including input from structural and fire engineers, as well as traffic and town planners. As a result Eising is entirely confident the treehouse will be perfectly safe.
"The structure will be securely fastened to the tree's trunk using steel saddles, and we even tested the amount of give in the tree in strong winds by using a line attached to a bulldozer."
Eising said his design is inspired through forms found in nature, and is reminiscent of a chrysalis protecting an emerging butterfly.
"The architectural component embodies a simple oval, or pod, form wrapped organically around the tree's trunk and featuring two internal levels. Designed to account for the site's sunny aspect, the treehouse will be clad with vertical timber fins which will aid natural cooling.
Mr Eising said a great deal of care has been taken in minimising the project's impact on the surrounding forest.
"By its very nature a treehouse sits above its environment and thus no lasting impact is made at ground level. But we've also been very careful with the tree. We involved an arborist to help select a robust tree and the one we've chosen is about 40 years old.
"Parts of the walkway will be built using redwood milled from two dead trees from the surrounding forest. It's a working forest (originally planted for wood chipping) so we'll be putting the trees to good use. For the vertical fins and slats on the treehouse we'll be using sustainably-grown pine and poplar respectively."
Eising said the treehouse project had definitely succeeded in getting his team's creative juices flowing.
"Projects like this are what Pacific Environment Architects are all about – striking that balance between pushing the design boundaries for a unique outcome, pragmatism in getting the project built and having heaps of fun in the process. The treehouse couldn't embody this better."
Yellow Marketing Director Kellie Nathan says the TV and online campaign is a new direction for Yellow.
"The Yellow™ treehouse campaign is the first representation of our new Yellow™ brand. Our mandate is for people to start thinking about Yellow™ differently – the Yellow™ treehouse is definitely not something you would expect from us!
"It's deliberately a bit quirky and is intended to demonstrate that you can get just about any job done using Yellow™ – even build a restaurant up a tree."
Ms Nathan says the campaign has generated exceptional interest, with Tracey's blog receiving nearly 40,000 hits in the campaign's first two weeks.
About Yellow
Yellow was formed in 1988 and publishes the print, online and mobile directories for Yellow™, as well as the White pages® and the Local directory™. Yellow owns the 018 directory assistance service, a majority stake in 50s-plus website grownups.co.nz, and publishes the Retirement guide, Yellow frontdoor and New Zealand Tourism Online (NZTO), an award-winning online tourism directory. Yellow aims to help New Zealanders complete their missions and get the job done.
Location: Warkworth, Auckland, New Zealand
New Zealand Architecture
Contemporary New Zealand Buildings
New Zealand Architecture Designs – chronological list
Treehouse Architecture Competition
New Zealand Architecture – Selection
Corinth St House
Daniel Marshall Architect
Corinth Street house
The Michael Hill Clubhouse Building, Queenstown, Otago, South Island
Patterson Associates
Michael Hill Clubhouse
Treehouse – Concept Design
Treehouse Building
Comments / photos for the Yellow Treehouse Restaurant New Zealand Architecture page welcome
Website: www.yellowtreehouse.co.nz