New York Architecture News 2018, NYC Building News, Manhattan Real Estate Photos, USA City Images, Designs
New York Architecture News Early 2018
New York Building News 2018
NYC Architecture Designs – chronological list
New York Architecture Walking Tours by e-architect
June to December 2018:
New York Architecture News 2018
January to May 2018:
May 24, 2018
45 Park Place, Tribeca, Lower Manhattan
Design: SOMA Architects ; AOR: Ismael Leyva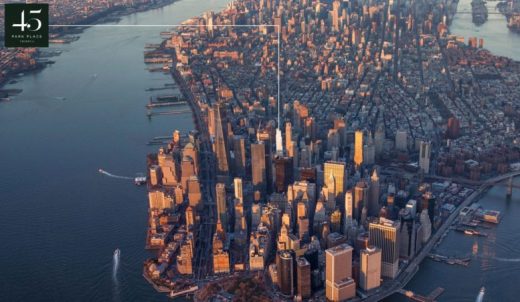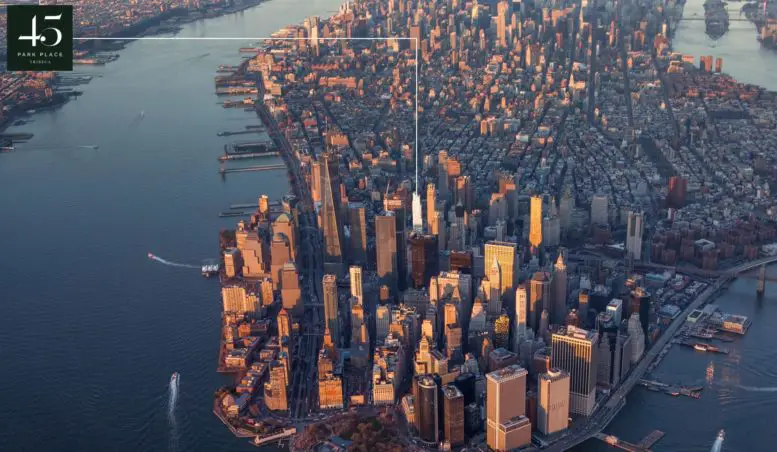 rendering : Williams New York
45 Park Place Tower
This new Tribeca skyscraper building is due to be 667 feet high (to rooftop pinnacle), with 43 stories. The developer is Soho Properties led by Sharif el-Gamal.
Archasm Guggenheim New York Museum Architecture Competition
Apr 26, 2018
David H. Koch Center
Design: Pei Cobb Freed & Partners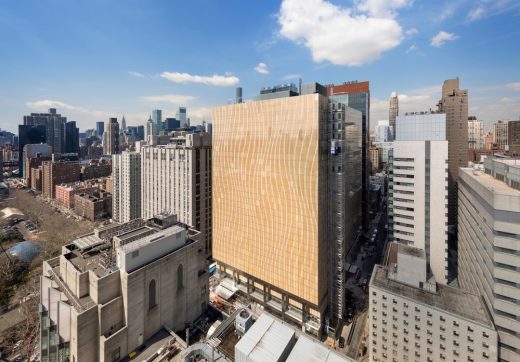 photo © Albert Vecerka / ESTO
David H. Koch Center
The opening announced of the NewYork-Presbyterian David H. Koch Center, a world-class ambulatory care center that combines innovative clinical approaches and cutting-edge technology to provide exceptional care and a seamless patient experience.
Apr 11, 2018
New Skyscraper Building at 11 Hoyt Street, Brooklyn
Render revealed for redevelopment of Macy's former footprint in Downtown Brooklyn, reports New York Yimby. The 51-story condominium building is designed by the architecture and urban design firm Studio Gang. This project will be the Chicago-based architecture firm's first residential building in New York City.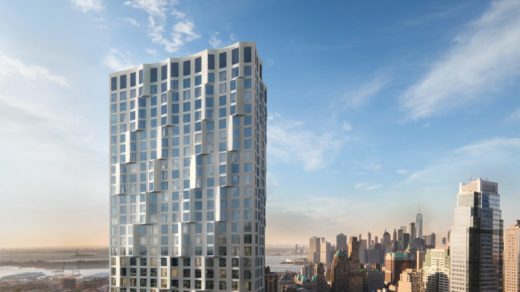 image courtesy of Tishman Speyer
The tower design is reminiscent of the iconic "New York by [Frank] Gehry" tower at 8 Spruce Street in New York City: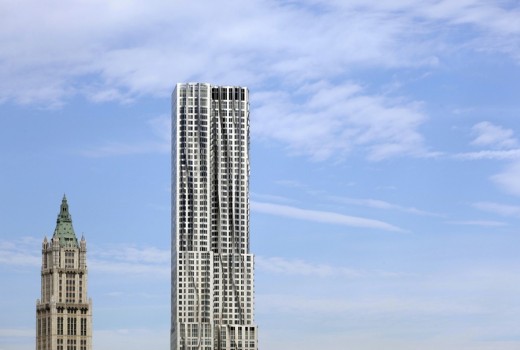 photo : dbox
Tishman Speyer is the developer, Hill West Architects is the architect of record, and the cost is due to be around $685 million.
Apr 9, 2018
The Frick Museum Building Renovation
The Frick Collection announced plans for the renovation and expansion of its Upper East Side building this week, selecting a design by Selldorf Architects, reports the Architectural Digest. The structure, which was built in 1914 by Carrère and Hastings as the home of Henry Clay Frick, has not had an extensive upgrade since it was expanded and converted into a museum in 1935 by architect John Russell Pope. The new $160 m design addresses the institution's needs for the 21st century, which include an educational center, space to display the permanent collection, and conservation facilities. The historic Manhattan property is described as a Gilded Age masterpiece.
Apr 6, 2018
New York Build 2018 Review
New York Build 2018, the leading construction and design expo in New York City and NY State, showcased the finest talent in the sector and connected visitors with the leading contractors, developers, architects, government and other construction industry professionals on March 19-20 at the Javits Center.
Apr 3, 2018
1710 Broadway Building News
New design revealed for skyscraper building at 1710 Broadway, in Midtown Manhattan. This site is located prominently on the northeast corner of Broadway and 54th Street.


image courtesy of PLP architecture
The Commercial Observer reports that Extell Development is in the process of selling a large portion of their land at 1710 Broadway, which is being handled by Yoron Cohen of Colliers International. The portion of the lot to be sold, with an official address of 211 West 54th Street, will allow 288,000 sqft of building area.
The plans include living quarters averaging 600 to 1,000 sqft apiece, which could sell for an average $2,800 per sqft, and the site is expected to fetch over $200 million.
Mar 25, 2018
550 Clinton Avenue
550 Clinton Avenue is designed by architect Morris Adjmi. The 29-story residential tower, located in a landmarked district, is approved by the LPC.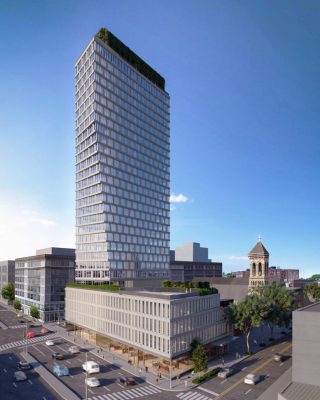 rendering courtesy of Morris Adjmi Architects
The building bridges Pacific Park, a major mixed-use development in Prospect Heights Brooklyn, and the smaller-scale structures of the nearby Clinton Hill neighborhood.
The new building wraps around a block it shares with the Church of St. Luke and St. Matthew—a local landmark since its completion in 1891 and an officially designated landmark since 1981.
Mar 25, 2018
Medly Pharmacy, Brooklyn
Architecture: Sergio Mannino Studio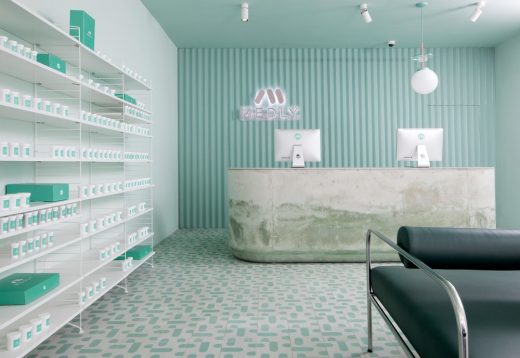 photograph : Charlie Shuck and Sergio Mannino Studio
Manhattan's First Passive House
Medly Pharmacy is a new neighborhood pharmacy owned by Marg and Sahaj Patel. Retailers have begun to understand the necessity of transforming businesses into 'every-channel' platforms, where online and physical stores work as one, not needing to compete with each other. Medly is among the first in New York to do embrace the merits of both online and physical.
Mar 23, 2018
Manhattan's First Passive House
Design: Baxt Ingui Architects, P.C.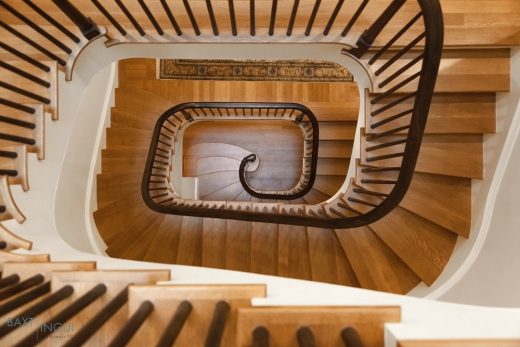 photograph : Peter Peirce, Inc.
Manhattan's First Passive House
The property is Manhattan's first Certified Passive House, Certified LEED for Home Platinum and it is in a NYC Landmark district. The renovation consisted of restoring the Renaissance Revival style front façade, originally built in 1889 by Thom & Wilson, by bringing back the ornamental details and the entire stoop entry that was previously removed in the early 1940's.
Mar 18, 2018
The Switchback House, Brooklyn
Architecture: LIGHT AND AIR (L/AND/A)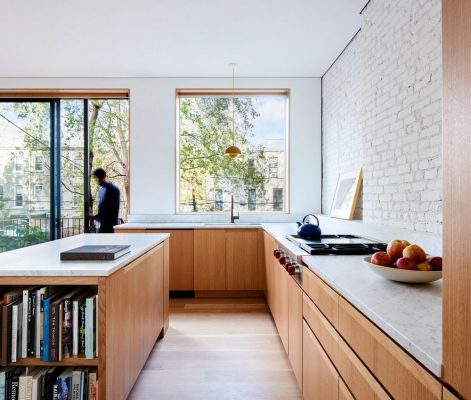 image courtesy of architecture office
The Switchback House in Brooklyn
A gut renovation of an existing 1880s Brooklyn row house. The building forms a new prototype for contemporary urban living: it inverts and opens up the traditional row house by replacing a stacked stair with a switchback stair and inserting a dramatic skylight atop the new vertical stair volume.
Mar 15, 2018
520 West 28th Street
Design: Zaha Hadid Architects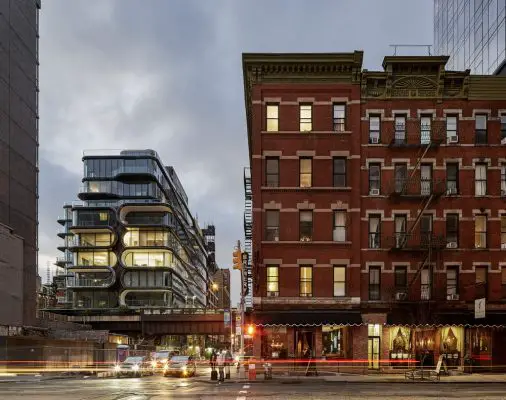 photography ® Hufton+Crow
520 West 28th Street Building
Related Companies has unveiled the completed amenity spaces at the highly acclaimed 520 West 28th residential building in New York's west Chelsea neighbourhood.
Mar 14, 2018
Shock Therapy, Upper East Side
Design: Eray Carbajo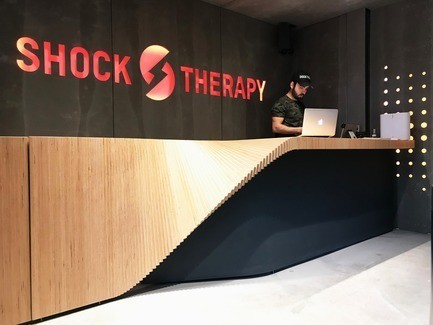 image courtesy of architects
Upper East Side Gym
The interiors bring an exciting twist to the building's beautiful landmark exteriors. With the idea to create the space for future of fitness, the concept introduces a room within a room, nesting a futuristic shell into a historic background.
Mar 6, 2018
265 West 45th Street Super Slender Tower
Design: RB Systems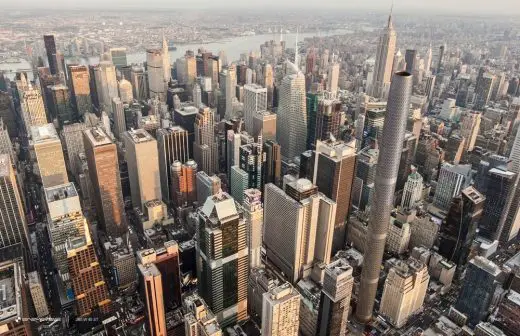 image courtesy of architects
265 West 45th Street Super Slender Tower
This intriguing architectural project explores a novel and captivating tower typology, "The New York's Super Slender". Located on a small, currently vacant site of around only 30x30m the building rises to 400m.
Mar 3, 2018
One Vanderbilt Building News
Construction on the 1,401-foot One Vanderbilt skyscraper building has made a significant progress since starting in summer 2017, putting it ahead of schedule for its anticipated completion date.
Mar 2, 2018
Fifteen Hudson Yards Construction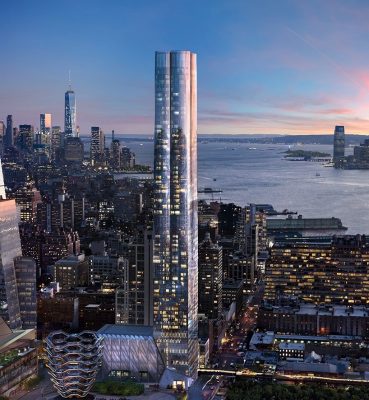 image courtesy of architects
Fifteen Hudson Yards' designed by Diller Scofidio + Renfro (DS+R) in collaboration with Rockwell Group has topped out in New York. The residential tower now rises over 900 feet (274 meters) high.
The tower contains 285 one- to four-bedroom residences alongside a suite of luxury lifestyle amenities.
The building forms part of the 28-acre Hudson Yards development in Manhattan's west side. The project's first phase includes an interactive sculpture designed by Heatherwick studio. It is on track to open in march 2019.
The topping out of Fifteen Hudson Yards coincides with the announcement that sales for the tower's 285 condominiums have now surpassed 50%.
Feb 26, 2018
Kinfolk Studio, Brooklyn
Architecture: Berg Design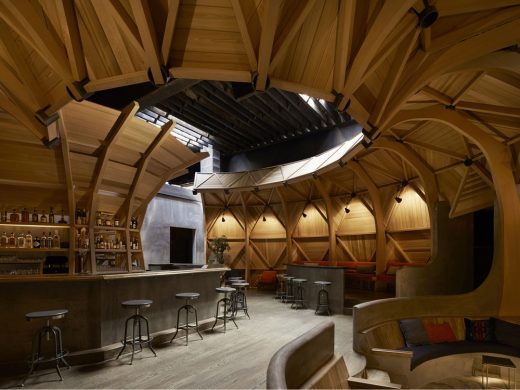 photograph : Edward Caruso
Kinfolk Studio in Brooklyn
"The space should feel like it was designed for an off the grid Pacific Northwest hippy mathematician." The program called for a retail area and a bar space which would feel intimate with 30 patrons but also function as an extension of a larger event space with capacity for 150.
Feb 22, 2018
Pier 2: Apartment of the Future
Design: Humphreys & Partners Architects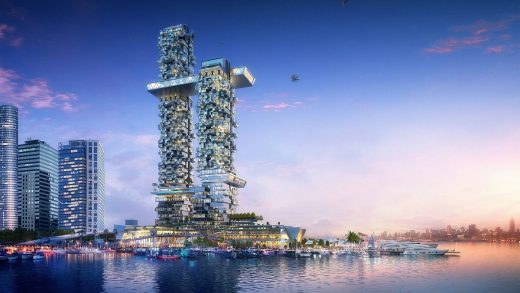 image courtesy of Humphreys & Partners Architects
Pier 2: Apartment of the Future in Manhattan
A future vision of multi-family design at the 2018 International Builders' Show in Orlando, FL: a high-rise concept that portrayed vivid renderings of two soaring tower buildings on the Manhattan waterfront.
Feb 22, 2018
249 East 62nd Street, Upper East Side
Design: Rafael Viñoly Architects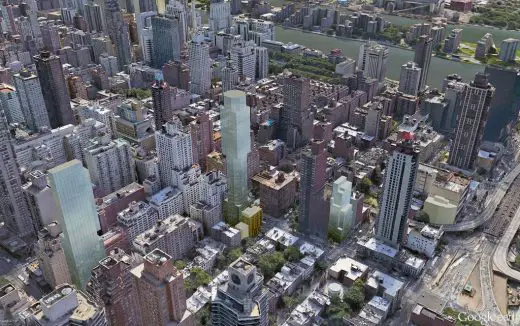 image courtesy of architects
249 East 62nd Street Building
This Upper East Side tower by architect Rafael Viñoly will comprise 32 floors. The height of 510 ft is augmented by a significant podium that contains retail and a townhouse.
Feb 19, 2018
SPYSCAPE Museum, 928 8th Avenue
Architects: Adjaye Associates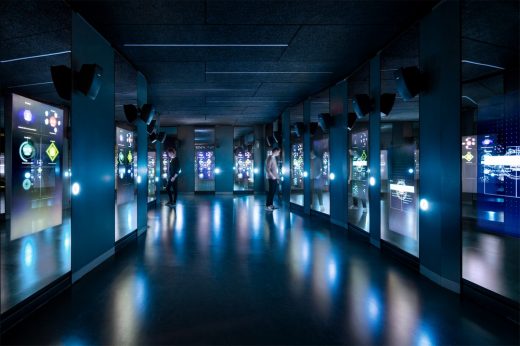 images : Scott Frances for SPYSCAP
SPYSCAPE Museum NYC
This is a new global destination for espionage that marries educational programming with state-of-the-art interactive technology to create a unique experience for every user. The spy headquarters allows visitors to deeply engage with the practice of espionage today. In addition to permanent and temporary exhibition spaces, the program for the 60,000 ft, three-level museum includes a world-class black glass bar, flexible event spaces, and a rare bookstore.
Feb 15, 2018
Pier 40 Hudson River Apartments
Design: DFA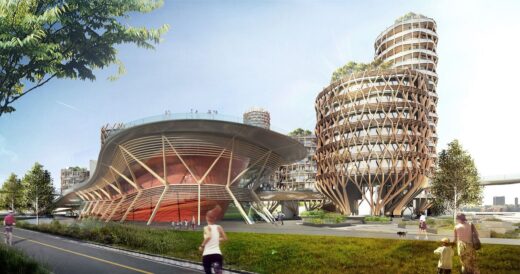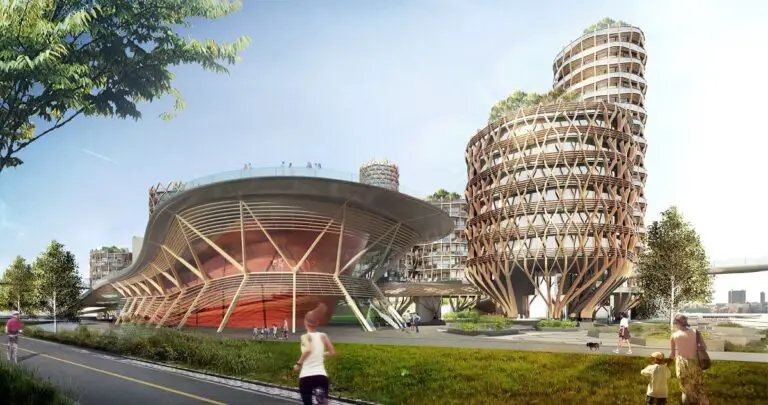 images courtesy of architects
Pier 40 Building Design
New York City's sea level is expected to rise 11-30 inches by 2050, with most current buildings not designed to accommodate such inevitable changes.
Feb 6, 2018
Empire State Building – Renewal + New Observation Deck
Renewal Architects: Beyer Blinder Bellee
Empire State Building Renewal
Refurbishment of the landmark's 102nd-floor observation deck. Floor-to-ceiling windows will be installed to allow better views over Manhattan.
Feb 6, 2018
Brooklyn Point, 138 Willoughby Street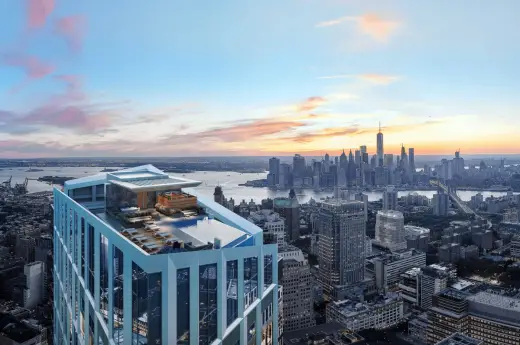 rendering via Williams New York
Developer Extell's City Point tower, named Brooklyn Point, will have the highest rooftop pool in NYC.
Sitting at the top of the 720-foot luxury condo it will be a 27-foot-long saltwater infinity pool, with a full lounge area, a stargazing observatory, and space for outdoor movie screenings: Brooklyn Buildings for more info.
Feb 1, 2018
Bubble Shade
Design: Valerie Schweitzer Architects



image © Valerie Schweitzer
Bubble Shade for NYC Parks
Inspired by the playful soapy bubbles of a child's toy wand, this architectural kit-of-parts creates domes of colorful fabric meant to uplift urban shade-seekers in overheated areas.
Jan 30, 2018
Tammany Hall Redevelopment, 44 Union Square, Manhattan
Renewal design: BKSK Architects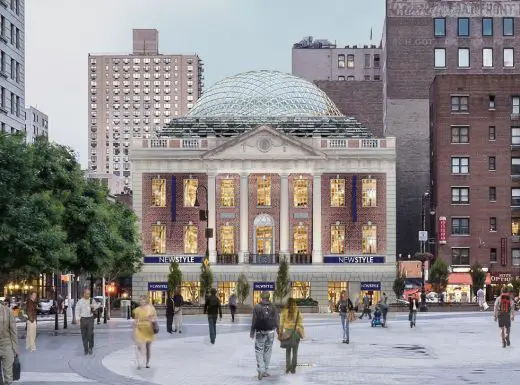 rendering Courtesy of Newmark Knight Frank
Tammany Hall Building Renewal
The makeover by BKSK Architects of the landmarked Tammany Hall at 44 Union Square East forms new / revitalized office and retail spaces.
The key architectural feature is the new glazed glass dome floating over the top floor.
Jan 29, 2018
The Eleventh, 76 Eleventh Avenue, between West 18th and 17th Streets, West Chelsea
Design: Bjarke Ingels – BIG
Foundations for this pair of slanted towers designed by celebrated architect Bjarke Ingels are complete. The pair of high-rise buildings at 76 Eleventh Avenue are for developer HFZ Capital and located near the High Line between West 18th and 17th Streets.
The Eleventh
Jan 29, 2018
Seabreeze Tower
New rendering revealed of 19-Story condo building at 271 Sea Breeze Avenue, Coney Island: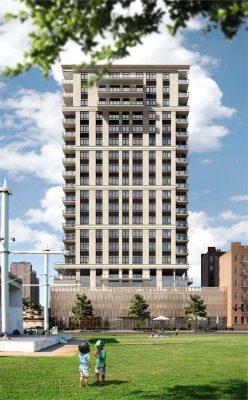 image courtesy of architects
271 Sea Breeze is due to be 230 feet high, offering 179,267 sqft of space. The building is designed by Zproekt and the structural engineers are Wexler Associates.
The 114 residential units with an average size of 1,572 square feet are joined by around 32,000 sqft of community space.
The waterfront property adjacent to Asser Levy Park will have unobstructed views of the Atlantic Ocean on its south side, and views of the Manhattan skyline to the northwest.
Jan 26, 2018
Cuomo's Subway Stations Renovations Postponed
The board of the Metropolitan Transportation Authority delayed a vote on construction contracts to renovate two stations in the Bronx and six in Manhattan after MTA members, appointed by Mayor Bill de Blasio, objected.
The contracts fall under Governor Andrew Cuomo's $1 billion plan to outfit 33 subway stations with countdown clocks, LED lighting, USB ports and other amenities. The board's city representatives questioned why so much money was being put towards unnecessary, cosmetic improvements at stations that are in decent condition already, instead of funding signal and track repairs.
**************
January to April 2017 Archive
New York Architecture News 2017
**************
**************
2011-16 Archive
New York Architecture News 2016
Location: New York City, NY, USA
New York Buildings
Key New York Buildings
Center for Architecture in New York Events, NYC
Storefront for Art and Architecture : NY Architectural Exhibition
NYC Information Center : WXY architecture + urban design
Photos for the New York Architecture News Early 2018 page welcome