New York by Gehry, 8 Spruce Street NY, Rippling Building Manhattan, Beekman Tower photos
New York by Gehry : 8 Spruce Street Manhattan
Rippling Building – NYC Skyscraper Design, United States of America
Jul 5, 2016
8 Spruce Street Building in New York City
photos from 1 Jul 2016 © Adrian Welch: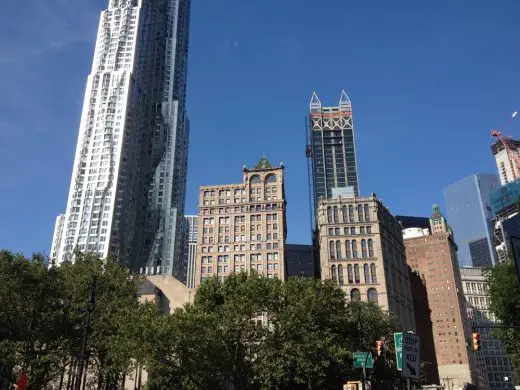 Rippling Building New York City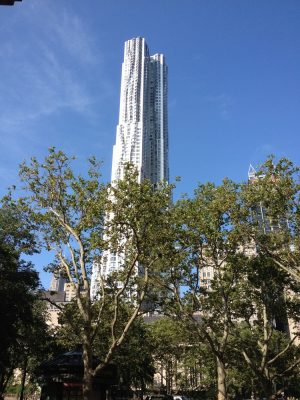 Jul 29, 2011
New York by Gehry
RIPPLE EFFECT: FRANK GEHRY'S ACCLAIMED NYC SKYSCRAPER DEBUTS UPPER-FLOOR LUXURY RENTAL UNITS TO HIGH DEMAND
Elegant 903-unit "Vertical City" Enjoys Brisk Rental Season; New York by Gehry is a Shining Symbol of Lower Manhattan's Residential Renaissance
Gehry & Ratner Fete Specialty Brokers at Reception in a 52nd Floor, 3-Bedroom, Terraced Apartment, Catered by Chef David Bouley and his New Brushstroke Restaurant




8 Spruce Street photos : courtesy of Gehry Partners
NEW YORK—Friday, July 29, 2011: Call it the "ripple effect"—the real estate world continues to buzz as the spectacular upper floor residences of New York by Gehry are released to an eager market and renters continue to throng the rental gallery to seek a home created by the architect, Frank Gehry.





Beekman Tower photos / sketches : courtesy of Gehry Partners
Praised by architecture critics and beloved by photographers worldwide, the 76-story New York by Gehry—with its stainless steel cladding draped like fabric—is an inspired addition to the Manhattan skyline, a shining symbol of Lower Manhattan's resurgence as a vibrant residential, commercial and cultural neighborhood.
Karen Kemp of Citi Habitats and guests take in the breathtaking views from the 52nd floor apartment terrace:



photo : Philip Greenberg
Frank Gehry and Bruce Ratner toast Gehry's "love letter to New York City," to applause from 150 specialty brokers, including Nancy Packes (far right), and Scott Hustis and Mark Jovanovic of Corcoran:


photo : Philip Greenberg
Following the exceptionally successful springtime release of studios, one-bedroom and two-bedroom rentals on the lower floors of Eight Spruce Street, the focus moves skyward, to floors 40 through 76 with larger, family-friendly two-and-three bedroom residences, featuring unique layouts, expansive views and elegant finishes.


8 Spruce Street photo : dbox
During a sunset event held Tuesday, July 26th, over 150 specialty brokers got their first look at these upper floor apartments, presented by developer Bruce Ratner and architect Frank Gehry. The party showcased a terraced three-bedroom model unit on the 52nd floor with expansive views of the city.
Guests enjoyed skyline panoramas featuring the Empire State Building to the North, the Freedom Tower and Hudson River to the West, and the Brooklyn, Manhattan and Williamsburg bridges to the East. Guests also toured the building's newly opened, 22,000sf of amenity spaces and new model apartments on the 45th floor.
Fern Lazar of Lazar Partners, MaryAnne Gilmartin of Forest City Ratner Companies, and Cecile Le Goff enjoy the master bedroom's view of the landmark Woolworth building:



photo : Philip Greenberg
This broker preview event was catered by renowned chef David Bouley, featuring selections from his newest venture, Lower Manhattan's acclaimed eatery, Brushstroke, a much-anticipated culinary collaboration with Japan's Tsuji Institute.
Gehry's Design Vision, Inside and Out
Karen Kemp (Citi Habitats) and Philip Weller (Denude Studio) lean in for a quick chat with Frank Gehry, while guests outside enjoy spectacular views from the terrace:



photo : Philip Greenberg
In a rare arrangement, Frank Gehry not only designed the building's exhilarating façade but all of the interiors and amenity spaces, curating all finishes and fixtures, and styling the building's 20 model apartments. The artist's hand is in evidence throughout Eight Spruce Street–from the striking sculptural concierge desk in the lobby to the screening room's free-form amphitheater-style seating in the amenity space, constructed in Gehry's signature honey-colored vertical grain Douglas Fir.
Nelly Downes and Annie Clark (Weichert Relators), Natia Mosashvili (LaSeven Inc.), David Davis (Spire Group), Barbara Godson (Halstead Property), and Sherri Shang (Douglas Elliman Real Estate) gather around Frank and Berta Gehry in the spacious 52nd floor living room:



photo : Philip Greenberg
"I designed a building I would want to live in as a New Yorker." Said Frank Gehry, "You could say this is my love letter to New York City. I'm thrilled we were able to do it in Lower Manhattan, which allowed me to be part of something so meaningful—to stand with this building's neighbors, the residents and businesses of this neighborhood. We worked together over the past seven years to create a new icon for Lower Manhattan."
NYbG leasing and marketing teams gather with Frank and Berta Gehry: Cliff Finn (Citi Habitats) and Nancy Packes (Nancy Packes, Inc.) seated; Sarah Patton, Lenny Inzirillo, Matthew Villetto, Gary Malin and Gordon Golub, (all from Citi Habitats) standing:



photo : Philip Greenberg
Bruce C. Ratner, Chairman and CEO of Forest City Ratner Companies said, "There is a reason Frank Gehry is considered the world's best architect, and we know from the enthusiastic response we've received that people from around the world want to experience Frank's singular vision of a beautiful, functional, New York City lifestyle. Our residents are excited and proud to live here, and it's been extremely rewarding to collaborate with Frank to bring his ideas to life."
Kelly Elivo of CitiHabitats and sister Ever Elivo share a moment by the bay window in the deluxe master bedroom:



photo : Philip Greenberg
Brisk Rentals = New Residential Trends
New York by Gehry's 37th floor Rental Gallery has been a hub of activity since the building opened in February. Its leasing and marketing team—Citi Habitats Marketing Group led by Cliff Finn, and Nancy Packes, Inc. led by Nancy Packes—can attest that the building has arrived on the luxury rental marketplace at the perfect time to meet a healthy demand.
Specialty brokers enjoy the 52nd floor terrace and views over the East River to Brooklyn:



photo : Philip Greenberg
Said Nancy Packes, "We have already rented over 40 percent of the apartments—the equivalent of a standard residential building. New York by Gehry's tenants show how much the Manhattan matrix has expanded beyond just the finance industry. In fact, a lot of our tenants are in the creative sectors—writing, design, TV, media—and of course, tenants from finance and the legal arena are immediately drawn to the beauty and convenience of this building."
Mitchell H. Simmons and Allison Jones from Elegran Real Estate, and friends enjoy the luxurious living room in the 52nd floor apartment at New York by Gehry:



photo : Philip Greenberg
Said Cliff Finn, "The opening of the amenity spaces and release of large apartments on the top floors, coupled with the opening this fall of a school at the base of this extraordinary building, make New York by Gehry extremely appealing—not only to young professionals and internationals, but also to families choosing to make their homes in Lower Manhattan.
The high level interest is attracting everyone from jet-setting couples and cosmopolitan families to empty-nesters looking to move back into the city after raising their children in the suburbs."


8 Spruce Street photo : dbox
Resort-like Amenities in a Rental Building
Residents of New York by Gehry have exclusive access to a host of lifestyle services extending from a full-service concierge, on-site valet services to health, wellness, social, and entertainment amenities across 22,000 square-feet of indoor and outdoor space. A 6th floor Grilling Terrace with stunning views of the Woolworth building is outfitted with dining cabanas, picnic tables and café seating.
The adjacent Game Room with billiard tables, gaming consoles and golf simulators is furnished with custom seating by Frank Gehry. On the 7th floor, a 50-foot sky-lit swimming pool is surrounded by fully-retracting glass doors, creating a seamless expanse of indoor and outdoor spaces that includes a wraparound sundeck.
Bruce Ratner, MaryAnne Gilmartin, Frank Gehry, and specialty brokers visit the living room of a newly released apartment on the 52nd floor of Eight Spruce Street:



photo : Philip Greenberg
Overlooking City Hall Park to the north, a large Drawing Room with a grand piano is adjacent to a Private Dining Room which can be reserved for resident events and serviced from a Chef's Demonstration and Catering Kitchen. A Spa Treatment Suite and state-of-the-art Fitness Center with views of the Brooklyn Bridge are located on the 7th floor, with Group Fitness, Pilates and Private Training Studios on the 8th floor.
A Tweens' Den and a Children's Playroom are outfitted with games and toys to engage younger residents in the building. A Screening Room features Gehry-designed amphitheater seating and a Library with a well-curated collection of books and periodicals has seating nooks and reading tables for quiet enjoyment.
The amenity spaces are alive with robust programming tailored to tenant interests. Golfers can arrange a workshop with a top teaching professional. The pool hosts safety swim classes for children. The Fitness Center offers top tier personal training, Pilates instruction and Golden Gloves-winning boxing instruction.
Post-workout, treatment rooms await those seeking world-class massages and facials. In addition to a speaking program in the Drawing Room and films in the Screening Room, the Chef's Kitchen will be a venue for events presided over by some of the culinary world's biggest names. Kids can look forward to weekly story-time and take part in art and music classes. The Tween's Den is perfect for Gossip Girl Mondays, Rock Band Fridays and more.
Frank Gehry contemplates the extraordinary vistas from the 51st floor living room bay windows created by the building's undulating stainless steel façade:



photo : Philip Greenberg
A Good Neighbor In the Lower Manhattan Community
The mixed-use development includes a five-story, 100,000-square-foot public school, the first ever built in New York City on private land, set to open this September, as well as doctors' offices for physicians associated with New York Downtown Hospital. There will also be 1,300 square feet of neighborhood-oriented ground-floor retail space and 26,000 square feet of below-grade parking for 175 cars for hospital use.
Another highlight of New York by Gehry is its ground floor outdoor open space, two beautifully-landscaped public plazas totaling 15,000-square-feet, designed by Field Operations, the creative force behind Manhattan's High Line, in collaboration with Dutch horticulturist Piet Oudolf, who collaborated with Gehry on Chicago's Millennium Park.
Frank Gehry, Gehry Architects New York P.C. Frank Gehry has been the recipient of dozens of the most prestigious prizes in architecture, including the 1989 Pritzker Prize, which honors "significant contributions to humanity and the built environment through the art of architecture."
New York by Gehry is Frank Gehry's first high-rise residential mixed-use commission in New York City. Among the many notable buildings designed by Frank Gehry are the IAC headquarters in Manhattan, completed in 2007; the Walt Disney Concert Hall in Los Angeles, completed in 2003; and the Guggenheim Museum Bilbao in Bilbao, Spain, completed in 1997.
Forest City Ratner Companies, a wholly owned subsidiary of Forest City Enterprises, owns and operates 31 properties in the New York metropolitan area including Downtown Brooklyn's transformative MetroTech Center and the acclaimed Renzo Piano-designed New York Times Building in Manhattan.
Forest City Enterprises, Inc., an $11.5 billion NYSE-listed national real estate company, is principally engaged in the ownership, development, management and acquisition of commercial and residential real estate and land throughout the United States.
New York by Gehry at Eight Spruce Street images / information from Geto & de Milly, Inc.
New York by Gehry



8 Spruce Street photo : dbox
New York by Gehry architect : Frank Gehry




Frank Gehry photos : dbox
New York by Gehry Building – external link
Location: 8 Spruce Street, New York City, USA
New York City Architecture
Contemporary New York Buildings
Manhattan Architecture Designs – chronological list
New York City Architecture Tours by e-architect
Signature Center Manhattan – design also by architect Frank Gerhy
Key Buildings designed by Frank Gehry
Weisman Art Museum, Minneapolis : Frank Gehry
The Walt Disney Concert Hall, Los Angeles, California, USA
Walt Disney Concert Hall
Beekman Tower design : Frank Gehry Architects
Comments / photos for the New York by Gehry Manhattan – Rippling Building, 8 Spruce Street page welcome
Website: www.newyorkbygehry.com