53W53 New York, Jean Nouvel NYC Building, MoMA Event, Museum of Modern Art Architecture
53W53 Manhattan
Museum of Modern Art: 53 West 53rd Street Manhattan, New York, USA design by Jean Nouvel Architect
Jun 14, 2018
53W53 New York Supertall Tower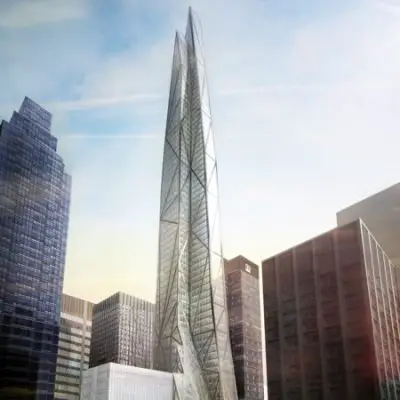 The luxury apartment building by the Pritzker Prize–winning French architect rises above MoMA in Midtown New York. The tower has recently topped out.
Article about 53W53 and its architect Jean Nouvel on the Architectural Digest website by Paul Keskeys:
53W53 Manhattan
"Architecture exists, like cinema, in the dimension of time and movement"
Jean Nouvel
The interior spaces are designed by noted architect Thierry Despont.
Previously on e-architect:
Apr 26, 2016
53W53 New York Building
Funding of MoMA v Metropolitan Museum of Art
Museum of Modern Art, Midtown Manhattan, New York City
A contrast between New York cultural institutions: news this week of both a $100 milliom gift from David Geffen to MoMA and a projected deficit of $9 to $10 m at the Metropolitan Museum of Art.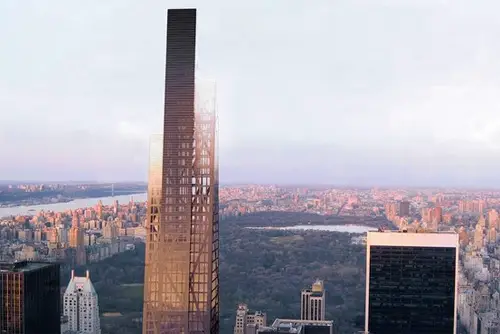 The New York Times broke down the cause of a "flush MoMA, struggling Met" while the Wall Street Journal focused on the MET's budget deficits and Crain's offered details on David Geffen's MoMA gift, reports ny.curbed.com.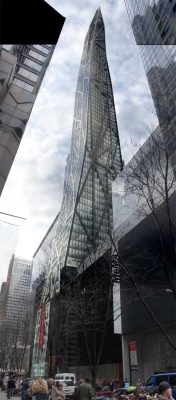 Beginning with MoMA, billionaire–and art collector–David Geffen announced his $100 m gift for the renovation and expansion of the modern art museum. Three floors of new galleries, which will be incorporated with the Jean Nouvel tower at 53 West 53rd Street, will be dubbed the David Geffen Wing. In addition, a fourth-floor suite of galleries in the current museum building also will be named after him. MoMA is doing the project, expected to cost upwards of $400 million, in phases and will be done in 2019 or 2020. It'll increase the museum's gallery space by 30% to 174,000 sqft.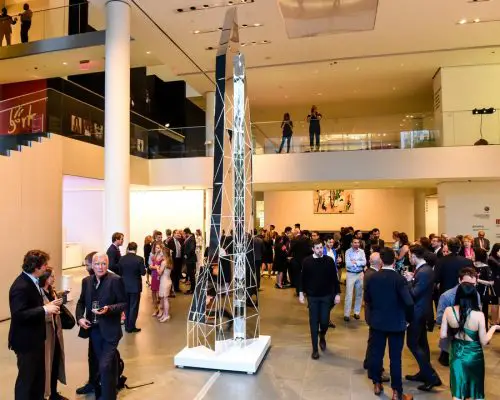 As MoMA's preparing for a big expansion, the MET is looking at cutbacks. MET Museum officials told WSJ that if nothing is done about their current budget deficit, it could swell to as much as $40 m over the next 18 months. Coming changes might include cutting spending and streamlining operations, job cuts and decreasing the number of special exhibitions. The museum's problem, it says, are the rising costs of salaries and benefits at a time when admissions revenue is not increasing. (The suggested admission was raised from $20 to $25 in 2011.)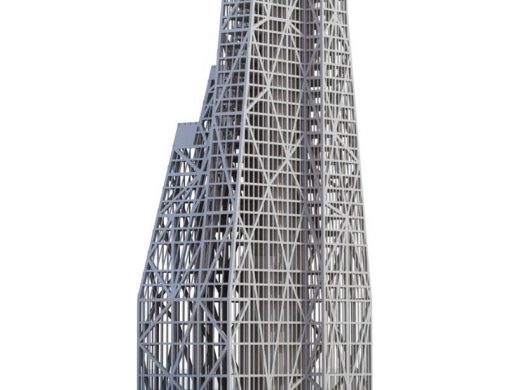 One of the reasons the MET is struggling, the Times posits, is their lack of contemporary artwork at a time of its rising popularity. In response, the MET Breuer opened this March. But as the Times said, "The focus on building its Modern and contemporary capacity has also siphoned energy and resources away from the Met's Fifth Avenue flagship."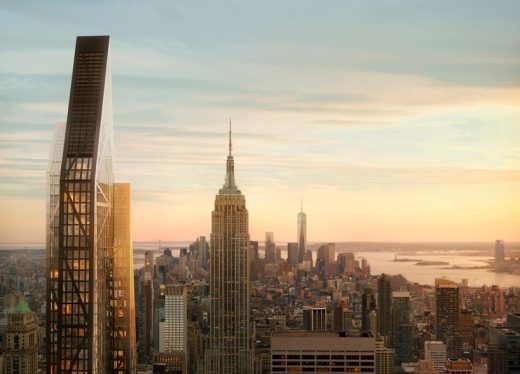 The MET will also suspend design work on their own expansion process, which calls for demolishing the Lila Acheson Wallace Wing in the museum's southwest corner to increase exhibition space and double the Roof Garden, until money has been raised for the project.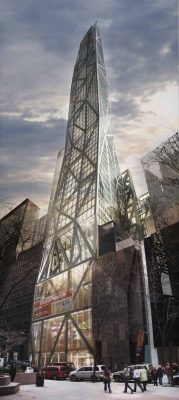 Link: 53W53 New York City – ny.curbed article comparing MoMA with the Metropolitan Museum of Art.
12 May 2015
53W53 New York
An Evening Honoring Architect Jean Nouvel at The Museum of Modern Art
Design: Jean Nouvel architects
May 11th, 2015 – NEW YORK – On Monday, May 11th guests gathered at The Museum of Modern Art to honor Pritzker Prize laureate Website: Jean Nouvel and celebrate the artistry of his forthcoming Manhattan landmark 53W53, a powerful new addition to the skyline, set to rise 1,050 feet upon completion at 53 West 53rd Street.
French architect Jean Nouvel: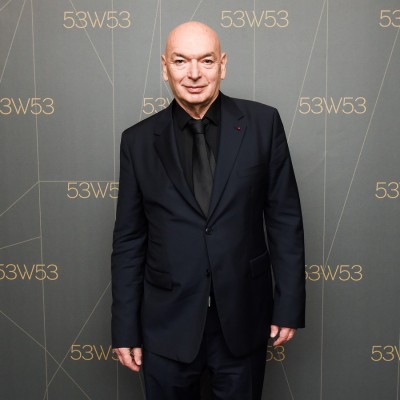 A host committee of art, design and business luminaries including Gallerist Larry Gagosian, Cartier North America President & CEO, Mercedes Abramo, Gallerist Patrick Seguin, Sotheby's Asia Chairman, Patti Wong, and Goldman Sachs' Richard & Susan Friedman joined Hines, Pontiac Land Group, and Goldman Sachs & Co. in welcoming guests to the event.
Matt Tyrnauer & Jean Nouvel: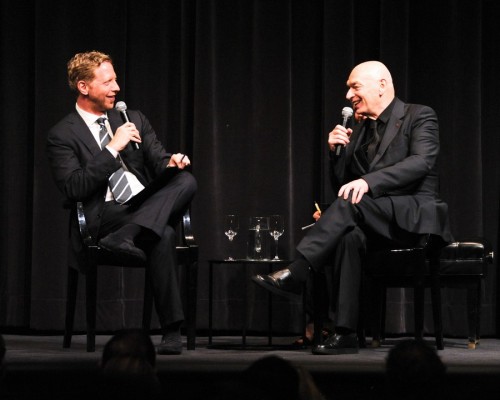 Comprised of two portions, the event began with a conversation between Jean Nouvel and Matt Tyrnauer in MoMA's Titus Theater that was accompanied by an exclusive preview of the short documentary film about Nouvel being created by Tyrnauer. A cocktail reception in honor of Nouvel followed in the Abby Aldrich Sculpture Garden.
53W53 Manhattan event: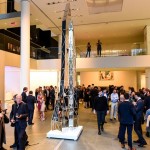 The event design for this celebratory evening was created by renowned producers, Bureau Betak, who have created an original installation celebrating the design of 53W53. Music for the celebration was selected by Hannah Bronfman.
Hannah Bronfman: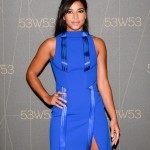 Guests at the 53W53 Manhattan event included:
Jean Nouvel
Matt Tyrnauer
Mercedes Abramo
Michael Avedon
Todd Bishop
David Childs
Laurent Claquin
Carter Cleveland
Rafael de Cárdenas
Laura de Gunzburg
Christophe de Pous
Lisa Dennison
RoseLee Goldberg
Sabine Heller
Steven Holl
Sarah Hoover
Richard Meier
Shala Monroque
Michele Oka Doner
Mel Ottenberg
Nicolai Ouroussoff & Cecily Brown
Anne Sophie Rosseel
Charlotte Sarkozy
Patrick Seguin
Adam Selman
Martha Stewart
Allese Thomson
Alice & Tom Tisch
Cleo Wade
Patti Wong
53W53 Manhattan event images © Billy Farrell Agency / Billy Farrell & Neil Rasmus
Jean Nouvel + Mercedes Abramo: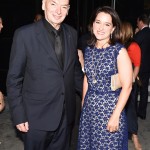 Jean Nouvel: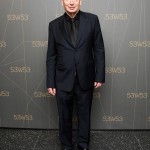 Martha Stewart: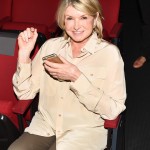 Cecily Brown: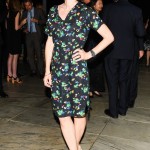 Laura de Gunzburg: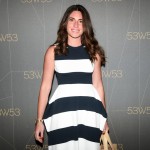 Allese Thomson: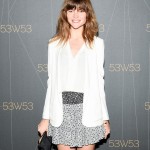 Mel Ottenberg & Adam Selman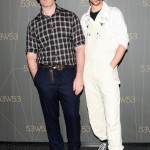 Sarah Hoover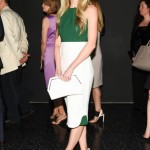 Nicolai Ouroussoff, Jean Nouvel & Cecily Brown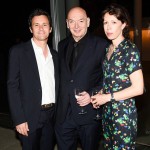 Shala Monroque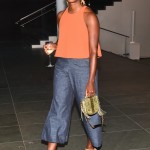 Richard Meier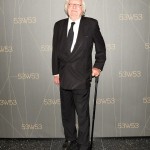 Cleo Wade and Sabine Heller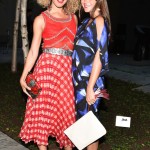 Vita Sidorkina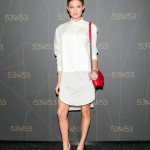 About the participants
Jean Nouvel
After he enrolled at the Ecole des Beaux-Arts in Bordeaux, Jean Nouvel ranked first in the entrance examination of the Ecole Nationale Supérieure des Beaux-Arts in Paris in 1966 and obtained his degree in 1972. Assistant to the architect Claude Parent and inspired by urban planner and essayist Paul Virilio, he started his first architecture practice in 1970.
Soon afterwards, he became a founding member of the "Mars 1976" Movement whose purpose was to oppose the architects' corporatism and then a founder of French Architecture Union. His strong stances and somewhat provocative opinions on contemporary architecture in the urban context together with his unfailing ability to inject originality into all the projects he undertakes have formed his international image.
His works have gained world-wide recognition through numerous prestigious French and International prizes and rewards. In 1989, The Arab World Institute in Paris was awarded the Aga-Khan Prize because of its role as "a successful bridge between French and Arab cultures". In 2000, Jean Nouvel received the Lion d'Or of the Venice Biennale.
In 2001, he received three of the highest international awards: the Royal Gold Medal of the Royal Institute of British Architects (RIBA), the Praemium Imperial of Japan's Fine Arts Association and the Borromini Prize for the Culture and Conference Center in Lucerne. He was appointed Docteur Honoris Causa of the Royal College of Art in London en 2002.
Three years later, he received the annual prize of the Wolf Foundation in Israel "for providing a new model of contextualism and redefining the dialectic between the two salient characteristics of contemporary architecture: concreteness and ephemerality". The Agbar Tower in Barcelona was awarded the International Highrise Award 2006 in Frankfurt, "as it makes an outstanding contribution to the current debate on high-rises". Jean Nouvel was the recipient of the prestigious Pritzker Prize in 2008. In France, he received many prizes including the Gold Medal of the French Academy of Architecture, two Équerres d'Argent and National Grand Prize for Architecture.
53W53 Manhattan Tower by Jean Nouvel Architect – MoMA New York Tower
Hines
Hines is a privately owned international real estate investment, development and management firm with offices in 21 cities in 19 countries. Founded in 1957, Hines has completed more than 740 distinguished developments with another 115 currently underway globally. Founder Gerald D. Hines pioneered the now-established practice of creating signature architectural works, collaborating with such noted architects as Philip Johnson, Cesar Pelli, Robert A.M. Stern, Richard Meier and Frank Gehry. Among the company's best-known projects are Philip Johnson's Pennzoil Place in Houston and the "Lipstick Building" on 53rd St. in New York, Jean Nouvel's SoHo jewel box, 40 Mercer and KPF's elegant One Jackson Square in Greenwich Village. Hines has been an active participant in New York's built environment since the late 1970s.
Pontiac Land Group
Pontiac Land Group is a Singapore-based luxury real estate development company with more than a half-century of experience in commercial, residential, hospitality, retail and medical developments. The group has collaborated with numerous internationally renowned architects, including six Pritzker Prize-winning firms, and emphasizes comprehensive art programs in all of its projects.
Pontiac Land Group's portfolio includes luxury hotels in Singapore (The Ritz-Carlton Millenia, Capella, Conrad Centennial and Regent); commercial skyscrapers (Millenia and Centennial towers); luxury residences (Ardmore Residence, HANA and The Colonnade); the Millenia Walk shopping mall; and Camden Medical Centre, an exclusive healthcare facility. Among the artists represented in the group's properties are Roy Lichtenstein, Frank Stella, James Rosenquist, Yayoi Kusama and Zhui Wei. 53W53 is Pontiac Land Group's premier investment in the United States.
The Goldman Sachs Group
The Goldman Sachs Group is a leading global investment banking, securities and investment management firm. The company provides a range of services to corporations, financial institutions, governments and high-net-worth individuals. The Real Estate Principal Investment Area (REPIA), the primary real estate investing group within Goldman Sachs' Merchant Banking Division, invests directly and indirectly in real estate assets.
REPIA is one of the largest real estate fund managers globally, The group has invested approximately $41 billion across more than 700 projects, REPIA currently has approximately $25 billion in assets under management, diversified geographically and among product types. Goldman Sachs has been a key investor and participant in many highest-quality Manhattan residential properties including Robert A.M. Stern's iconic 15 Central Park West and Herzog and de Meuron's 56 Leonard.
Corcoran Sunshine Marketing Group
With over 25 years of experience in marketing and collective sales in excess of $30 billion, Corcoran Sunshine Marketing Group is the recognized industry leader in the planning, design, marketing, and sale of luxury residential development. Representing properties throughout the United States and in select international locations, Corcoran Sunshine Marketing Group's portfolio contains a curated collection of the world's most desirable new addresses.
53 West 53rd Street Manhattan by Jean Nouvel Architect images / information received 120515
Location: 53 West 53rd Street, Manhattan, New York City, USA
New York City Architecture
Contemporary New York Buildings
Manhattan Architectural Designs – chronological list
New York City Architecture Tours by e-architect
New York Skyscrapers – Selection
WTC Tower 2
Original Design: Foster + Partners, architects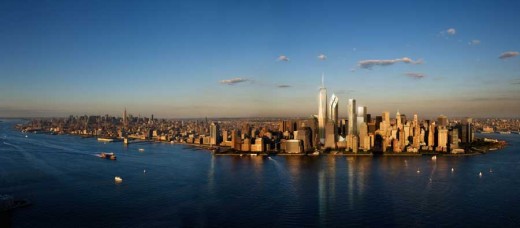 picture : Foster + Partners I Courtesy of: Silverstein Properties
WTC Tower 2 : 200 Greenwich Street New York
56 Leonard Street
Design: Herzog & de Meuron
56 Leonard Street
One Bryant Park – Bank of America Tower
Design: Cook + Fox Architects
One Bryant Park
MoMA Tower New York Alternative : Axis Mundi
MoMA New York – Museum of Modern Art
Museum of Contemporary Art New York – Extension
MoMA New York architect : Yoshio Taniguchi
World Trade Center New York – Article on Ground Zero / World Trade Center
Comments / photos for the 53W53 New York page welcome
Website: 53W53