Eternity Life Apartments, West Footscray, Melbourne Homes, Australian Mixed-Use Architecture, Real Estate Images
Eternity Life Apartments in West Footscray
26 Oct 2021
Architects: k20 Architecture
Location: West Footscray, Melbourne, Victoria, Australia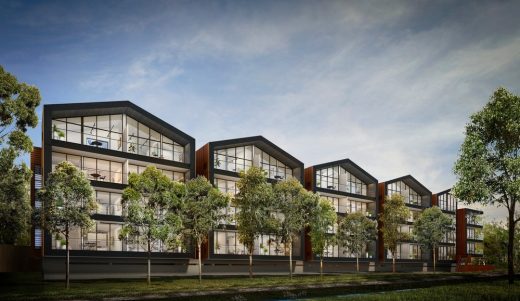 Eternity Life Apartments
Eternity Life is a high-quality sixty-one-unit residential mixed-use project in the heart of bustling West Footscray. Built with three pillars of sustainability (economic, environmental, and social) as the key design driver and situated next to Stoney Creek; Eternity Life is a sanctuary in the centre of an urbanised community. This not a high-density project. Each apartment has been carefully designed, allowing for spacious living.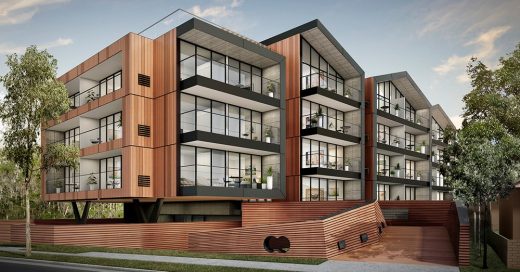 Of the sixty-one units, fifteen are specifically designed to support people living with disabilities and high support needs to enjoy an independent lifestyle. These fifteen units are SPA approved and Platinum level certified under Livable Housing Australia's stringent Livable Housing Guidelines and incorporate all necessary design requirements to accommodate those with higher mobility needs.
The building is divided into five main forms linked by a long hallway, bridging each form to create a cohesive multi-residential building. With a north-south orientation, the building is aligned to the adjacent Stoney Creek, maintaining the project's connection to the site and encouraging co-existence with the surrounding natural ecology.
What building methods were used?
A Timber Superstructure
The building is a mass timber superstructure built entirely from upcycled timber. Rather than using traditional concrete and steel, the building's frame is built from a timber product we have called Simple Laminated Timber (SLT). SLT should not be confused with Cross Laminated Timber (CLT) which is also an engineered mass timber solution. The main difference between the two is that CLT is an imported timber panel product with similar characteristics to that of a pre-cast concrete panel. When using CLT in construction, one is essentially placing an order to have trees cut down for use.
Conversely our patented SLT product utilises the timber from a milling process which would traditionally be used for woodchips, pallet and picture frames.
In addition, the building is entirely enveloped with timber panels crafted from beautiful, locally sourced recycled black butt timber. Importantly timber also represents less embodied energy than other construction materials like steel and concrete and contributes to the overarching eco-centric philosophy of this groundbreaking project.
The Story Behind the Design
In the Shade of the Tree for Eternity
Eternity Life is a multi-faceted and formidable building, and the design story is complex. A number of core design ideas have been interwoven and inspiration has been taken from both its surrounds and external influences.
Situated next to Stoney Creek, an active waterway leading to the Maribyrnong River, we drew inspiration from the nearest typology which we found in remnant buildings with pitched roofs at Melbourne's old Docklands also situated next to water. This idea drove the overall form and shape of the building, evident in the stylised gable roofs of the five forms that comprise the project, which are also intended to echo the industrial warehouse heritage of the Footscray region.
The site is landscaped to be surrounded by trees. Major inspiration was taken from the existing natural environment including Stoney Creek, native trees and wildlife on the site which created the project concept ''in the shade of the tree''. From this came the concept ''nature is eternal'' and the desire to create a space which captures all three tenses – past, present, and future.
We aimed to design a precinct that has the sense of eternity and will be in existence forever. In doing so we have created a place that both enhances the connection of residents to the local environment and extends beyond the boundaries of the site to provide a high level of social equity and provides a sanctuary for people in the centre of an urban environment
What were the key challenges?
We believe in architecture that communicates, inspires, expresses identity, and encourages social interaction. A major consideration in this development was to minimise the building footprint and subsequent impact on site, and to maximise the open space and native landscaping for residents to enjoy.
Supporting the idea of creating a building within nature, we decided the building should only occupy 50% of the land. It is centered to the block, away from site boundaries, creating a corridor to the south and north for landscaping. It is flanked to the east and west by existing parklands and resides respectfully within its natural surrounds of trees and water, encouraging connection between the building and the environment.
How is the project unique?
High Quality Special Needs Living
A key element of Eternity Life is the fifteen apartments which cater to the complex requirements of those with special needs. These apartments allow residents to enjoy a higher quality of living and the subsequent lifestyle freedoms and flexibility that ensue from independent living compared to typical high-density shared disability accommodation.
These fifteen units are Platinum level certified under Livable Housing Australia's stringent Livable Housing Guidelines. Livability works for pregnant women, young families with kids and people with sporting or traumatic injuries, seniors, as well as those with disability and their families.
Design features include low kitchen cabinetry for wheelchair access, electronics access through apartment ceilings for hospital-grade care devices, widening of all internal hallways to ensure that there was adequate space for individuals in wheelchairs to pass each other and an overall consideration for universal access to all areas of the building.
What are the sustainability features?
7.3 Star NatHERS Rating
The adoption of ESD principles contribute to lower operating costs for residents and the achievement of an impressive 7.3-star NatHERS rating.
• Solar power and solar boosted hot water
• Individual smart metering
• Energy saving windows
• Rainwater harvesting
• Master electricity shutdown switches
• Solar shading
• Cross-flow ventilation
• Natural and low toxicity materials
• Minimalised building envelope, allowing for more green space and flora within a highly urbanised environment
• Access to natural light for internal spaces, reduced reliance on artificial lighting and cooling
• Recycled and locally sourced building materials – Single laminated timber (patented) construction technique for superstructure to sequester CO2 and repurpose waste into a durable construction material, recycled black butt timber for facade
• 'Land for Wildlife' approved, attracting native wildlife by reintroducing indigenous landscaping
• Passive design – natural ventilation through operable louvered glass in corridors
• Enhanced thermal performance through double glazed windows and highly effective insultation between single laminated timber walls.
Eternity Life Apartments in West Footscray, Melbourne – Building Information
k20 Architecture
Project size: 8315 m2
Site size: 0
Project Budget: $30000000
Completion date: 2021
Building levels: 5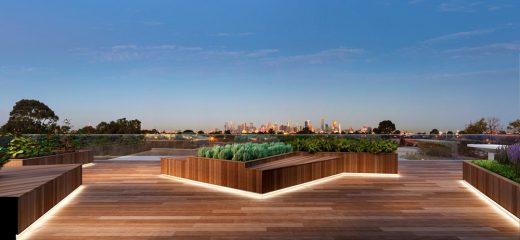 Images: Dave Kulesza
Eternity Life Apartments, West Footscray images / information received 261021
Location: West Footscray, Melbourne, Victoria, Australia
Architecture in Melbourne
Melbourne Architecture Designs – chronological list
Brace House, Albert Park
Design: Finnis Architects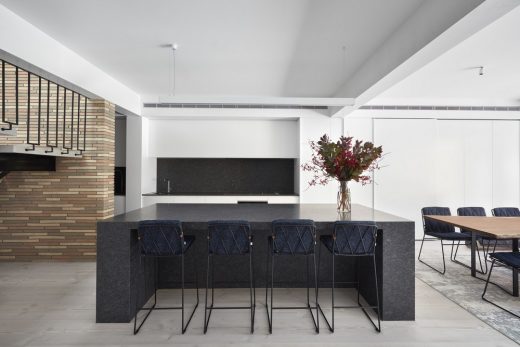 photograph : Tom Roe Photography
Brace House in Albert Park
Yarrbat Ave House , Balwyn
Architects: K2LD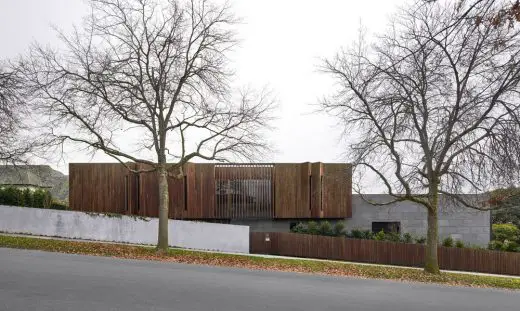 photograph : Jeremy Wright
Contemporary House in Balwyn
Architecture in Australia
Richmond Terrace
Architects: Robert Nichol & sons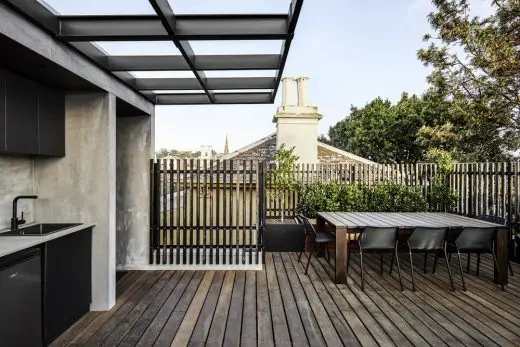 photograph : Lillie thompson
Richmond Terrace Property
Melbourne Architect – design studio listings
Comments / photos for Eternity Life Apartments, West Footscray page welcome
West Footscray