RSHP Studio, The Leadenhall Building, Architects Office London, Cheesegrater Interior Design Photos
RSHP New Studio at Leadenhall Building
Architecture Firm Moves Office, City of London design by Rogers Stirk Harbour + Partners (RSHP), England, UK
20 December 2021
e-architect look back over some of the key buildings designed by Richard Rogers, who died at the age of 88.
The 122 Leadenhall Street design was by Rogers Stirk Harbour + Partners
22 + 20 May 2016
RSHP Reveals new studio in The Leadenhall Building
Design: Rogers Stirk Harbour + Partners, architects
RSHP Reveals new studio in The Leadenhall Building
The Cheesegrater fit-out by celebrated British architects practice.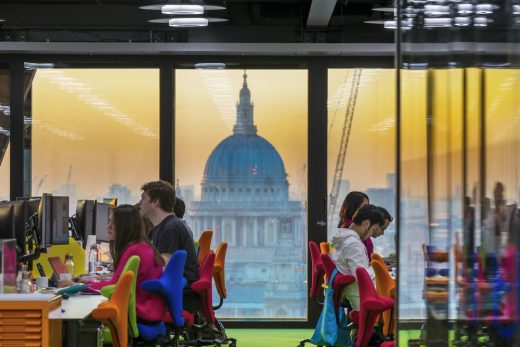 The open plan floor allows for spectacular views of St Paul – photo : Paul Raftery
Rogers Stirk Harbour + Partners has made its mark on one of its own buildings through a fit-out which reflects and promotes its working practices and ethos.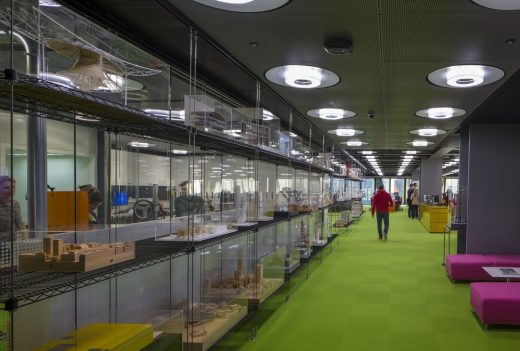 Reception – photo : Paul Raftery
After 30 years based at Thames Wharf in Hammersmith West London, the architecture practice has moved to The Leadenhall Building, to a new studio that better suits the practice as it is now. It sought an office space that could accommodate all its 200 staff on one floor, in order to promote communication and collaborative working. Level 14 of the RSHP designed Leadenhall Building gave the opportunity to do just this.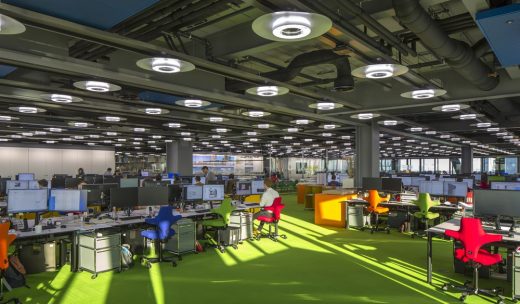 Axial view across the RSHP office – photo : Paul Raftery
The fit-out design was undertaken in-house and reinterprets the design philosophy of the practice as flexible, legible space. The structure of the soffit and services are exposed, rather than using a suspended ceiling, and the full height of the space is revealed giving a greater sense of internal volume. In doing so, the materiality of the building becomes evident in the interior. The lighting design, by Speirs and Major is responsive to user needs, changing in tone through the day to mimic circadian patterns and promote wellbeing.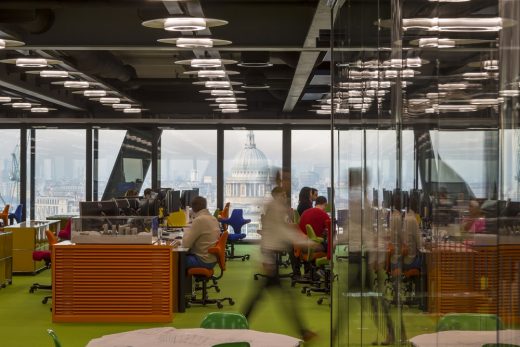 The West side of studio has fantastic views to St Pauls – photo : Paul Raftery
The design studios are grouped to the south, giving sight lines across the whole studio, and beyond to St Paul's Cathedral, Canary Wharf and Lloyd's of London. Desks are arranged in three groups aligned to each of the façades, giving the best aspect for all staff. The more highly serviced areas to the north are closer to the service core. Generous circulation space and a large kitchen give opportunities for chance encounters and informal conversations. A large central meeting area, open on three sides and visible to all, provides flexible space capable of hosting either a number of small meetings; the weekly Monday Design Forum, open to all staff; or lectures and events for up to 200 people.
The modelshop is located by the front door in the main studio space and the entrance is lined with architectural models, exhibiting the work of the practice to visitors. Additionally, the servers are exposed as integral parts of the life of the practice.
There are no cellular offices at RSHP, reflecting the democratic philosophy of the practice. Instead, the corners are given over to quiet space, for meetings, reflection and relaxation. A planting concept by Dan Pearson Studio will be located in the corners to provide a visual amenity.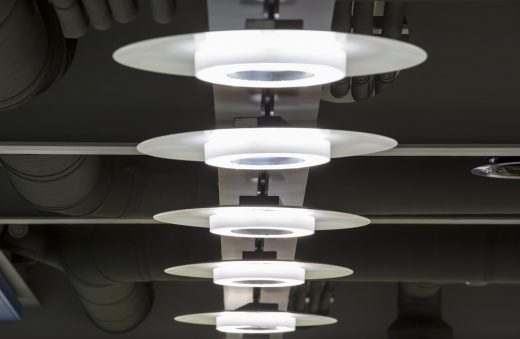 Services and Lighting are arranged in full sight – photo : Paul Raftery
The fit-out was designed in-house, led by Richard Rogers, Graham Stirk, Ivan Harbour and Andrew Morris and was completed on time and on budget to a 16-week programme. A number of products have been developed in partnership with suppliers specifically for the space, including a new benching system by Ahrend and lighting by Spectral Designs.
Richard Rogers, Senior Partner, Rogers Stirk Harbour + Partners said: "36 years after winning the competition for the Lloyd's of London we are delighted to have moved across the road into The Leadenhall Building. Offices have changed immeasurably in that time, and this move from Thames Wharf Studios reflects that.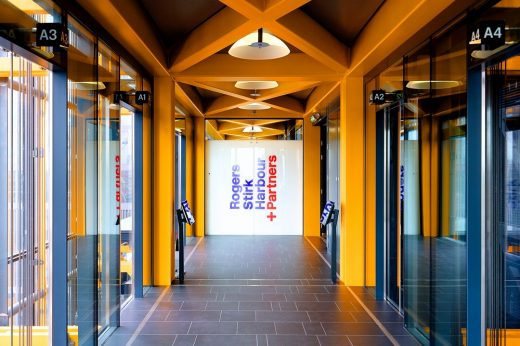 Level 14 Lift Lobby – photo : Tobi Frenzen / RSHP
We have had the chance to look at how we work as a practice. We are unique in the architectural world with our constitution and benefits and we have worked hard to preserve the practice's ethos. Our new studio embodies the teamwork, flexibility and sustainable working practices that characterise our architecture. We have taken the spirit and the community of RSHP, and moved it successfully to the City."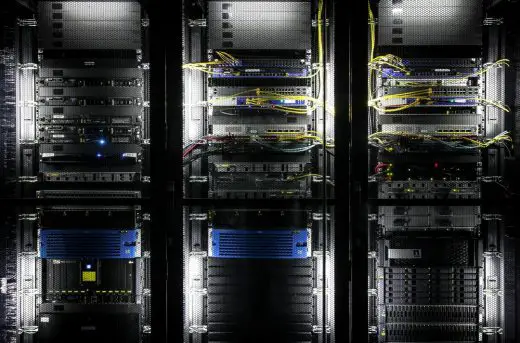 RSHP Server Room – photo : Tobi Frenzen / RSHP
Graham Stirk, Senior Partner, Rogers Stirk Harbour + Partners said: "I never imagined we would be in the City. I always enjoyed the place, its dynamism and activity, whilst working on Lloyd's of London and subsequent projects over three decades. During this period I have been a witness to its radical change. I am now immensely proud to be part of this transition.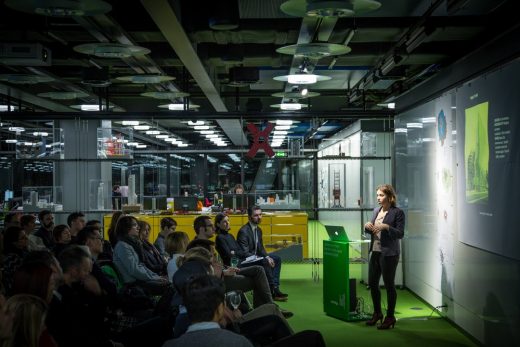 Marion Waller presenting: Learning from Paris / Archiboo event – photo : Mark Gorton / Rogers Stirk Harbour + Partners
When the opportunity arose for us to become tenants of The Leadenhall Building, my thoughts were very much ones of how the possibilities of office space, which by its very nature tends to be neutral, could become more expressive of the buildings architectural intent. This led to our decision to reveal the muscular steelwork, services and all of the components that make a modern office space function, and celebrate them in a clear and legible manner.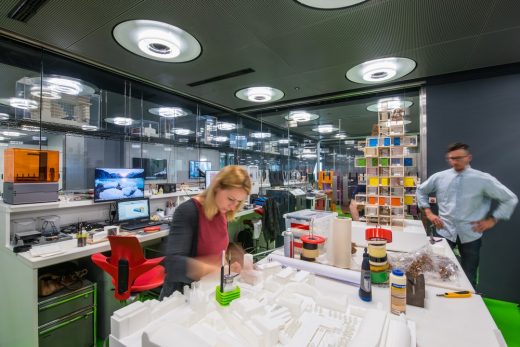 Kelly Darlington and Ed Hiscock, modelshop managers, in the RSHP modelshop – photo : Mark Gorton / Rogers Stirk Harbour + Partners
It has become a well-coordinated New York loft where the backdrop is neutral but offset by fantastic splashes of colour and activity. It projects a surprising level of humanity within a great super-studio space."
Ivan Harbour, Senior Partner, Rogers Stirk Harbour + Partners said: "Since the practice moved to Thames Wharf over thirty years ago we have grown in size beyond our expectation. Through those years we gradually spread ourselves across our riverside campus, over the five floors of our building and into other spaces around our courtyard.
The riverside location was unique but on a daily basis it was hard to get together as a single studio. Our collaborative spirit was ultimately challenged by our workplace.
When our freeholder indicated they were not going to renew our lease we decided we should look for a place where we could all be in one studio, together.
As a practice of around 200 people our options were severely limited and it seemed an impossible dream that we might find the right sized space in a building of our own without moving even further out of the city we love or moving to an established enclave in a building designed by others.
We have always done things our own way so an available floor in The Leadenhall Building has realised that dream; we are now all in one studio, in the very heart of the City. Our studio now embraces our collective atmosphere, our clients experience our architecture first hand and how we use it, our legacy frames both sides of the street."
Andrew Morris, Senior Partner, Rogers Stirk Harbour + Partners said "The Partners visited many potential offices in Brick Lane, Clerkenwell, King's Cross, Soho and Shoreditch but found that The Leadenhall Building provided the best commercial offer, and the opportunity of moving to one of our own buildings was irresistible. The efficiency of the floor plate meant that we needed to take less area and a new building allowed us to invest in the fitout and totally up-grade our IT systems. Other offices we viewed were less efficient and there was no substantial difference in the square foot rate to outweigh all of the other benefits."
Maurice Brennan, Project Architect, Associate, Rogers Stirk Harbour + Partners said: "When we started the design of RSHP's Level 14 fit-out we already knew the building inside-out. We had written the original Leadenhall Building occupier fit-out guide for British Land / Oxford Properties but we were now being encouraged by our client turned landlord to tear it up and come at it afresh. The design for Level 14 naturally became an extension of the principle architectural organisation of the building and a legible expression of its constituent parts informed by the division of spaces into 'served space' and 'servant areas'.
The servant areas to the North are made up of glazed support accommodation that becomes a natural extension to the building's primary North support core with loose fit perforated ceilings and expressed structure.
In the main studio, defined by the building's primary megaframe structure to create a single, uninterrupted light-filled 1,100 sq m studio space, we dispensed with ceilings and gained an extra metre in height to give a floor to soffit height of 3.7m providing an open, legible M+E installation.
By working collaboratively with the main contractor, Ruddy Joinery who we knew well from the base build, and BPI, the M&E contractor, we were able to quickly work towards shared goals. By adopting a hands on approach, rather than an administrative role, we were able to quickly build up a mutual respect that allowed each supply partner to take ownership of their work. We did not want to be in a contractual situation where we were guaranteeing answers to RFI's within 5 days; instead we guaranteed an architect would be present on site at all times in order to respond directly to any situation that arose. This was the only way we could achieve completion within 16 weeks, on time and on budget."
Andy Sedgwick, Director, Arup said: "The RSHP fit-out on level 14 exposes the engineering skeleton of The Leadenhall Building to view: high level services reticulate through the steel floor beams, taking support from the precast concrete floor panels above. The contractor was provided with a fully coordinated Revit model allowing an orderly installation at great speed.
Air conditioning is provided by high-level packaged fan coil units that contain all valves and controls in a common housing with the coils and the fan. Integral sound absorbing panels give the underside of each unit a tidy appearance, and ductwork and pipework is clad with black nitrile rubber that provides additional sound absorption as well as thermal insulation.
The floor-by-floor approach adopted to air handling at Leadenhall means that each tenant can run their climate control system for extended hours independent of the other floors. Heat recovery between the supply and exhaust unit is by run-around coil – this means there is no recirculation of exhaust air, and local extract systems for the modelshop and kitchenette areas can simply be joined with the general office extract for exhaust.
The lighting scheme was developed by Arup in collaboration with Speirs + Major. The array of circular LED light fittings corresponds to the spacing of the structural grid and services above, as well as to the layout of the floor below.
This approach provides a lit datum under the exposed ceiling services, and in lifting the space, results in a bright and welcoming visual environment. The luminaires were specially adapted by Spectral Lighting for direct mounting to distribution cable tray. The light subtly shifts in colour throughout the day, from cool to warm, to mimic the natural shifts in the colour of daylight throughout the day – creating a stimulating working atmosphere. To provide flexibility, the lighting can be augmented by trackmounted spotlights to provide task lighting or to highlight objects."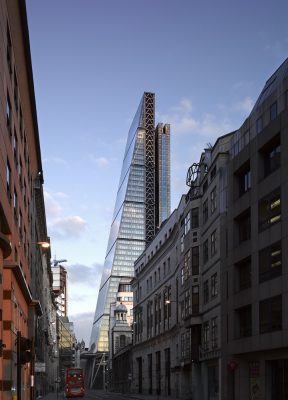 View of The Leadenhall Building from the East along Leadenhall Street – photo : British Land/Oxford Properties
RSHP Reveals new studio – Building Information
Contract value: £2.3 million, including £1.1m of IT provision
Area: 1,620 sq m
Floor to ceiling height: 3.7m
Consultants
Structural Engineer: Arup
Service Engineer: Arup
Lighting Design: Speirs + Major
Main Contractor: Ruddy Joinery and Fit Out
M&E Contractor: BPI
Landscape design: Dan Pearson Studio
IT Consultants: Modern Networks / Cordless
Suppliers
Chairs: HAG
Carpet: Loughton Contracts
Lighting: Spectral Designs/ Hofmeister
Partitions: Skyfold by Style Partitions
Solid Surfaces: Porcelanosa
Desks: Ahrend
Anti-Static Carpets: Bolon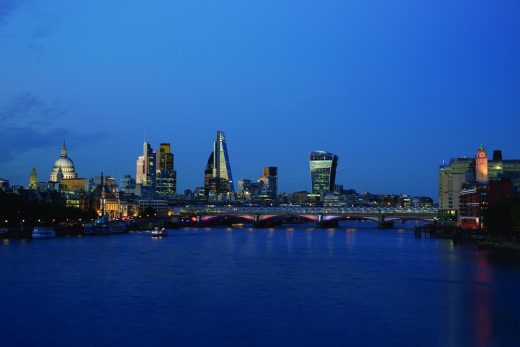 View of The Leadenhall Building in the London skyline from the West along the River Thames – photo : British Land/Oxford Properties
RSHP Reveals new studio in The Leadenhall Building image / information received 200516
122 Leadenhall Street, The Cheese Grater London
Rogers Stirk Harbour + Partners on e-architect
Location: 122 Leadenhall Street, City of London, England, UK
London Building Designs
Contemporary London Architecture Designs
London Architecture Designs – chronological list
London Architecture Tours – tailored UK capital city walks by e-architect
1 Undershaft Tower
Design: Eric Parry Architects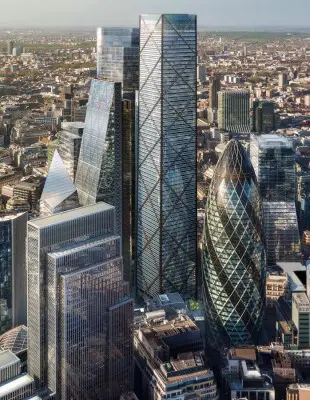 image : DBOX, courtesy Eric Parry Architects
1 Undershaft Tower City of London
The Scalpel
Design: Kohn Pederson Fox – KPF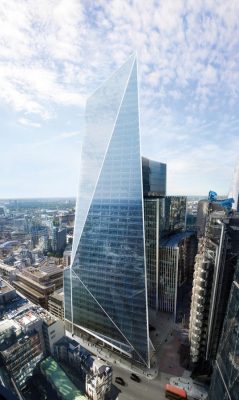 image courtesy of the architects
The Scalpel City of London Skyscraper
Comments / photos for the RSHP Reveals new studio in The Leadenhall Building – The Cheesegrater office fit-out in City of London, UK, page welcome
Website: Rogers Stirk Harbour + Partners