Horniman Museum Imminent Diorama London, Forest Hill Building, Southern English Gardens Design
Horniman Museum & Gardens The Imminent Diorama
Points of View at Forest Hill, London – building design by Charles Harrison Townsend ; Walters and Cohen
25 May 2022
Horniman appoints Feilden Fowles as lead architect for Nature + Love
Horniman Museum & Gardens Nature + Love
4 Nov 2017
The Imminent Diorama, Horniman Museum & Gardens
Location: Forest Hill, London, south east England, UK
National Trust and Bompas & Parr announce winners for 'The Imminent Diorama'
Horniman Museum and Gardens, 100 London Road, Forest Hill, London SE23 3PQ
Monday 13th November – Sunday 26th November 2017
The National Trust, the Horniman Museum and Gardens, and Bompas & Parr have announced their winning entries for new interactive installation, 'The Imminent Diorama', which will allow the public to see one of London's finest unprotected views of the city at the Horniman, as it appears now and as it could appear over the next eighty years.
Following the call to artists to submit their visions, the National Trust and Bompas & Parr received a large number of fantastic entries from high calibre artists and architects, all highlighting the need to consider and reflect on future views. The final installation will highlight the delight and importance of views to Londoners, and their current lack of protection in certain areas of London.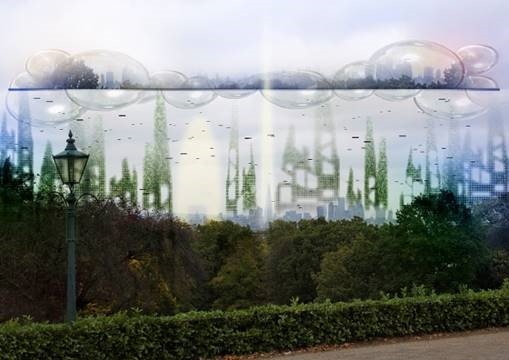 Image courtesy of architects / designers, via Chloe Nelkin Consulting
The winning entries are as follows:
Studio Octopi
Studio Octopi was established in 2003 by James Lowe and Chris Romer-Lee. The practice has achieved notable success for creating inventive and considered architecture and is committed to creating responses that are appropriate to the social, cultural and historic context of a given location.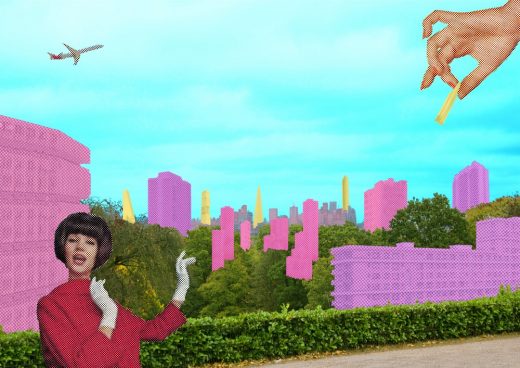 It's 2098 – London has finally built itself out of the housing crisis; the centre has densified, outer boroughs have built up and key workers once again enjoy the city in which they live. London is a joyous city of sprawling leisure parks and integrated live-work spaces and now looks to the future. Planning policy focuses on enriching the lives of all of its citizens and celebrating modern achievements. Instead of protecting views of the icons of yesteryear this new London frames views to the Shard, the new debating tower at Westminster, the 2050 Tower of Culture and the world's tallest co-living building.
Carl Turner Architects
Carl Turner Architects is an award-winning, architectural studio that believes in creating thought-provoking and well-crafted architectural projects.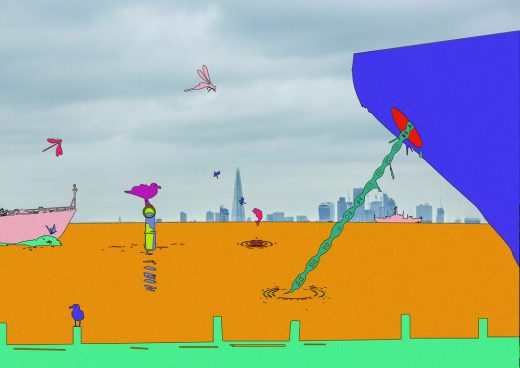 London 2097. It is a wonderful day in the English Archipelago – through the clean air one can easily see the ships passing through the sunk City of London and if we look carefully, we can even spot the tip of St Paul's above the waves. It is a proud day for the Horniman Museum, awaiting the opening of its new open-water enclosure complementing its famous Aquarium. Who would have guessed things would turn out so well: Having fought long and hard to preserve its visual connection to London against encroaching high rises and housing estates, the sudden rise in sea levels offered a most welcome solution. Not only did the Horniman Museum gain an unobstructed view to the remaining Islands of London, its prominent position on the new shoreline has earned it the Royal Pier, and the first regular submarine connection to Notting Hill.
Design Haus Liberty
Design Haus Liberty, founded by Dara Huang, is an award-winning, energetic and forward thinking architecture and interiors practice based in Central London.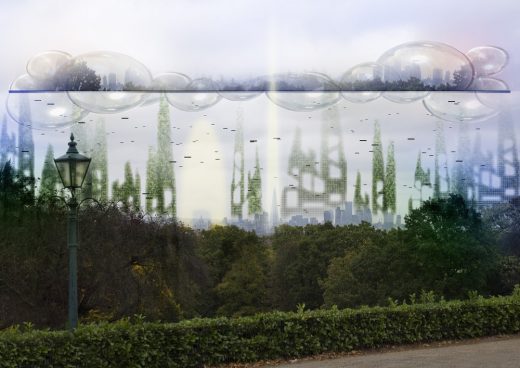 We're running out of space in London. Therefore we must look to grow above and below ground. Through strategic location of skyscrapers and underground scrapers, traffic will be relocated to tunnels below the city and new opportunities for urban parks will arise. The present skyline cluster which is currently planned around converging lines and corridors that protect views of St Paul's Cathedral, the Tower of London and the Monument, will be spread to leave vertical pockets within the new city. These vertical pockets will emphasize the protected views even more, taking them into a 3rd dimension, acting as a spotlight on the monuments!
David Bray
David Bray is an illustrator/artist based in South London. A freelance illustrator since his graduation from Central St. Martins in 1992, David has exhibited in London, Tokyo, New York, Hong Kong, Amsterdam, Portland, Los Angeles and Perth.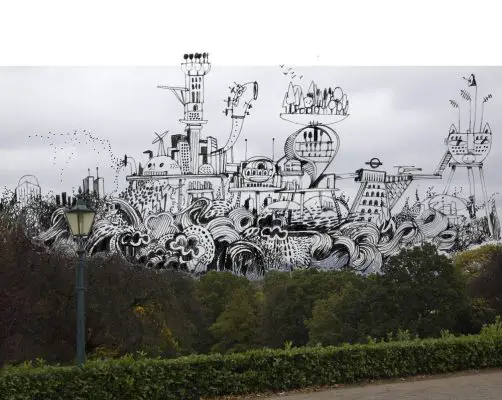 London in 80 years is choked by pollution, a thick black smog engulfs everything. Only the superrich can afford to live on the platforms that sit high above the city. There is everything there from apartments, leisure centres, to nature reserves. The nature reserve has a wooded plantation upon it to draw in fresh oxygen. There is a London Over Overground station for access from the Below for workers to serve the superrich. Architects have free rein to design and build anything they desire as there is no history visible, the skyline is a free for all.
Collective Works LLP
Based in Homerton and delivering residential, community and cultural projects predominantly in London and Norway, Collective Works LLP are an architecture and design studio built on transparency, collaboration and communication.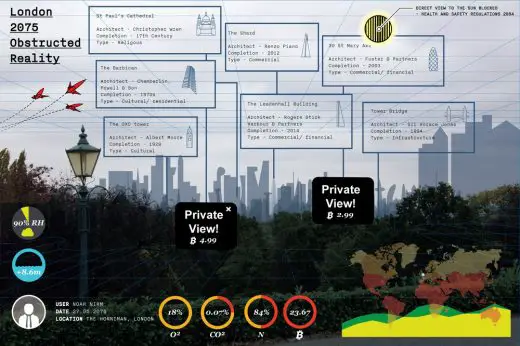 The views of St. Pauls were only given policy status in 1980 – well before the digital revolution, with this in mind we want to turn the assumption of them being blocked by actual physical buildings, on its head. In addition to the unrelenting development we are also faced with giant tech companies and the ownership of data, not dissimilar to 'public' spaces evaporating silently into the hands of corporations. Ultimately the threat we believe these views are facing is twofold. Are these views public or private? Playing with the notion of 'protected' our idea is rooted in the concept of censorship via augmented reality which is partly dystopian, partly utopian. If it is perceived as an asset, it could be used to generate revenue thus creating a model where the views must be paid for. Even if everyone could afford the view – like a £0.99 app – is it really public?
Agustin Coll
Agustin Coll is a Barcelona-born illustrator based in London since 2008. A storyboard artist in various fields such as product design and advertising, he also develops experimental art projects based on satirical takes on architecture through character design and exploration.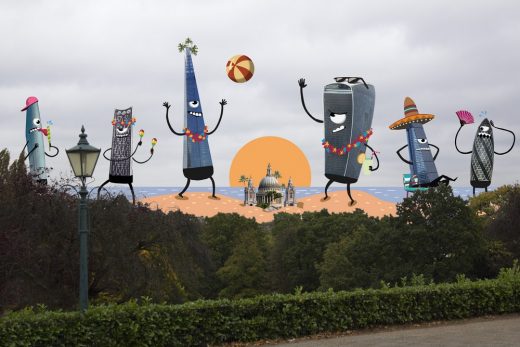 As towers keep shooting up in London, panoramic views are becoming increasingly rare and valuable for the local community. This illustration, called 'Global Warming 2097', plays around with architecture to satirise a dystopian future in which rising sea levels and temperatures will have turned London into a tropical beach resort. Only those living in private high-rise developments will have the exclusive enjoyment of something as basic as a sunset, to the detriment of the communities living further out of the city centre. Symbolised by St Paul's cathedral, the centrepiece of London's protected views, this illustration aims at highlighting the importance of an experience that is publicly enjoyed from buildings that are opened to everyone.
Lee Playle, Scamp Factory
Lee Playle studied illustration to degree level at Harrow College of Art. Illustration and drawing have always been the basis of his passion and consequently Lee now runs his own illustration/design business, Scamp Factory.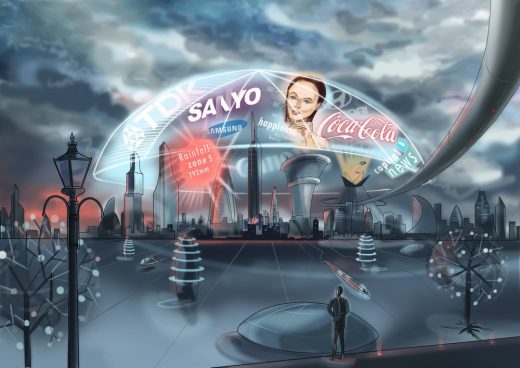 It's 2097 and Dystopian London is under increasing threat from violent electrical storms and excessive rainfall. Consequently, a giant immersive umbrella has been developed not only to protect the hub of our vibrant capital but also to feed its thirst for consumerism.
Duncan Catterall
Duncan Catterall is currently studying a Masters of Architecture at Westminster University and runs events company Croquet & Cocktails.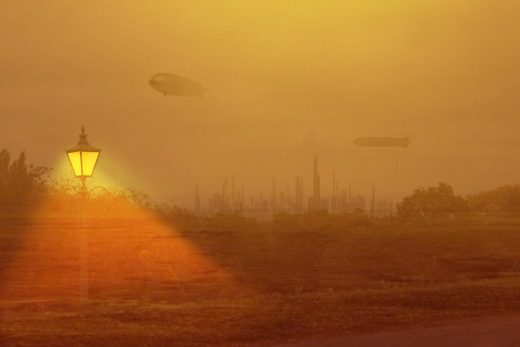 This vision imagines a future where climate change has caused a drastic increase in hurricane activity, the world's equator has become more extreme and the subsequent storms cause a large volume of sand to be ejected into the atmosphere basking London in an orange hue. All the while London's skyline pushes upwards as the city becomes ever more densely populated. St Paul's is now the only historic building still visible from the Horniman's Gardens.
London Views
While a total of twenty-seven London views hold some form of designation, only thirteen hold Protected Vista status. Nine of those are from north of the river, with just four from south of the river, at Richmond, Greenwich, Blackheath, and City Hall.
The project will be accompanied by a number of short films by south London actors, authors and activists sparking debate about the value of views. The public can join the debate by tweeting images of their favourite unprotected views or comments about the future of views in London @NTLovesLondon.
The views of the public will be considered by a panel of experts and will form part of the National Trust's response to the Mayor of London's proposal when his new London Plan goes out for consultation.
'The Imminent Diorama' will be at the Horniman Museum and Gardens from Monday 13th to Sunday 26th November and is free to visit. The installation is suitable for adults and children alike.
Sam Bompas of Bompas & Parr says, 'The Imminent Diorama', will bring together contrasting artistic points of view in one engaging, thought-provoking and interactive installation, allowing members of the public to 'leaf through' the final collection in front of the actual view from the Horniman's Gardens.
Background
Title: Points of View
Dates: Monday 13th November – Sunday 26th November 2017
Locations: Horniman Museum and Gardens, 100 London Road, Forest Hill, London SE23 3PQ
Getting there: The Horniman Museum and Gardens is a five to ten minute walk from Forest Hill station (Overground, National Rail) and is signposted from the platform 1 exit. Forest Hill station is a 14 minute journey from either London Bridge (National Rail) or Canada Water (Overground). There are several bus services which stop at both the station and museum.
Twitter @NTLovesLondon, @HornimanMuseum, @BompasandParr, #LondonView
Website www.nationaltrust.org.uk/london
Protected Vistas
St Paul's Heights, the original eight protected views of St Paul's Cathedral, were first proposed to the City of London Corporation in 1937 by W. Godfrey Allen, Surveyor to the Fabric of St Paul's. They responded to the growing concern that important views of the cathedral might be obscured by tall buildings in the vicinity, as new methods of construction allowed for buildings of greater height. The City Corporation adopted W. Godfrey Allen's proposals in 1938, by a "gentleman's agreement". These views, and others, were given policy status in the 1980s.
Source: https://www.cityoflondon.gov.uk/services/environment-andplanning/planning/development-and-population-information/Documents/Tall%20buildings/stpauls-heights-study-2015-part-1.pdf Short films
Short films about the project will launch on Monday 13th November. Produced and directed by Dorothy Allen Pickard, they will feature: Paapa Essiedu, actor and Tooting resident; John Grindrod, author of Concretopia and Outskirts and Croydon resident; Janet Vitmayer, CBE, Chief Executive, Horniman Museum and Gardens; and others.
National Trust
The National Trust is a conservation charity founded in 1895 by three people who saw the importance of our nation's heritage and open spaces, and wanted to preserve them for everyone to enjoy. More than 120 years later, these values are still at the heart of everything the charity does. Entirely independent of Government, the National Trust looks after more than 250,000 hectares of countryside, 778 miles of coastline and hundreds of special places across England, Wales and Northern Ireland. More than 24 million people visit every year, and together with 5 million members and over 65,000 volunteers, they help to support the charity in its work to care for special places for ever, for everyone. For more information and ideas for great seasonal days out go to www.nationaltrust.org.uk.
Bompas & Parr
Bompas & Parr is globally recognised as the leading expert in multi-sensory experience design. The studio works with commercial brands, artistic institutions, private clients and governments to deliver emotionally compelling experiences to a wide variety of audiences. Sam Bompas and Harry Parr first came to prominence through their expertise in jelly-making, but the business rapidly grew into a fully fledged creative studio offering food and drink design, brand consultancy and immersive experiences across a diverse number of industries.
Genre-defining projects include Alcoholic Architecture, an inhabitable cloud of gin and tonic; the world's first Multi- Sensory Fireworks display for London New Year's Eve 2013; and the Taste Experience for the Guinness Storehouse in Dublin. Bompas & Parr also founded the British Museum of Food, the world's first cultural institution exclusively dedicated to food and drink, and has published six books that explore humankind's relationship with food. For more information see www.bompasandparr.com.
Horniman Museum and Gardens
The Horniman Museum and Gardens opened in 1901 as a gift to the people in perpetuity from tea trader and philanthropist Frederick John Horniman, who wanted to 'bring the world to Forest Hill'. Today the Horniman has a collection of 350,000 objects, specimens and artefacts from around the world. Its galleries include natural history, music and an acclaimed aquarium with a new World Gallery opening in June 2018 which will showcase its anthropology collection. Indoor exhibits link to the award-winning display gardens – from medicinal and dye gardens to an interactive sound garden, Butterfly House and an animal walk – set among 16 acres of beautiful, green space offering spectacular views across London. For more information see www.horniman.ac.uk.
Horniman Museum & Gardens Imminent Diorama image / information from Chloe Nelkin Consulting
23 Jun 2017
Horniman Museum and Gardens' Coombe Cliff Conservatory reopens
Restoration Design Architects: Donald Insall Associates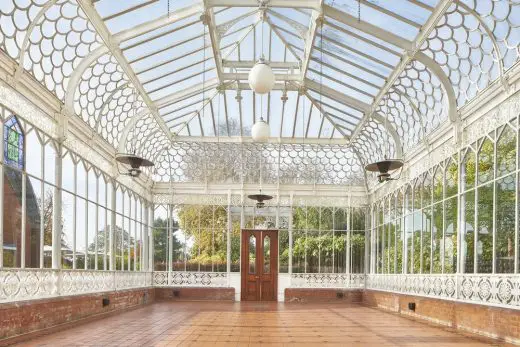 photo © Thomas Erskine
Coombe Cliff Conservatory Restoration, Horniman Museum & Gardens
Horniman Gardens Pavilion, London, England, UK
Design – Gardens Pavilion: Walters and Cohen



photo : Michael Harding
Horniman Gardens Pavilion by Walters & Cohen
Location: 100 London Road, Forest Hill, South London, SE23 3PQ, England, UK
London Building Designs
Contemporary London Architectural Designs
London Architecture Links – chronological list
London Architecture Walking Tours : walking or bus tours in the capital
Whitechapel Gallery Building



photograph © Adrian Welch
Whitechapel Gallery Building
Evelyn Grace Academy, Brixton, south London
Zaha Hadid Architects



photograph © Adrian Welch
Evelyn Grace Academy
Design Museum, Shad Thames
Architects: Conran Roche



photo © Luke Hayes
Design Museum, Shad Thames
Churchwood Gardens, Forest Hill, South London
Design: Bryden Wood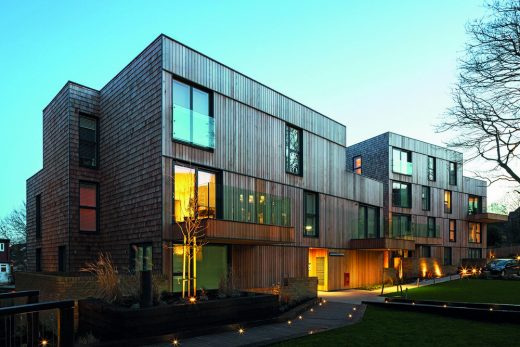 image Courtesy architecture office
Comments / photos for the Horniman Museum & Gardens Imminent Diorama Exhibition page welcome
Website: www.horniman.ac.uk