Building B1 Greenwich Peninsula Project, London Design District Office Spaces Architecture, Development Images
Building B1 on Greenwich Peninsula, London
18 Sep 2023
Design: SelgasCano
Location: Greenwich Peninsula, London, England, UK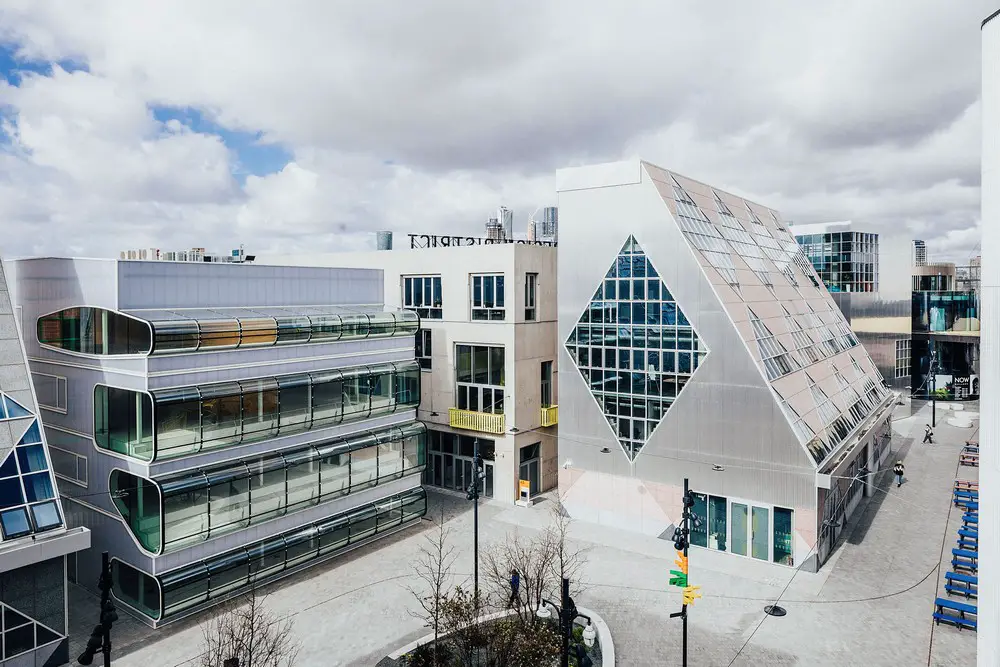 Images courtesy of Design District and Taran Wilkhu
Building B1, London's Design District
London's design district launches flagship building as it celebrates two year anniversary
• Purpose-built 10,000 sq. ft building launches at London's Design District at Greenwich Peninsula
• The launch comes hot on the heels of global sports brand, HEAD, relocating to Design District and a collection of creative-led tech companies, including Engage Works, Tomorrow Bureau and Carter API
• To mark its two-year anniversary, Design District released its first report, which analyses the impact of Design District as a permanent and secure home for the creative industries
• The report highlights key findings including, 90% of tenants report that they have either grown or maintained the size of their teams, 83% cite the desire to be part of a creative community as their motivation for moving to Design District and 61% directly attributing an increase in quality of life to the standard of Design District's amenities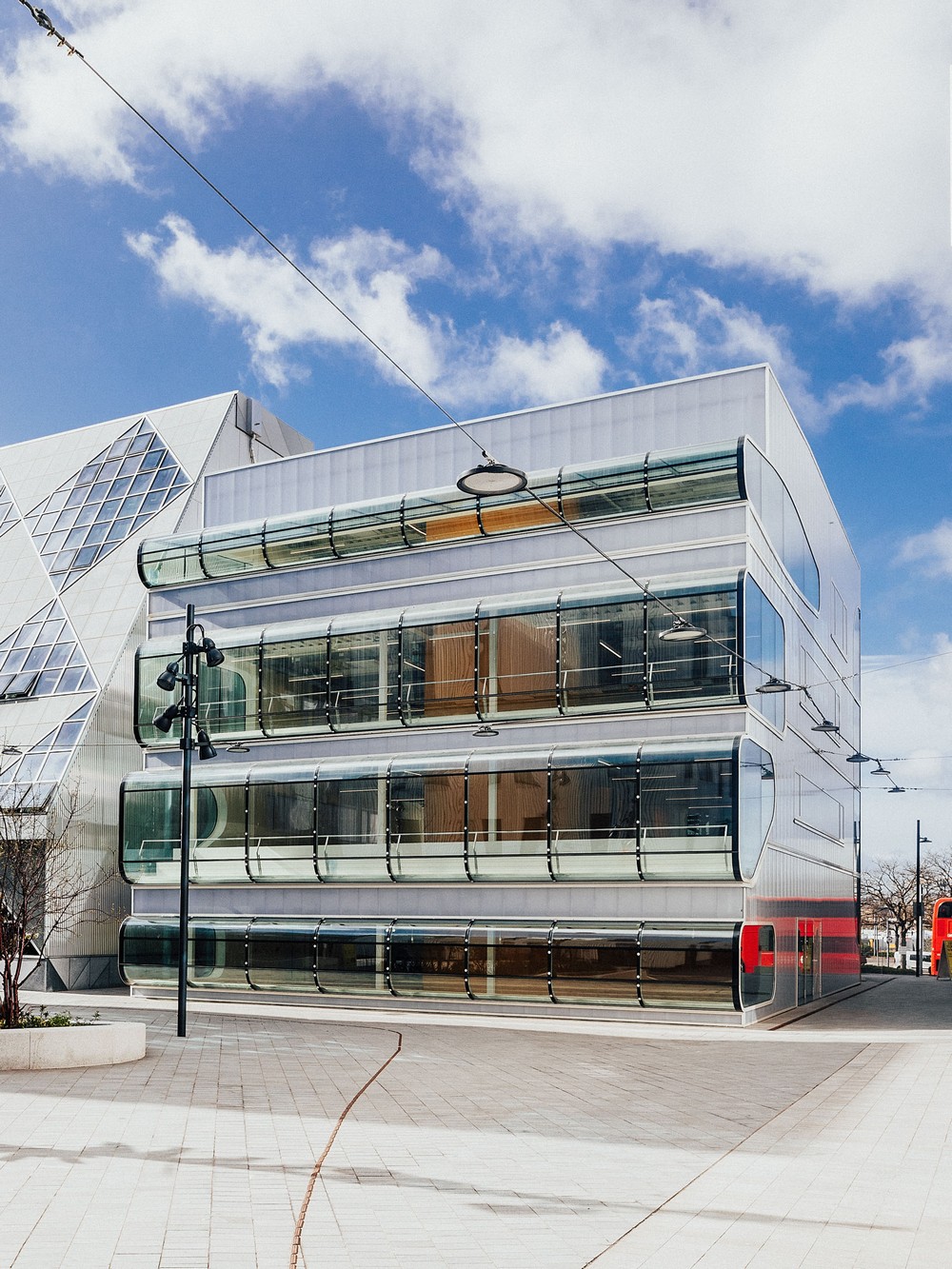 A visually spectacular building designed by SelgasCano, B1 at London's Design District, has launched. Set across four storeys, it spans over 10,000 sq. ft providing spacious, open-plan workspace with views of the winter garden from one end and across Design District from the other.
The completion of B1 coincides with Design District's second birthday and the release of its Impact Report, commissioned from built environment research and analytics agency, Social Life. The report explores the impact of Design District on its tenant businesses, and its success in nurturing growth and inspiring innovation amongst the creative industries two years on from its launch. Often susceptible to economic volatility, Design District was designed pre-pandemic as a secure option for creative industries.
Launched against the backdrop of COVID-19, during which 50% of creative organisations and freelancers lost 100% of their income by the end of March 2020 with only half having reserves to last beyond June 20201, the District provided a secure option for many businesses to get back on track. With the dominant workspace model turned on its head, homeworking proved to be a limitation for creatives who rely on workshops, studios and collaborative spaces. Design District's flexible workspace offering and affordability initiatives threw the industry a lifeline at a time when it needed it most.
Today, over 170 businesses call Design District their home – ranging from global brands to one person startups, working across the spectrum of creative disciplines, from lighting design to landscape architecture, dance to digital. Together, they form a vibrant, inter-connected community of creative enterprises, thriving in the face of market conditions.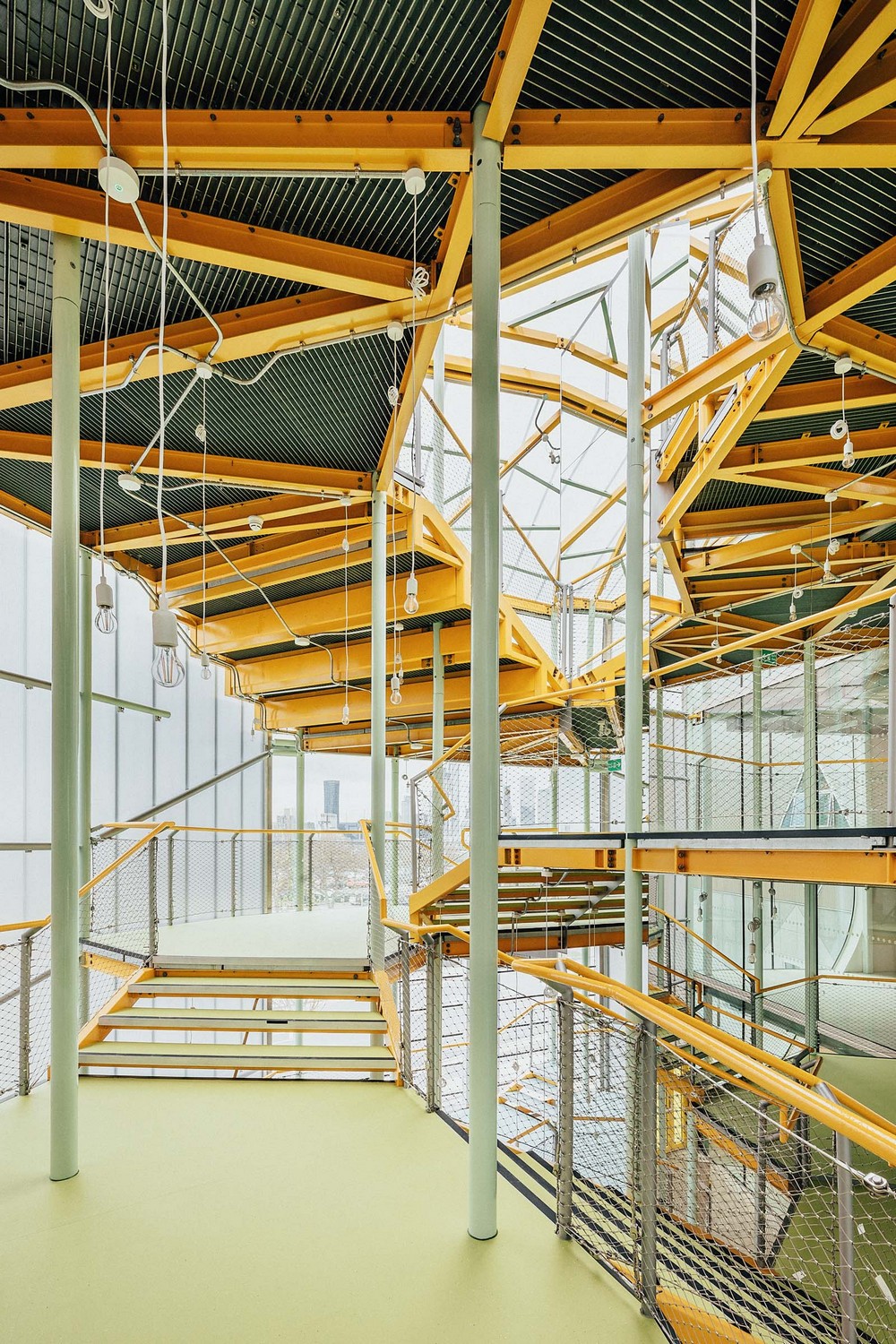 HNNA, masterplanning architects of Design District, have created a refreshing counterpoint to the 'big architecture' that dominates London, with the collection of tightly clustered low-rise buildings that are human in scale, cultivating an atmosphere of intimacy, and encouraging interaction with others, fostering a sense of social connectivity. The result is an eclectic cluster of extraordinary structures, woven with public squares and thoroughfares designed to encourage interaction.
Now available for lease by a single tenant, B1 is an invitation for creative businesses to find a head turning home at the heart of Design District, taking advantage of its flexible floorplates. With B1's internal configuration being primed for planting, incoming tenants will be in the perfect position to reap the proven health, wellbeing and productivity benefits of biophilic workspace, light, and connection to nature.
In addition to the architecture, the amenities, and the inherent benefits of being part of a cluster of businesses, a key driver of Design District's appeal for creative businesses is its progressive blended rent model. Working to a target average of £25 per sq ft – half the London average of £49.64 and almost a third of the Shoreditch average of £65–£75 – Design District's rental pricing structure pegs rent to commercial success, meaning that more established organisations shoulder a larger rental burden than smaller businesses – effectively subsidising them. This gives smaller enterprises the security of permanent affordable workspace as they grow – a major benefit at a time when creatives are increasingly finding themselves priced out of a growing number of locations. In addition, the blended-rent strategy provides CSR benefits by positioning large organisations and supporters as patrons of the creative industry.
Design District sits at the heart of Greenwich Peninsula – a fantastic riverside destination filled with food and drink venues, studios and workshops and even a rooftop basketball court. The district is also enveloped by inspiring art from the likes of Damien Hirst and Murugiah as well as the NOW Gallery which has nurtured new artists including Sara Shakeel and Yinka Illori.
Entire buildings, floors and office spaces at Design District are tailored to their occupants' individual needs to ensure they can operate efficiently, including installing purpose-built tech and creative state of-the-art studios for global occupiers.
Gion-Men Kruegel, Chief Creative Director at HEAD Group, added:
"It's important for us to be surrounded by other like-minded creatives and we feel right at home among the Design District community. From our initial visit to coming into work every day, our team feels taken care of and we're now in a space where we can thrive. The accessibility of the numerous transport links and onsite amenities, like the basketball courts makes our day-to-day working much easier and frees us up to focus on our upcoming projects."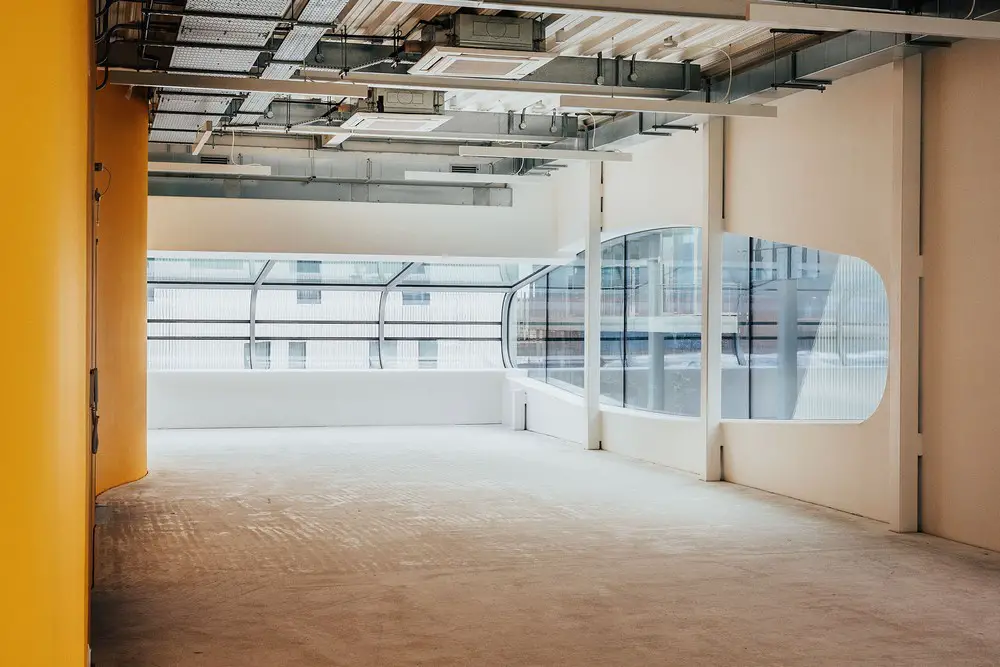 Reggie Yates, Writer, Director and Design District member commented:
"The Design District offers an incredible place to create and stay motivated. Being surrounded by like minded peers in an inspiring and considered environment has helped my process as a writer and director no end. It's safe to say, I'm a fan."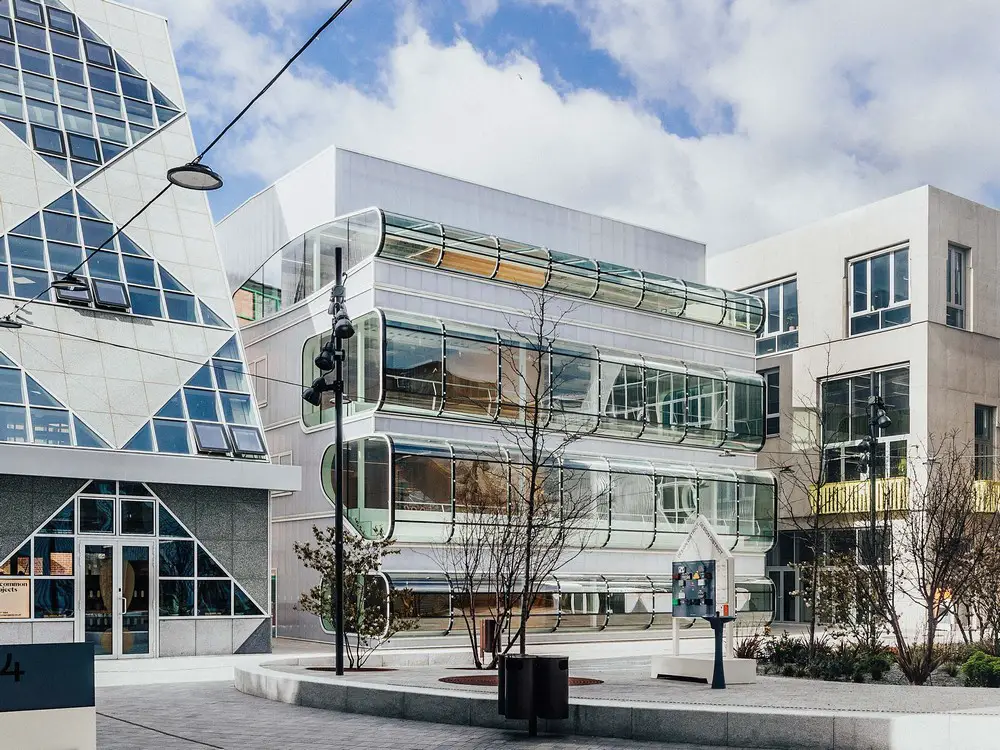 Emma Mansell, Head of London's Design District at Greenwich Peninsula, said:
"In just two years, Design District has established itself as a pioneer for supporting creative businesses. The mission to build a community of ambitious creatives, tastemakers and entrepreneurs at all scales and stages has gone from strength to strength thanks to the supportive ecosystem of Design District and its tenants, despite a tumultuous backdrop of Brexit, COVID-19 and cost of living crisis. The launch of our latest building, B1, has allowed us to reflect on Design District's journey over the past two years and through the Social Life Report, we know that it is succeeding at what it set out to do. Over the coming years, we expect to see Design District become even more rooted in London's creative scene as we continue to attract some of the most innovative creative businesses the world has to offer."
Dimitri Hon, Senior Creative at Brompton, added:
"Design District proved to be the ideal playground to showcase our halo product and lightest bike, Brompton T Line, by providing a unique, architecturally considered (and varied) area where we could utilise the vertical space as well capturing the riding element. The scale of the development with its miniature "streets" were a nice parallel, too. The contrasts in style and exposed nature of some of the buildings flows together brilliantly – playful architecture isn't ubiquitous in London, but this has it in spades on top of all the functionality."
Hannah Corlett, Founding Director of HNNA, said:
"The success of the Design District comes from the identity of the individual creating a sense of the collective. Our aim was always to generate a counterpart to the rest of the Peninsula, and by doing so we've successfully created a destination within it. The deliberately eclectic range of buildings are grouped around four informal courtyards and a more formal and public central square; the hidden, room-like spaces have separate identities and are full of user interactions, contained yet fully permeable, with routes in and out at every corner. The physical detachment of each building permits them to own their own distinct architectural language, and it's been great to see their various descriptions emerge over time as people use the buildings' diverse visual identities for navigation and a sense of ownership. It's a place everyone can flow through, interact with and personally respond to; a new urban fragment for culture in London."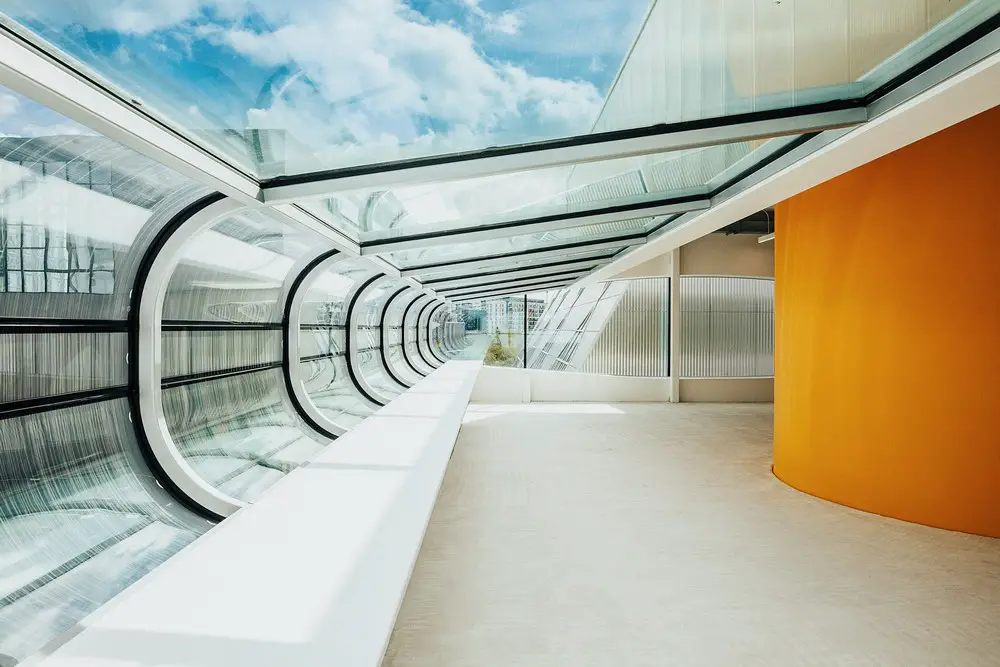 About B1
B1 is a dramatic four-storey structure that is instantly recognisable for the floor-to ceiling convex windows that adorn its façade. This curved glass provides a visual echo of SelgasCano's other Design District building, the distinctive, caterpillar-like Canteen that stands opposite.
B1 has two principal components: the main workspace, and a lighter 'winter garden' at the rear of the building. In keeping with SelgasCano's signature appreciation of biophilia, the winter garden is designed to be extensively planted with trees and flora – which will benefit from the natural lightflooding in through the glass walls. Constructed from bold yellow structural steel, a spiralling series of stepped landings runs from the ground to the fourth floor, creating spaces to pause and moments of interest, whereas small pods at the centre offer residents more enclosed, private spaces in which to meet, work and socialise.
With views in all directions, each of the four floors is arranged around a curved central core and connected to the winter garden through a glazed walkway. The curved – almost bulging – windows at the front open up the building and create a strong sense of connection to the main square and the surrounding district, keeping the building occupants in touch with the sunlight, and allow those outside a glimpse of the dynamic creative work taking place within.
B1's curvaceous silhouette and distinctive materials – polycarbonate panels and vivid yellow steel beams – contrast with the crisp façades and sharp geometries of several of its neighbouring Design District buildings, including 6A Architects' precise, angular A2 and B2, and David Kohn's grid-fronted B4. Such juxtapositions in form and colour fuel the dynamic eclecticism that defines Design District and reflect the diverse creative disciplines and approaches of its community.
About Design District
Design District offers a unique opportunity to be at the heart of London's most exciting creative cluster. It is the capital's first, dedicated permanent hub for the creative industries offering 150,000 sq. foot of purpose-built space to support 1,800 people in the sector. With intriguing architecture, it is an inspiring place that brings like-minded people together, fostering an ecosystem for the creative industries, sparking ideas and encouraging collaboration. With desks, floors, or entire buildings, the district offers a variety of spaces with flexible leases. Businesses have access to facilities across the Design District (including podcast and pottery studios, commercial and 3D printing) with multiple opportunities and events to meet and collaborate with others – providing everything creative Londoners need to thrive and build their businesses.
About Greenwich Peninsula
Greenwich Peninsula is fast becoming the capital's most boldly modern landscape. With 17,487 new homes, 12,000 new jobs and 48 acres of open public space emerging over the coming years. Here a community of thousands of pioneers live in new riverside homes, work in a cutting-edge Design
District and enjoy the Tide, the neighbourhood's elevated, riverside walkway and public art trail that celebrates art, design and wellbeing – all wrapped by the river Thames. This is new London: a destination for modern urban living.
About SelgasCano
SelgasCano was founded in 1998 in Madrid. In the UK, the practice is widely known for its iridescent Serpentine Pavilion installed in Hyde Park in 2015. The firm has been responsible for major architecture projects across Spain and Europe, and exhibited at the Museum of Modern Art and the Guggenheim in New York, and the Design Museum in London, among others.
About Social Life
Founded by the Young Foundation in 2012, Social Life is a social enterprise and specialist research agency that examines the relationship between the built environment and the people and communities that inhabit it. The agency's insights and research is used to inform the planning, design and management of places that are socially and economically sustainable.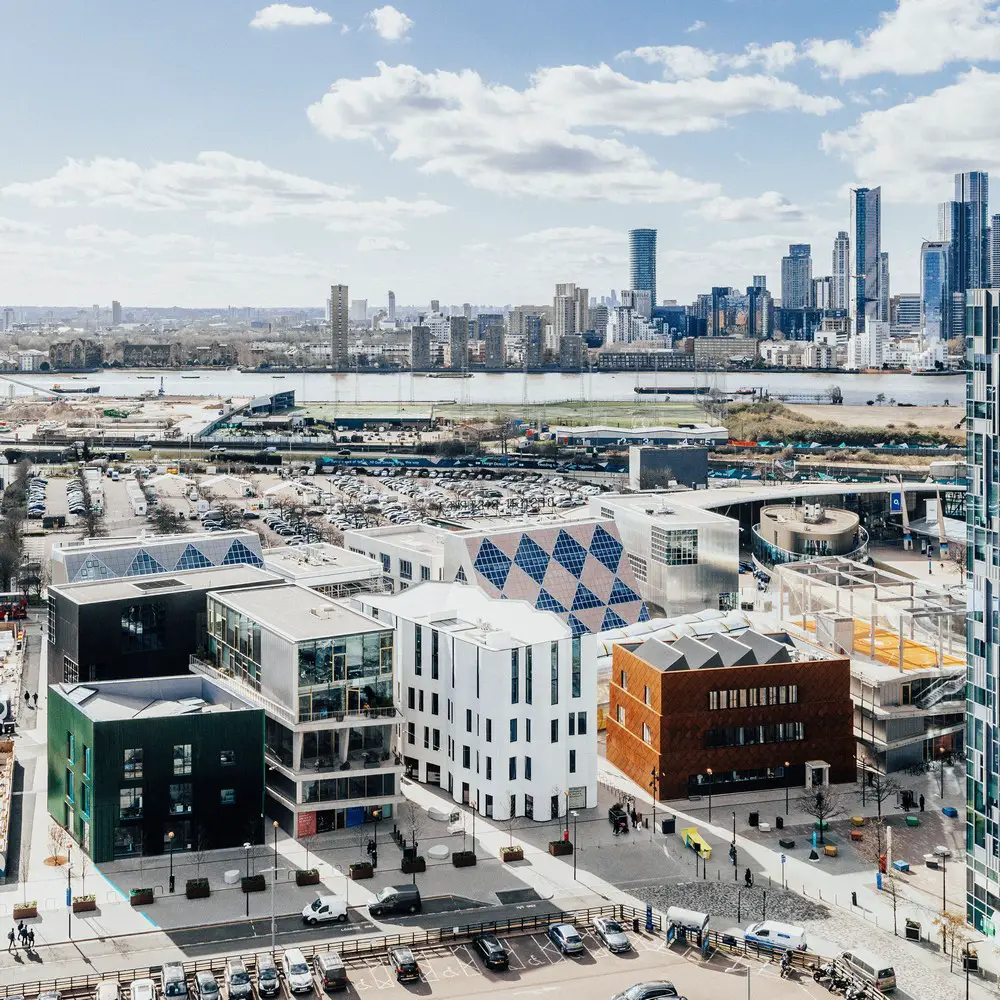 Images courtesy of Design District and Taran Wilkhu
Architects website: SelgasCano – http://www.selgascano.net/
Building B1, Greenwich Peninsula, London images / information received 180923
Location: Greenwich, south east London, SE7 8LJ, England, UK
Greenwich Buildings
Contemporary Greenwich Building Designs
Ravensbourne College – design by Foreign Office Architects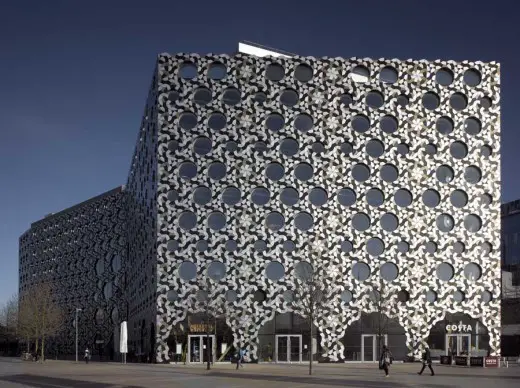 photograph © Benedict Luxmoore
Millennium Dome – design by Richard Rogers Partnership (now RSHP)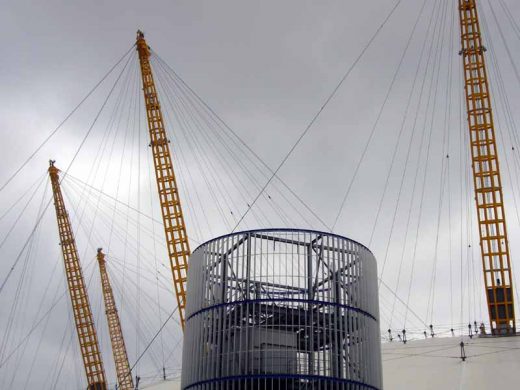 photo © Adrian Welch
Greenwich Peninsula Low Carbon Energy Centre
London Buildings
Contemporary London Building Designs
London Architecture Links – chronological list
London Architecture Tours by e-architect
Comments / photos for the Building B1, Greenwich Peninsula, London by OMA page welcome