Glassworks Eyewear Gallery and Optometry Clinic Tel Aviv, Israel Art Deco Building, Israeli 1920s Architecture
Glassworks Eyewear Gallery and Optometry Clinic in Tel Aviv
6 Sep 2022
Architect: Alex Nicholls
Location: Nahalat Binyamin Street, central Tel Aviv, Israel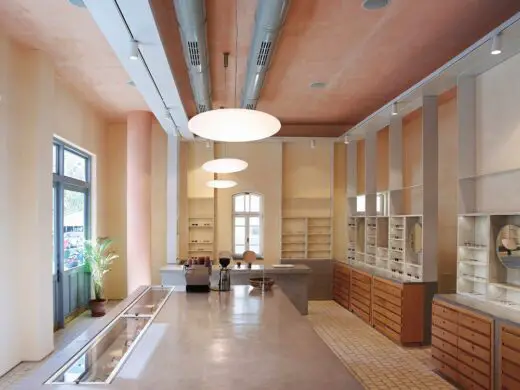 Photos: Dudi Hasson
Glassworks Eyewear Gallery and Optometry Clinic, Israel
Glassworks is a new design-centric eyewear gallery and Optometry clinic in a preserved 1920s Art Deco building in the heart of Tel Aviv.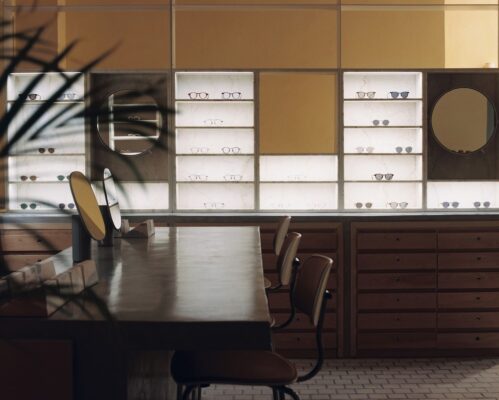 Glassworks is an all-new eyewear boutique, gallery and optometry clinic in Tel Aviv that champions independent eyewear brands from around the world and aims to elevate the eye-wear experience for the modern, design-seeking consumer.
Situated in a 1920's Art Deco-style building along the bustling Nahalat Binyamin Street in Tel Aviv, Glassworks was designed by Australian architect Alex Nicholls in collaboration with Glassworks co-founder Ariel Resnik, an Australian expat whose vision was to create a warm and welcoming environment that served the community and elevates the retail and medical optometry experience.
Created more like a gallery than a store, every architectural element of Glassworks' home on Nahalat Binyamin was designed with vision and experience in mind. As for the transformation from a textile retail space into Glassworks, Niccols maintained the building's existing grand proportions, high-ceilings, open plan, large windows and abundance of natural light to provide a casual and colorful space at home among Tel Aviv's famous restaurants and bars.
A minimal white steel structure houses Glassworks' "library of frames" and delineates the functional areas whilst maintaining an open plan and a casual and flexible space. Gallery-style curation and museum quality lighting are featured throughout the boutique, capturing the details of individual frames and showcase Glassworks' passion for independent eyewear from Japan, Italy, England and elsewhere, including Yuichi Toyama, Nuiit and Dabrach, to name a few. The HQ houses two examination rooms, an on-site lens-cutting laboratory, the team's office spaces and, of course, the Library, home to Glassworks' extensive optical collection. Clients can browse at their leisure and receive casual styling advice over a freshly brewed coffee or an ice cold drink at their central 'plaza' – an extension of the city's outdoor, pedestrian culture.
The white steel colonnade and library pay homage to the 'White City' and the regional eclectic architecture-style, whilst the warm stone and plaster draw from the old stone hues of ancient Jaffa. The use of exterior and durable materials enhances the sensation of public space and the continuation of the outdoor environment inside. Where possible, local materials were utilized and local craftsmen employed: all the tiles were custom specified and hand made in Tel Aviv and the various plaster techniques are typical of traditional Middle Eastern architecture.
The frames are displayed in combined timber and stone joinery, and, as required, Glassworks uses custom-designed bespoke objects to improve the functionality and aesthetics of the store – e.g. fabricated bespoke timber trays were designed by Alex Nicholls and the Glassworks team to easily facilitate transportation and display of frames. The 'hero' glasses plinths were also designed and cast in-house at Nicholls' studio, while Glassworks and Nicholls worked with a local pottery workshop to collaborate for bespoke hand basins and coffee and espresso cups.
Ariel Resnik, Glassworks Founder and CEO, says: "A counterculture to the mainstream, Glassworks is an experience-orientated vision centre – we've completely rethought the approach normally applied to optometry. We curate eyewear by the most exciting independent brands from around the world and offer a holistic approach to eye-care, starting with restorative examinations that you'll genuinely enjoy. Every element of Glassworks has been designed to optimise our clients' vision and journey."
Alex Nicholls, Glassworks Creative Director and Architect, says: "We wanted the space to be inviting – somewhere to escape the Tel Aviv heat, where both our staff and our clients would actually want to gather and relax."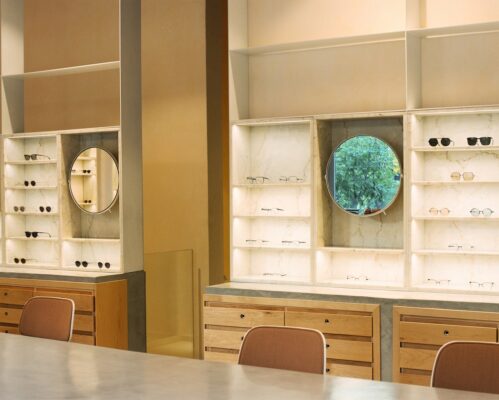 Glassworks examination rooms were designed to create an intimate atmosphere, ensuring an uninterrupted consultation with the optometrist in an environment with highly controlled lighting. Optical technology and equipment is state-of-the-art, arranged sequentially and ergonomically in a space with high ceilings and natural light. The environment is inviting and non-clinical, enabling clients to relax and enjoy the experience.
Glassworks is conjoined with fixed timber and stone masonry, and where possible, the space houses custom-designed bespoke objects to improve the functionality and aesthetics of the store. The fabricated bespoke timber glasses trays were designed by the Glassworks team to easily facilitate transportation of frames to clients and to the lab.
The 'hero' glasses plinths were also designed and cast in-house, while Glassworks worked with a local pottery workshop to collaborate for hand basins and coffee and espresso cups.
Eyewear Collection
Glassworks' curates a collection of independent brands from around the world. No run-of-the-mill designs, no conglomerate-owned companies: the team know the makers personally and select every frame by hand.
The collection includes eyewear by innovative Italian brand Delirious, masters of the oversized frame SOYA, and Hong Kong non-conformists Rigards – as well as a range of impeccable modern classics by Japanese designers Yuichi Toyama and KameManNen.
Every frame in the collection has a story to tell, and the team are well-versed in each one. Clients can learn about every element of their chosen frame – its provenance, its mechanics, its maker in a highly personal, guided shopping experience.
Eye Care
Led by Head Optometrist Noah Rapport, Glassworks' professional optometrists examine eye health in its entirety. Regular eye exams are important, so Noah and his team choose to honour the process as such. The full experience, right down to the space it takes place in, is designed with clients' vision, education and relaxation in mind. Combining state-of-the-art equipment with human expertise for an exceptionally thorough eye examination, the team are personable and friendly, revealing and relaying the complex inner workings of the eye in a way that is informative and understandable.
Accurate eyewear modification is vital for sight and quality of life, so from lens selection to glazing, Glassworks' in-house laboratory is equipped with all the tools to individually customise every new pair. Old favourites can also be given new life in the lab, with the capability to repair, restore and even reinvent clients' existing glasses.
Photography: Dudi Hasson
Glassworks Eyewear Gallery and Optometry Clinic, Tel Aviv Israel images / information received 060922
Location: Tel Aviv, Israel, the Middle East
Israel Architecture Designs
Contemporary Israel Architectural Selection
Tel Aviv Architecture Tours by e-architect
Tel Aviv Buildings
Contemporary Residential Properties in Tel-Aviv
Villa Rothschild Apartments
Architects: Bar Orian Architects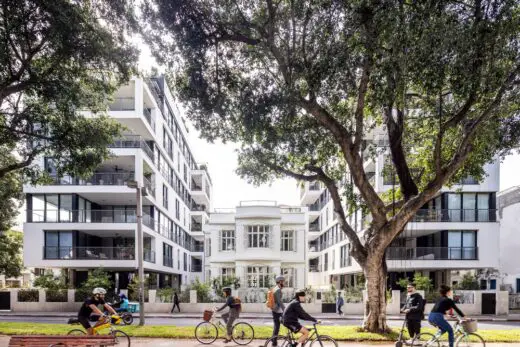 photo : Amit Geron
Villa Rothschild Apartments, Tel Aviv
Independence Trail
Architects: Ollech + Tol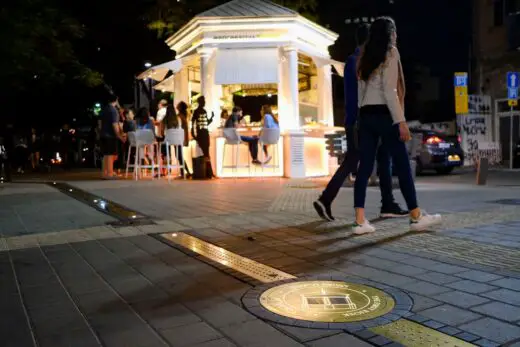 photo : Tomer Appelbaum
Tel Aviv Independence Trail
Fein 1 Central Apartment Complex
Architecture: HQ Architects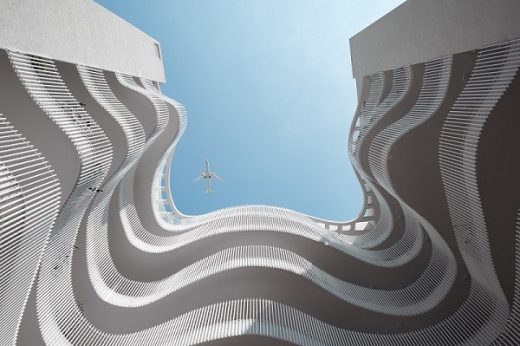 photo : Dor Kedmi
Fein 1 Central Apartment Complex, Tel Aviv
Comments / photos for the Glassworks Eyewear Gallery and Optometry Clinic, Tel Aviv design by Alex Nicholls page welcome