Chandigarh Unbuilt Competition News, Indian Design Contest, Architecture 2015
Chandigarh Unbuilt Competition
Indian Design Contest organised by archasm
10 Aug 2015
Chandigarh Unbuilt Competition by archasm
archasm invites architects, students, engineers, designers, artists and philosophers to send in their entries for our competition
– Idea based competition
– Single stage competition
– Team of maximum three members
– No professional qualification necessary for eligibility
– Teams can be interdisciplinary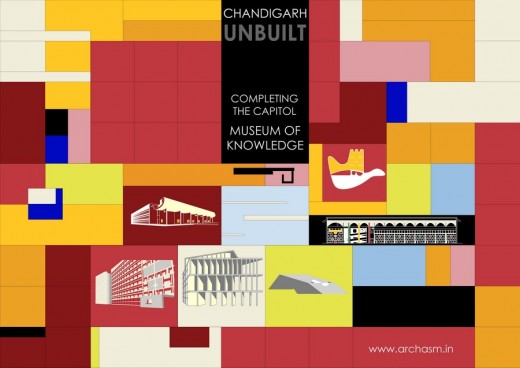 There are various elements of Unbuilt Chandigarh, that were conceived by Le Corbusier but remained confined to documents, pictures and archives. The design of the Capitol Complex was the jewel in the crown wore by Corbusier's Chandigarh.
Being the symbol and identity of the city for many years, the Capitol complex is still incomplete, for a fourth building, the Museum of Knowledge was planned to accompany the existing Secretariat, Assembly Hall and High Court. The MoK, according to Corbusier was to function as a decision-making or a briefing center for the government officials, highlighting the importance and applied use of technology and electronics in processing, synthesizing and presenting large bodies of information related to the state matters.
The aim of this competition is to design the Museum of Knowledge (MoK) at the original cumulative site of the then proposed MoK and Martyr's memorial in the Capitol complex. The participants are tasked with defining the purpose of a KNOWLEDGE/ CONAISSANCE MUSEUM in the Chandigarh of 21st century. The proposal for the MoK needs to interpret the function of a knowledge museum in a way that is germane and relevant to the present and future and helps in alleviating chaos and disorder, be it economic, political, social, environmental, urban, technological, demographic etc. in nature.
The participants are required to contemplate the relevance and importance of Le Corbusier's version of modern architecture in present time and enrich community life by injecting, activating and rejuvenating the public space in and around the Museum of Knowledge.
The proposal should aim to intensify the democratic principles of the Capitol complex by incorporating the civil society inside the Museum of Knowledge. The MoK proposal needs to accommodate and facilitate intellectuals and to provide a conducive live working environment for them, serving as a space for 'creation' of knowledge rather than just 'exhibition' of knowledge.
The site is located in the Capitol Complex exactly opposite the Geometric hill to the north and is contained between the other edifices of Legislative Assembly and Secretariat on one side and High court on the other.

SCHEDULE
– Start of Competition and Early Registration: 1st August 2015
– Early Registration ends: 30th September 2015
– Standard Registration starts: 1st October 2015
– Deadline for Questions: 15 October 2015
– Standard Registration ends: 30th October 2015
– Closing day for Submissions 31st October 2015
– Announcement of Winners: 18th November 2015
*Note: All deadlines are 11:59 pm – 00:00 IST (India).
SUBMISSION REQUIREMENTS
Your proposal must be presented on maximum two landscape oriented A1 sheets using any techniques of your own choice (sketches, diagrams, 3D visualizations, model photos, CAD drawings, etc.)
All text must be in English. You may use the material provided, but this is not a requirement. All delivered material must be marked with your team code, presented clearly in the top right-hand corner of BOTH your sheets. Your sheets must not include ANY information that may give away your identity. Do NOT include your name on your sheets, only the team number.
Format: A single folder named as your team code containing the following files must submitted via email to [email protected] within the deadline of 30th October 2015:
High-resolution PDF containing both A1 sheets for your project.
THE MAXIMUM FILE SIZE IS 20MB FOR THIS FILE.
THE NAME OF THE FILE YOU SHALL USE IS: TeamCode.pdf
Low-resolution illustration of your project. This file will be used for our web page and promotional purposes.
THE FILE FORMAT MUST BE A JPEG, WITH 100DPI RESOLUTION.
THE MAXIMUM FILE SIZE IS 1MB FOR THIS FILE.
THE NAME OF THE FILE YOU SHALL USE IS: TeamCode.jpeg
Subject of email: Subject of the email must be your team code.
REGULATIONS
• Participant teams will be disqualified if any of the competition rules or submission requirements are not considered. Participation assumes acceptance of the regulations.
• Registration number is the only means of identification of a team as it is an anonymous competition.
• The official language of the competition is English.
• The registration fee is non-refundable.
• Contacting the Jury is prohibited.
• archasm as the competition organizer, reserves the right to modify the competition schedule if deemed necessary.
PRIZES
First prize- INR 1,00,000/- + Certificate
Second prize- INR 60,000/- + Certificate
Third prize- INR 40,000/- + Certificate
10 Honorable mentions
Top 50 – Fifty short-listed entries featured in one single online publication on our blog and social media pages. Winners and honorable mentions will be published on archasm's website and several international architecture magazines and websites partnered by us.
COMPETITION DOCUMENTATION
Following information is available for download on www.archasm.in :
• Full competition brief
• Site and context photographs – CAD and PDF site plan
All information can be downloaded as often as required; no additional information or material will be provided after the registration.
The brief and all associated documentation for this competition are for the sole purpose of an academic exercise and are not legitimate documents. The provided materials can be used or alternatives can be created or sourced at the participant's discretion.
REGISTRATION
Early Registration:
From 1st August to 30st September 2015
• For Indian nationals- INR 900 (per team)
• For Foreign nationals- EUR 60 (per team)
Standard Registration:
From 1st October to 30st October 2015
• For Indian nationals- INR 1200 (per team)
• For Foreign nationals- EUR 80 (per team)
Entrants may register by filling the registration form and submitting it with the appropriate payment through our secure gateway on our website www.archasm.in
Other details
Address: Chandigarh, India
Event type: Award
Theme: Architecture
Target group: Students, Architects
For more information email [email protected]
Website: rel="follow noopener noreferrer">archasm
Location: Chandigarh, India
New Delhi Architecture Walking Tours
Indian Architect Office – contact details
Kiran Nadar Museum of Art & Kiran Nadar Cultural Center International Design Competition
Design: Adjaye Associates
Kiran Nadar Museum of Art & Kiran Nadar Cultural Center International Design Competition
Chandigarh Buildings
Government Museum and Art Gallery in Chandigarh
Design: Le Corbusier architect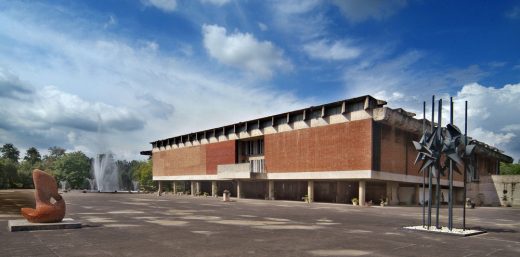 photo © SM Dhami
Government Museum and Art Gallery in Chandigarh
Government Museum and Art Gallery Chandigarh One of Twelve Recipients of Getty Foundation's Keeping It Modern Grants.
Disha Electrical and Lighting Store
Design: Studio Ardete, architects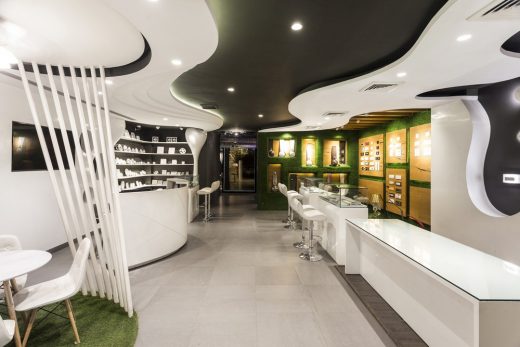 photo : Purnesh Dev Nikhanj
Disha Electrical and Lighting Store in Chandigarh
Marble Arch, Chandigarh
Design: Morphogenesis, architects
Chandigarh Housing
Indian Residential Building Selection
Tata Housing, Gurgaon, North India
Design: Kohn Pedersen Fox Associates



image by architect
Tata Housing Gurgaon
Victory Valley, Gurgaon, North India
Design: WOW Architects



image from TM
Victory Valley Development
Comments / photos for the Housing in Chandigarh page welcome
Website: Chandigarh