TU Delft Architecture Faculty Entry, Building, Holland, Architects, Image, Design
TU Delft Faculty of Architecture Building, Holland
Delft Architecture Competition – Shortlist, The Netherlands, Europe
5 May 2009
TU Delft Architecture Faculty
New TU Delft Architecture faculty building – Building for Bouwkunde
International open ideas competition
TU Delft Architecture faculty building Competition – eight nominations.
Entries: 466 entries
TU Delft Architecture Faculty Building – Nomination, alphabetical:
Ego Eco-System
Marc Koehler, Martijn de Geus, Miriam Tocino, Stepan Havlik, Carlos Franco, Hans Smolenaers
Amsterdam
MARC KOEHLER ARCHITECTS
TU DELFT COMPETITION "BUILDING FOR BOUWKUNDE"
"Only that what is alive and changing, stays new and contemporary."
Zen-wisdom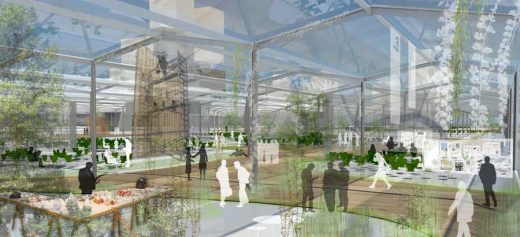 .re-growing vs. re-building
Once an eco system is destroyed, it can't be regained by an instant, replacement of the individual species. The same is valid for human constructions and social communities. Thus we propose a successional, timebased approach to its re-growth, executed over a trajectory of years. Spatially organizing a dialogue between, and redefinition of, old and new values, ideas and ego's in architectural teaching.
The result will be a community operating as a diverse eco-system, dynamic, complex and persistent. It settles down within a very few years and undergoes continuous growth, change and innovation that feeds and enriches itself and its environment. The architecture faculty becomes a living organism. And in its visual appearance and operating performances it reflects the changing forces that structure ideas about the relationship between architecture, science, economy, politics and culture.
.re-connect/ re-activate
Bouwkunde is inherently connected to both the global network of academic centers as well as the local urban context. In this landscape of opportunities, Bouwkunde is an emerging center to experiment, cultivate and cross-breed ideas. The TUDelft and Bouwkunde will become physically connected in the center of an easily accessible network of knowledge centers and potential new techno knowledge oriented zones along the A13 highway.
A spin-off and catalyst development effect can be expected on the level of the TU Delft campus. Therefore the architects propose an additional program of short-stay student and teacher housing, a conference hotel and rentable flex-office spaces. Bouwkunde thus becomes an instigator for TU Campus innovations, also because its broad and inclusive discourse enables it to engage in connective programs in the campus, involving all disciplines and re-activating remote or under-used spaces.
.open source
Recent innovations in the field of IT combined with improved global access to new media result in an increasingly 'levelled world', empowering people to develop themselves through dynamic horizontal virtual communities such as Facebook. Our proposal stimulates horizontal communication and browsing between studio's, students and teachers in a continuous landscape. in our proposal users will work increasingly mobile. The faculty becomes a social 'green house'.
.non-ideological
The global history of architectural faculties shows that evolution of learning spaces are the result of subsequent architectural ideologies, didactic principles and political power structures; new dogma's replacing old ones. As a result, buildings for learning are short lived, and in a constant process of transformation.
In the design proposal the architects create a flexible building concept that stimulates transformation of its interior rather than resists it, while maintaing a strong identity in a neutral Miesian box structure. In this intellectual ecosystem, didactic dogmas of the past, present and future can battle with each other; following the principle of the survival of the fittest. The building design is non-ideological in its potential all inclusive flexibility and diversity.
.magnetize + identify
The power of identity: strong ideas, important professors and collaborative teaching and research networks have the power to re-organise the academic discourse and its related teaching methods and spaces. Like magnets they distort the field of established ideas and theories. Our proposal projects the generic as a flexible landscape to be structured by the magnetic fields of changing centers representing power and ideology. They could at first be established by the departments, but will also be formed by individual studios or teaching groups generating enough potential to be of influence and thus competing with the other 'magnets'.
.cultivate + differentiate
Flexibility of spatial organization is the condition to foster diversity as strength of survival. That means that there will always be some species, i.e. ideas and related teachers, that can do well in our highly variable self sustaining and energy efficient eco-system. The species composition remains the same, but different species excel in different years. Co-opetition to innovate together.
Design: Marc Koehler Architects Design team: Marc Koehler, Martijn de Geus, Miriam Tocino, Stepan Havlik, Carlos Franco, Hans Smolenaers, Bart Popiela Consultants: Peter de Bois, Matthijs Leendertse
Information from Marc Koehler Architects, 2 Feb 2009:
SHORTLISTED | BUILDING 4 BOUWKUNDE | TU DELFT COMPETITION
With almost 1500 registrations and a final of 471 international submission, these Dutch architects are very proud to announce that Marc Koehler Architects have been shortlisted in the TU Delft 'Building for Bouwkunde' competition, regarding the design of the new faculty of architecture at the TU Delft. A total of 8 entries have been shortlisted as the jury evaluated the submissions on January 14 and 15.
During an award ceremony in the Netherlands Architecture Institute (NAi) in Rotterdam on March 14th the jury will announce the final winners and the honourable mentions, accompanied by the Dutch minister of Education, Mr. Ronald Plasterk. The plans will be revealed during that awards ceremony; until then our proposal will remain confidential.
Location: TU Delft, Netherlands
Architecture in Delft
Building for Bouwkunde competition – Entry by Monolab
Delft Technical University Library
1993-95, 1996-98



photograph : Christian Richters
The Architecture Faculty at Delft Technical University destroyed by a fire 13 May 2008. Collections by Rem Koolhaas and MVRDV destroyed
Temporary location of Architecture Faculty : Julianalaan, Delft
Delft Offices by Mecanoo architecten
Architecture in The Netherlands
Contemporary Dutch Architecture
Netherlands Architecture Designs – chronological list
Dutch Architect – design firm listings
Comments / photos for this TU Delft Architecture Faculty Building page welcome
www.buildingforbouwkunde.nl/ideascompetition
Website: Visit Netherlands