RIBA + VitrA Forms of Exchange: Exploring the spaces in-between, UK Architecture Design Event
RIBA + VitrA Forms of Exchange: Exploring the spaces in-between
18 May 2023
RIBA+VitrA: Forms of Exchange: exploring the spaces in-between
Thursday 18th of May 2023 – The Royal Institute of British Architects (RIBA) is pleased to mark the fifth consecutive year working in partnership with VitrA Bathrooms. This year, RIBA is curating a programme of events throughout 2023 called Forms of Exchange: Exploring the spaces in-between. This public programme talks season investigates how architecture manifests itself beyond the structural form.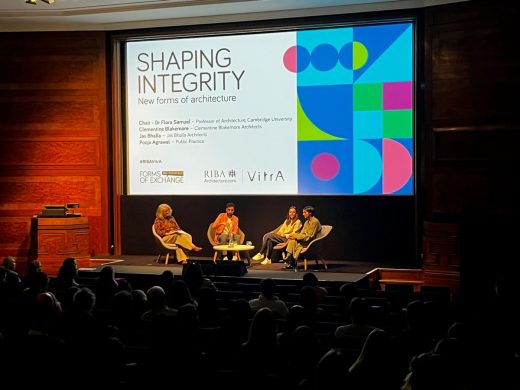 This partnership has explored a wide-ranging survey of topics, projects, and innovative new ideas about the ways people are re-thinking the relationship between the built environment and society. It has seen a diverse range of thought-provoking lectures and discussions featuring emerging and established international voices within architecture. A select few lectures are available on the RIBA + VitrA page on architecture.com.
This year, Forms of Exchange is a programme of talks inviting practitioners and a range of voices who are leading the way with new processes and practices that are redefining placemaking and the architectural profession. RIBA will host eight different talks, six of which will be hosted at its headquarters in London, 66 Portland Place, one regional talk in Manchester and one in Istanbul, Turkey.
So far this year, two events have taken place at 66 Portland Place including: Shaping Integrity: New Forms of Architecture, featuring architects Pooja Agrawal from Public Practice, Clementine Blakemore, Jas Bhalla, and Flora Samuel. The second event was a keynote from Sebastien Ricard, lead architect from WilkinsonEyre who has worked on the new neighbourhood for London and the regeneration of Battersea Power Station.
The third in the series, Forms of Exchange: Exploring the spaces in-between on 22 June 2023, is a part of London Festival of Architecture. RIBA will host the keynote lecture for 2023, inviting internationally renowned architect, urbanist, landscape architect, and co-founder of the Dutch practice, Winy Maas. This event will be part of a RIBA late as an opportunity to celebrate and mark the anniversary.
Maas explores how architecture transcends physical forms and becomes a tool for creating new connections and interactions between people, delving into the ways in which design choices can shape our experiences of space and influence our behaviours, showing how thoughtful architecture can foster community, communication, and creativity.
Events programmed for the series Forms of Exchange will present speakers who are stepping out of traditional practice to find solutions and new ways of working to initiate change through original and experimental methods. It will explore how architects are creating spaces that enhance communities and improve urban life. Projects will explore the impact on how we work, live and play in different contexts including designs that socially support communities; collaborations to embed and develop cultural understanding; the creation of spaces that enable meaningful experience, which are inclusive and accessible to diverse needs and ensuring building are constructed with environmental awareness.
These talks will give an insight into how architects are responding to large scale challenges as well as creating an impact on a smaller, local scale both today and for the future.
The rest of the programme for 2023 will be announced later in June.
RIBA Public Programmes Curator, Margaret Cubbage, said:
"We are incredibly excited to deliver such an original and inspiring programme of events with VitrA which looks at how the profession and field of architecture is shifting. Forms of Exchange brings together a range of voices who are leading the way and helping to shape the profession and design on different scales and contexts. Architecture is fundamental in defining how we connect with one another, radically impacting the way we live our lives and interact with the world around us. Bringing together leading names that demonstrate new ways of working, through practices rooted in being responsive, sensitive, inclusive, resourceful and creative, these events will provide unique insights to stimulate and provoke new dialogues.
For more information on the Forms of Exchange talk series, visit here.
VitrA
VitrA is part of the Eczacıbaşı Group, one of Turkey's most prominent industrial groups. Founded in 1958, VitrA is a leading bathroom manufacturer, which in recent years has expanded into international markets with over 70 per cent of VitrA's total output now being sold outside of Turkey.
From 13 production facilities in Turkey, Germany, France and Russia, VitrA produces a full range of bathroom products including over 5.6 million pieces of sanitaryware a year along with complementary bathroom furniture, brassware and accessories ranges, which are distributed to over 75 countries on five continents.
VitrA UK, based in Oxfordshire, has been supplying the UK bathroom market for over 30 years and is an active member of the Bathroom Manufacturers Association (BMA) and the British Institute of Kitchen, Bedroom & Bathroom Installation (BiKBBI). In Spring 2021, VitrA opened a flagship showroom in Clerkenwell, London – a creative hub for architects, designers and thinkers with dedicated areas for product specification, events and workshops.
www.vitra.co.uk
RIBA + VitrA Forms of Exchange: Exploring the spaces in-between images / information received 180523 from the The Royal Institute of British Architects, UK
Location: United Kingdom
RIBA + VitrA Talk at RIBA North News
Grimshaw Architects to speak at inaugural RIBA + VitrA Talk at RIBA North
Recent London Bridge Station Redevelopment by Grimshaw: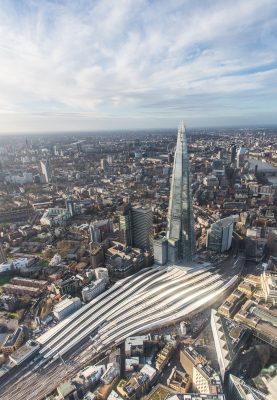 photo courtesy of architects
RIBA + VitrA Talk at RIBA North
The Royal Institute of British Architects
RIBA North Architecture Events
Previously on e-architect:
Exhibition at RIBA North



A prototype of an innovative ceiling installation utilising 200 ceramic cones that are digitally designed and created by ECAlab will be on display at Cerámica
RIBA North Events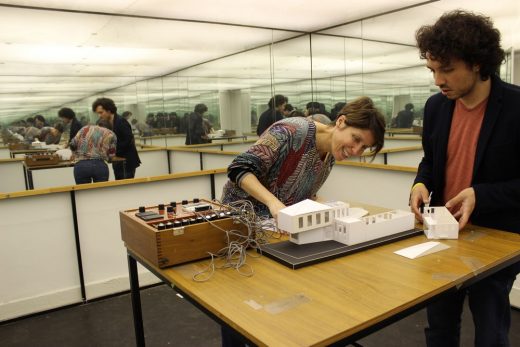 Dr Rosa Urbano Gutiérrez, founder of ECAlab, with a student in the lighting lab
Cerámica at RIBA North
Royal Gold Medal for Architecture 2019 Winner
Comments / photos for the RIBA + VitrA Forms of Exchange: Exploring the spaces in-between page welcome