Article 25 Auction, Art Exhibition London, Event, Project, Photos, News, Design
Article 25 Event, London : Art Exhibition + Auction
Article 25 Exhibition + Auction, London : Art for Architecture
1 May 2011
Article 25 Event
Safer Buildings for Communities Across the Globe
'Article 25: the built environment's charity'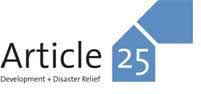 10×10 Drawing the City
The City of London as seen by 100 artists and architects
In Aid of Article 25, the UK's leading architectural aid charity, providing building solutions to global problems.
Endorsed by: Mayor of London, Boris Johnson
Key Participants: Lord Norman Foster & British designer and television presenter Kevin McCloud
Supported by: Sotheby's
Article 25 are currently hosting an exciting new event to raise awareness and support for future projects; their new "10×10" event has engaged 100 distinguished architects and artists to draw their favorite snapshot in a 10 x 10 grid cross section of London. These drawings will be auctioned at a prestigious event on Thursday the 1st of December 2011.
Article 25 Art Exhibition and Auction
Safer Buildings for Communities Across the Globe
'Article 25: the built environment's charity'
What: 'Objects of Change' Art Exhibition and Auction
Where: La Galleria Pall Mall
When: All those wishing to attend the Auction (19th May, 6pm for 8pm), RSVP essential to [email protected]
Exhibition Opening Times
17 May: 10am – 9pm
18 May: 10am – 9am
19 May: 10am – 4pm (Auction in Evening)
Shanghai Exposition Pavilion Model
(2010)
Original model
1000mm x 800mm x 400mm
Kindly donated by Bjarke Ingels Group:



picture from Article 25
'Objects of Change' Exhibition and Auction: Design with a Cause
LONDON: Just 2 weeks remain before the UK's leading built environment charity Article 25's unveils its most ambitious event yet: a high-profile art exhibition and auction in entitled 'Objects of Change'. Held between 16-19 May at prestigious contemporary art gallery and auction house La Galleria Pall Mall, this will raise essential funds for Article 25's vital work in post-disaster regions throughout the world. Exhibition: 16th (Invite Only), 17-19th May (Public Viewing), Auction: 19th May, 6 for 8pm.
Building on the phenomenal success of their 'Art for Architecture' auction in 2009 which raised over £50,000 in one night thanks to generous contributions from the likes of Lord Norman Foster and Zaha Hadid, Article 25 now hopes to double that achievement. 'Objects of Change' will be a much bigger event, with a focus on 3D pieces, and taking place over the course of one week.
With Article 25's Shoreditch-based employees and volunteers working around the clock to ensure the event's success, work was interrupted with just days to go with a highly generous last minute donation. The offer? 'A Routemaster bus for an hour, driven by the Commissioner of Transport for London, Peter Hendy, in association with the London Festival of Architecture. Take 64 friends or colleagues, you decide where, and Peter will drive you there.'
Despite scheduled tube strikes during the week of the event threatening to derail plans, TFL's spirit of generosity will doubtless win the day!
Add to this pieces such as Lord Norman Foster's 'Gherkin' model, Lord Richard Rogers' 'Lloyds of London' model, Bjarke Ingels' Pavilion from the 2010 Shanghai Expo and Thomas Heatherwick's Seed Cathedral. Throw in donations from Sir Terence Conran, Ben Langlands and Nikki Bell, Rob Ryan, Christo, Odile Decq, Tadao Ando, Albert France-Lanord, Rafael Lozano-Hemmer, Giacomo Costa, Roger Mavity and many more, and the event's status as a celebration of the crème de la crème of the 'art-chitectural' world is confirmed.
Lloyds of London
(2009)
Scale 1:1000 acrylic model, signed
170mm x 130mm x 130mm
Kindly donated by Rogers Stirk Harbour + Partners



picture from Article 25
'Objects of Change' is all about celebrating iconic objects which have inspired change. A promotion of the power of an object to shape the future and enrich the present. As a charity which delivers design innovation and safe buildings in some of the world's worst post-disaster zones, Article 25, now in its 5th year and having worked on over 50 projects in 22 countries, is all too aware of this power.
Safe buildings have the power to make or break a community and the funds raised at this Auction will ensure that Article 25 can continue ensuring that the former is the case in the world's most vulnerable communities. We look forward to seeing you there.
For more information, please contact Naomi Williams at [email protected]
Article 25 Art Exhibition and Auction from 2009:
Article 25 Auction
24 Nov 2009
Article 25 Exhibition + Auction, London
Highlights below:
jørn utzon and katarina stuebe
'The Jewel'
(2006)



photograph with Jørn Utzon signature
210mm x 250mm
Retail value: £5,000
Kindly donated by Katarina Stuebe
rafael viñoly
Untitled
(2009)



Signed charcoal sketch on paper
609mm x 458mm
Retail value: £2,000
Kindly donated by Rafael Viñoly
richard rogers
Model – European Court of Human Rights
(2009)



Signed, coloured perspex
89mm x 149mm x 73mm
Retail value: £5,000
Kindly donated by Rogers Stirk Harbour + Partners
zaha hadid
Pau Mediateque, France
(2007)


One of limited edition of twelve, Paper Relief
600mm x 100mm x 70mm
Retail value: £15,000
Kindly donated by Zaha Hadid Architects
tadao ando
Church of the Light
(2009)


Signed lithograph with sketch
1032mm x 728mm
Retail value: £1,500
Kindly donated by Tadao Ando
daniel libeskind
The Jewish Museum, Berlin
(2009)



Pencil sketch on paper
143mm x 100mm
Retail value: £600
Kindly donated by Daniel Libeskind
david adjaye
Europolis
(2008)



Print on paper
1085mm x 840mm
Retail value: £5,000
Kindly donated by David Adjaye
toyo ito
Untitled
(2009)



Signed pencil sketch on paper
420mm x 300mm
Retail value: £2,500 – £3,000
Kindly donated by Toyo Ito
Location: London
Article 25 Event, London
Monthly Reports by Article 25
Comments / photos for the Article 25 Art for Architecture Exhibition + Auction page welcome