Article 25 art exhibition, British Charity Event Building, Built environment auction News, Design Image
Event by Article 25 in London
Article 25 Exhibition + Auction, London, England, UK : Art for Architecture
24 Nov 2009
Article 25 Auction
Safer Buildings for Communities Across the Globe
'Article 25: the built environment's charity'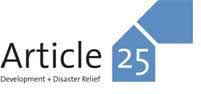 Monthly Report by Article 25, England, UK
Written for www.e-architect.com
'Art for Architecture': built environment charity Article 25 to auction impressive list of works by renowned artists and architects
jørn utzon and katarina stuebe
'The Jewel'
(2006)



photograph with Jørn Utzon signature
210mm x 250mm
Retail value: £5,000
Kindly donated by Katarina Stuebe
rafael viñoly
Untitled
(2009)



Signed charcoal sketch on paper
609mm x 458mm
Retail value: £2,000
Kindly donated by Rafael Viñoly
The fast-growing built environment charity, Article 25, is in final preparations for an art exhibition and auction to be held in London on Thursday 3rd December. Close to 40 works donated specifically for the event by world renowned architects and artists will be auctioned to raise funds for the charity's work designing and building schools, health centres and homes for some of the poorest people on earth.
richard rogers
Model – European Court of Human Rights
(2009)



Signed, coloured perspex
89mm x 149mm x 73mm
Retail value: £5,000
Kindly donated by Rogers Stirk Harbour + Partners
richard long
Untitled
(2009)



River Avon mud on paper
209mm x 146mm
Retail value: £6,000
Kindly donated by Richard Long
The overwhelming support for the occasion shows Article 25's growing reputation among built environment professionals. Earlier this year, Article 25 hosted the hugely successful RIBA President's Dinner which gave guests an opportunity to listen to and meet no less than six past, current and incoming presidents of the 175 year old organisation, within the exclusive and relaxed surroundings of London's The Ivy restaurant. The new year will also see Article 25 inviting prominent figures from the industry to a charitable dinner at the House of Commons, hosted by Shadow Minister for Culture, Ed Vaizey MP.
tadao ando
Church of the Light
(2009)


Signed lithograph with sketch
1032mm x 728mm
Retail value: £1,500
Kindly donated by Tadao Ando
will alsop
Flowers Don't Exist Like This
(2009)



Signed, oils on paper
245mm x 200mm
Retail value: £1,100
Kindly donated by Will Alsop
Chief Executive of Article 25, Dr. Victoria Harris said: "We have been truly humbled by the generosity of all those artists and architects invited to donate. The cause is clearly striking a chord and we are delighted that the industry is whole-heartedly getting behind us."
Chair of the charity and past president of the RIBA, Jack Pringle, supported Dr. Harris' comments saying: "Article 25 are an important new charity who really are putting the sector's money where their mouth is – they are making extraordinary in-roads into the quality of building in the developing world, breaking new ground in innovative building techniques and transferring the design skills of architects, engineers, and planners to the front line of international development." The cause has evidently struck a chord across the built environment industry, showing the difference that good design can make in the lives of those who would not normally have access to such services.
zaha hadid
Pau Mediateque, France
(2007)


One of limited edition of twelve
Paper Relief
600mm x 100mm x 70mm
Retail value: £15,000
Kindly donated by Zaha Hadid Architects
antony gormley
Untitled, 'Art for Architecture'
(2008)



Carbon and Casein on paper
190mm x 140mm
Retail value: £4,000
Kindly donated by Antony Gormley
–
'Art for Architecture' will set the scene to auction an impressive catalogue of works. From outstanding architects such as David Chipperfield, Lord (Norman) Foster (a Trustee of the charity), Zaha Hadid, Toyo Ito and Rafael Viñoly, and prominent artists as Christo and Jeanne-Claude, Anthony Gormley, Tracey Emin and Turner Prize winner Douglas Gordon, the auction will see an exceptional collection of works go under the hammer to raise funds for the cause.
The guest list includes many key decision makers across the built environment and creative industries who will enjoy a champagne reception, sponsored by The Art Group and supported by Red Box, set against the backdrop of the stunning Louise T Blouin Foundation in West London. Interest in the event has been considerable so the charity are accepting sealed bids for all the art works in advance of the auction, and the catalogue is available from the charity's website for download.
david adjaye
Europolis
(2008)



Print on paper
1085mm x 840mm
Retail value: £5,000
Kindly donated by David Adjaye
toyo ito
Untitled
(2009)



Signed pencil sketch on paper
420mm x 300mm
Retail value: £2,500 – £3,000
Kindly donated by Toyo Ito
Article 25 are clearly in a celebratory mood, and rightly so: it has been an excellent year for the profile of the charity, receiving a number of awards such as the Urban Land Institute (ULI) Award for Excellence: Asia Pacific, a special commendation at the Leading European Architects Forum (LEAF) Awards, and a coveted MIPIM Diploma of Special Recognition for their seismically-resistant sustainable housing in areas of Pakistan devastated by earthquakes. In addition, two of Article 25's projects – a Children's Home in Ghana, and a Prototype Child Friendly School in Sierra Leone in collaboration with Foster+Partners – were shortlisted for the World Architecture Festival Awards.
daniel libeskind
The Jewish Museum, Berlin
(2009)



Pencil sketch on paper
143mm x 100mm
Retail value: £600
Kindly donated by Daniel Libeskind
anthony caro
Untitled
(2008)



Signed charcoal sketch on paper
617mm x 513mm
Retail value: £4,000
Kindly donated by Sir Anthony Caro O.M.
By closing 2009 with the 'Art for Architecture' auction, Article 25 are recognising their progress so far, expressing thanks to their donors, and confidently setting the tone for success in the year to follow. Armed with a clear case for support and the continued generosity of their supporters, Article 25's hope for 2010 is to see thousands more of the world's most vulnerable people benefit from the simple necessity of good design.
christo and jeanne-claude
Arc De Triumphe, Wrapped
(1989)



Edition 7/20
Signed colour lithograph, collage, charcoal, prismacolour
771mm x 555mm
Retail value: £6,000
Kindly donated by Christo and Jeanne-Claude
jake and dinos chapman
The Birth of Ideas
(2003-2007)



Signed hand coloured etching
(NB. colours may vary)
500mm x 590mm
Retail value: £8,000 – £10,000
Kindly donated by Jake and Dinos Chapman
Article 25 art exhibition + auction – Event details
Date: Thursday 3 Dec 2009
Location: Louise T Blouin Foundation, 3 Olaf Street, Notting Hill, W11 4BE
Catalogue available for download at: http://www.article-25.org/-art-for-architecture-
Sealed bids for the art works will be accepted in advance, please contact Article 25 at [email protected]
For further information about the event, the charity and their work, contact Stephanie Johnston at [email protected]
Location: London
Article 25
Article 25 Event, London – Palm Leaf Architecture



picture from Article 25
Monthly Reports by Article 25
London Architectural Designs
London Artwork Auction : David Downes – St Pancras painting
Comments / photos for the Article 25 Art for Architecture Exhibition + Auction page welcome