Essex Architecture Images, English Buildings Designs, Architects, UK Property News, Houses
Essex Buildings : Architecture
Key Architectural Developments in south east England, UK Built Environment
post updated 2 August 2023
Essex Buildings News
Essex Architecture News
2 Aug 2023
Shortlist Announced for Essex Housing Awards 2023
The shortlist for the Essex Housing Awards 2023, held in association with Birketts, has been officially unveiled.
On the day of judgment, a distinguished panel comprising leading housing professionals and advisors engaged in an invigorating discussion, reviewing a record number of entries vying for the coveted awards. The awards have grown in prominence and scope, as they noted a larger number of private businesses – builders, housing associations, local authorities, contractors, agents, and voluntary sector organisations, have applied.
The essence of the Awards lies in acknowledging and celebrating excellence in developments, services, and individuals from the public, private, and voluntary sectors while encouraging best practices throughout the county. This year, there are 12 award categories in total, an increase from previous editions, with the addition of four new categories. Particularly noteworthy is the introduction of The Mo Slade Rising Star Award, sponsored by Anderson, which garnered the highest number of entries among all the categories.
The judges were delighted to observe that an award that required colleague nominations received the highest level of engagement, reflecting the camaraderie and spirit of the industry. Moreover, as all the nominees had to be young professionals, it effectively showcased the rising generation's influence and vigour in the housing sector.
The shortlisted individuals will be eagerly looking forward to the glamorous Awards Ceremony in November. This event will serve as an occasion to celebrate their outstanding achievements and resilience over the past year while also envisioning a bright and promising future for the industry as a whole.
Brian Horton, Director at Horton Strategic Limited said:
"It was a privilege to serve again this year as the Chair of the Judging Panel for the Essex Housing Awards. Each judge brings an expert perspective on the housing and development sector, and their unique contributions enriched the judging process, creating a knowledge-sharing environment.
"I must admit, some decisions were tough to make, but I am confident that the selected awardees truly exemplify excellence in the housing and development sector.
"We face significant uncertainty in the Housing market, but the awards show that we are in great shape to weather the storm and continue to make a positive difference."
Alastair Pollock, Strategy Coordinator at Essex Developers Group & South Essex Housing Group said:
"It has been both a privilege and a pleasure to be a category judge this year.
"The competition was fierce as Essex continues to evolve with numerous groundbreaking developments across the county, and it's exciting to observe the transformative impact these projects will have on our community.
"Congratulations to all the participants, and I look forward to celebrating the outstanding accomplishments at the awards ceremony."
The shortlisted entries are as follows:
Small Housing Schemes (1 – 24 homes)
Bluebird – HARP
Horkesley Hamlet – ADP & Mersea Homes
Loewen Road, Chadwell St Mary – Thurrock Council
Shenfield Library – Essex Housing
The Meadows (Ardale) – Kind & Company
Valerie Lodge – Sempra Homes Ltd (Basildon Borough Council)
Woodhall Road – CHP
Medium Housing Schemes (25 – 100 homes) sponsored by Qualis Group
Abbey Corner – Peabody
Manor Grove, Silver End – Sanctuary
Mount Hill Development – Eastlight Community Homes
Shernbroke, Waltham Abbey – Essex Housing
Transforming Independent Living – Epping Forest District Council
Large Housing Schemes (101+ homes) sponsored by Birketts
Abbey Meadows, Great Wakering – Sanctuary
Aylett's Green – Cavendish Consulting
Beechwood Village – Pollard Thomas Edwards
Chesterwell – ADP & Mersea Homes
Excellence in Design & Placemaking sponsored by Latimer by Clarion Housing Group
Beechwood Village – Pollard Thomas Edwards
Bluebird – SKArchitects
Horkesley Hamlet – ADP
The Meadows (Ardale) – Kind & Company
Excellence in Construction Skills sponsored by CHP
Essex Careers Magazine – Essex County Council
Essex Multiply and Specialist Trades Company Group (STC Group) – Essex County Council
Mears Trade School – Thurrock Council and Mears
South Essex Construction Skills Academy – Southend-on-Sea City Council
Climate Action – Decarbonisation / Retrofit
Chadwell High Rise Retrofit Project – Thurrock Council and Kensa
Southend-on-Sea City Council Retrofit Action – Southend-on-Sea City Council
Climate Action – Low / Zero Carbon in New Homes sponsred by Cala Homes
Bluebird – HARP
Harewood Regeneration – Brentwood Borough Council
Net Zero Carbon New Home – Essex County Council in partnership with EPOA
Ryedene – Sempra Homes Ltd (Basildon Council)
Meeting Housing Need
Acquisitions, Private Sector & Resettlement Project – Southend-on-Sea City Council
Bluebird – HARP
Cricketers Court – Basildon Borough Council
Essex Housing Team – Essex Housing
Mount Hill Development – Eastlight Community Homes
Neighbourhood Transformation
Brookfield Close – Brentwood Borough Council
Colchester Borough Homes
The Parkside Community Hub – CHP
Digital Impact
Estuary Housing Association's Digital Platforms
HGGT Your Quality of Life
Housing & Development Professional of the Year sponsored by Kind & Company
Heather Blanchard, CHP
Kate Gerrish, CHP
Leanne Turner, Epping Forest District Council
Melanie Keys, Sempra Homes Ltd (Basildon Borough Council)
Paul Gayler, Chelmsford City Council
The Mo Slade Rising Star Award sponsored by Anderson
Ben Harrison, Southend-on-Sea City Council
Charlotte Wright, Epping Forest District Council
Daniel Leach, Eastlight Community Homes
Danielle Simpson, SKAchitects
Faye Creasey, Southend-on-Sea City Council
Holly McCauley, Epping Forest District Council
James Foster, Estuary Housing Association
Luke Rapley, Basildon Borough Council
Thomas Scotting, CHP
The Essex Housing Awards 2023 are in partnership with Essex Developers Group (EDG) and South Essex Housing Group (SEHG), in association with headline partner Birketts, and sponsored & supported by Anderson, Cala Homes, CHP, Kind & Company, Latimer by Clarion Housing Group, Qualis Group and Rentplus.
For more information on the awards programme, visit https://www.housingessex.org/essex-housing-awards-2023/
Follow the Awards on:
Twitter @EssxHousingAwds #EssexHousingAwards
LinkedIn: Essex Housing Awards
10 Sep 2022
Tendring / Colchester Garden Community Competition
Tendring / Colchester Garden Community Competition
Latimer, the development arm of Clarion Housing Group, has begun the search for a visionary design team to masterplan its major new 9,000-home garden community on the Colchester and Tendring borders. Consultant teams are invited to enter the developer's international design competition to create an exemplar masterplan for the landmark Essex project – which aims to be the most sustainable and inclusive new community in the UK.
30 May 2022
Brentwood Preparatory School Building
Design: Cottrell & Vermeulen Architecture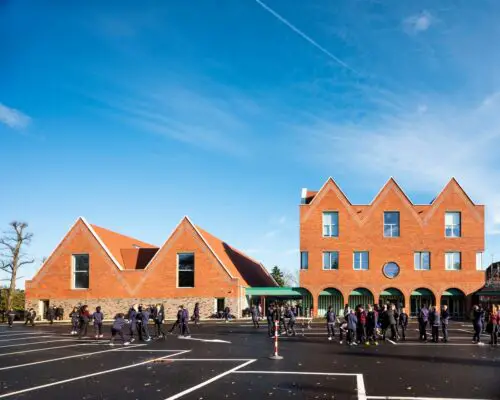 photo : Anthony Coleman
Brentwood Preparatory School Building
A new sheltering spine threads together and brings sense to the disparate collection of buildings, sometimes manifest as a canopy and – beneath the new teaching block – as an arcade.
2022 RIBA East Awards
Brentwood Preparatory School Building is one of 17 projects which received a 2022 RIBA East Award.
2022 RIBA East Awards Winners
More Essex Buildings on e-architect soon
Essex Buildings News 2021
Specialist Brickwork Contractor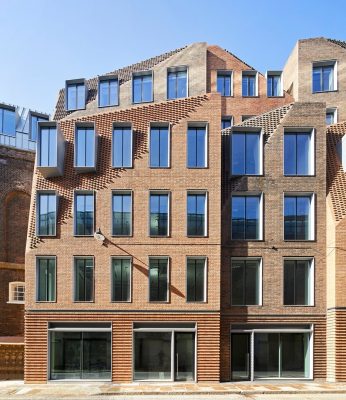 image courtesy of Brick Awards
Swift Brickwork Contractors
The company has been at the forefront of innovation within our industry for many years and have developed new processes and skills that will ensure brick is a material of choice for architects, for generations to come. Some of the most iconic buildings in the capital have used processes developed by Swift Brickwork.
26 October 2021
New Southend United F.C Stadium, Fossetts Farm, Southend-on-Sea
Design: Masterplan, Stadium, Domes, Academy, Training Centre: Populous ; Residential: CZWG + LDA design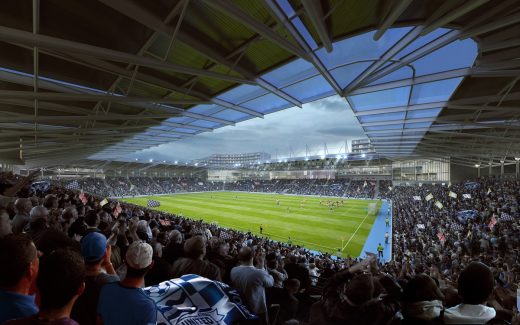 image courtesy of architects practice
Southend United F.C Stadium Building
Southend United F.C.'s plans for a new 21,000-capacity stadium designed by Populous have been approved by Southend-on-Sea Borough Council. The planning approval unlocks the club's long-held ambition to relocate to a new purpose-built stadium at Fossetts Farm in Southend-on-Sea, which will provide the improved capacity and calibre of player and spectator facilities.
22 Sep 2021
New Centre for the Visual Arts – Winner Of £100,000 Art Fund Museum Of The Year 2021
Design: Rafael Viñoly Architects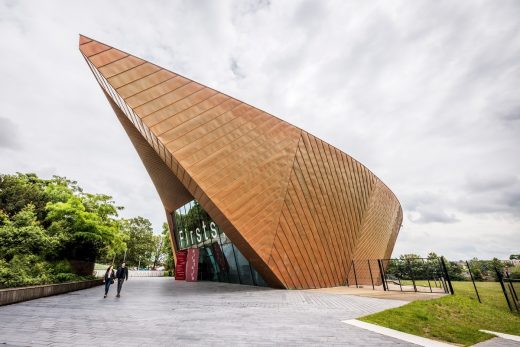 photograph © Marc Atkins
Firstsite Colchester, Essex: Museum of the Year
Sally Shaw, Director of Firstsite, was presented with the £100,000 prize – the largest museum prize in the world – by broadcaster Edith Bowman at a ceremony in the spectacular setting of the Science Museum, London.
14 Jan 2021
Meadow House
Design: Strom Architects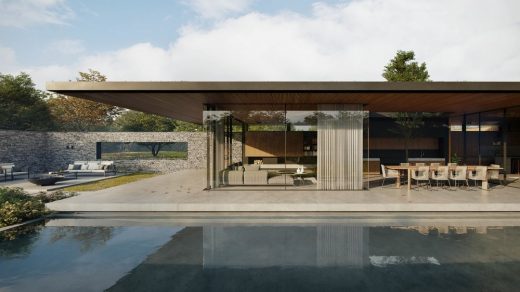 rendering : Numa
Meadow House Essex
The beautiful site sits at the edge of the village, and has an open parkland feel. Our approach was to ensure that we placed great emphasis on the landscape so the house and site were considered as one.
More Contemporary Essex Buildings online here at e-architect soon
Essex Buildings News 2006 – 2018
4 Aug 2018
Architect announced for new artists' studios in Essex
Southend-on-Sea Borough Council and Focal Point Gallery are proud to announce that NeobardBurnson Architects have been appointed as the architect to transform the former Beecroft Art Gallery into a complex of artist studios to house a wide range of creative practices.
The site of the new studios, which are set to be officially named in the coming weeks, have been derelict since the Beecroft Art Gallery moved to its new home on Victoria Avenue.
Plans to turn the former gallery into studios were announced in the 2018/19 capital budget, adding to significant external funding raised by Focal Point Gallery and The Beecroft Trust. Through an application to Arts Council England's small capital grants scheme, the project was awarded £495,000, with an additional £80,000 from Garfield Weston Foundation and Foyle Foundation. These grants cover the majority of the project costs.
NB Architects are an Essex based architectural practice working with both public and private sector clients engaged with a broad spectrum of design based projects. They are a team who work hard to exceed their clients brief and create spaces of which to be proud.
The project will meet the needs of the growing artistic community in Southend-on-Sea looking to make an inward investment in their own personal development, following a demand survey in 2016 which stated 73% of respondents would consider taking a studio at this site. It also contributes to the work of the Local Enterprise Partnership, cementing Southend-on-Sea as a key player in the Thames Estuary Production Corridor, which supports the growth of cultural talent and recognises skills honed in this sector provide enterprise and employment opportunities.
Cllr Lesley Salter, Cabinet Member for Healthy Communities and Wellbeing, said: "The announcement of Neobard Burnson as the architect is a major milestone in this exciting project. The project will offer local and international artists a professional space to work and do business, and will further establish Southend-on-Sea as the cultural hotspot for the Southeast.
"We must offer a special thank you to Manalo & White for their role in the design process of the new artists' studios, who completed the first stage of work to secure funding and planning for the project. Working closely with both architectural firms, we are certain that the studios will represent Southend-on-Sea's artistic influence for years to come."
Rob Neobard of NB Architects, said: "We have a history of working alongside Southend-on-Sea Borough Council rejuvenating local buildings of specialist interest, notably competing the refurbishment of North Road Chapel. We enjoy being able to breathe new life into existing characterful buildings currently disused or under-utilised.
"We are so pleased therefore to be appointed project Architects for the full refurbishment of the original Beecroft Art Gallery, creating artists' studios will fulfil a real demand for creative spaces in the Borough. This is a project where we are able to add value and will reinstate a currently disused building of historic importance as a valued cultural asset to the local and wider artistic community."
In January 2018, hoardings were erected around the outside of the building. Local artist, David Watkins, was commissioned by Focal Point Gallery to create a temporary art installation on the hoardings. This work is inspired by the 'six degrees of separation', devised by American psychologist Stanley Milgram, outlining a visual map of interpersonal connections that link people into a community.
Anyone who has an interest in finding out more about the studios, or to register an interest in eventually holding a studio, please sign up to the mailing list at this link www.focalpoint.org.uk/artistsstudios/
Please note that this is not a waiting list, further information will be relayed as the project progresses.
For more information about NeobardBurnson Architects, please visit http://www.neobardburnson.com/
22 Jun 2018
Radical ESSEX book
Following on from the Radical Essex project, which took place throughout 2016 and 2017, this publication includes new writing from Tim Burrows, Gillian Darley, Charles Holland, Rachel Lichtenstein, Jules Lubbock, Jess Twyman and Ken Worpole, as well as photography from Catherine Hyland.
26 May 2018
RIBA East Awards Winners 2018
St Chad's housing, Thurrock, by Bell Phillips Architects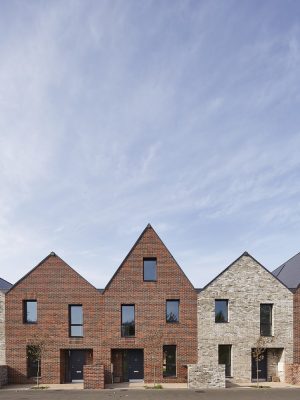 photo © Kilian O'Sullivan
White Heather House, Southend-on-Sea, by SKArchitects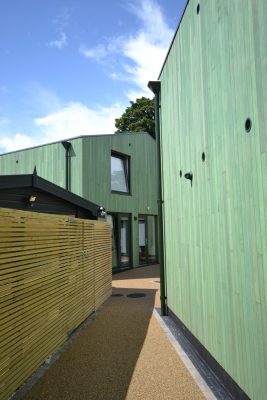 photo © Alan Gloyne
2 Oct 2017
New Pond Street, Newhall
Architects: AR Design Studio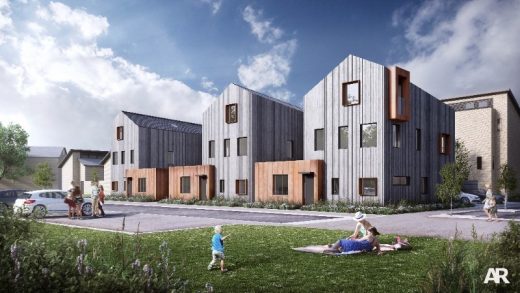 image courtesy of architects
AR Design Studio
New housing for Little Acre Developments, a three house development in Newhall. The houses houses respond to both the setting within Newhall and their position on the urban fringe. The properties take influence from both in terms of massing and materials from the urban and the surrounding woodlands.
2 Jan 2017
A House for Essex Shortlisted for Mies van der Rohe 2017 Awards:
25 Apr 2016
A House for Essex, England
Design: FAT Architecture + Grayson Perry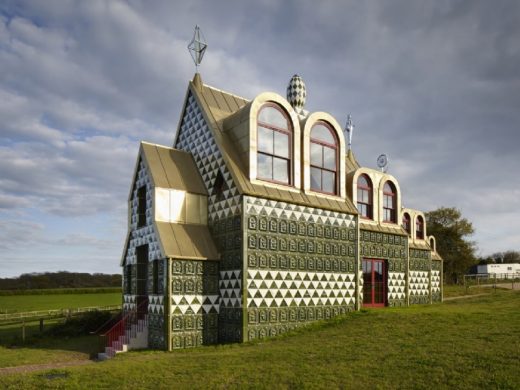 photo : Jack Hobhouse
A House for Essex
FAT's House for Essex could still win the Stirling Prize: awards chief blames communication blunder for oversight and vows to give it second chance. Earlier in April the project missed out on an RIBA East Award despite many believing the building would win a regional accolade.
ESSEX Architecture Weekend
10 – 11 Sep 2016
Radical Essex is presenting a programme of events to celebrate the county's pioneering role in twentieth century architecture.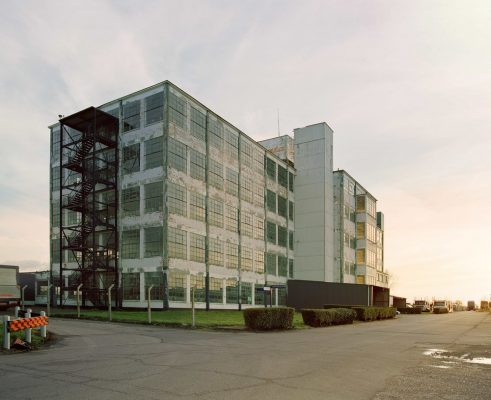 photo © Catherine Hyland. Courtesy Focal Point Gallery
The two-day festival will pivot around three key sites – the Bata Estate in East Tilbury, founded in 1932 by the Czech visionary Thomas J. Bata, Silver End, a model village conceived in 1926 by the industrialist Francis Henry Crittall and Frinton-On-Sea – and in doing so will show how the region was at the forefront of Modernist architecture and experimental community models.
Visitors can tour the county in free shuttle buses, participate in walking tours and open house visits at venues including The Royal Corinthian Yacht Club in Burnham-on-Crouch and attend a talks programme with speakers including Gillian Darley, Elizabeth Darling, Owen Hatherley, Charles Holland and Jonathan Meades.
Essex Architecture – latest additions to this page, arranged chronologically:
3 Jun 2016
Ongar Academy, Chipping Ongar
Design: Bond Bryan Architects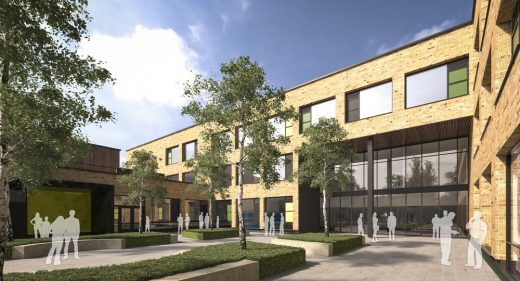 image courtesy of architects practice
Ongar Academy
This design for a school building in Chipping Ongar has received approval from the planning authorities. The new Ongar Academy will be a Four Form Entry Secondary School accommodating 800 pupils (including 200 sixth form pupils) with approximately 50 teaching staff and 15 – 20 Administrative support.
10 Feb 2015
Fair Havens Hospice, Southend
Design: tp bennett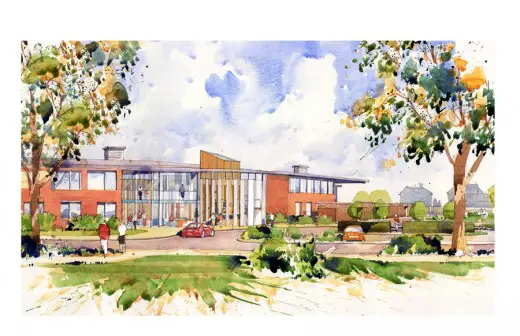 image courtesy of architects practice
Fair Havens Hospice
Fair Havens Hospice has been granted planning permission by Southend Borough Council. The permission is for a new hospice and landscaped gardens on the old Ekco Radio site in Essex.
31 Mar 2014
Newhall Housing
Design: Sheppard Robson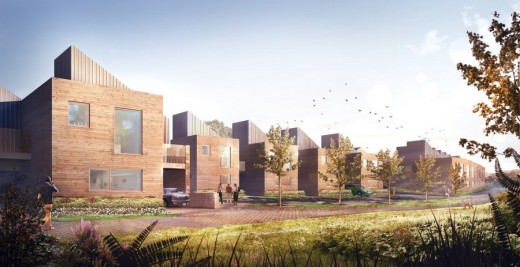 image courtesy of architects practice
Newhall Housing Scheme
The progression of the second phase of the project will create 239 dwellings, forming part of the award-winning new community positioned to the east of central Harlow in Essex. Designed for client Bellway Homes Ltd. in conjunction with landowners Newhall Projects Ltd., the brief called for a design that moved away from generic volume housing, creating a project that used high-quality architecture to build a new neighbourhood in this rural location.
17 Jun 2013
Newhall Be, Harlow, north west Essex
Design: Alison Brooks Architects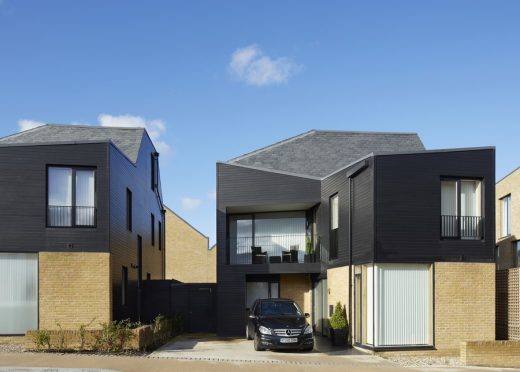 photo : Paul Riddle
Newhall Housing
In its Newhall development in Harlow, Essex, the architecture practice turned its attention to the much neglected problem of the affordable family house, developing highly inventive variations on the stand-alone dwelling and terraced house types.
18 May 2013
Romford Development, south west Essex
Design: ColladoCollins Architects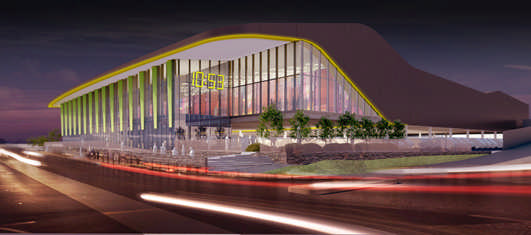 image from architects
Romford Development
This building design includes 81,000 sqft superstore and 71 residential units. The designs for the retail section of the development feature an undulating roof, which effectively 'shrink wraps' the volumes of the store to improve energy efficiency and help reduce running costs. The glazed east façade affords views into the market place inside the store and is protected from solar gain by the dynamic overhanging roof and vertical glass baffles.
28 Sep 2012
Southend Pier
Design: White Arkitekter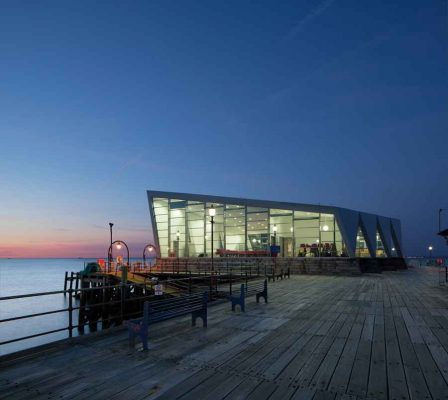 photograph : Luke Hayes
Southend Pier Cultural Centre
This building by White arkitekter and Sprunt is now complete. The new Cultural Centre is sited at the head of Southend Pier, the world's longest pleasure pier. The sweeping geometric form and harmonising palette of materials of the building celebrates the topography of the windswept site integrating it into the scenic landscape.
29 Jun 2012
Brentwood School Sixth Form Centre & Assembly Hall
Design: Cottrell & Vermeulen Architecture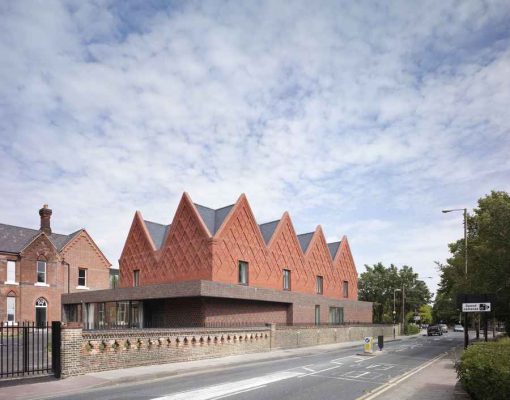 photo : Paul Riddle
Brentwood School Sixth Form Centre & Assembly Hall
Three buildings celebrate the spirit of education, unfolding as a sequence of spaces for learning, socializing, and gathering: a new Sixth Form block, a remodelled Victorian vicarage, and a new assembly block which links to a sequence of other smaller external social areas.
24 Nov 2011
Essex Business School, Colchester, University of Essex
Design: BDP, Architects



image from architects
Essex Business School
BDP's interdisciplinary team has been selected to design the £14m Essex Business School at the University of Essex's Colchester Campus.
19 May 2011
Marshland Discovery Zone, Purfleet
Design: Peter Beard_LANDROOM



photo © Sue Barr
Marshland Discovery Zone
18 May 2011
Wildspace Rainham Warehouse
Design: Alison Brooks Architects



photo © Tim Crocker
Wildspace Rainham Warehouse
10 Nov 2010
Wimbish Passivhaus Scheme
Design: Parsons & Whittley Architects



images from architect
Wimbish Passivhaus Scheme
6 Jan 2006
firstsite, Colchester
Design: Rafael Viñoly Architects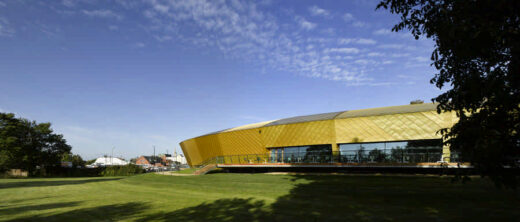 photo : Richard Bryant/ arcaidimages.com
firstsite
Key contemporary Building Designs in this County
We've selected what we feel are the key examples of Essex Building Developments, England. We aim to include projects that are either of top quality or interesting, or ideally both.
We cover completed buildings, new building designs, architectural exhibitions and architecture competitions across the county. The focus is on contemporary Essex buildings but information on traditional buildings is also welcome.
Essex Building Designs, alphabetical:
Grays Brewery, Chelmsford
2008-
HKR Architects



image from architect
Grays Brewery Building
House, northeast Essex
2007
David Mikhail Architects
Housing at New Hall, Harlow
2008
Richard Murphy Architects



image from architect
Essex housing
Institute For Democracy and Conflict Resolution, University of Essex
2010-
Daniel Libeskind
University of Essex Institute For Democracy and Conflict Resolution
Ivor Crewe Lecture Hall, University of Essex, Colchester
2006
Patel Taylor



image from ArcelorMittal
Ivor Crewe Lecture Theatre
Kingsway International Christian Centre – proposal, Thames Gateway
2007-
Sheppard Robson
Michael A Ashcroft Building, Anglia Polytechnic University, Chelmsford
2005
Wilkinson Eyre Architects
RSPB Environment and Education Centre, Rainham Marshes
2007
van Heyningen and Haward Architects
Essex building : RIBA National Award 2007
Royal Corinthian Yacht Club, Burnham-on-Crouch
1931
Joseph Emberton
Celebrated Modern building
Salt House (private), St Lawrence Bay
2007
Alison Brooks Architects



photograph : Cristobal Palma
Salt House : RIBA National Award 2007
Salvation Army Citadel Corps building, Chelmsford
2009
Hudson Architects



photo : Keith Collie
Salvation Army Essex
Shoeburyness – housing
2006
Hawkins Brown
Southend Pier Competition
2009-



image from architect
Stansted Airport, Stansted
1991
Foster + Partners



photograph : Adrian Welch
Stansted Airport
The Green Mark, Garrison Point, Shoebury, nr Southend-on-Sea
2006-
Jestico + Whiles
£10m tower, 60m high
ZigZag Harlow
2010
ORMS architects



image from architect
ZigZag Harlow
More Essex Buildings online soon
Location: Essex,, England, UK
English Architecture
Contemporary Architecture in England
English Architecture Designs – chronological list
County Architecture adjacent to Essex
Swiss Re Building – 30 St Mary's Axe design by Foster + Partners
Buildings / photos for the Essex Architecture page welcome