AR Design Studio Architects, Winchester Architectural Practice, Building, English Design Office
AR Design Studio : Winchester Architects
Contemporary Hampshire Architecture Practice, England, UK Design Studio News
post updated 5 October 2021
AR Design Studio News
AR Design Studio News – latest additions to this page, arranged chronologically:
5 Oct 2021
The Orchard House, Wickham Conservation Area, Winchester, Hampshire, Southern England, UK
Design: AR Design Studio, Architects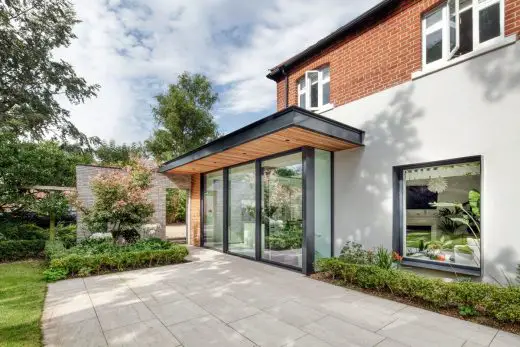 photographer : Martin Gardners
The Orchard House
The Orchard House is a private extension and renovation project, completed in summer 2021 by award winning Winchester based Architects AR Design Studio. Situated within the Wickham Conservation Area, the new addition replaces previous piecemeal developments, opening up and re‐orienting the house back towards its garden.
16 Sep 2021
Arrow View, Herefordshire, western England, UK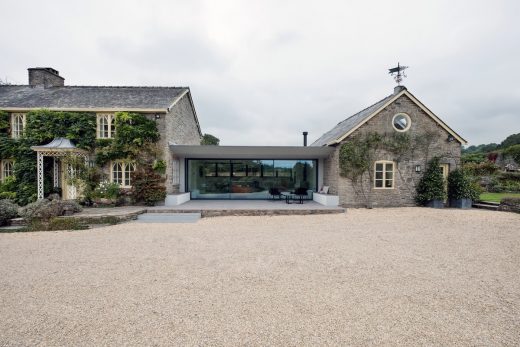 photo : Paul Carter
Arrow View – Herefordshire House
Arrow View is a bespoke contemporary extension project completed in summer of 2021 by award winning Winchester based architects AR Design Studio. The new extension connects the cottage with an adjacent annex, replacing two garden rooms that were impractical for use throughout the year.
6 Apr 2020
Kite House, near Salisbury, Wiltshire, Southern England, UK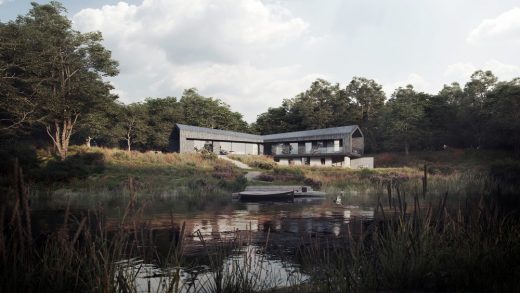 visual : Nu.Ma
Kite House on the River Avon
The scheme replaces an existing house and annex on the site, providing a contemporary 4-bed dwelling that responds to both the client's requirements and the challenging site constraints.
27 Jan 2020
Winchester Cricket Pavilion, Winchester, Hampshire, South of England, UK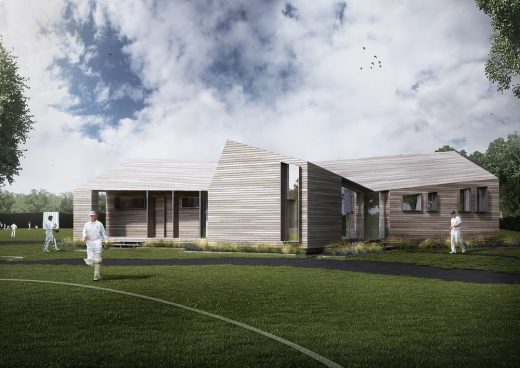 image courtesy of AR Design Studio
Winchester Cricket Pavilion
A further £295,000 of funding for The Winchester Cricket Pavilion Project has been approved. This grant of additional funding follows the unanimous approval by councillors at Thursday night's Town Forum in Winchester.
8 Sep 2019
The Well House in Shawford, Winchester, Hampshire, South of England, UK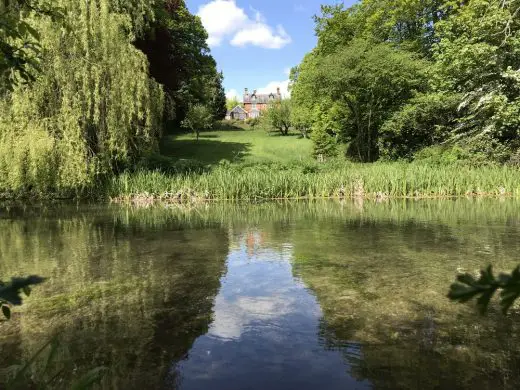 image courtesy of AR Design Studio
New House in Shawford, Winchester
Plans submitted for a private bespoke new-build house located in the rural village of Shawford, Winchester.
20 May 2019
Five Elms, Bosham, West Sussex, southern England, UK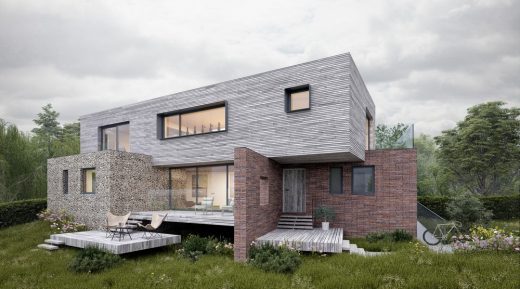 image courtesy of AR Design Studio
New House in Bosham
AR Design Studio has received planning permission for Five Elms, a private bespoke new build house located in Bosham, West Sussex, set within the sensitive context of the Chichester Harbour Area of Outstanding Natural Beauty.
21 Jan 2019
Creek House in Bosham, Chichester District, West Sussex, South of England, UK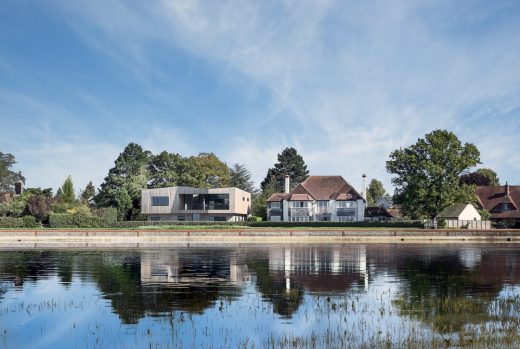 photographer : Martin Gardners
Creek House in Bosham
Creek House is a private bespoke new build house.
13 Jun 2018
The Hong Kong House, South of England, UK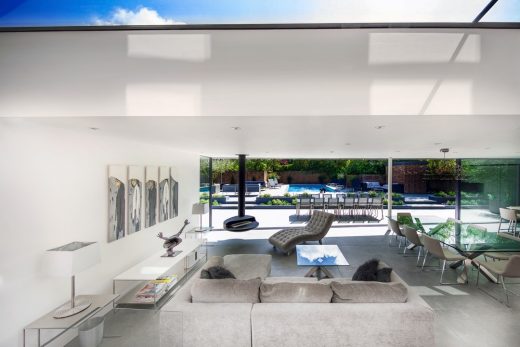 photo © Martin Gardner
The Hong Kong House
The Hong Kong House is a private extension and renovation project, completed in late 2017 by this Winchester based architects office. A world away from the client's former home in Hong Kong, the house provides an opportunity for the family to have a familiar inside-out space to live in and relax.
22 Mar 2018
RIBA South East Awards Shortlist in 2018
Black House, Kent one of fourteen buildings shortlisted for RIBA South East Awards 2018 by the Royal Institute of British Architects judges. There were 43 buildings entered in the region, which covers Kent, Surrey and Sussex.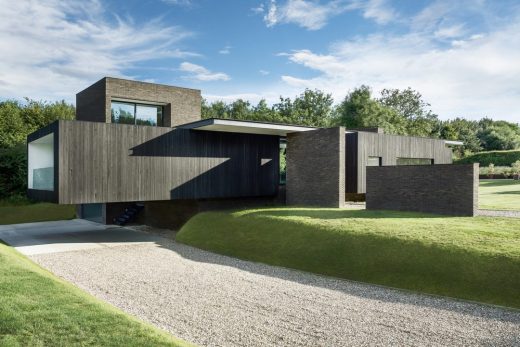 photo © Martin Gardner
7 Feb 2018
The Elements House, Hampshire, South of England, UK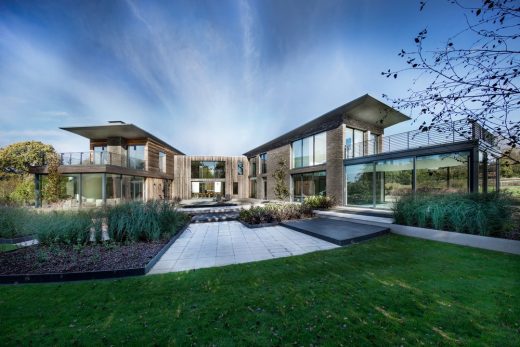 photo © Martin Gardner
House by River Hamble in Hampshire
Located in Hampshire within close proximity to the River Hamble, this remarkable new-build family home provides substantial entertainment space, designed by local architects AR Design Studio. Kebony, a beautiful wood recommended by leading architects was carefully selected for the exterior cladding of this property, which comprises three interlocking blocks organised around a central courtyard.
2 Oct 2017
New Pond Street, Newhall, Essex, South East England, UK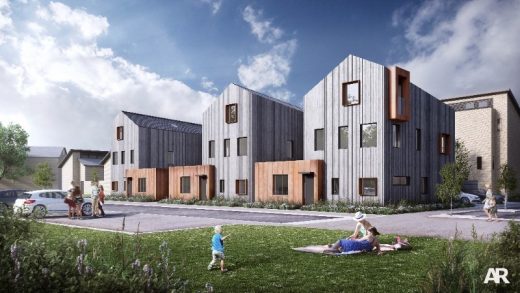 image courtesy of architects
AR Design Studio receives planning permission for 'New Pond Street'
The Winchester architecture practice were approached by the client, Little Acre Developments, to develop plans for a three house development in Newhall, Essex. Newhall is a new community made up of a series of interlinked developments by a variety of architects, including Alison Brooks' distinguished Newhall Be housing. The site is constrained by existing development and roads to three sides. As a result the design needed to address each street frontage while making the most of views over the neighbouring woodlands.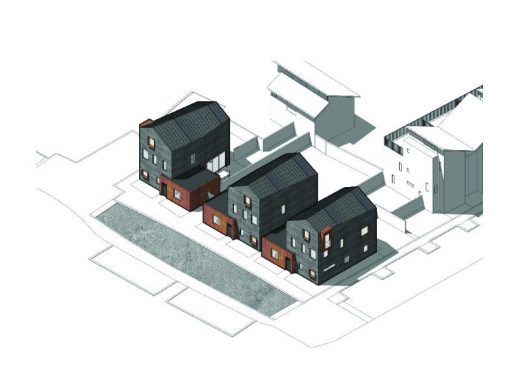 picture courtesy of architects
The design of the houses is a response to the street scene. Each three storey house features a primary timber clad unit with a single storey element that affronts the street. The result is that the site retains visual permeability between each house while the single storey elements create a sense of unity and horizontality at street level. These spaces contain the living room, which are provided here to establish a double aspect, with views down the garden of each plot and out over the road onto the woodlands. The rear of the ground floor features a large kitchen and dining space, which opens out onto the garden and shares a courtyard with the living room.
At each street corner, oriel windows are used at second storey, clad in the same metal as the ground floor to allow each house to turn the corner and address each street through a material relationship. The houses slope from front to rear in order to reduce the visual mass of each house and minimise overlooking to the neighbours and maximise the amount of natural light available to each garden.
The result is a set of houses that respond to both its setting within Newhall and position on the urban fringe, taking influence from both in terms of massing and materials from the urban and the surrounding woodlands.
18 Sep 2017
Castle Cove Houses, Portland Harbour, Dorset, Southern England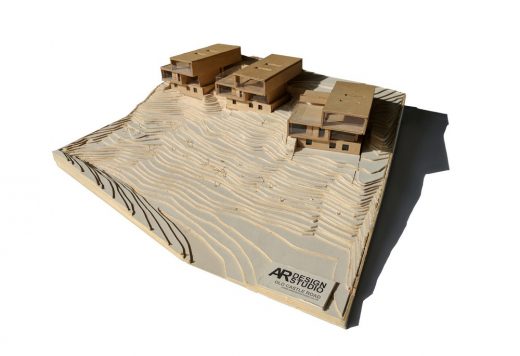 image courtesy of architects
Castle Cove Houses in Dorset
Situated on the Jurrasic Coast, the three house development sits above the public beach Castle Cove, overlooking the Portland Harbour.
The area is famous for its sailing and watersports, hosting the Olympic and Paralympic Sailing events in 2012.
24 Jul 2017
Black House in Kent, South East England, UK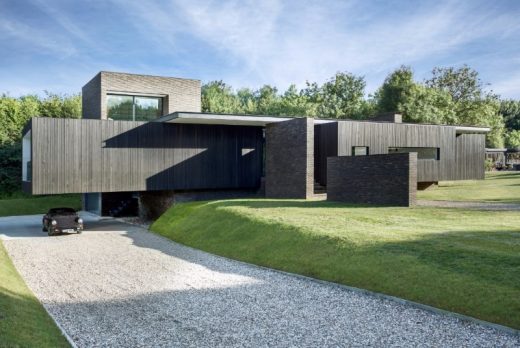 photograph : Martin Gardner, martingardner.com
Black House in Kent
A retired engineer and Conran interior designer, the clients, chose to move from a 15th century Tudor house and build a contemporary dream home in their garden.
6 Feb 2017
The Crow's Nest Residence, Dorset, England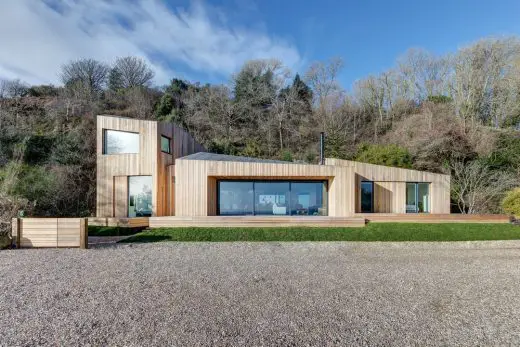 photograph : Martin Gardner, martingardner.com
Contemporary Residence in Dorset by AR Design Studio
Winchester architects practice was approached by the clients who were looking to extend their holiday home on a cliff top on the South Coast. Half way through the planning process, the existing house catastrophically broke in half one night during a landslip.
5 Dec 2016
The Hill House, Winchester, Hampshire, England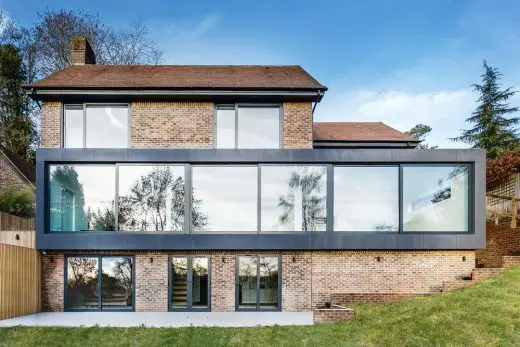 photograph : Martin Gardner, martingardner.com
The Hill House by AR Design Studio
The Hill House sits in an area of Winchester that has a hidden and secluded feel yet somewhat paradoxically, has some of the greatest views in the city.
7 Sep 2016
House at Chichester Harbour by AR Design Studio
Winchester architecture office receives planning permission for 'Moat Cottage'
The 428sqm four bedroomed dwelling is set within the sensitive context of the Chichester Harbour Area of Outstanding Natural Beauty along the Bosham estuary. The site also lies within the Bosham Conservation Area, which strives to protect and enhance the village's traditional character and significant history. Despite the constraints of the site, previous accolades by this Winchester architects office including receiving planning for a 'Paragraph 55 House', provided the ideal experience to introduce a contemporary approach to the site.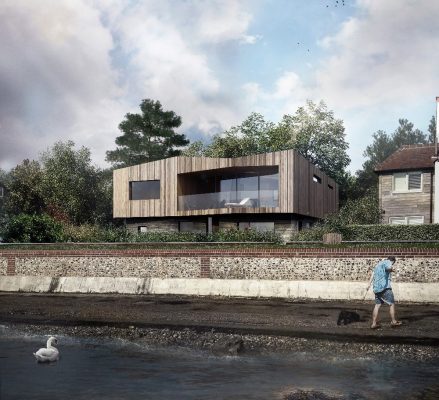 The clients, long term residents in the area, bought the existing property with the intention of demolishing and replacing it with their dream lifetime home. Though the existing house had fallen into a state of disrepair, the site's harbour side location and stunning views provided great potential for innovative design. Our proposal, set alongside an architecturally acclaimed house designed by the renowned architect, Michael Manser, will set a contemporary precedent for the area.
The team at AR, with an extensive water front portfolio, worked closely with both Chichester Harbour Conservancy and the planning department to achieve a sensitive design appropriate to its context. The desirable views principally informed the concept of upside-down living; concrete forms house the sleeping spaces and act as a plinth to elevate the living spaces, stretching towards the south to maximise light and views over the harbour.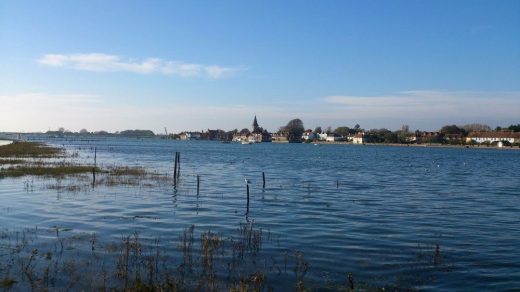 A carefully selected material palette of board marked concrete and timber were chosen, allowing the proposal to blend into its context. Much like a defensive sea wall, the concrete creates a sense of protection from the elements. The tone, texture and tactility of the material draws inspiration from the nearby Holy Trinity Church, known for the speculated burial of the last Anglo-Saxon King, Harold Godwinson. The timber delicately contrasts this with its soft, natural feel, and will weather and age with the tree lined setting.
The local context of Bosham was studied closely with the aim for the proposal to sit comfortably within and respect the setting of the harbour. A traditional pitched roof vernacular was highlighted and incorporated into the design. This was further manipulated to minimise the pitch and impact of the dwelling and take on a unique yet familiar aesthetic. The contemporary form also creates movement within the design to continue the rhythm of the existing development.
In turn, the design will enhance the architectural distinctiveness of the area, whilst providing a modest, design-conscious home for the clients to enjoy their retirement.
24 Mar 2016
Paragraph 55 House, Buckinghamshire, southern England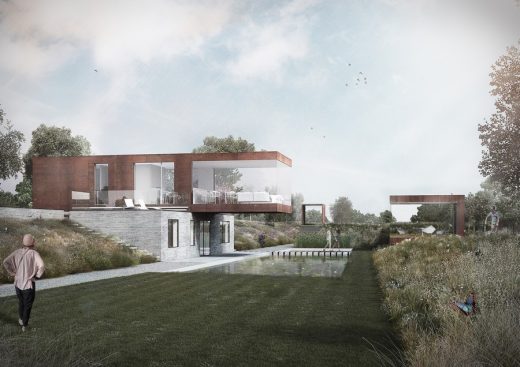 image from architect
Planning permission for this contemporary property: the 3-bed dwelling that sits in the Buckinghamshire countryside, was placed under the paragraph 55 planning clause due to its 'green belt' site.
11 Oct 2013
The Medic's House, Winchester, Hampshire, England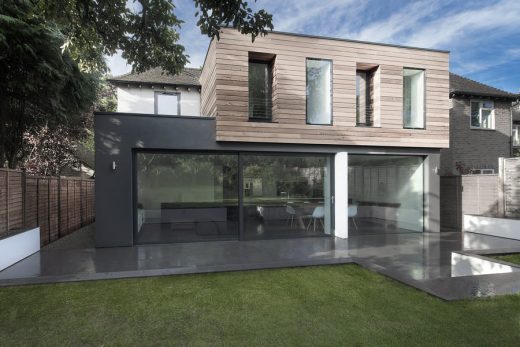 photograph : Martin Gardner, www.spacialimages.com
Upon the arrival of their new baby daughter, the need for additional family space meant that the client's existing 1950s three bed house desperately needed extending. The brief called for two additional bedrooms upstairs and a large open-plan family space with light, views and access to the beautiful garden at ground floor.
5 Sep 2013
Folding House, England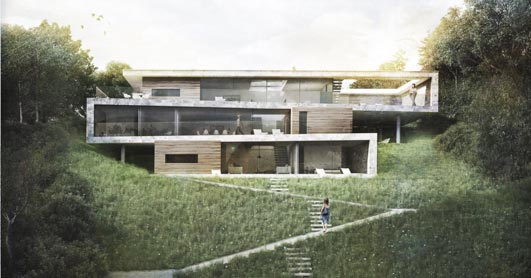 image : AR Design Studio
This Hampshire architects office have designed a highly contemporary dream home for a retired client and his son. Showcasing stunning river views from all three levels, the folding design incorporates a blend of indoor and outdoor living spaces that extend out into the landscape and beyond.
31 Jul 2013
Elm Court House, North London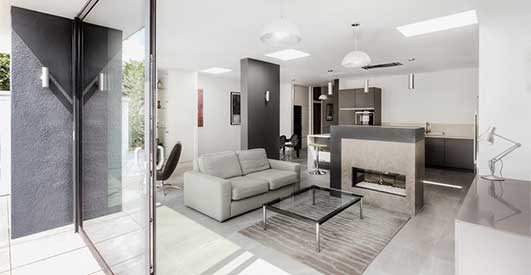 photo : Martin Gardner
Hidden from view, behind the ordinary looking façade of a modestly sized semi-detached house in North London, sits an elegant piece of modern contemporary architecture. The recently retired owners sought to adapt the existing small and cramped property into their perfect home.
15 May 2013
Glass House, Hampshire, southern England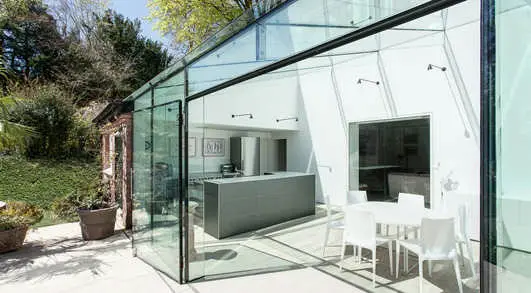 photo : Martin Gardner
Glass House England
It is not every day that a body is found buried on your building site, but on a summer's morning in 2012 this is exactly what happened while builders were laying foundations for RIBA award-winning Winchester architects studio's latest project.
Major AR Design Studio Building
2 Oct 2012
Abbots Way House, Hampshire, south east England
Design: Architect: Andy Ramus – AR Design Studio



photo : Martin Gardner, spacialimages.com
Abbots Way House
This latest project by the Winchester architects firm is a stunning 5-bedroom house. Bordered by mature trees and a small lake, this spectacular house creates feelings of ultimate relaxation and privacy, whilst its contemporary design juxtaposes superbly with its beautifully rural location, on the south coast of England.
More AR Design Studio Architecture online soon
Location: 4 Firbank Rd, Bournemouth, Dorset BH9 1EL, England, UK
Architect Practice Information
Enghlish architecture practice based in Bournemouth, Dorset & Winchester, Hampshire, England, UK.
Architect/Studio Profile
Andy Ramus is a 40 year old architect, born in London and trained at Plymouth School of architecture under mentor Professor Adrian Gale. In 2000 he completed his education at the AA.
AR Design Studio Ltd Director Andrew Ramus:



photo : Martin Gardner, spacialimages.com
In 2001, after 5 years working in London, he established his own practice and is now based in Hampshire. AR Design Studio is a young, highly motivated, contemporary architectural practice dedicated and passionate about delivering elegant and functional solutions to the field of modern living.
Initially designing small bespoke extensions and furniture, the practice has steadily extended its portfolio to include several one-off houses and a range of luxury commercial refurbishment and new build schemes.
AR Design Studio:



photo : Martin Gardner, spacialimages.com
They love working with glass and they have developed innovative structural glazing systems. These have been used to create high-quality water front homes and sophisticated solutions for modern day living, such as the Lighthouse 65, winner of the prestigious RIBA Downland Award 2012, and the Boathouse which recently won the Daily Telegraph Small House of the Year Award. Their elegant and contemporary designs are held in high regard within the Architectural industry; AR Design Studio were shortlisted for the RIBA Downland Award again in 2010, while Andy Ramus has been shortlisted for the Young Architect of the Year 2011.
AR Design Studio are also catching the eye of the national media and have been featured recently in the Mail on Sunday, Sunday Times and Hello and Grand Design Magazines, as well as overseas publications.
English Architecture
Buildings / photos for the AR Design Studio – Winchester Architects page welcome
Website: ardesignstudio.co.uk