President Biden Architecture, US Building News, Covid-19 Third Wave, American Election
Architecture under President Biden Part II
Historic US Election Review of Architectural Aspects: Architectural Column by Joel Solkoff, PA, USA
Dec 9, 2020
Architects: Joel Flees to NYC to Escape The Third Wave
"Never forget that you are one of a kind. Never forget that if there weren't any need for you in all your uniqueness to be on this earth, you wouldn't be here in the first place. And never forget, no matter how overwhelming life's challenges and problems seem to be, that one person can make a difference in the world. In fact, it is always because of one person that all the changes that matter in the world come about. So be that one person."― R. Buckminster Fuller, Architect
Construction of the United States Capitol in Washington, D.C., USA: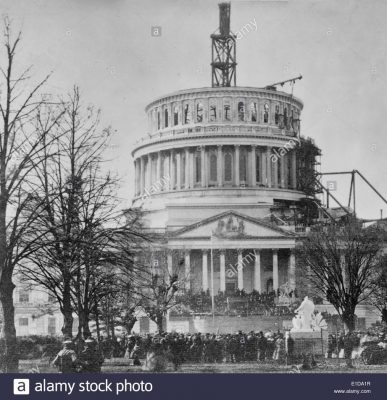 President-Elect Joe Biden will take the oath of office at noon on January 20, 2020 at the Capitol of the United States currently located in Washington, D.C. Unlike President Abraham Lincoln, whose first Inauguration was in 1861, President Biden will face east. Photo in the public domain.
All Architects Today Must Be Covid-19 Architects
Joel Solkoff's Column Vol. VI, Number 5
DATELINE Tuesday, December 8, 2020. Williamsport Pennsylvania, a town of 28,000 people and a treasure trove of architecture so beautiful…so beautiful that after I escape Death in Lycoming County (just beginning as I write).
I will return on February 14, 2021 to the Peter Herdic Park Place Hotel completed 1865.
September 2017. The back door of a restaurant represents the BEST my liberal all Democratic Borough Council members can do to provide disability access to public facilities. Video courtesy Emily Hartsay, my health aide:

US accessibility challenge
"The US Has Recorded its Most Deaths in a Week": Today's New York Times
Today's New York Times, my country's newspaper of record, published this alarming pandemic update, The NYT sometimes does a terrible job. I am reminded of Catullus "Odi et amo."
Case in point Michael Kimmelman, architecture critic defaming the New York Time's tradition established by Ada Louise Huxtable. Kimmelman praised the aesthetics of a pretentious $70 million community library in the NYC Borough of Queens. Multiple architecture award winner Steven Hoss designed a library not accessible to disabled children, adults nor to fat people.
Michael Kimmelman
Bio provided by NYT:
Since he returned to New York from Europe in the fall of 2011, Michael Kimmelman has been the architecture critic of The New York Times. He has reported from more than 40 countries and twice been a finalist for the Pulitzer Prize.
His work focuses on urban affairs, public space, housing for the poor, infrastructure, social equality and the environment, as well as on design. A best-selling author, he has won numerous awards over the years. The magazine New York titled an article about him "The People's Critic."
The New York Times which should be ashamed at its contribution in encouraging architects to design libraries that do not work as libraries.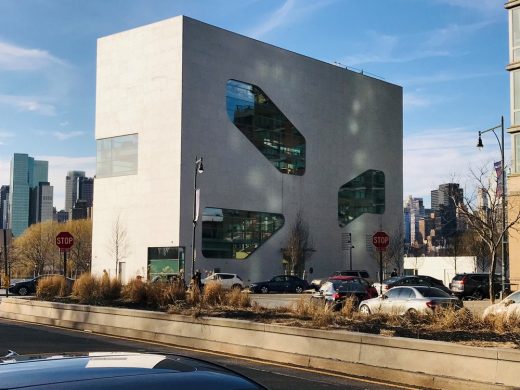 Exclusive photograph of Hunters Point Library by e-architect Arts Editor Sarah Schmerler
""""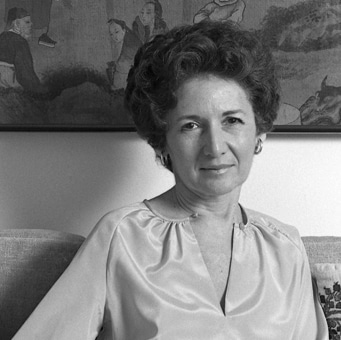 Ada Louise Huxtable photographed in her home, 1976 ©Lynn Gilbert. Published with permission.
Wikipedia: Ada Louise Huxtable (née Landman; March 14, 1921 – January 7, 2013) was an architecture critic and writer on architecture. Huxtable established architecture and urban design journalism in North America and raised the public's awareness of the urban environment.
Huxtable was in large part responsible for Zaha Hadid to emerge as an acidemia winning contests but not building. Thanks, to Huxtable Zaha Hadid was able to design the Beijing Airport, So great were Huxtable's achievement's that Columbia University's Pulitzer Prize Committee created a special Pulitzer Prize just for her. Toward the end of her life, Huxtable got so pissed off at the New York Times that she moved her column to The Wall Street Journal.
++++
"Odi et amo" ("I hate and I love") is a short poem or epigram by the Roman lyric poet Catullus, written in elegiac couplet form sometime around 65 BCE. It is often referred to as "Catullus 85" or "Carmina LXXXV" for its position in the generally accepted catalogue of Catullus' works.
Despite its brevity, it is one of Catullus' most famous and emotional poems, and its declaration of conflicting feelings for his mistress, Lesbia, is renowned for its force and brevity. — https://www.ancient-literature.com/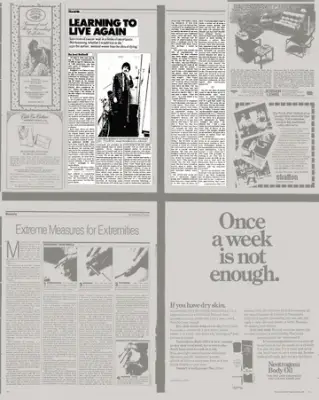 Credit…The New York Times Archives, June 4, 1978, Section SM, Page 26.
Learning to Live Again: My Triumph Over Cancer
Survivors of cancer wait in a limbo of uncertainty: Not knowing whether I would live or die,' says the author, 'seemed worse than the idea of dying.'
On May 5, 1976, with the filing of Tissue Examination S 76.1606, at age 28 1 became one of 7,200 Americans who had new cases of Hodgkin's disease that year.
Library Journal review
Solkoff, Joel. Learning To Live Again: My Triumph over Cancer. LC 82-18743. ISBN 0-03-057647-4.
Solkoff is diagnosed as having Hodgkin's disease, a type of cancer. He fears the disease and the possibility of death.
He undergoes radiation treatment to eradicate the cancer, "Radiation treatment was the worst experience of my life": he loses his appetite and his energy, and he becomes depressed. He feels humiliation, anger, and misery.
Written with honesty and feeling, Learning To Live Again is a story of remarkable courage in the face of disease.
Highly recommended for public library collections.
–Marliss H Hooker, Univ. of Connecticut Health Ctr. Lib., Farmington.
For the NYT, I wrote:
Hodgkin's is a form of cancer of the lymphatic system. In 1950, according to statistics published in Radiologic Technology, the chances of surviving all stages of the disease was 6 percent. The medical literature now refers to it as "a disease once considered fatal." Today, the odds of surviving Stage I, the mildest of the four stages, are estimated at 80 percent.
In a society in which cancer is the second largest cause of death and in which there is increased concern for the dying, the problems of those who survive cancer have been largely ignored. Until recently, the fear of death associated with cancer was so pervasive that the medical and social‐service community even neglected those cured patients who, as a result of their treatment, have to live with practical physical problems.
++++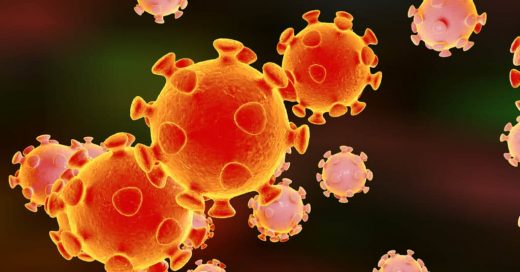 Photograph of the coronavirus courtesy of the Centers for Disease Control based in Atlanta Georgia
USA coronavirus deaths
The NYT published today: "The U.S. has recorded its most deaths in a week."
The United States has recorded its most coronavirus-related deaths over a weeklong period, as a brutal surge gathers speed across the country.
With a seven-day average of 2,249 deaths, the country broke the previous mark of 2,232 set on April 17 in the early weeks of the pandemic. Seven-day averages can provide a more accurate picture of the virus's progression than daily death counts, which can fluctuate and disguise the broader trend line.
The United States is approaching 300,000 total deaths, with nearly 283,000 recorded, according to a New York Times database.
My Thursday Train to New York City
On Thursday, I will take a passenger train from Harrisburg, capitol of the Commonwealth of Pennsylvania to Penn Station New York City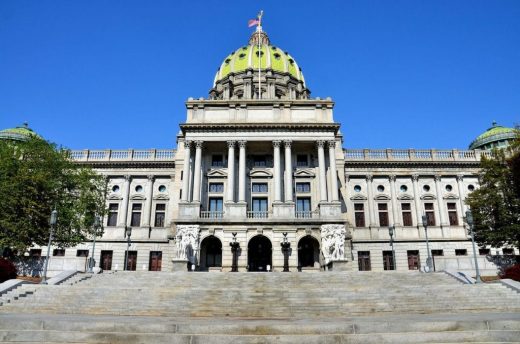 "Pennsylvania's Capitol is, first and foremost, a public building belonging to the citizens of the Commonwealth.
"It is also a priceless architectural and artistic treasure, a majestic symbol of history and power, and an icon of democracy and freedom.
"When President Theodore Roosevelt attended the dedication of the building on October 4, 1906, he said, "This is the handsomest building I ever saw."
"The Capitol was designed in the American Renaissance style by Philadelphia architect Joseph Huston (1866-1940), who envisioned the building as a 'Palace of Art."
"Built and furnished at a cost of $13 million, the Capitol features paintings, stained glass and furnishings by some of the best artisans of the day. The building incorporates various Renaissance designs in some of its largest rooms: Italian in the House Chamber, French in the Senate Chamber, and English in the Governor's Reception Room. It also reflects Greek, Roman and Victorian influences in its art and ornamentation."
— This caption was written by an official working for the Harrisburg Capitol Building
Harrisburg's official sister cities as designated by Sister Cities International:
Ma'alot-Tarshiha, Israel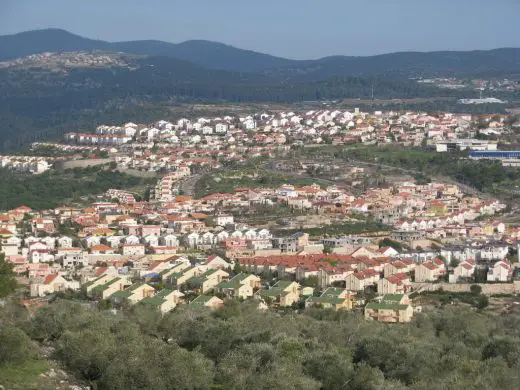 Wikipedia: Ma'alot-Tarshiha (Hebrew: מַעֲלוֹת-תַּרְשִׁיחָא ; Arabic: معالوت ترشيحا, Maʻālūt Taršīḥā) is a city in the North District in Israel, some 20 kilometres (12 miles) east of Nahariya, about 600 metres (1,969 feet) above sea level.
The city was established in 1963 through a municipal merger of the Arab town of Tarshiha and the Jewish town of Ma'alot. In 2019, the city has a population of 21,836. Photo in the public domain.
First New York Priority: Memorial Sloan Kettering Cancer Center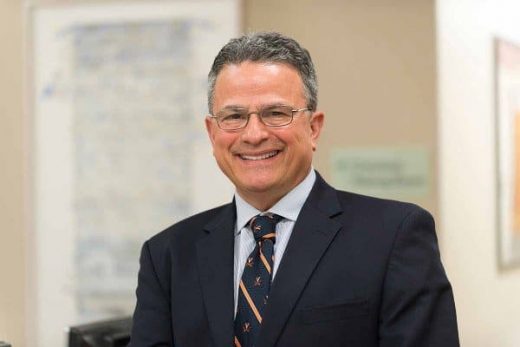 This photograph of Dr. Paul Russo was provided by Memorial Sloan Kettering Cancer Center NYC
Dr. Russo writes: "I am a urologic surgeon who specializes in caring for people with kidney (renal cell) cancer. I treat people with all stages of the disease, from small localized tumors to larger, more-advanced kidney cancers that have spread. I have more than 30 years of experience and perform about 250 major operations each year.:
On Monday Morning December 10th, I have an appointment with Dr. Paul Russo at Memorial Sloan Kettering Cancer Center in New York City. Eight years ago, Dr. Russo operated on my right kidney. He removed the large cancerous tumor that was chocking my kidney. Then, Dr. Russo removed my right kidney, put it back together so that it still works. How well will be the subject of our conversation.
Since Friday is Dr. Russo's last day before going to Uganda to perform surgery, Dr. Russo will have cardiologists, oncologists, specialists in radiation damage to my throat see me; also social workers and rabbis.
There is also a good chance I will receive the Pfizer coronavirus vaccine on Friday.
My train ticket
Reservation Number – EC3C30HARRISBURG, PA – NEW YORK PENN, NY (One-Way) DECEMBER 7, 2020
TRAIN 42: HARRISBURG, PA – NEW YORK (PENN STATION), NY
Depart 1:00 PM, Thursday, December 10, 20201 ACCESSIBLE COACH SEAT$56.70
1 COACH WHEELCHAIR SPACE: $0.00
Ticket Terms & Conditions
CANCELLATION FEE MAY APPLY. ADULT-REDUCED MOBILITY-ID/SELF CERT REQRD ON TRAINADULT-REDUCED MOBILITY-ID & CERTIF REQRD
Amtrak's future of high speed travel is soon here! On May 28, 2020, Amtrak tested the Avelia Liberty— the name given to the new Acela built by Alstom in Hornell, New York—for the first time under its own power to Thorndale.
The next day they ran again to Lancaster Station on the Keystone Corridor, Amtrak's Mainline between Philadelphia and Harrisburg, Pennsylvania. This is perhaps the only time in history Amtrak's new Acela will run on this track, so we took full advantage to capture the move on our new 4K 60p camera in Ronks and Coatesville,
Pennsylvania, mileposts 59.2 and 38.6 respectively, at the former Irishtown Road crossing and the stone arch viaduct, aptly named the Coatesville High Bridge. As a bonus, Norfolk Southern local H84 was on it's way up from Coatesville to W&N Junction while we were awaiting the Acela, so we catch them returning eastbound at Downingtown Station. I
BIG THANKS TO: Virtual Railfan, Jersey Mike's Rail Videos, and Mike Huhn.
Embeded under the terms of the You Tube licensing agreement.
Here in Williamsport denial, denial, denial
Published today: "Soap Box Derby race is on for 2021— if virus allows"
JONATHAN BERGMUELLER, Staff writer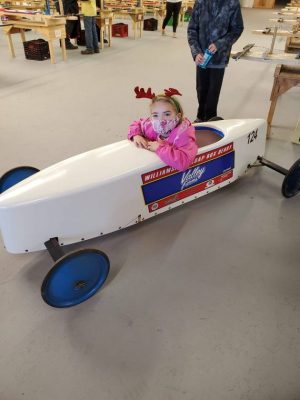 Photograph published with the permission of Editor-In-Chief: L. Lee Janssen (x3121) — [email protected] The talented Ms. Janssen is friends with Williamsport's best architect Anthony Visco, Jr. Tony is a critical member of my support team. I owe Tony $300
"The organizers behind Williamsport's Soap Box Derby are in the planning process for their 2021 race.
"However, the continuation of that race is dependent on the status of the COVID-19 pandemic moving forward, said Jim Campbell, director of the organization's local branch.
"The whole world is in a state of anticipation," Campbell said of the current unpredictable nature of the coronavirus pandemic.
"Soap box racing allows children ages 7 to 18 to race in a "soap box," or a racing cart propelled by gravity. The race was revived in Williamsport in 2010, and ran for 10 consecutive years before the pandemic impounded the carts in 2020.
"Campbell said, as far as 2021 goes, the race will be returning, and will adhere to all guidelines issued by government bodies."
Cleopatra, Queen Of Denial Pam Tillis
Well, I said he had a lot of potential
He was only misunderstood.
You know, he really didn't mean to treat me so bad
He wanted to be good. And I swore one day I would tame him
Embedded in accordance with You Tube's licensing agreement
Architects for Change Aug 31, 2020

Joel Solkoff, AIA,Assoc, Leaving Williamsport County seat of Lycoming County, Pennsylvania, USA to return on February 14, 2021
My editors beckon: "All right, stop writing, Joel."
Isabelle Lomholt and Adrian Welch, Editors at e-architect
Joel Solkhoff, PA, USA: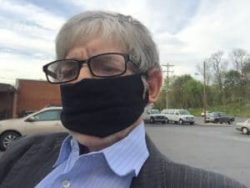 Selfie, Lycoming County, Pennsylvania, USA
jsolk[email protected] 2019: East Third Street Williamsport, PA, US 17701
Please feel free to phone me at US 570-772-4909
Copyright © 2020 by Joel Solkoff. All rights reserved.
American Cancer Society Hope Lodge at 132 W 32nd St, New York City, NY 10001, USA: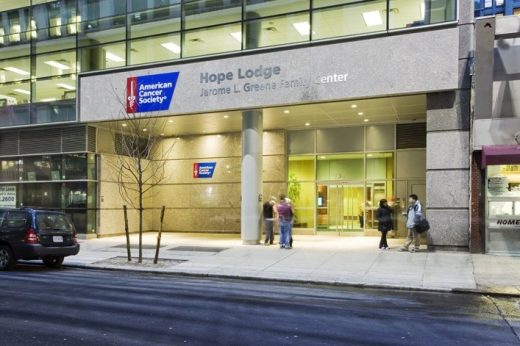 Published on e-architect by permission of the American Cancer Society
'Joel's previous article
Nov 12, 2020
Architecture under the Biden Presidency
Joel's next article
Next column on Georgia.
The Democrats will control the US Senate in January when two incumbent Trump supporting senators are defeated.
The Republicans who will lose are David Perdue and Kelly Leffler.
A Democratic senate will mean more money for architects to design public housing.
Sen. Kelly Loeffler And Raphael Warnock Face Off In Georgia Senate Runoff Debate – NBC News NOW – YouTube
The election is on January 5, 2020. The new column on Georgia will focus on the significance for the AEC community in the US.
Meanwhile, President elect Biden has chosen Rep. Marcia Fudge of Ohio to be Secretary of Housing and Urban Development:
Marcia Fudge – Wikipedia
Architecture Columns
Architecture Columns – chronological list
Special Wooden Floors for Renzo Piano's Whitney in New York
New York City Mayor Bill de Blasio, Queens Library
Renzo Piano's Whitney Neighborhood
Disability-Access Architecture
US Architecture
Joel Solkoff's Column Vol. IV, Number 2
Joel Solkoff's Column Vol. IV, Number 1
Special Wooden Floors for the Whitney
Belt and Suspenders Routine – Joel Solkoff's Column
Joel Solkoff's Column Volume II No. 6
Joel Solkoff's Column, Vol.II, Number 7
Comments / photos for the Architecture under President Biden – page welcome