Grand Théâtre, Québec Building Restoration, Canadian Building Preservation Project, Images
Grand Théâtre de Québec
Building Preservation Development in Canada – design by Consortium Lemay and Atelier 21
Apr 11, 2017
Grand Theatre
Architects: Consortium Lemay and Atelier 21
Location: Québec, Canada
Preserving Heritage: Grand Théâtre de Québec to Don Glass Casing by Lemay and Atelier 21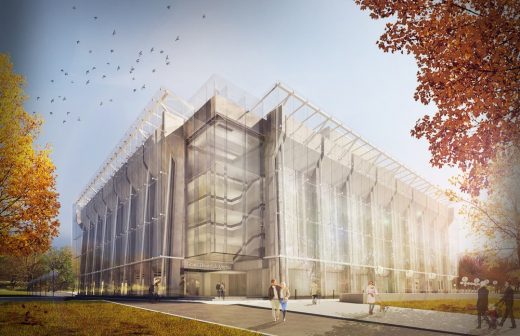 An innovative Canadian first for a heritage preservation project of its size, the new glass envelope that will protect the Grand Théâtre de Québec is a Lemay and Atelier 21 consortium design and the winning solution in the cultural complex's architectural competition.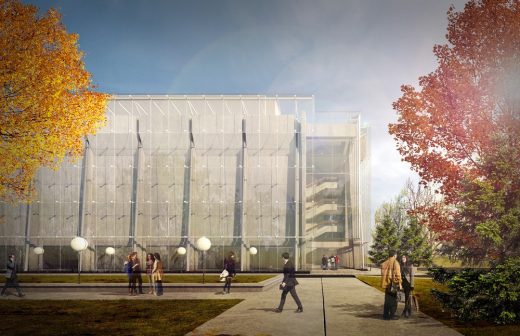 Faced with the severe deterioration of its concrete envelope, made of prefabricated panels, the Grand Théâtre de Québec needed an intervention to ensure its longevity. The team's proposed solution was holistic, delicate, transparent and understated. The jury was charmed by the concept of a protective shell around architect Victor Prus' creation, a brutalist icon inaugurated in 1971.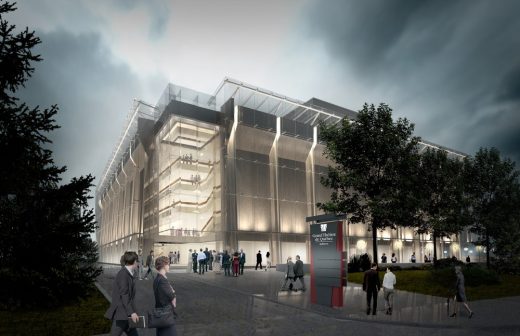 "It was crucial to respect Prus' vision," said Eric Pelletier, Lemay architect and creative partner, "and preserve the integrity of Jordi Bonet's mural, sculpted into the interior supporting wall over an area of 1,000 m2."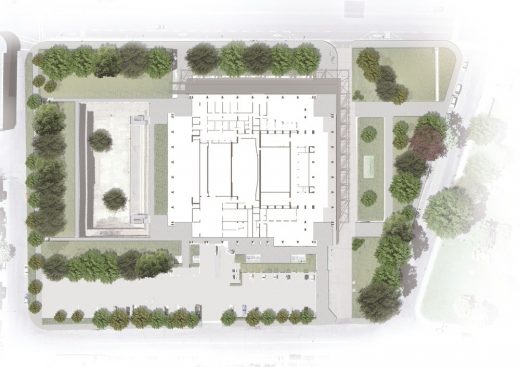 The future glass casing will be integrated with the building as a modern, conserving cocoon, where the gap formed by the double façade will be climate-controlled and ventilated, thereby protecting the concrete panels.
The complex and daring rescue operation met the daunting challenge of stopping the Grand Théâtre's advanced structural deterioration in its tracks. Repeated freezing and thawing had caused its metallic anchors to rust, exposing the concrete panels and risking their collapse.
Multiple constraints
In addition to Jordi Bonet's existing work, intimately entwined with the building's structure, the institution's artistic vocation produced challenges for the project team. The humidity level between the walls needed to be optimized to prevent musical instruments' cracking as a result of overly dry air. The Grand Théâtre de Québec also chose to maintain operations throughout. The solution addressed all of these concerns.
Repair and protection work will take place from spring 2017 to fall 2018 and cost $16 million.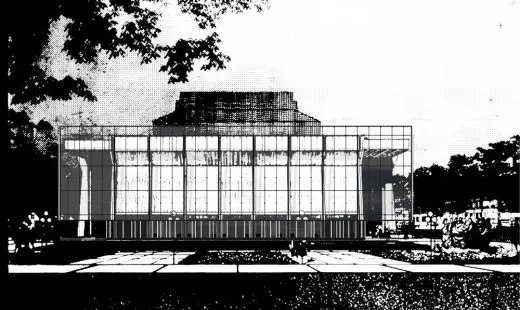 Reception Pavilion for the National Assembly in Quebec – Building Information
Project name: Grand Théâtre de Québec – Building envelope repair
Location: Quebec City, QC, Canada
Client: Grand Théâtre de Québec
Architects: Lemay and Atelier 21
Mechanical / electrical engineering: WSP
Structural engineers: WSP
Glass and setting design engineers: ELEMA
Experts in materials engineering: SIMCO
Contractor: Pomerleau
Project area: 5,900 m² of glass envelope
Cost of work: $16 M
Start of work: spring 2017
End of work: autumn 2018
Project team:
Architecture [Lemay] Eric Pelletier, architect, senior partner, design principal
Gabriel Tessier, design architect
Sarah Perron-Desrochers, m. arch., designer
Olivier Boilard, technical designer
Architecture [Atelier 21] Christian Bernard, architect, senior associate
André Dagenais, senior technician
Jacques Berrigan, architect
Mathieu Turgeon, architect
Marc Leblond, technician
Élie Carrier, technician
About Lemay: Creative intelligence. Collective value. 
Founded in 1957 as an architectural practice, Lemay is one of Canada's leading integrated design services firms, merging architecture, urban design, interiors, landscape, engineering, sustainability and branding into a multidisciplinary and synergistic ensemble. With nine offices worldwide and ranked 74th according to World Architecture (WA), Lemay is also one of Canada's most creative and awarded firms, with over 350 awards and prizes. Leveraging its unique blend of creativity, capacity and expertise, Lemay champions its clients' aspirations, enhances users' quality of life and strives to build a brighter future for our communities.
About Atelier 21
Atelier 21 is an architecture firm with solid foundations in Quebec. It was born of experienced architects in 2004 and is dedicated to green building and sustainable development. Its vision is to embrace the responsible use of natural resources in search of excellent design that will stand the test of time. Atelier 21 offers renowned expertise in institutional and commercial projects as well as building envelope rehabilitation. Professionals from the firm pledge to promote the preservation of our architectural heritage, whether classic or modern. Their sensitivity to these issues has been highlighted by several prizes and awards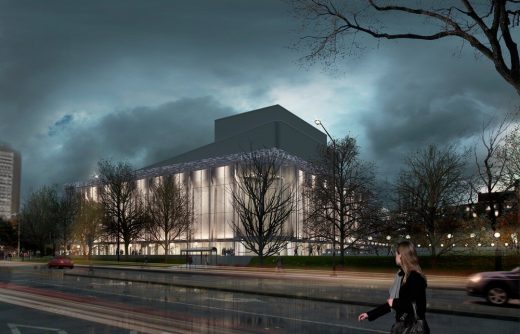 Grand Théâtre de Québec information / images received 110417
Location:Québec City, Québec, Canada
Key Quebec Building
Palais des Congrés, Montreal, Quebec
Realisation: Les architectes Tétrault, Dubuc, Saia et associés
Hal Ingberg architecte (Independent architectural consultant and co-designer)



photo: Hal Ingberg
Palais des Congrés
Canadian Architecture



image from architects
Comments / photos for the Grand Théâtre de Québec Canada Architecture page welcome
Grand Théâtre de Québecc Building
Website: Consortium Lemay and Atelier 21