9 Block Project, University of Calgary University Building, Alberta Development, Canada
9 Block Project at University of Calgary
7 Dec 2020
Calgary 9 Block Project
Architects: Mauricio Soto-Rubio
Address: Calgary, AB, Canada
Architecture Students Address their City's Sense of Safety Through Design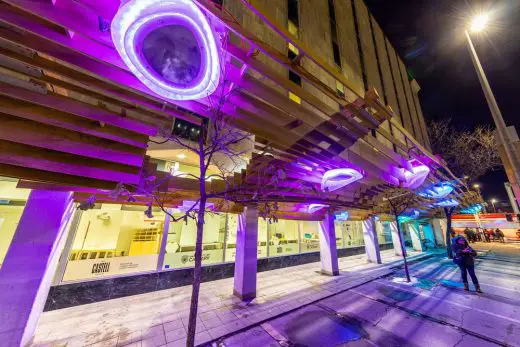 For years, officials in Calgary, Canada have been concerned with improving the perceived sense of safety and vibrancy in the city's downtown core. At its center, the area includes Calgary's City Hall and Municipal Building, the American Consulate, Olympic Plaza, Arts Commons, and the Glenbow Museum, as well as other significant landmarks including the City Building Design Lab, a collaborative research satellite for the University of Calgary's School of Architecture, Planning, and Landscape (SAPL).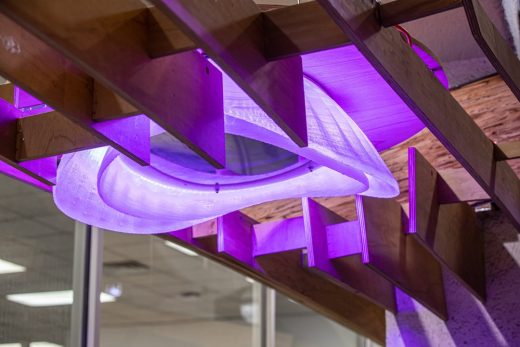 Despite its urban significance, the city's downtown area is not without challenges frequently seen in urban areas and sometimes perceived as unsafe, especially at night. In 2020, the City of Calgary partnered with the architecture school to develop a temporary, experimental installation specifically tailored to improve the perceived sense of safety and vibrancy in the area. Under the supervision of Professor Mauricio Soto-Rubio and robotics specialist Guy Gardner, a team of students designed and built a 70-feet long lightweight wooden canopy equipped with fully interactive 3D printed lighting fixtures. The project has drastically and comprehensively changed how the area between the City Hall and the City Building Design Lab is perceived, providing it with a safer, more dignified, and vibrant character.
The design approach is based on the premise that making public spaces more inclusive and welcoming can actually improve social behavior. In sharp contrast, previous interventions in the area included protecting the buildings with fences, anti-people spikes, security cameras, and other defensive urban architecture mechanisms. The canopy defines and activates the space beneath it and provides an extra degree of weather protection along the façade of the architecture school. New fixtures improve the level of lighting in the area at night and give it a unique and vibrant character.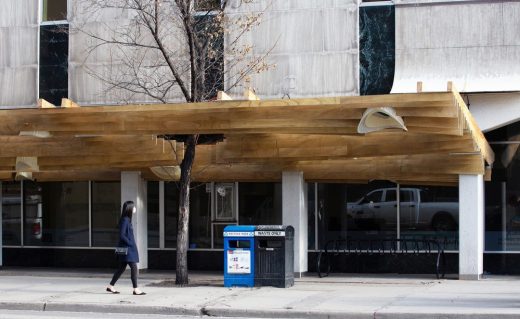 These colorful, fully interactive, 3D printed, LED lights are fitted with sensors that playfully respond to pedestrians walking underneath. The lamps vary in size from approximately 16 inches to 40 inches in diameter and were developed by means of an algorithmic script that controlled their dimensions, number of LEDs, individual geometry, and formal relation with the rest of the structure. The pieces were 3D printed by students using PLA plastic: a biodegradable, recyclable material that does not emit toxic emissions.
The canopy is part of a year-long study aimed at identifying the potential of fast-tracked, low-cost, architectural interventions to strategically improve the perceived sense of safety in urban settings. The City is conducting a survey to determine how the area was perceived before and after the completion of the design intervention.
The team developed an innovative connection system, because of the temporary nature of the project that allowed the canopy to be installed on the building without permanently altering its façade. The custom-made steel brackets rely exclusively on friction without the use of mechanical or chemical anchors. This system facilitates the possibility for future designs to be attached to existing buildings in an attractive, seamless manner—independently of building protection requirements or heritage status.
The wooden canopy was also built taking into consideration the extreme conditions of Canadian winters.
The cantilevered parallel-strand-lumber beams support a series of undulating slats made with plywood specifically made for long-term outdoor use. The ¾ inch pressure-treated poplar plywood is both lightweight and weather resistant. The slats also adapt to the existing location and size of the urban trees present on-site and them to continue to grow without interruption. These pieces were fabricated following a strict zero-waste policy where forms were always mirrored and nested in standard 4'x 8' sheets sizes producing no material left over.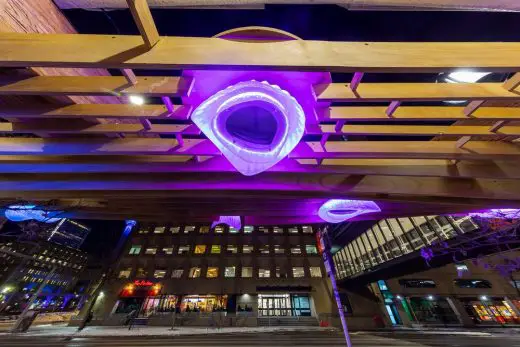 The project demonstrates how design schools can actively collaborate with local government agencies to target real-life issues affecting cities. Jonathan Monfries, an architecture student who participated in the project, described this experience as fundamental. "As students, being able to work through various iterations of the design, to make real-world decisions, and to work with contractors to assemble the design we proposed provides a learning opportunity not possible in a classroom," Monfries says.
The president of the University of Calgary, Dr. Ed McCauley, describes the project as "a wonderful example of the creativity and talent among our students in the School of Architecture, Planning, and Landscape. The 9 Block initiative launched near the start of this year with the goal of strengthening a key area in the downtown core. We wanted to address the issues surrounding safety and vibrancy, and we wanted to create solutions that reflected the characteristic energy and can-do spirit of our city".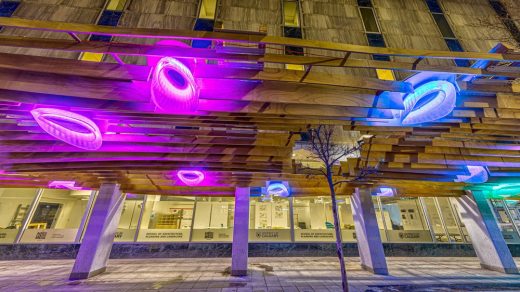 9 Block Project at University of Calgary, AB – Building Information
Location: 616 Macleod Trail SE. Calgary
Client: The City of Calgary
Architects/designers: Mauricio Soto-Rubio
Project Manager: Mauricio Soto-Rubio
Design team: Guy Gardner, Jonathan Monfries, Shelby Christensen, Yuxin Liu, Ji Sun.
Collaborators: Calgary Municipal Land Corporation, Mercedes-Singh
Engineers: Entuitive
Suppliers: Upper Canada Forest Products
Lighting Designer: Guy Gardner
Project sector: Student Project
Budget: 75,000 CAN
Project completion date: Nov 2020
About Mauricio Soto-Rubio
Mauricio Soto-Rubio is an assistant professor of architecture at the University of Calgary, where he teaches architectural design studios, structures for architects, and seminars related to materiality and design. His research lies at the intersection of architecture, structural engineering, and art. He often collaborates with public institutions to put together design-build projects where students have the opportunity to develop their ideas from conceptual design to installation. These projects also allow students the opportunity to understand the potential of architecture and design to address real-life problems.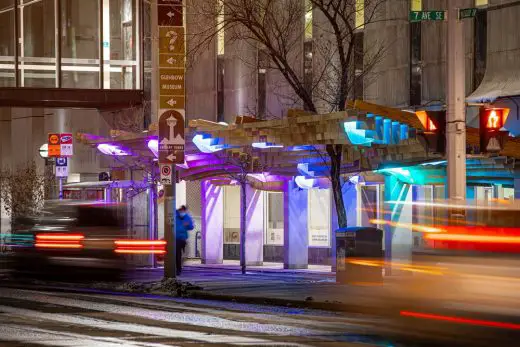 Photographer: Neil Zeller, Riley Brant
Calgary 9 Block Project, Alberta images / information received 071220 from v2com newswire
Location: Calgary, Canada
Architecture in Calgary
New Calgary Buildings
The Slender House, Ogden
Design: MU Architecture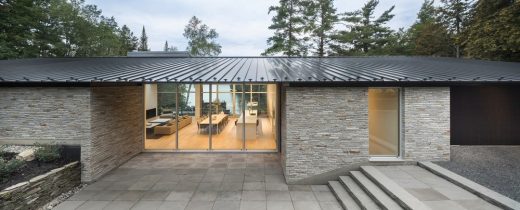 photograph : Stéphane Groleau
The Slender House in Ogden
Withrow Laneway House
Architects: Studio North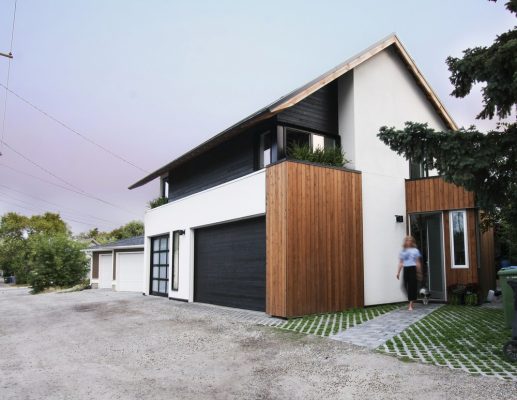 photo : Mark Ericksony
Withrow Laneway House
Diamond Schmitt Architects Office
New Calgary Buildings
Calgary Central Library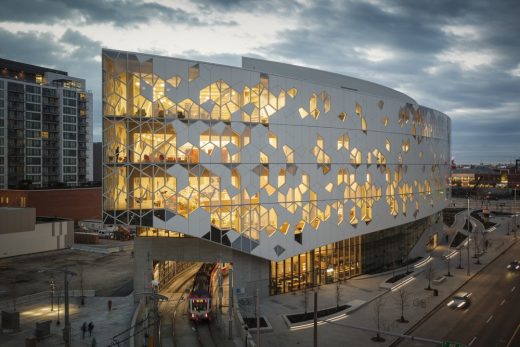 photo © Michael Grimm
New Central Library Calgary
St Patrick's Island Bridge Calgary
Design: W Architecture and Landscape Architecture with Civitas, Inc.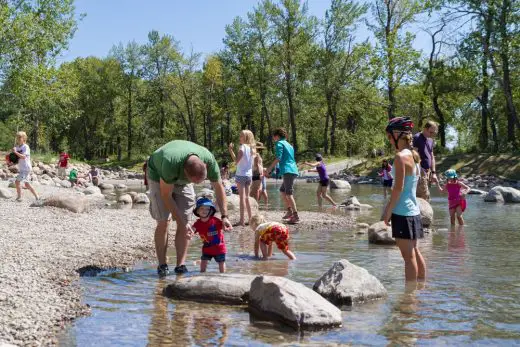 image courtesy of architects
St Patrick's Island Bridge Calgary
Canada Architecture
Canada Architectural Design – chronological list
Comments / photos for the Calgary 9 Block Project page welcome