4th Street SW Underpass, Calgary Urban Improvement, Alberta Design Development, Canadian Images
4th Street SW Underpass in Calgary
20 Apr 2021
4th Street SW Underpass
Design: the marc boutin architectural collaborative
Address: Calgary, AB, Canada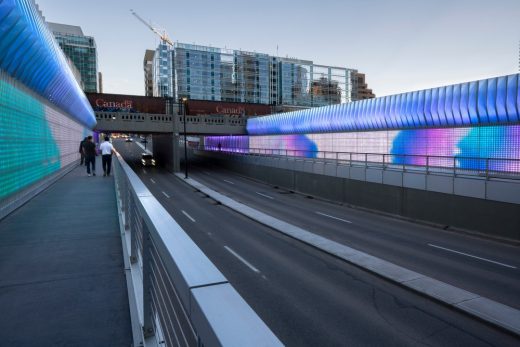 For the longest time, Calgary, Canada's third-largest city, resisted the very notion of design. Then as Santiago Calatrava was called in to build the Peace Bridge, things started to change. And firms such as the marc boutin architectural collaborative (MBAC) are now able to propose — and build — projects that would not have been considered 15 years ago.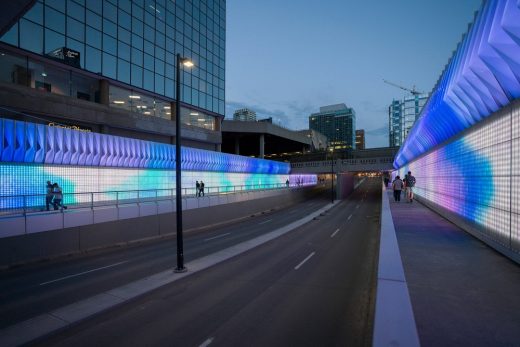 In 2015, Marc Boutin and his team were entrusted with an unusual task, that of revitalizing an important urban passageway, the 4th Street SW Underpass. Internationally known artist Krzysztof Wodiczko joined the team as well as Boston-based studio INVIVIA. Four years later, long-time design champion and city councilor, Druh Farrell, described the transformed infrastructure as "a place of delight and wonder."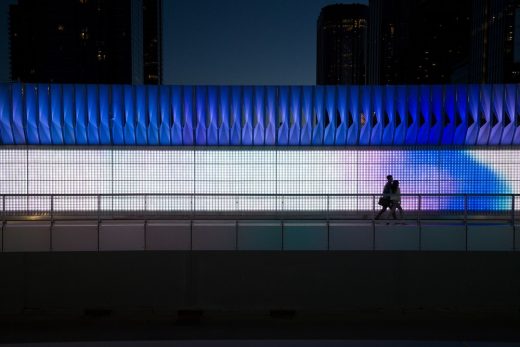 MBAC has been at the forefront of Calgary's recent transformation, with inspiring urban projects such as Memorial Drive, Poppy Plaza, and C-Square. Today, with its towers designed by Foster and BIG, and with Snøhetta's Central Library, Calgary may not yet be the country's top design destination, but it is definitely worth a visit.
The context
The underpass, a familiar feature of Western Canadian cities, is a modest yet essential type of urban infrastructure. Calgary's core, very much shaped by the advent of the railway in the 1880s, is still cut in half by the major rail corridor, which separates the city's Downtown from the adjacent Beltline neighborhood. From the south, access to the center, for pedestrians, cyclists, and car drivers, is only possible through the sunken 'gateways' of the underpasses.
Although these underpasses were initially conceived as a mechanism for safe movement, they have ironically come to embody some of Calgary's most uncomfortable public spaces. The two-block stretch of the 4th Street SW underpass was no exception. In 2010, when Calgary released its set of Urban Design Guidelines for downtown underpasses, it identified this particular underpass as a priority project.
Limited accessibility, poor lighting conditions, particularly at night and during the winter, pedestrian safety, and overall deterioration called for a radical solution, one that would provide a safe, comfortable, and engaging public space.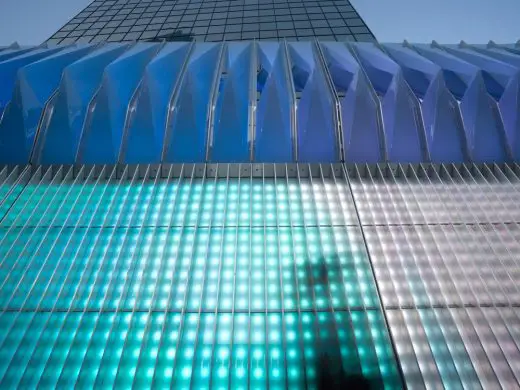 The concept
MBAC's proposal for the 4th Street SW Underpass was founded on the notion of reclaiming a 'space of removal' and turning it into a 'space for conversation.' Their design responded to a narrative they developed for this two-block long underpass, which goes under the Canadian Pacific Railway (CPR) rail corridor and 9th Avenue.
As pedestrians walk down towards the first segment of the underpass, they go through a 'Space of Anticipation,' followed by a 'Space of Reflection.' The middle section, open to the sky above, becomes the 'Space of Conversation.' The introduction of animated light and color effects, responding to the flow of people going through the double underpass, was meant to create an evocative and timeless experience.
The effects are produced by thousands of LED lights, located along the 87-meter walls on either side of the underpass. A sophisticated custom detection technology software, which generates an abstract representation of passersby's movements, was developed by Boston-based INVIVIA consultants. Cameras sense pedestrians, as they enter the underpass, and project their shadows diagonally across, on the facing wall. According to artist Krzysztof Wodiczko, "this interactive light installation creates an impression of seeing ourselves the way we are seen by others when observed from across the underpass."
The wall assembly
Materials were selected for their ability to reflect, diffuse, and 'catch' light. The envelope designed to house the interactive lighting installation includes a reflective aluminum 'exoskeleton,' on the public side, an 8mm layer of tempered, laminated safety glass with a translucent interlayer for light diffusion, a thermoformed, translucent polycarbonate panel, and a supporting subframe of galvanized steel, hung from the existing concrete infrastructure.
Particular attention was paid to ensure that this public art installation would be performative not only at night but also during daytime. The lighting system's components are located within the new envelope, behind the protective surfaces. The wall itself is designed as a series of panels so that each individual LED fixture can be accessed, serviced, or replaced.
Public involvement
Citizens were given various opportunities to participate in the creative process, identifying issues within the existing site, finding collective solutions, and influencing the project as it progressed. Models and mock-ups served as key tools for coordinating with consultants and suppliers, as well as for communicating the project's feasibility to the City of Calgary's internal stakeholders.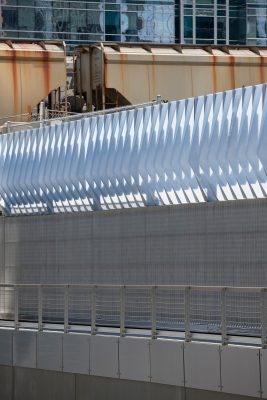 4th Street SW Underpass in Calgary, AB – Building Information
Design: the marc boutin architectural collaborative
Client: The City of Calgary
Budget: $6.7 million
Architecture: the marc boutin architectural collaborative inc. (MBAC)
Media art and narrative: Krzysztof Wodiczko and Allen Sayegh/INVIVIA
Interaction design and implementation: INVIVIA
General Contractor: Pomerleau
Lighting/Electrical: Nemetz (S/A) & Associates Ltd / SMP Engineering
Structural: Entuitive Engineering
About MBAC
Founded by architect and professor Marc Boutin in 1997, the marc boutin architectural collaborative (MBAC) is a medium-size Alberta firm focused on interdisciplinary design excellence. The firm is well known for its projects, public and private, which convey multifaceted and pluralistic readings of the built environment. Over the past 10 years, MBAC's built work has raised a lot of interest. Projects such as Calgary's Poppy Plaza and C-Square as well as the Edmonton Valley Zoo Children's Precinct have received numerous architecture and urban design awards. MBAC has distinguished itself with public realm projects responding to more mundane urban contexts, among them the 1st Street SW Underpass enhancement project and the 3rd Street streetscape improvements.
In 2020, the firm received one of Canada's most prestigious urban design awards for the 4th Street SW Underpass Enhancement project. The same year, it was also awarded the Royal Architectural Institute of Canada's 2020 Architectural Firm Award. In their comments, jury members put the emphasis on MBAC's unique modus operandi. "The studio itself operates uniquely within an integrated practice model. Marc Boutin and his team embody a true commitment to architectural education, mentorship, public awareness, and the growth of architects."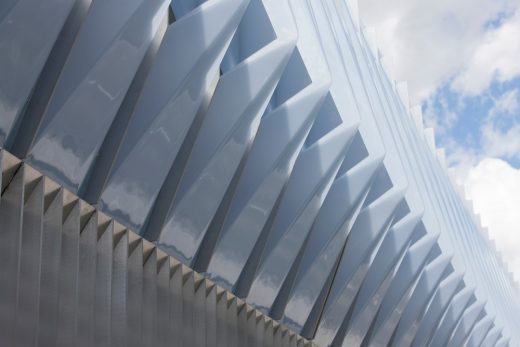 Photographer: Bruce Edward Statham/yellowcamera
4th Street SW Underpass in Calgary images / information received 200421
Location: Calgary, Canada
Architecture in Calgary
New Calgary Buildings
The Slender House, Ogden
Design: MU Architecture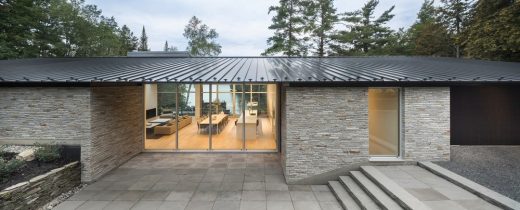 photograph : Stéphane Groleau
The Slender House in Ogden
Withrow Laneway House
Architects: Studio North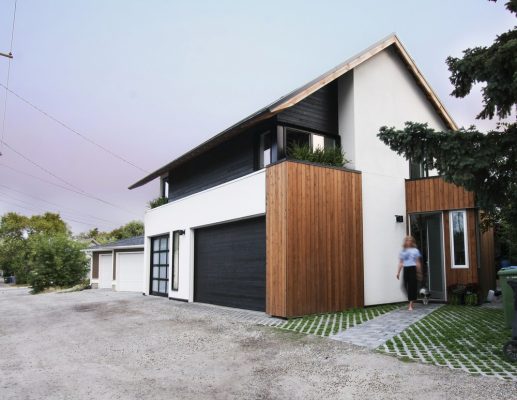 photo : Mark Ericksony
Withrow Laneway House
New Calgary Buildings
Calgary Central Library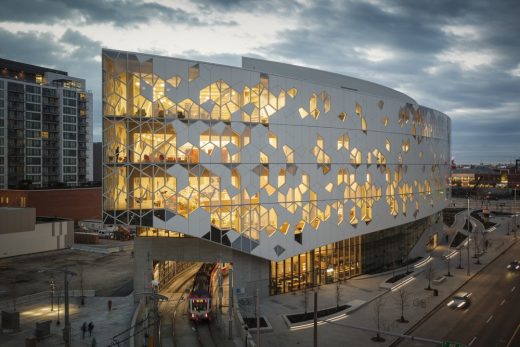 photo © Michael Grimm
New Central Library Calgary
St Patrick's Island Bridge Calgary
Design: W Architecture and Landscape Architecture with Civitas, Inc.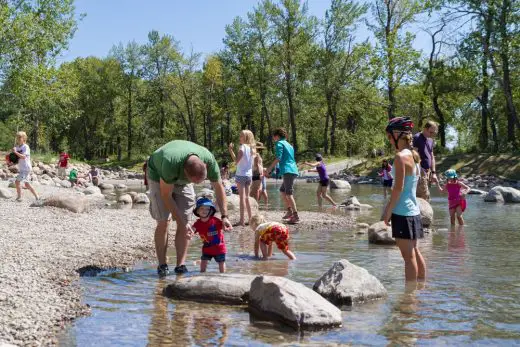 image courtesy of architects
St Patrick's Island Bridge Calgary
Canada Architecture
Canada Architectural Design – chronological list
Comments / photos for the 4th Street SW Underpass in Calgary page welcome