Budapest100 Festival, Pay Attention to Built Heritage, Hungarian Historical Architecture Design
Pay Attention to Built Heritage – Budapest100
4 Feb 2022
How to make locals pay more attention to our built heritage?
Tips for a truly engaging and lasting community-building experience
Locals wish to engage with their surroundings and are starting to explore their cities with a keenness that only tourists have done before. You can even come forward to mobilize your local urban community to protect your cultural and built environment. We show you how, through an easily adaptable methodology.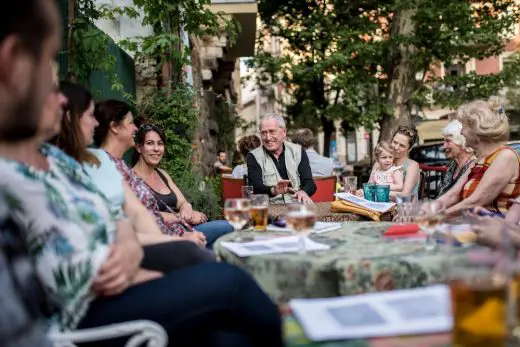 photo © Dániel Ránki, 2018
We have hardly been more localized and immobile than during the past two years. The upside of it is that we pay more attention to the importance of community building and our neighborhood. (What else could we do?) All over Europe, numerous great initiatives call attention to the built environment and cultural heritage – from community gardening through different innovative uses of public places to projects for the rehabilitation of empty spaces.
However, not many of them focus on the communities behind these walls, how to strengthen them, build resilience, and how to share their histories with the public. One such bottom-up endeavor called Budapest100 started 11 years ago, and it turned out to be so successful that several other European cities have started to adapt its methodology – such as Pori in Finland, Varazdin in Croatia, or Forli in Italy. International cultural heritage guidelines list it as a good practice for community building, preserving cultural heritage, and taking care of the cultural and identity-creating aspects of our surroundings.
The basic idea of the Budapest100 festival was to celebrate the birthday of buildings in Budapest, Hungary, that turn 100 years old in a given year – inspiring the residents of every centenarian house to participate in the celebration by opening up their gates and offering programs for a weekend. In general, a list of about 400 pre-researched and selected houses ensures 40-50 actual participants in the festival, and that is a good basis for a colorful, comprehensive program.
Over 150 volunteers aid the organizers and the residents in researching and documenting the buildings and organizing program elements from concerts through exhibitions to guided tours. (A few years ago, the team switched from the centenary focus to themes, such as Bauhaus, squares, or the Grand Boulevard. This works just as well – as long as it's coherent, relevant, and makes a good base of potential participants.)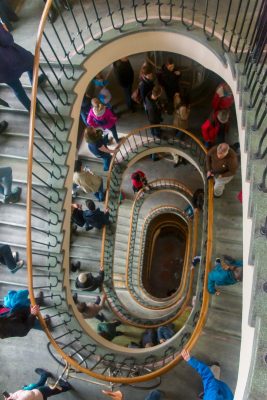 photo © Szilvia Gyulai, 2019
Every year, thousands visit these open houses and their programs (all for free) for two days. The long-term effects on the participating buildings and the urban landscape are just as significant though. Residents and visitors feel more responsible for the buildings and their neighborhood after this experience. Story-telling and knowledge sharing also raise awareness towards our cultural heritage and the conservation of our built environment.
Researchers carry out extensive documentation and analysis of the participating houses, which is publicly available. The festival creates a platform for drawing people closer – these interactions often contribute to more effective residential communities that care for each other and can advocate for their interests better. This, and the prestige that comes with participation, often helps them to successful tenders and a higher market value. The media attention accompanying the event and its houses also triggers a dialogue about our built heritage and its protection in critical situations.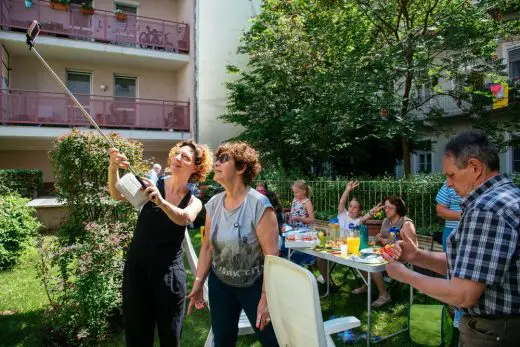 photo © Szilvia Gyulai, 2018
In a time when we can't help paying more attention to our living environment, starting such dialogues and bringing society closer is especially important. So Budapest100 offers some lessons that help similar initiatives become successful. These are their best bits of advice for mobilizing locals for the preservation of cultural heritage:
Build a personal connection with residents. It takes time, so be patient, but it catalyzes and engages locals. Let them become the protagonists and their stories to become the content.
Motivate the volunteers with creative, meaningful tasks. Apart from a small minority, they don't join to be completing Excel databases. It also helps if they know that they serve a common, worthy cause, if they feel appreciated (e.g. by being given credit as contributors in publications), and they gain exclusive knowledge and experience through participation.
Choose a well-defined characteristic or context for your festival. Be it a celebration, an anniversary, a theme resonating to a larger cultural event, an area with a specific identity, or anything that provides a clear group of potential participants.
Define a small-scale pilot first, then build up a larger festival. You can even test your idea with a few locations, then expand further.
Start bottom-up. NGO-s are good originators of such causes. If you are not an NGO but for example a municipality, partner with an NGO that can relate to the mission of your event.
Create something long-lasting that the participants can enjoy or learn from, even after the event. Be it a website with a searchable database, an app, or a publication. Or a tote bag. (No, forget tote bags.)
This (already not so secret) recipe makes this cultural-urban festival easily adaptable to any city, or even region. The organization doesn't need vast financial or technical resources – the uniqueness of the show lies in its stories, personality, and its simplicity. And, as shown above, its positive impact reaches way beyond the term of the festival itself. It becomes a great tool to bring architecture and current urban issues closer to locals, to initiate storytelling about people and the city, and to make locals more committed in exploring their built environment. And… it's fun!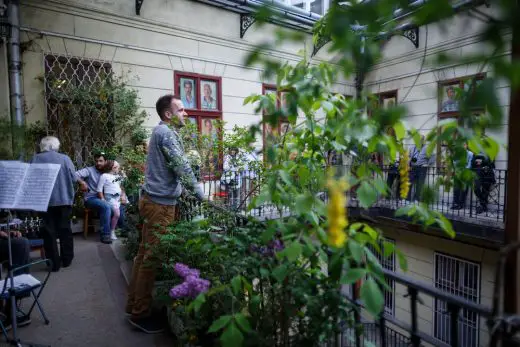 photo © Gergely Schöff, 2016
About Budapest100
Budapest100 is a spring weekend celebration of the people and buildings around us. The event was founded in 2011 by the Open Society Archives and the KÉK Contemporary Architecture Centre. Budapest100 emphasises the common values of the city's inhabitants and aims to bring together people from varied backgrounds in the preparation of the event.
Pay Attention to Built Heritage Budapest100 images / information received 040222
Location: Budapest, Hungary, central eastern Europe
Budapest Architecture
Budapest Architecture Designs
Paris Court
Design: building renovation by KROKI and architecture studio ARCHIKON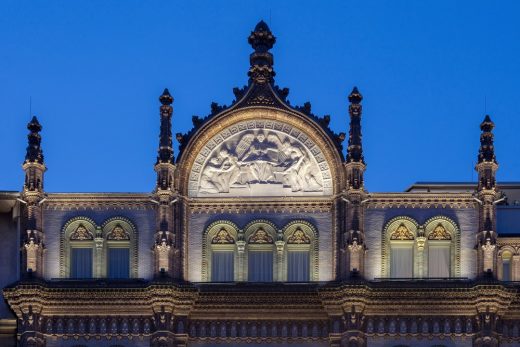 photo : Tamás Bujnovszky
Paris Court Budapest
The Duna Arena
Design: NAPUR Architect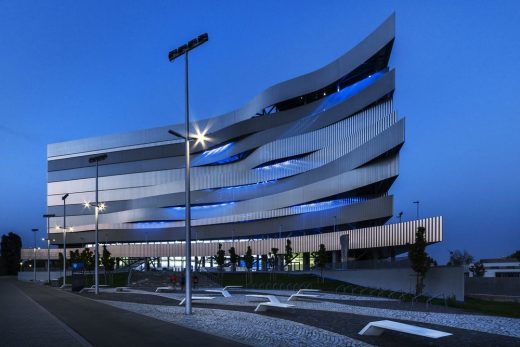 photo © Tamás Bujnovszky
The Duna Arena in Budapest
Budapest M4 Metro Station Buildings
Design: Palatium Studio architects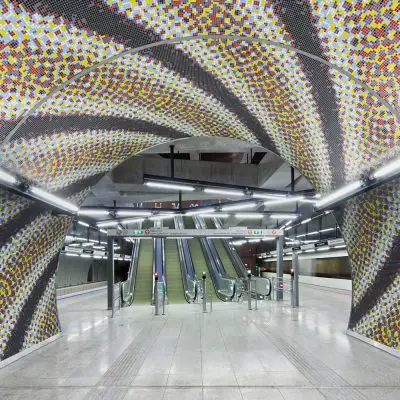 photo © Tamás Bujnovszky
Budapest M4 Metro Station Buildings
Hungarian Autoklub Headquarters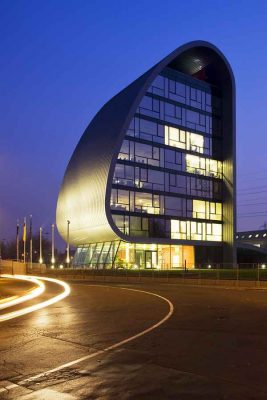 photograph © Tamás Bujnovszky
Hungarian Autoklub Headquarter
Budapest Architecture Walking Tours
Hello Wood Festival Designs
Hello Wood International Summer University and Festival
Nepsziget Budapest Masterplan
Nepsziget Budapest Masterplan
Hungarian Architect – architectural firm listings on e-architect
Comments / photos for the Pay Attention to Built Heritage: Budapest100 Architecture in Hungary page welcome