Budapest Metro M4, fairfaced concrete, Fovam ter, Szent Gellert ter, Kalvin ter, Bikas Park, Architecture
Budapest M4 Metro Stations News
Cut and Cover Development in Capital of Hungary design by Palatium Studio Ltd., Architects
10 May 2018
Award for M4 Metro Line Budapest
RIBA Awards for International Excellence 2018
The Royal Institute of British Architects (RIBA) has announced the winners of the RIBA Awards for International Excellence and the 2018 RIBA International Emerging Architect, including M4 Metro Line Budapest by FŐMTERV-PALATIUMUVATERV Consortium with Budapesti Építőművészet Műhely, Gelesz és Lenzsér, Puhl és Dajka, sporaarchitects, VPI Studio, Hungary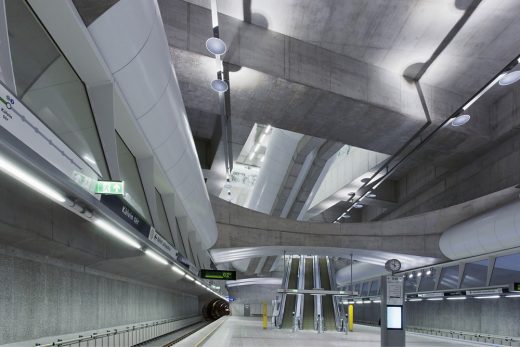 photo © Tamás Bujnovszky
Award for M4 Metro Line Budapest
13 May 2016
Budapest M4 Metro Stations Design
Location: (Officially: M4, South Buda–Rákospalota (DBR) Line, Unofficially: Green Line), Budapest, Hungary
Budapest M4 Metro Stations
Design: by Palatium Studio Ltd.
DESIGN NAME:
Budapest M4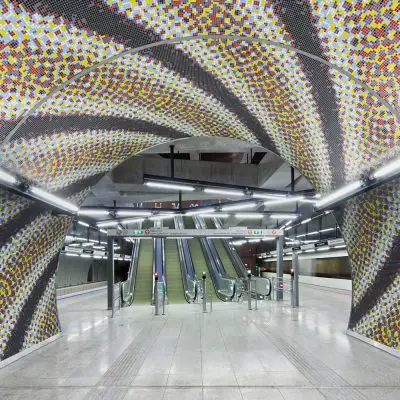 PRIMARY FUNCTION:
Metro Stations
INSPIRATION:
Budapest Metro Line M4 has been the largest infrastructure project of the city for the last decades. The architects aimed to provide attractiveness for public transportation through the new aesthetics and high architectural quality of a series of new public spaces in Budapest. This has met the expectations of the Client, Budapest Transport Ltd. DBR Metro Project Directorate, from the first moment.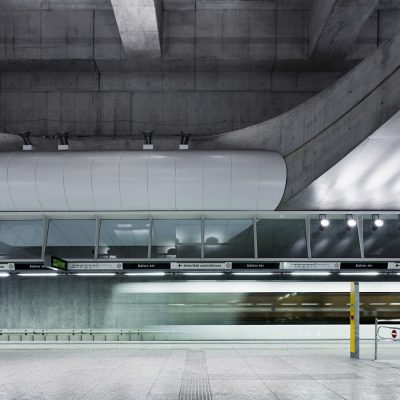 UNIQUE PROPERTIES / PROJECT DESCRIPTION:
The stations of Budapest M4 can be regarded as one building of ten wings, where each wing has its own atmosphere. Palatium had a primary role in defining architectural tasks of handling spaces, functions and materials. However, five architect offices (Palatium Studio Ltd., Budapesti Muhely Ltd., Gelesz and Lenzser Ltd., Puhl and Dajka Ltd., sporaarchitects Ltd.) were responsible for the unique design of the individual stations, which are results of experiments with space, structure and light.
OPERATION / FLOW / INTERACTION:
While providing attractiveness and high quality architectural environment for public transport, the project serves sustainable urban life. The renewal of the public urban spaces on the surfaces of metro stations could bring new elements for the pedestrian network. On that way, together with other urban programs, the construction of Budapest M4 could serve as an essential element of urban renewal of the inner city areas, too.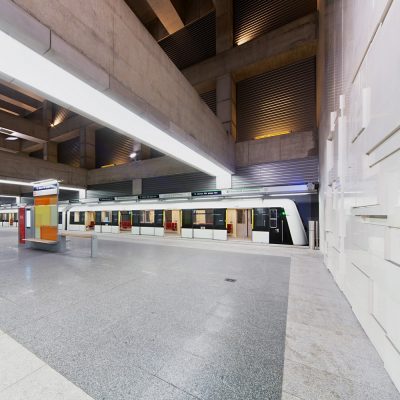 PROJECT DURATION AND LOCATION:
The project started in 2004 with a design competition and the new metro line was opened to the public in March 2014.
PRODUCTION / REALIZATION TECHNOLOGY:
Main construction technologies have been cut-and-cover boxes bordered by diaphragm walls, divided into two or more levels by horizontal beams, slabs or pressed rings. To use the possibilities of the large open spaces, there are smaller or larger openings for the natural light from the surface, ensuring that stations enjoy an atmosphere of free, airy spaces. Fairfaced concrete is used widely for the primary structures, while those elements, close to travellers are in a finer human scale.
SPECIFICATIONS / TECHNICAL PROPERTIES:
Stations of Budapest M4 Metro Line: 01 Kelenfold 02 Bikas park 03 Ujbuda-kozpont 04 Moricz Zsigmond korter 05 Szent Gellert ter 06 Fovam ter 07 Kalvin ter 08 Rakoczi ter 09 II. Janos Pal papa ter 10 Keleti palyaudvar The stations range between 6000-18000 square meters each.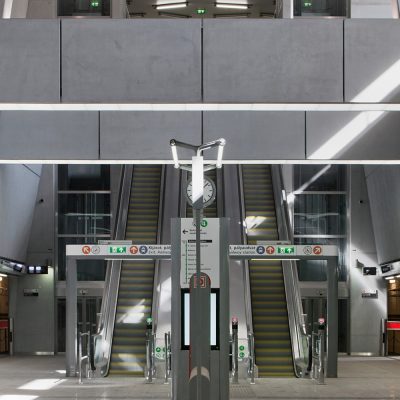 RESEARCH ABSTRACT:
Research on passenger flow from and towards station exits and the most important transfer points on the surface were definiteive for the general layout of metro stations.
CHALLENGE:
During the design process architects made a strong effort to find optimal solutions among the requirements of construction technologies, transport technologies and the creature of artistic architectural spaces. Also the strict safety regulations especially on fire protection were a challenge to meet. Nevertheless, it was functionality that basically defined architectural solutions.
TEAM MEMBERS:
Zoltan Ero, Balazs Csapo, Tamas Devenyi, Andras Gelesz, Peter Dajka, Mate Antal, Dora Bruckner, Zsolt Kosztolanyi, Peter Istvan Varga, Adam Hatvani, Tibor Dekany, Sandor Finta, Orsolya Vadasz, Adam Veres, Zoltan Toth, Laszlo Roman, Zoltan Zorkoczky, Klara Szilagyi, Biljana Jovanovics, Janos Schulek, Laszlo Kovacs, Tamas Banyai, Tamas Komoroczky, Marton Bojti, Andrea Hegedus, Gyorgy Jovanovics, Katalin Fabry, Zoltán Krizsan and others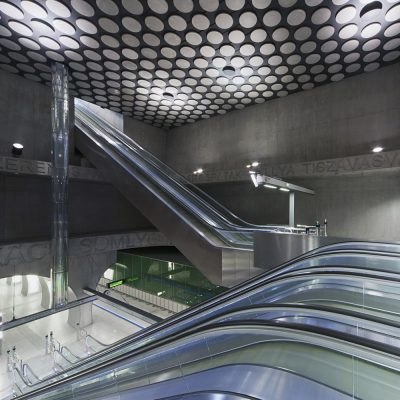 IMAGE CREDITS:
Photographer: Tamas Bujnovszky
STUDIO:
Palatium Studio Ltd.
PROFILE:
Budapest M4 Metro Stations were designed by a network of architect offices under the general leadership of Főmterv-Palatium-Uvaterv Consort. Architects in charge for individual stations: 01-Kelenföld vasútállomás (Palatium Studio Ltd., VPI Építész Ltd.) 02-Bikás Park Station (Palatium Studio Ltd.) 03-Újbuda Központ Station (Palatium Studio Ltd.) 04-Móricz Zsigmond körtér Station (Gelesz and Lenzsér Ltd.) 05-Szent Gellért tér (sporaarchitects Ltd.) 06-Fővám tér Station (sporaarchitects Ltd.) 07-Kálvin tér Station (Palatium Studio Ltd.) 08-Rákóczi tér Station (Budapesti Műhely Ltd.) 09-II János Pál pápa tér Station (Puhl and Dajka Ltd.) 10-Keleti pályaudvar Station (Gelesz and Lenzsér Ltd.)
Visit the following page to learn more: http://palatiumstudio.hu/
AWARD DETAILS
Winner – Budapest M4 Metro Stations by Palatium Studio Ltd is Winner in Architecture, Building and Structure Design Category, 2015-16.
Budapest M4 Metro Stations images / information from A' Design Awards
Budapest M4 Metro Stations – A' Design Awards & Competition Winner
Location: Fővám tér, Budapest, Hungary, central eastern Europe
Architecture in Hungary
Contemporary Architecture in Hungary
Budapest Architecture Designs – chronological list
Budapest Architecture Walking Tours – city walks



photo © Tamás Bujnovszky
Museum of Ethnography in Budapest – 3rd Place
Design: Graeme Massie Architects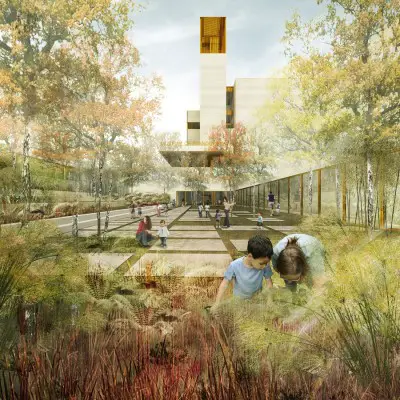 image from architect
Museum of Ethnography in Budapest Building
Liget Budapest Competition – 9 Nov 2015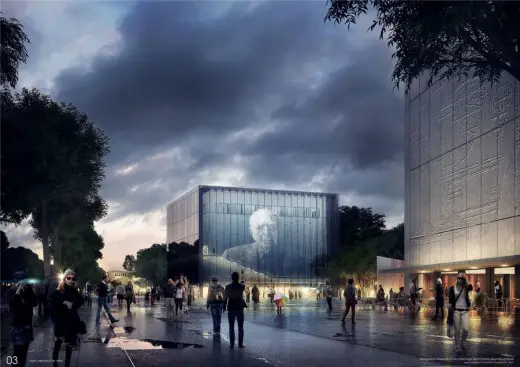 image from architects
Nepsziget Budapest Masterplan
Design: Povall Worthington, architects



image from architect
Nepsziget Budapest Masterplan
Budapest Architecture



image © EEA
Website: Line 4 Budapest Metro
Comments / photos for the Budapest M4 Metro Stations Architecture page welcome