57 Coronation Drive Brisbane Quay Street Precinct, Queensland Apartments, Maple Development Group QLD
57 Coronation Drive, Brisbane City
22 June 2020
57 Coronation Drive, Brisbane City, Queensland
Architects: Rothelowman
Location: Quay Street Precinct, Brisbane CBD, Queensland, Australia
Subtropical mixed-use development approved for Brisbane's Quay Street Precinct
A new subtropical residential, tourism and lifestyle hub at 57 Coronation Drive by Maple Development Group has received the green light for Brisbane City's Quay Street precinct, with development approval granted by a full council meeting on Tuesday 16May, following recommendation of the planning committee.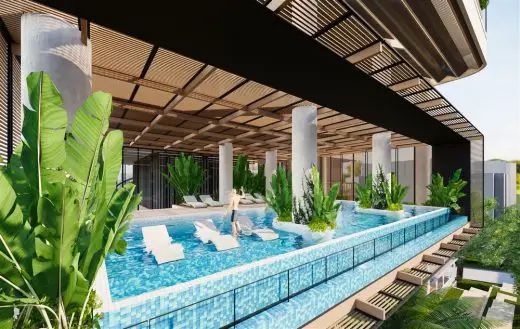 Located on a 3,114 square metre site, the project will deliver 255 premium residential apartments, a five-star serviced apartment building, premium commercial offices and podium-level shopping and dining across two 30 and 35-storey buildings.
Maple Development Group Development Manager Gilbert Zhu welcomed the approval and said the project would honour Brisbane's unique riverside lifestyle and extend this new vibrancy into the Quay Street precinct, creating a new destination for future residents, visitors and locals alike.
"Brisbane has in recent years experienced a period of evolution and significant growth, primarily focused on quality riverfront amenity and experiences, which make the most of the city's climate and riverine landscape," Mr Zhu said.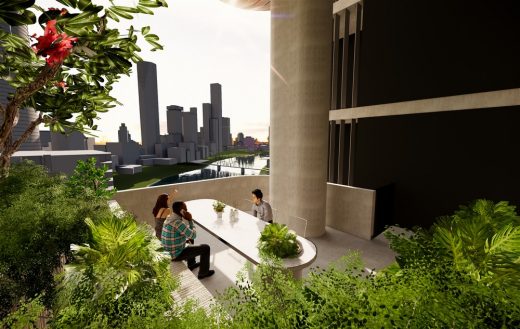 "The project team led by Urbis, engaged extensively with Brisbane City Council through its DesignSMART collaborative design process to ensure the project is a positive addition to the local economy, property market, city skyline and most importantly would fit the vision for Brisbane's future.
"As developers we are grateful for the opportunity to collaborate with Council in this way. " The public realm will reconnect Brisbane's residents with one of the city's oldest heritage buildings, Davidson's Residence, built in 1868 and hidden for decades at the rear of the site's existing commercial building.
Davidson's Residence will be carefully and respectfully refurbished, and given new function in the 21st century as the reception for the serviced apartments, once again becoming part of the riverside streetscape.
Rothelowman Principal Jeff Brown, who led the project design, said the Queensland-inspired subtropical design closely followed Brisbane City Council's New World City Design Guide: Buildings that Breathe.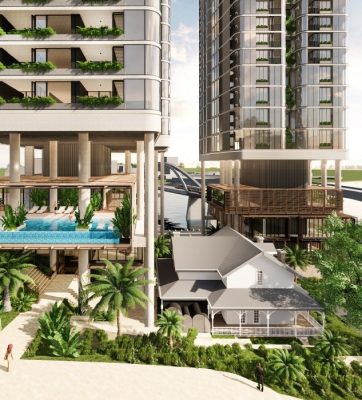 "The project's residential apartments will introduce a new level of luxury living to the area, with premium facilities and green spaces which make the most of river and city views, including swimming pool, gymnasium, multiple private and communal sky gardens and rooftop recreational spaces," Mr Brown said.
"Brisbane City Council's Buildings that Breathe guidelines were a fundamental driver for the design. The inclusion of multiple initiatives that embrace Brisbane's climate through extensive vertical greening, sky gardens, passive ventilation, building shading and robust materiality ensure the project will be a strong contributor to the future of our City.
"This project represents the future of the Quay Street precinct and we hope to set a design precedent for future development in the area."
Urbis Director of Planning Ben Lyons said the project has already become an exemplar for 'good development'.
"This project responds to its context and gives back to the City through the provision of generous public realm," Mr Lyons said.
"The design not only respects the heritage significance of Davidson's Residence as a reminder of our past – it also exemplifies, at this important gateway location to the CBD, our future as a design-led City with a distinctive identity."
The project boasts proximity to Roma Street Station, Caxton Street, Suncorp Stadium, the future Brisbane Live precinct and South Brisbane via the Go Between and William Jolly Bridges.
The project is being developed by Brisbane-based company Maple Development Group, which has had previous success in creating successful residential and commercial projects in Southeast Queensland since 2015. For more information, visit www.57coronationdrive.com.au
Previously on e-architect:
18 Feb 2020
57 Coronation Drive, Brisbane City, QLD
Architects: Rothelowman
Location: Quay Street Precinct, Brisbane CBD, Queensland, Australia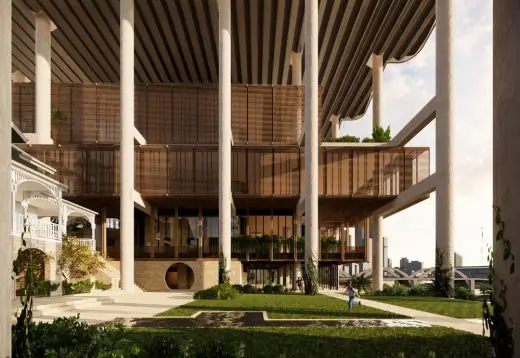 Proposed development design captures Queensland's subtropical lifestyle
18th of February 2020 – A contemporary 'subtropical design' characterised by Brisbane's culture of outdoor living is at the heart of a $200 million mixed-use development proposed for the CBD's Quay Street precinct.
The project, proposed for 57 Coronation Drive, was designed by the Brisbane studio of national architecture firm Rothelowman and is expected to reinvigorate a key part of Brisbane's City Centre with a world-class residential and lifestyle precinct.
The concept for the 3,114 square metre site incorporates 255 premium residential apartments, a five-star serviced apartment building, premium commercial offices and podium-level retail, hospitality and entertainment options.
Rothelowman Principal Jeff Brown led the design with an intention to create a precinct which represented a truly local 'Brisbane' experience for residents and visitors alike.
"The site provides a unique and quintessentially 'Brisbane' setting, and our design response utilises an understanding of the history of the city to define a contextually responsive future," Mr Brown said.
"57 Coronation Drive allowed for the perfect opportunity to design something that is embedded deeply within the historical and cultural narrative of the city."
The design incorporates a podium architecture that emphasises shade, texture, and a generous sense of landscape through the layering of a series of modestly scaled, elevated pavilions.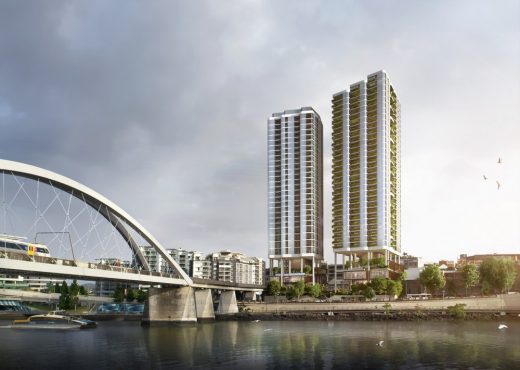 "The distinctive design approach enables the experience of moving through the site to evoke the feeling of being in the cool of an undercroft beneath the building," Mr Brown said.
"Much like the elevated stumps which define the classic 'Queenslander' house, the project's towers would sit atop a series of pavilions that would provide natural light and air movement while creating a visual connection between Quay Street and the Brisbane River.
"Landscape integration also plays a large part in the project narrative with both the podium and towers being rich in layered gardens and integrated planters.
"All of the public and communal spaces have been created as areas to engage with the subtropical setting of greenery."
If approved, the design would replace an existing commercial building and succeed a previouslyapproved design for the site, introducing an architectural outcome more focused on public benefit.
A 2,118 square metre publicly-accessible realm would open up a previously overgrown and underutilised area, forming more than half of the site area at ground level.
A series of connected open spaces would feature a sprawling lawn, water features, subtropical landscaping and plazas.
"The publicly-accessible realm would serve the greater public, providing a 24-hour access, cross block link that that will allow a safe path for foot traffic to flow directly between Quay Street, Coronation Drive, the Go Between Bridge and William Jolly Bridge," Mr Brown said.
"The open space would also provide generous access for people interested in visiting the hospitality, retail and commercial offerings at the project's lower levels.
"The combination of the open green space, on-site entertainment offerings and 24-hour connectivity for pedestrians are significant steps towards transforming 57 Coronation Drive into a meaningful hospitality and lifestyle hub."
Mr Brown said the project utilised Brisbane City Council's New World City Design Guide: Buildings that Breathe as a key driver of the design process.
"The guidelines were established to provide clear direction in ensuring Brisbane's long-term development will deliver sustainable, highly liveable outcomes," Mr Brown said.
"By focusing on a local approach to a 'Brisbane architecture' the desirability for both residents and visitors will ensure a more sustainable future for the City."
The project site also includes one of Brisbane's oldest heritage buildings, Davidson's Residence, which was originally built in 1868.
Rather than separating the colonial building from the project, Rothelowman's thoughtful design has uniquely awarded it new function in the 21st century, as a refurbished hotel lobby with reclaimed views of the Brisbane River.
"Heritage setting is about much more than reproducing the aesthetics of what was, but also attributing equal importance to location and relationship to context," Mr Brown said.
"Our specific design challenge was to strike the right balance between preservation of Davidson's Residence as an artefact of Brisbane's past, while providing functionality which breathes new life into a lost part of the surrounding precinct.
"By providing a functionality which is aligned with the building's original uses – one of the longestserving residential and accommodation spaces in the city – further maintains a continuity into the future directly linked to its past."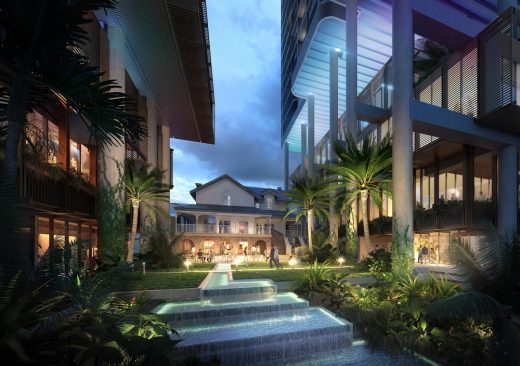 About Rothelowman
At Rothelowman, we engage in radical exploration to find extraordinary solutions. As pioneers in the field of architecture and design we are ever evolving our practice, people and market through the award-winning projects we deliver for Australia's premier private and public organisations.
Rothelowman brings more than 25 years' experience to bear on 57 Coronation Drive. Our team applies an award-winning track record of innovative solutions to deliver highly commercial, intelligent designs. 57 Coronation Drive will enhance the urban environment, add value to the natural landscape and stand the test of time as a unique and authentic human environment.
About Maple Development Group
Maple Development Group was established in Brisbane in 2015 with the aim of creating residential projects that shift the benchmark for apartment living far above market expectations. Maple Development Group brings to its projects a foundation of international expertise and a forwardlooking appreciation of the bright prospects for Southeast Queensland.
The project at 57 Coronation Drive, Brisbane proposes 255 premium residential apartments, a fivestar serviced apartment tower, premium commercial offices and podium-level retail and entertainment options. It envisages a new future for the Quay Street precinct in Brisbane's CBD through the delivery of world-class design, greater connectivity and a celebration of the city's rich history of riverfront living and entertaining.
57 Coronation Drive Brisbane, Quay Street Precinct, Queensland images / information received 180220
Location: Brisbane CBD, Queensland, Australia
Australian Architecture
Brisbane Architecture Designs – chronological list
B&B Residence, Paddington
Architects: Hogg&Lamb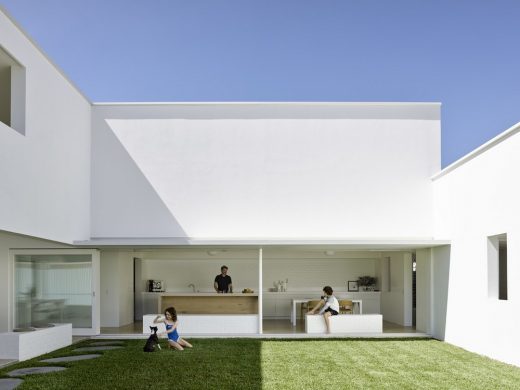 photo : Christopher Frederick Jones
New Residence in Paddington
Clear Water Bay Avenue House, Clear Island Waters, Gold Coast, Queensland
Design: Superdraft Architects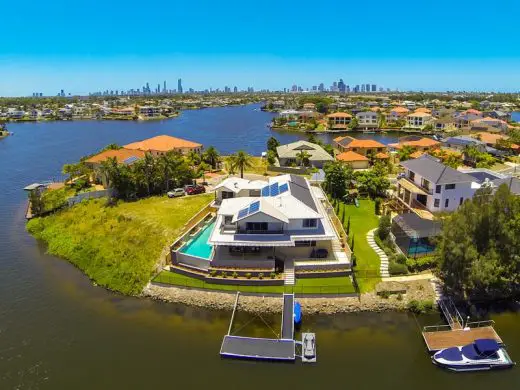 image from architects
Clear Island Waters House
Minimalist Monochrome Glasshouse, Noosa, Sunshine Coast
Design: Sarah Waller Architecture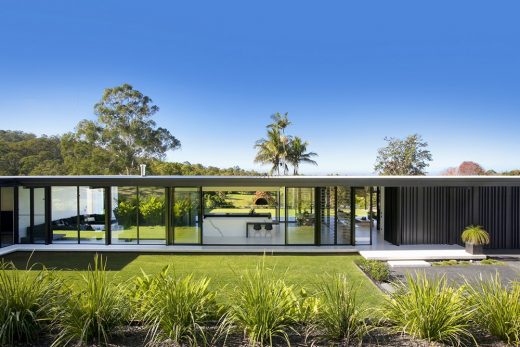 photography: Paul Smith Images
Noosa Property
Australian Houses – key new properties across the country
480 Queen Street
Design: BVN Architecture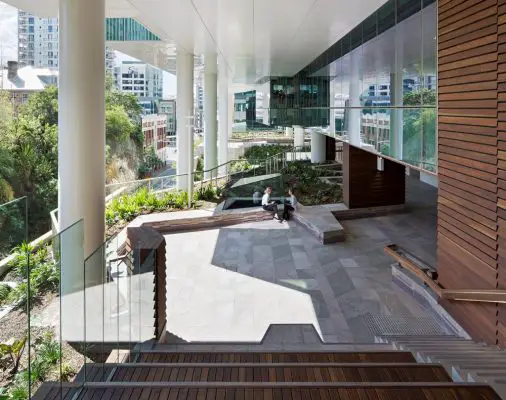 photo from architects
New Brisbane Office Building
Queensland Sport and Athletics Centre Building
Architects: BVN



photo from architects
Queensland Sport and Athletics Centre Building
Comments / photos for the 57 Coronation Drive Brisbane, Quay Street Precinct, Queensland page welcome