International Alphabet For The Future Architectural Competition Series, Architecture Contest Call For Entries
Alphabet For The Future 2020
22 June 2020
Call For Entries: Alphabet For The Future
WHAT NOW?
ALPHABET FOR THE FUTURE
Matteo Cainer is launching a new curatorial initiative, an international OPEN CALL to all Architecture Graduates of 2020, to imagine and sketch a new extraordinary world capable of transforming the pandemic crisis into an opportunity to foster new lines of thinking, innovation and research. Envisioning radical strategies and alternative behavioural models for the future of our cities will provide an opportunity to question our current mode of living and create a new resilient global narrative.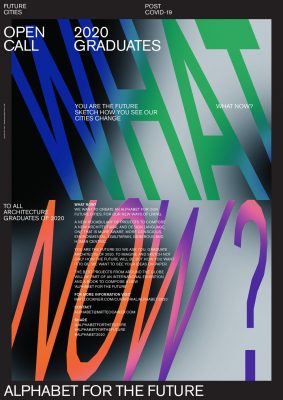 The graduating class of 2020 has been asked to change their long-standing routines of education, to work and learn remotely, and to graduate in their rooms. Yet they rose to the challenge! We admire their strength, their will, their passion and perseverance in such extraordinary times. We believe, therefore, that it is time to give back to them, because the future IS an opportunity and we want them to be able to seize it and to make their voices heard on the world stage.
It is for this reason that Matteo Cainer is launching this 'Call to action' specifically to the 2020 Graduates. This is their opportunity and their moment to put forward their ideas and their visions. He is asking them to imagine and sketch not only how the future will change, after the pandemic, but how they WANT IT TO CHANGE.
One thing is clear: in these times of uncertainty, we need to anticipate, evolve and transform our urban and collective spaces, internal environments and objects of use, by not only decorticating old models and welcoming hybrid negotiations with new realities, but generating new paradigms of living that integrate nature and social thinking into our designs. Enhancing the humanity of projects and fostering a comprehensive sensibility and active social empathy will help us create the necessary foundations to build alternative and more generous human-centric solutions.
The aim is to move beyond the current scene, dominated by cyberspace, video simulation and the fashionable image parade and instead promote the 'sketch' and its power to clearly convey innovative ideas and revolutionary concepts. In this pause of accelerated online immersive environments we want to illustrate how the power of a simple idea can be a catalyst for future change. Graduates have free rein to choose their focus of interest in how they think the pandemic will inform and should inform our imminent new way of living.
The best works from around the globe will be part of a curated international exhibition that aims to create a new Alphabet for the Future: a fresh architectural and design language to compose an unprecedented  vocabulary of ideas for a more equitable way of living, one that is more aware, responsible, conscious, environmental, egalitarian, generous and human centric.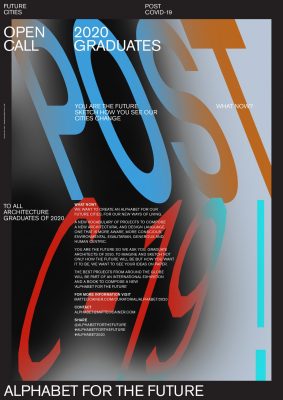 All Architecture Graduates of 2020 are invited to go to:
Matteocainer.com/curatorial/alphabet/2020
Contact:  [email protected]
Credits:
Curator: Matteo Cainer
Poster Design: Design by Toko
Contact: [email protected]
Details: www.matteocainer.com/curatorial/alphabet/2020
Instagram: @alphabetforthefuture
#alphabetforthefuture #alphabet2020
Alphabet For The Future 2020 information / image received 220620
Architecture Competitions
Current Architectural Competitions Selection
Tomb of Waste Architecture Competition

Tomb of Waste Architecture Competition
'RETHINK: 2025' Design Competition
RETHINK: 2025 Design Competition
Call For Submissions: Sustainable Revolution
Call For Submissions: Sustainable Revolution
WAF / PechaKucha 'Isolation Transformed' Design Competition
Isolation Transformed Design Competition
Kaizhou New City International Young Designer Competition, Sichuan, China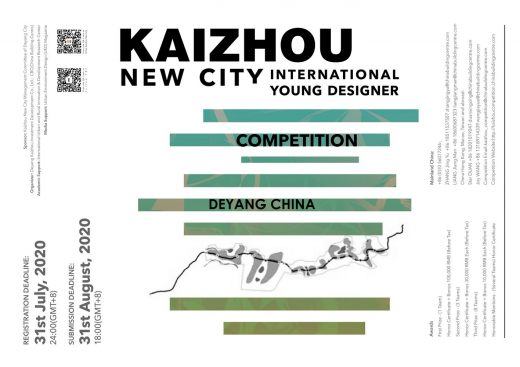 Kaizhou New City International Young Designer Competition
Comments / photos for the Alphabet For The Future 2020 page welcome