BARRY Bar Berlin Photos, Rebecca Brodsky, Rosa-Luxemburg-Strasse Club, Mitte Disko
BARRY Bar Berlin Nightclub
Rebecca Brodsky Nightclub: Nightlife Building Germany design by Kristina Wiese & Franziska Lindholz
16 Nov 2018
BARRY Bar in Berlin by Rebecca Brodsky
Design: Architects Kristina Wiese & Franziska Lindholz
Location: Rosa-Luxemburg-Straße 20, Mitte, Berlin, Germany
BARRY Bar Berlin Nightclub by Rebecca Brodsky
As Berlin's hottest new party spot, BARRY pays homage to the Studio 54 nightclub days, long before techno took over.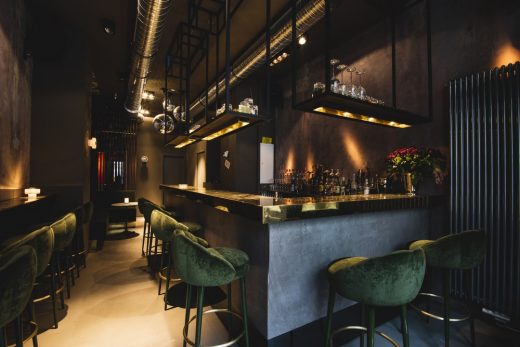 Photos by Chris Kratzmann
Located in the heart of Mitte, BARRY offers classic cocktails, house specialties and a music playlist that is everything but techno. "We'll be playing mostly 1960s, 1970s and 1980s music to bring back the glamour era of Studio 54," said BARRY owner Rebecca Brodsky. "I want to bring more glamour into the Berlin nightlife scene; no more 'fucked up 1990s' interior but more sophisticated like the places in London Mayfair."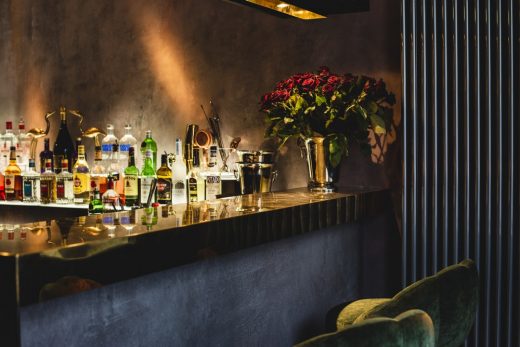 Rebecca Brodsky is a Berlin nightclub impresario who spent 5 years running the now-defunct LARRY club before opening this brother bar BARRY. This new bar is meant to show Berliners how glamorous nightlife can be with a 1970s disco throwback in a Studio 54inspired space. "There ain't no 'place to be' anymore," said Brodsky. "And by that, I mean a place that combines celebrities, Berliners, visitors, old and young guests."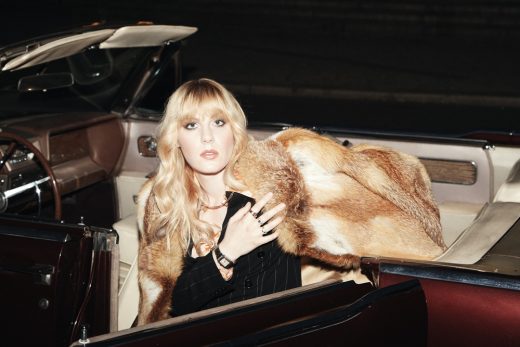 This new bar and dancing spot will have a rock and disco vibe: "I only play the music that I really like," she says. "That means anti-techno, I want my costumers to dance like it is 1973."
Q&A with Rebecca Brodsky
Why do you have a no techno policy?
Honestly, there are already enough bars and clubs that play that kind of H&M-background tunes (I'm sorry to say) but the last thing Berlin needs is another Mini-Berghain.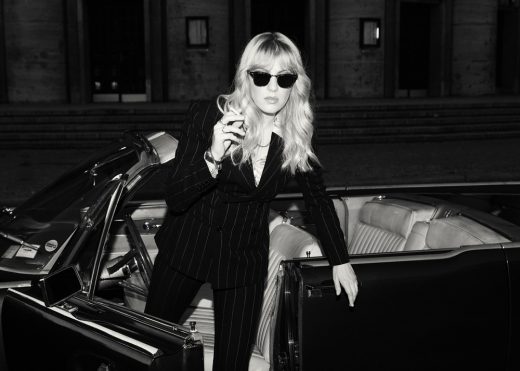 Will this be a retro club? 1970s? What kinds of music and DJs?
Not quite. It certainly has a modern twist but with the mission to show Berliners how glamourous nightlife works based on 1970s disco lifestyle. The music program will mostly feature classic disco tunes and furthermore some of my non-techno DJs from my former nightclub, Larry.
Why is it important for Berlin to have its own Studio 54-type club?
Because there ain't no 'place to be' anymore. And by that I mean a place that combines celebrities and normal people. That combines old and young guests. And a front door policy where the more they tell them they can't get in the more they want to.
Who are the architects and interior designers?
Franziska Lindholz (Interior Design), Kristina Wiese, Manuel Schubbe (Architects), Svenja Frisch (Site Manager, Interior Design for the basement)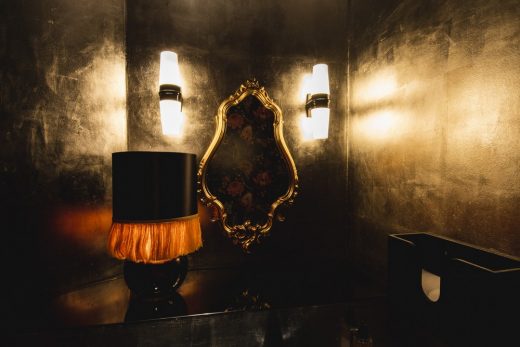 What was the look you were going for?
The inspiration started by choosing the right bar stools. I knew it must be an emerald green velvet stool which I finally found at Portuguese manufacturer MUNNA. They mostly furnish grand hotels like Mandarin Oriental, so I got in their very long waiting line. More ideas came by hanging in fancy over-designed bars in London Mayfair and New York.
What is Berlin nightlife missing?
Good bar staff. You only find them in hotel bars or partly in restaurants. In the trendy nightclubs/bars mostly very young but unambitious people who do not really care about their guests.
What is on the cocktail menu, any special house drinks?
Especially the classics like a perfect Dirty Martini. And we are currently working on a cocktail tasting menu. There are going to be three smaller glasses with surprise cocktails.
How do you feel about how Mitte is changing and are you a part of it?
Definitely. And I do support it's change. There is still so much to develop, especially in gastronomy. When you come to visit other cities, not only London or New York but even Munich or Hamburg, it is not that monotone like in Berlin.
What is the biggest challenge of being a woman nightclub owner in Berlin?
Actually I really learned to handle it during the last few years. But there are still some people especially guests who ask me if they can speak to my supervisor.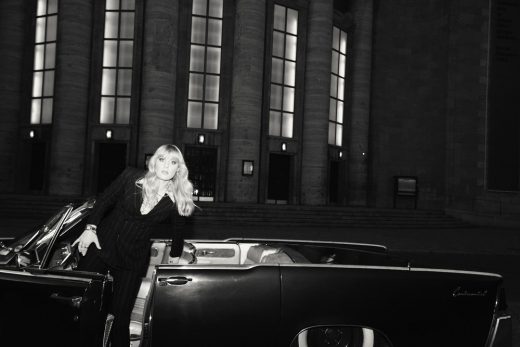 Photos : Chris Kratzmann
BARRY Bar – The new anti-techno bar in Berlin
An ode to the Golden Age of Hollywood with a Studio 54 spin, BARRY Bar is Mitte's latest hotspot by Larry Club's Rebecca Brodsky.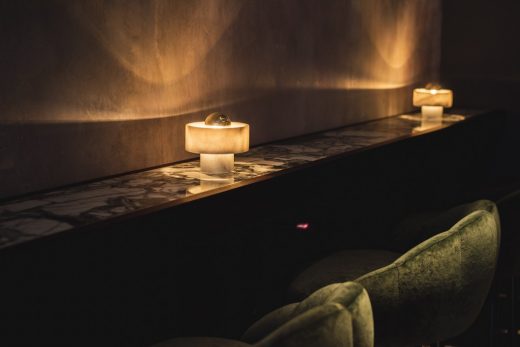 Interior
The interior design is courtesy of Herrendorf interior designer Franziska Lindholz, who has brought an elegant, upscale vibe to the sweet and simple bar interior. With a smart modern twist, the steel bar is surrounded by emerald velvet chairs, grey walls and a cluster of disco balls. The inspiration was "chic and cozy."
Next Party
Rebecca's Black Tie Birthday Bash
December 1, 2018
RSVP
Address
Barry Bar
Rosa-Luxemburg-Straße 20
10178 Berlin, Germany
https://www.facebook.com/barrydiskobar
Opening hours
Wednesday and Thursday 8 pm to 2 am
Friday 8 pm to 4 am
Saturday 8 pm to 4 am
Owner: Rebecca Brodsky
Architects: Kristina Wiese & Franziska Lindholz
Size: 150 m2
Capacity: 120 people
Bar Manager: Mischa Jank
BARRY Bar Berlin images / information received 151118
https://www.instagram.com/barry.berlin/
Address: Rosa-Luxemburg-Straße 20, 10178 Berlin, Germany
Berlin Architecture
Contemporary Architecture in Berlin
Berlin Architecture Designs – chronological list
Berlin National Gallery building
Neues Museum Berlin development : David Chipperfield Architects
Cube Berlin, Washington Platz
Design: 3XN Architects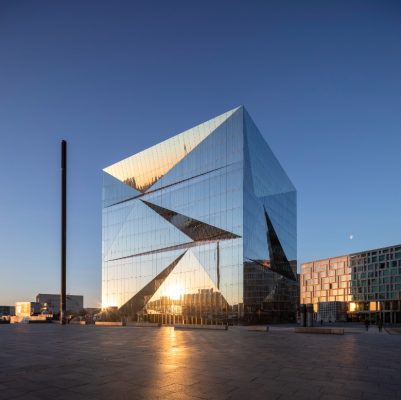 photo © Adam Mørk
Cube Berlin Building
Buildings by this architect
Comments / photos for the BARRY Bar Berlin page welcome