Zlota 44 Warsaw, Poland Tower Building Photos, Architect, Polish High-Rise Development Project
Zlota 44 Warsaw Tower,
New Tower Architecture in Poland design by Studio Daniel Libeskind Architects
29 Sep 2008
Zlota 44 Warsaw
Design: Studio Daniel Libeskind
Type: residential tower
Height: 192m high, 65 storeys
ZLOTA 44 – A SYMBOL OF LIGHT AND HOPE FOR WARSAW
Sep 2008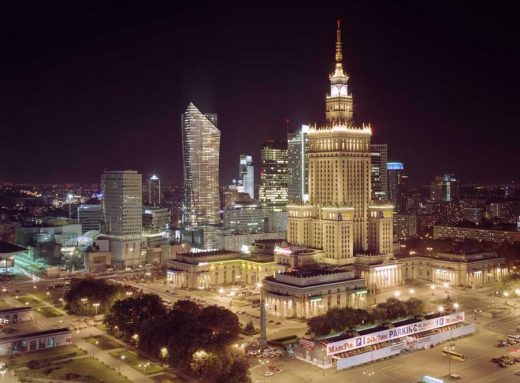 pictures © Aldinger & Wolf
Cornerstone Laying Ceremony for the Flagship Investment Project of Poland's Orco Property Group
Warsaw, Poland (September 26, 2008) – A cornerstone laying ceremony was held today for luxury apartment building Zlota 44, the flagship investment project of Orco Property Group. The event was attended by the two originators of this dynamic project – Jean Francois Ott, President and General Director of Orco Property Group and Daniel Libeskind, world renowned architect and designer of the Zlota 44.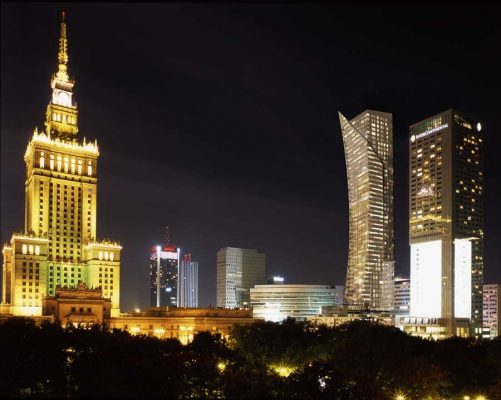 The city of Warsaw was also represented and consecrated by the Metropolitan of Warsaw, Archbishop Kazimierz Nycz as well as city government representatives who have been involved in the project since its inception.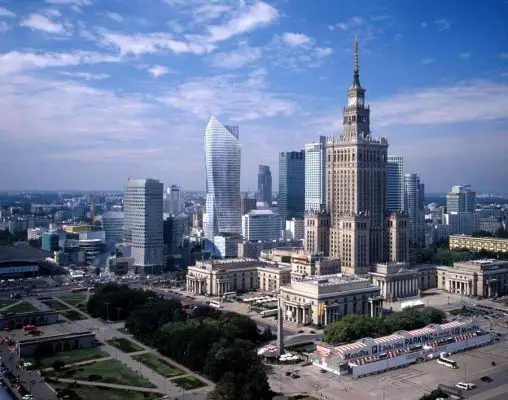 Zlota 44, an impressive 192m high tower, will be a luxury apartment building at the very heart of Warsaw. Dubbed the "Glass Wing" because of its sweeping glass façade and bending walls, Zlota 44 will bring life and brightness to the city center. The impressive, 54-story edifice will house 251 fully finished and equipped apartments with facilities such as concierge service, sun terrace, 25m long steel swimming pool, sauna and spa. Its spectacular form, environmentally friendly technology and ultra modern architecture will make it one of the most innovative and groundbreaking projects ever offered in Poland.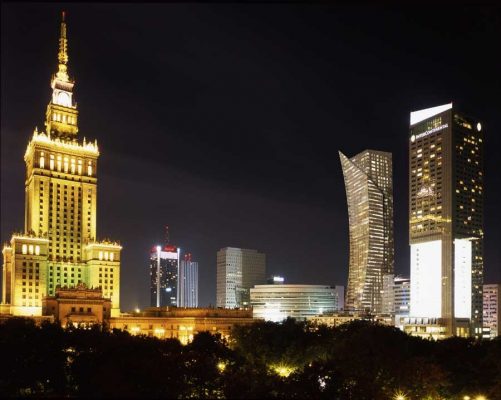 "Building a high-rise residential tower is not just an economic idea; it's also a sustainable idea," said Libeskind. "Zlota 44 has been designed to the optimum level of sustainability and bringing people back to the center and promoting urban life is equally important. This site is just meters away from where my mother lived with her large Hasidic family, I feel as if I've come full circle, in my life, with this project."




images © Studio Daniel Libeskind
"Great cities need great investment projects," said Jean-Francois Ott, President and CEO of Orco Property Group during the event. "When I thought about Warsaw, it was very difficult for me find an artist who would make Orco's vision a reality. All it took, however, was one meeting with Daniel Libeskind and I knew that working with him we could create a truly unique project. A few more meetings down the road I was certain that thanks to him Warsaw would have a very important place in world's architecture. Today, when I look at the impressive pace of construction of this spectacular project and I see Zlota 44 win awards and recognition of international experts I know I was right.
"Zlota 44, as the embodiment of a new way of architectural thinking, is special for us. As Orco's flagship and strategic project, it defines new directions for our development and reflects our commitment to our every project. The Zlota 44 project is also a tribute to Polish history. With our joint efforts, a building like no other is coming into being at the very heart of the city. Orco's and Daniel's shared success is evidenced by the great popularity and commercial success of the project. Such confidence demonstrated by the clients is more than any investor can dream of. I am proud that Zlota 44 will become a symbol of an advanced and dynamic metropolis and the embodiment of ideas that are dear to all of us as well as of the passion for life shared by me and Daniel. I am happy that our project will become a fixture of one of the world's most extraordinary cities – Warsaw. I hope that when we meet here in two years' time you will admit I was right."
During the cornerstone laying ceremony invited guests admired the outstanding progress in the construction of Zlota 44 apartment building. In just two months since receiving a building permit, the following have been completed: the foundation slab, two underground stories and a major part of the ground floor. Also, on the second floor is the reinforced concrete structure that will be the core of the future 54-story building. By the end of October the seventh story will be completed, and by the end of the year work will begin on the residential stories from floor nine upward.





image © Studio Daniel Libeskind
Employing cutting edge construction technologies, Zlota's facade will have thermal performance 20% better than required under Polish construction law. Windows to each apartment can be tilted outward and electronically operated and controlled (by Zlota's Building Management System (BMS) and by the Home Management System (HMS)). This special feature of the building's façade will allow tenants to make use of natural ventilation as an alternative to Zlota's mechanical ventilation and air conditioning systems, thus reducing the apartments' energy consumption. By early October the final façade tests will have been run in specialized laboratories in Belgium to determine such factors as the maximum velocity of wind at which Zlota 44's 865 openable panels will automatically close. Zlota's façade will be installed starting February 2009.
The facade of Zlota 44 will be constructed of two main materials: prefabricated precision engineered glass and aluminum panels, which will be installed using a special installation system to ensure rapid progress. Virtually every panel will have a different and unique shape, totaling all together some 28,000 square meters of façade. This will allow for a play of lights, both natural and artificial, aimed to enliven the building. Daniel Libeskind discussed the symbolic role of light in the building's facade: "Light is a symbol of life and Zlota 44 is, most of all, a tribute to life. Light is also an expression of hope; the history of the capital of Poland is, after all, a tale of hope. What other than hope was guiding the Warsaw ghetto defenders or the Warsaw uprising fighters or those who, against all odds, after the war, decided to rebuild their capital city? Today, watching Warsaw grow so dynamically, I get the feeling that hope still is the major driving force in its history."





image © Studio Daniel Libeskind
Zlota 44 is a striking example of the so called architecture of place. "A sense of place is an inviolable thing, whether you're talking about where a person belongs or what a building should reflect," said Libeskind. "The site for Zlota 44 in Warsaw was familiar to me because I grew up in Post-War Poland. The Palace of culture – that oppressive gift of Stalin – is just across the street. For me, it always cast a shadow of Communism over the city. I decided that the design had to address this particular condition. Zlota 44 brings back the sweep of the Polish eagle, which penetrates the entire building. It's a display of optimism and a celebration of the beauty of Warsaw."





images © Studio Daniel Libeskind
Embracing this principle of place – and Libeskind's ideals of optimism and beauty – Zlota 44 will become an organic element of central Warsaw. This is not a building available only to a chosen few, but a citadel of communal spaces and shared ideals. The design of the tower provides for a dialog with the legacy urban space, offering benefits to all Warsaw dwellers. A neatly designed open-access leisure zone is planned around the impressive tower, aimed to improve the quality of the capital city's public space. This is also where the consecrated cornerstone will be placed within a special box designed by Daniel Libeskind himself.





images © Studio Daniel Libeskind
A number of experts emphasize that Zlota 44 will not only have impact on the character of the capital city's landscape, but will also contribute to revitalizing social life in the downtown area. Most of all, Zlota 44 – a building inspired by the history of the city's rebirth – may well become a new Warsaw landmark with symbolic value, a new signature building of the capital city.
Zlota 44 Warsaw Developer – Orco Property Group
Orco Property Group is a leading investor, developer and asset manager in the Central European property and hotel market. At present, the company is managing assets worth ca. EUR 2.7 bn, as at 30 June 2007. Present in Central Europe since 1991, Orco Property Group is a Luxembourg-based joint stock company listed on the Euronext stock exchange in Paris, Prague Stock Exchange as well as on stock exchanges in Warsaw and Budapest. The portfolio of Orco Property Group includes IPB Real, MaMaison Hotels & Apartments, Viterra Development, Gewerbesiedlungs-Gesellschaft mbH (GSG), Orco Real Estate, Orco MOLCOM and other commercial properties. Orco Property Group runs operations in many countries, focusing on the markets of Czech Republic, Hungary, Poland, Russia, Croatia, Germany and Slovakia. The company is continually exploring expansion opportunities for investment in new areas.


images © Studio Daniel Libeskind
Orco Property Group is also a sponsor and manager of the Endurance Real Estate Fund, a Luxembourg-regulated closed-end umbrella fund with six sub-funds focused on the real estate acquisitions on the office and retail, residential and hospitality market.
Zlota 44 Warsaw images / information from Studio Daniel Libeskind
Location: Warsaw, Poland
New Polish Architecture
Contemporary Polish Architecture
Polish Architecture Designs – chronological list
Warsaw Architecture Walking Tours by e-architect
Polish Architect Offices
Polish Architecture – Selection
British Embassy Warsaw Building
Comments / photos for the Zlota 44 Warsaw Architecture Poland page welcome
Website: www.orcogroup.com