Nou Mercat dels Encants Barcelona Building, Bosquet de les Glories Architecture
Nou Mercat dels Encants Barcelona
New Catalonian Building, Spain, design by Fermín Vázquez, b720 architecture studio
31 May 2013
Nou Mercat dels Encants Barcelona Building
Design: architect Fermín Vázquez, studio b720
Location: Glories Square / axis of the Meridiana, Bosquet de les Glories, Barcelona, Catalunya, Spain
New Market Encants, Barcelona
URBAN CONTEXT AND ARCHITECTURAL PROGRAM AS ESSENTIAL ASPECTS OF DESIGN
Article for e-architect by Milos Stipcic


image showing old and new market positions
The wider zone of the Glories square has drawn lots of attention in the last few years as a transportation hub of Barcelona being at the same time a contemporary architecture hub (with buildings like Agbar tower, Design Hub, Mediacomplex 22@, Diagonal 197 and soon-to-open Encants market). This isn't a surprise having in mind the role and even geometrical significance of Glories square as the core of the urban concept of Barcelona.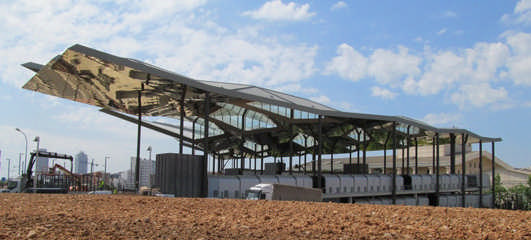 photograph : Milos Stipcic
Studio b720 (named after the international code assigned to architecture) is one of the largest architectural offices based in Barcelona, distinguished with projects like Porto Alegre Waterfront (2011), Gran Casino Costa Brava (2010), Lleida airport (2010), La Mola Conference Center (2008), Plaza del Torico (2008) or Indra offices (2006). A part from their own practice b720 architects are co-authors of many eminent buildings in Spain collaborating with David Chipperfield, Jean Nouvel and Toyo Ito.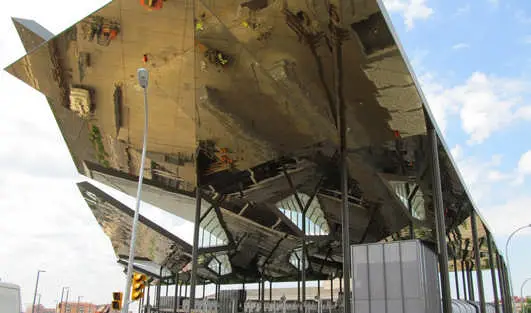 photo : Milos Stipcic
New Market Encants, which will be opened in a few weeks, is the next big project of b720 and probably new emblematic symbol of contemporary Barcelona. Exclusive visit of the building site, guided by Fermín Vázquez the director of the studio and author of the project, gave us insight into new market and b720's work in general.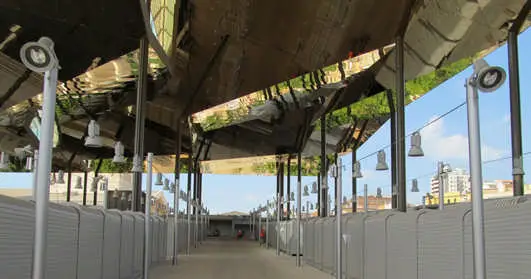 photo : Milos Stipcic
By the words of Fermín Vázquez their work is based on forgetting the style understood as a way to be recognizable or as design calligraphy, but instead trying to answer on what project requested. Furthermore, he describes their approach as systematic one and based on reasoned control of intuition in order to analyze the program, needs and conditions in order to respond in the best possible way.
In times when many branded architectural studios 'produce' designs as conveyor belt products, though-provoking architecture deeply coherent with its environment and purpose most certainly stands out.
New Market Encants is designed as a permanent structure to host one of the oldest flea markets in Europe, originating from 14th century, which was placed on nearby provisional location for the last 85 years. The fact that city of Barcelona chosen such a centric location for new flea market architect sees as an opportunity.
The city is not ashamed of flea market, but on the contrary it celebrates it and the market is a proud, needed and useful part of the city. It is seen as a traditional activity and not a problematic urban artifact. It is one of the first steps of the new centrality which is being generated around Glories square.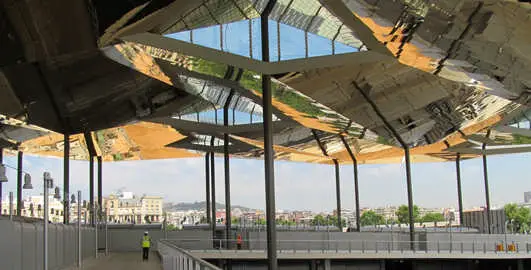 photo : Milos Stipcic
The essence of the design concept is simplicity propagated through two main backbones – preserving the character of traditional flea market and contextuality.
The new market has no walls – it is not a traditional building, but could be defined as an interplay between open and indoor public space. It is a minimalistic frame that marks urban place, consisting of columns that carry the roof, over a series of folded ramps. The continuous surface of street-like folded ramps creates a simple movement path through the building. It is the architectural promenade well integrated into local topography and paved with the same material as sidewalks of Barcelona.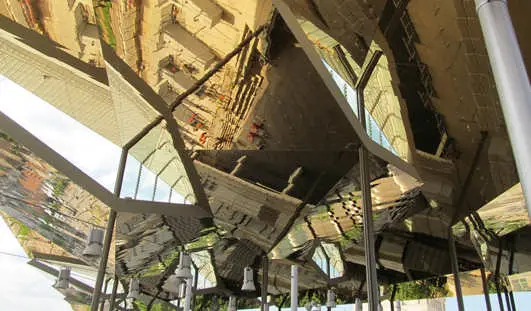 photo : Milos Stipcic
Those inclined inner streets host the main market activity – unpretentiously designed metallic lockers will be used by salesmen as goods sheds, while merchandise will be exposed on the blankets placed in front of each one, typical for the flea market. Building also contains a few stands, shops, restaurant zone and a central multipurpose square just as it was in the old market, while parking and services are placed on two underground levels. Furthermore, building is penetrable form all sides which additionally minifies the shopping mall effect, preserving the spirit of the traditional flea market.
Highlight of the building is sculpturally shaped roof, a fractured surface, consisting of a series of triangles broken by light openings, covered by reflective metal from the inside.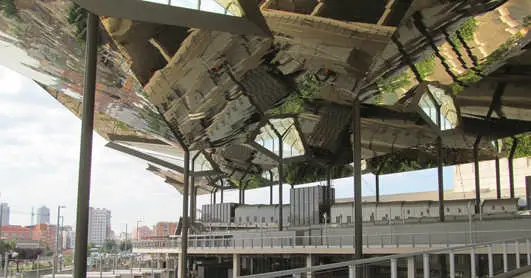 photo : Milos Stipcic
Fermin Vazquez describes the role of the roof as a linking element between the building and the city. While urban environment, surrounding buildings, parks or traffic are reflected and become part of the market, its bustling and chaotic activity is visible from outside. It is a mutual inclusion and visualized belonging, which has important urban role to dignify and identify flea market activity and to give character and identity to the building, a part from functional purpose of the roof as an element which protects the market from sun and rain.
The architect describes highlighting the roof as a usual mechanism of representation of large facilities like markets or train station and as something which gives the appropriate urban scale to these buildings. Still, iconographic character does not present value by itself. It is a mechanism of integration of the activity and its urban context.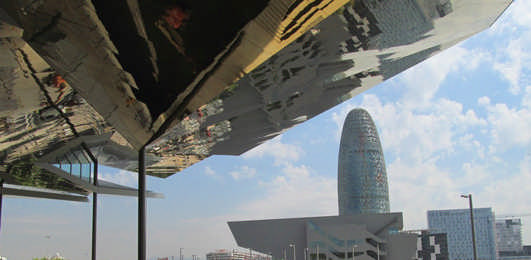 photo : Milos Stipcic
New Market Encants is typologically a new building, without predecessor in the past, in terms of being a permanent structure for the flea market activity, transition between commercial artifact and civic place or a between open and indoor public space. It is flexible and a part of a developing zone, yet firmly related with its environment, while all aspects of design are in the function of dignifying flea market activity and urban place.
Nou Mercat dels Encants Barcelona images / information received 100613
Nou Mercat dels Encants Building : main page on this new Catalan market building



photo © Rafael Vargas
Location: Nou Mercat dels Encants, Barcelona, Spain
Barcelona Architecture
Barcelona Architectural Walking Tours
Buildings close by to Nou Mercat dels Encants:
Barcelona Design Museum
Design: MBM Arquitectes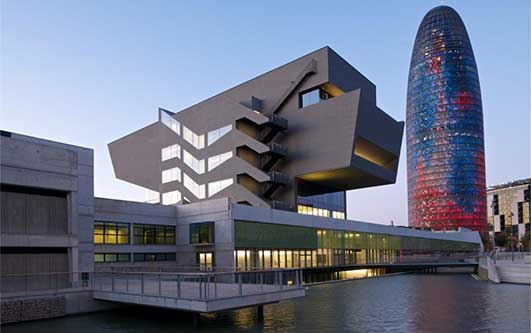 photo © Iñigo Bujedo Aguirre
Another Barcleona market building on e-architect:
Barcelona Architects Studios : Office Listings
Comments / photos for the Nou Mercat dels Encants Barcelona – New Spanish Market Architecture page welcome