Prince Arthur's Landing Lake Superior, Canadian Waterfront Architecture, Images
Prince Arthur's Landing, Canada : Thunder Bay Waterfront
Thunder Bay Building, Lake Superior, Ontario – design by Brook McIlroy
5 Dec 2012
Prince Arthur's Landing Project
Design: Brook McIlroy
Location: Northwestern Ontario, Canada
New Building on Thunder Bay
PRINCE ARTHUR'S LANDING: THUNDER BAY'S SPECTACULAR NEW WATERFRONT DESTINATION
Thunder Bay's revitalized waterfront, which opened in December 2011 and was designed by Brook McIlroy as lead consultant, has been recognized through ten national and international design excellence awards.


image from architects
The Prince Arthur's Landing project has transformed the City of Thunder Bay's waterfront into a mixed-use village and highly animated waterfront park that reconnects the downtown to the shores of Lake Superior. The waterfront officially opened to the public on December 16th, 2011, and has since seen record attendance and continues to be met with overwhelming industry acclaim and community support. To-date, the project has received ten design awards from architecture, landscape architecture and urban design industries, including the Royal Architectural Institute of Canada, the Canadian Urban Institute, the Waterfront Center (D.C.), the International Downtown Association, and the Ontario Association of Landscape Architects, amongst others.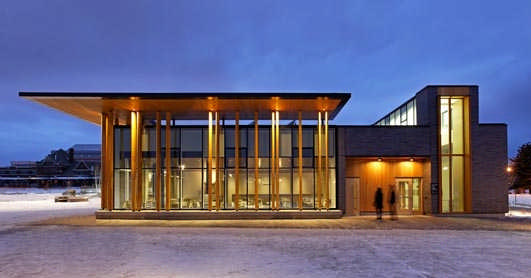 photo : David Whittaker
Commencing in 2006, the City of Thunder Bay commissioned a team led by Brook McIlroy to design its new waterfront to enhance the City's image and high quality of life. With a vision led by urban designers, planners, architects and landscape architects, in conjunction with all levels of government, the project demonstrates innovation in creating activities, forms and spaces that integrate local culture and reflect the uniquely indigenous opportunities of sustainable city building in North America. The redesign of the City's historic port provides residents with a truly unique waterfront destination that embodies the spirit of this spectacular setting.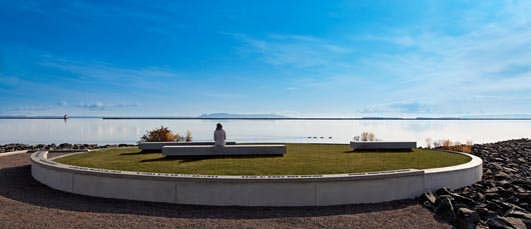 photo : David Whittaker
In 2009, the City was awarded the second largest contribution in Ontario under the National Infrastructure Stimulus Fund program. Through a $22 million investment, the City successfully leveraged a comprehensive revitalization project with a construction value of $120 million, composed of $55 million in public sector funding, along with by $65 million of private sector investment.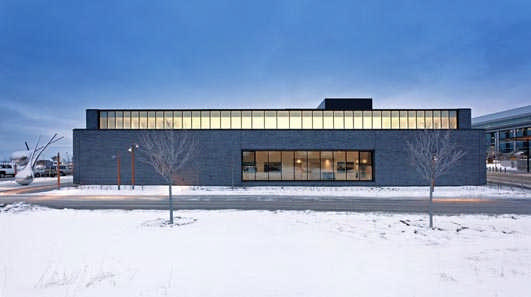 photo : David Whittaker
The project is based on a philosophy of urban design which embodies the spirit, materiality and culture of northern Ontario and this magnificent waterfront setting overlooking "Nanabijou" / the Sleeping Giant – a landform on the horizon, which is one of Canada's most powerful and iconic natural vistas.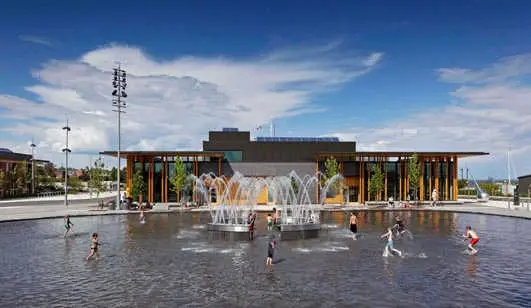 photo : David Whittaker
Inspiration was drawn from thousands of years of aboriginal settlement history; the western threshold of the greatest and largest freshwater 'sea' in the world; the launch-pad of settlement of Western Canada; the junction between the western railways and ships of the Great Lakes; and, the place where western and northwestern Canadian troops bid farewell as they headed off to WWI and WWII.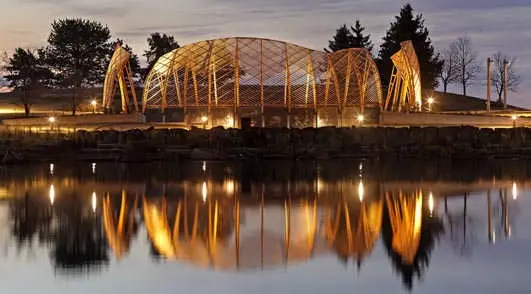 photo : David Whittaker
Key components of the project's public elements include:
An extensive waterfront park network including dedicated trails and a sequence of highly landscaped thematic destinations incorporating water features and $760,000 in public art installations.
Water Garden Pavilion – a public building consisting of 'The Clearing,' a full service restaurant, the 'Mariner's Hall' public event space, and support services for the adjacent water feature which provides winter skating and a summer splash pad.
Baggage Building Arts Centre – a renovated 1900's heritage 'Baggage Building' structure with a two-level addition containing a public art gallery, retail, artisan studios and fine arts teaching areas.
Market Square and Waterfront Plaza – located at the heart of the project, these outdoor spaces provide a beautiful multi-purpose piazza area.
Pond Pavilion – a support building for nearby waterfront recreation activities as well as providing bicycle, canoe, kayak and children's paddleboat rentals.
Skate Board Park – an exciting activity area and source of entertainment for visitors.
Spirit Garden – an outdoor performance/gathering area and rich public park space featuring landscapes and structures which honour Thunder Bay's Aboriginal heritage.
A 276-slip Marina.


image from architects
Private sector components include:
CN Station – a three-storey heritage building that is being renovated and leased to accommodate a high-end restaurant and other amenities that will enhance visitors' experiences.
Market Building – a two-storey building that will house retail, food/beverage and office building uses.
Waterfront Hotel: a 150-room, Delta hotel and conference centre.
Two Condominium buildings with 99 units.
Announced on September 12, 2012, Brook McIlroy was named lead architect for the design of the new Delta Hotel on Thunder Bay's waterfront. The hotel, featuring 9,000 square feet of conference and meeting space, a 5,300 square foot ballroom with waterfront views, and a full service restaurant and lounge, is slated to open early 2014.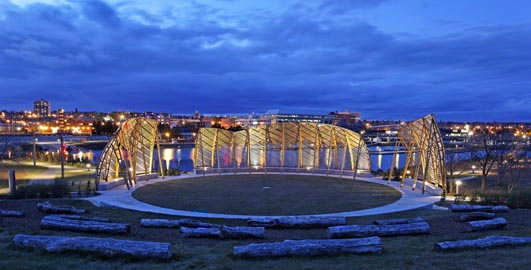 photo : David Whittaker
Prince Arthur's Landing – Building Information
Lead Firm: Brook McIlroy – Architecture / Urban Design / Landscape Architecture / Planning
Intern Architect: Ryan Gorrie
Aboriginal Community Consultation: Aboriginal Strategy Group
Artist: Randy Thomas
Bentwood Column and Trusses (builder): George Price
Consulting Architects: Leonard Alfred Wood Architects
Contractor: Wilco Contractors Superior Inc.
Contractor: KA Vanderzwaag Construction Inc.
Contractor: Man-Shield Construction
Contractor: Tom Jones Corporation
Contractor: Nadin Contracting
Cost Consultants: CM2R / Turner and Townsend
Engineering: AECOM
Engineering: Blackwell Bowick Partnership Ltd.
Engineering: Cobalt Engineering
Engineering: Engineering Northwest Ltd.
Engineering: KGS Group
Engineering: Profor Engineering Services Ltd.
Shoreline: Senes Consultants Ltd.
Water Feature Consultants: Waterworx
Photographer: David Whittaker


photo : spmb
Project Awards:
2010 Canadian Urban Institute Awards, Best Large Scale Project
2012 Waterfront Center (Washington D.C.), Excellence on the Waterfront Honor Award
2012 International Downtown Association, Pinnacle Award, Public Space Category
2012 Royal Architectural Institute of Canada National Urban Design Award, Medal, Urban Fragments Category
2012 Ontario Association of Landscape Architects, Award for Service to the Environment
2012 Canadian Institute of Planners, Award for Planning Excellence, Aboriginal Community Planning and Development Category
2012 Ontario Association of Architects Award, Artifact Category
2012 Ontario Wood WORKS! Northern Ontario Excellence Award
2012 Ontario Wood WORKS! Jury's Choice Award
2011 North American Wood Design Council, Award of Merit
Prince Arthur's Landing images / information from architects Brook McIlroy
Location: Prince Arthur's Landing, Thunder Bay, Ontario, Canada
Canadian Architecture – Selection
Koehler House, New Brunswick
Julie Snow Architects, Inc.
Koehler House
Linear House, Salt Spring Island, British Columbia
Patkau Architects
Salt Spring Island House
Fogo Island Artist Studios, Newfoundland, northeast Canada
Saunders Architecture
Fogo Island Studios Canada
Comments / photos for the Prince Arthur's Landing – Thunder Bay Building page welcome