Contemporary Space Athens, Building, Architect, Greece Architectural Exhibition, Greek Arts Show, Project
Contemporary Space Athens Architecture
Opening + GOOD DESIGN SHOW : Greek Cultural Development
10 Feb 2010
Contemporary Space Athens Architecture
The Prestigious "Good Design Show" Opens The New Contemporary Space Athens — Europe's Newest And Boldest Centre For New Architecture, Art, And Industrial Design Located In The Centre Of The Greek Capital
The Dublin-based European Centre for Architecture, Art, Design and Urban Studies and The Chicago Athenaeum: Museum for Architecture and Design open Europe's latest and brightest exhibition/museum space with the best new contemporary design showcased in the annual GOOD DESIGN program for 2007.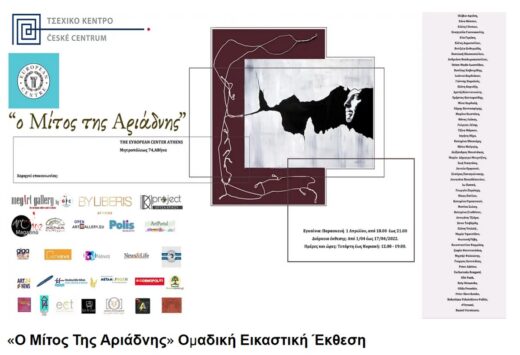 Contemporary Space Athens
Contemporary Space Athens, located at 46-48 Megalou Vassiliou in the center of Athens, is a bold, new experimental platform organized by the two European and American institutions to bring state-of-the-art architecture, design, and art to a European public audience through exhibitions, lectures, symposia, award programs, and events.
Contemporary Space Athens officially opens on September 18, 2008 with an inaugural exhibition that honors the best new design in the world by the world's foremost, visionary designers and manufacturers from Europe, Asia, and North America.
In Athens, the exhibition is under the Patron Sponsorship of Kreon NV and continues through December 31.
GOOD DESIGN, founded in Chicago in 1950 by Eero Saarinen and Charles and Ray Eames, remains as the oldest and most established annual International Awards Program that has, since it's inception in 1950, honored the best new designs produced in the world for anything and everything from a paper clip to a NASA space ship.
This is the first time the GOOD DESIGN Show has been organized outside the United States since it founders took the exhibition to Milan in 1957.
The current GOOD DESIGN SHOW opening in Athens features the latest cars, trains, airplanes, furniture design, electronics, lighting, medical equipment, household products, appliances, kitchen and bath accesso ries, personal items, fabrics, textiles, public environments, sports equipment, industrial machinery, tools, floorcovering, children's products, tabletop, office products, and graphics from 33 nations
These elements are by the world's most visionary companies:
3M Company, adidas AG., Apple Computer, Inc., Bang & Olufsen, Black and Decker, BMW, AG., Boeing Corporation, Bombardier, The Bosch Group, British Airways, Daimler AG, Eastman Kodak Company, Electrolux Major Appliances, Epson America, Festo AG., Ford Motor Company, Fuijtsu Limited, Gaggenau Industrie, General Motors Corporation, Harman Kardon Group, Herman Miller, Inc., Hewlett Packard Company, Intel Corp., Knoll, Inc., Kreon NV., LG Electronics, Liz Claiborne, Inc. Logitech, Lutron, Melitta, Mercedes-Benz, Microsoft Corporation, Olympus Corporation, Owens Corning, OXO International, Rosenthal AG., Thermador Appliances, Samsung, Siemens AG., Sun-Disk, T-Mobile, Tupperware, Unilever, Villeroy & Boch AG., and Whirlpool Corporation—and hundreds other companies synonymous with GOOD DESIGN.
The new Contemporary Space Athens is centered in Rouf—the fashionable redevelopment area in central Athens—a former, run-down industrial neighborhood that is now being transformed into a new cultural area with the opening of museums and cultural institutions, galleries, restaurants, night clubs, apartment towers, and studio spaces for young city artists. Greece's innovative Athens School for the Arts is located nearby and the site has already been pioneered with the opening of a new annex for the Benaki Museum converted from an old Rouf factory building.
In addition to the renovation of the buildings into open galleries and Museum offices and workspaces, plans for the new centre also include a public outdoor sculpture area dedicated to experimental new works, performance spaces, and innovative media that will visually enhance the area and bring a new urban life and cultural vitality to Rouf.
"We are very excited about the opening of The European Centre in Rouf," says Angelos Delivorris, Director of the Benaki Museum. "It represents a continuation of the initial vision to convert this area into a thriving cultural complex between downtown Athens and the Harbour of Piraeus. We are already working on collaborative arts programs with The European Centre well into 2012. I am personally enthusiastic by the prospects of working with such a prestigious international organization that promotes Europe. The European Centre will bring another dimension of contemporary art and design to Athens."
"In my opinion, a new cultural space, dedicated to contemporary ideas that is innovative and experimental, would be welcomed in the City of Athens," states Christophe Farnaud, Ambassador of France. "The European Centre's new facilities can have a profound impact on local Athenians and international tourists that come to Greece with its unique public education outreach and educational mission. The Embassy of France is very happy to cooperate with The European Centre on developing new cultural programs and exhibitions and on future educational partnerships."
"There are few museums that have significant architecture and design departments and few of those that have an international reputation for excellence," states renowned American architect, David Childs of Skidmore, Owings & Merrill in New York. "Several exist in Europe, but The Chicago Athenaeum leads in both domestic and international programs. It has a significant following among lay persons, and a great impact within the international design community."
In Greece, the new Contemporary Space Athens is headed by the Greek architect, Ioannis Karalias, Museum Vice President, The Chicago Athenaeum and Chairman, The European Centre. Mr. Karalias has been Museum Vice President of The Chicago Athenaeum since 1988 and has relocated to Athens to guide operations in both Greece and Ireland and to direct the institution's programming worldwide from a European base. The European Centre is headquartered in Dubin, Ireland with an office in the United States.
"We are very pleased to develop this new museum space in the center of Athens," states Christian K. Narkiewicz-Laine, the Finnish architecture and design journalist and critic and Museum President, The Chicago Athenaeum. "It represents a considerable cultural investment by our institution inside the European Union to bring to our European audience the best new public education programs on the themes of modern art and modern design and as a way to serve our institution's ever-growing audience of European architects, designers, artists, developers, professionals in real-estate and business, corporate executives, manufacturers and general public."
Location: Athens, Greece
Architecture in Athens
Contemporary Greek Architectural Projects
Athens Architecture Designs – chronological list
Athens Architecture Walking Tours
The European Centre for Architecture Art Design and Urban Studies
28 Butlers Court, Sir John Rogerson's Quay
Dublin 2
Ireland
TEL/FAX +353/(0) 1 6708781
46-48 Megalou Vassiliou
GR-118 54 Rouf Athens
Greece
TEL/FAX +30/210 9413717
www.europeanarch.eu
[email protected]
Contemporary Greek Architectural Designs
Athens Architecture Designs – architectural selection below:
Marina Tower, Agios Kosmas marina area, Ellinikon
Design: Foster + Partners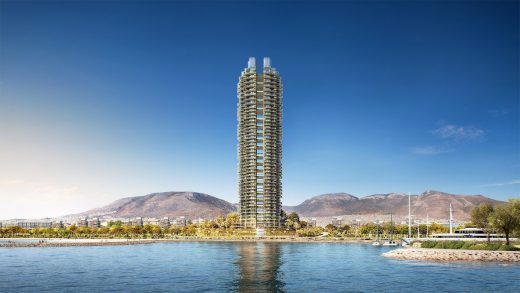 image : dbox / Foster + Partners
Ellinikon Marina Tower Design
Stavros Niarchos Foundation Cultural Center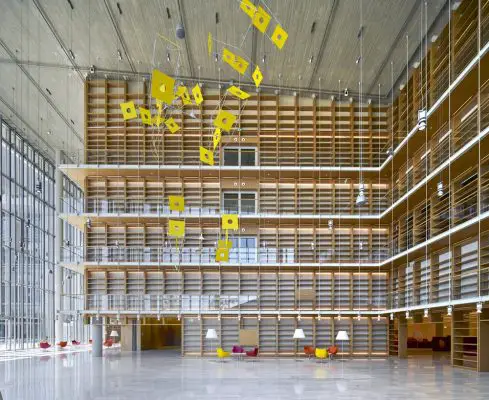 photo © Michel Denancé
Stavros Niarchos Foundation Cultural Center: SNFCC Athens Building
Athens Building : Julien De Smedt Architects
Comments for the Contemporary Space Athens Building page welcome