New House in Melbourne, Hawthorn Building, Australian Cottage Residence, Architect, Design
Park Cottage in Hawthorn, Melbourne
New Property in Hawthorn, Australia – design by Bryant Alsop
5 Sep 2017
Park Cottage, Hawthorn
Location: Hawthorn, suburb of Melbourne, State of Victoria, Australia
Architects: Bryant Alsop
Contemporary Hawthorn Residence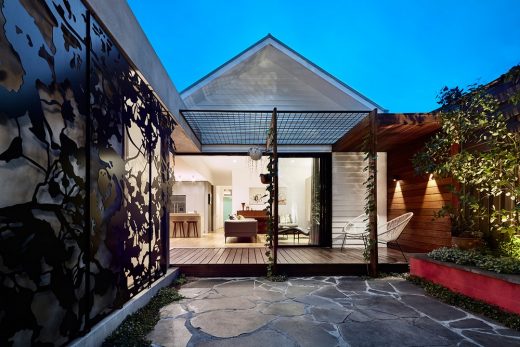 The 3 Primary Ideas driving this design were;
1. creation of light, depth and space as exaggerated by the inclusion of very dark, internal elements;
2. adaptable and flexible floorplan to suit a range of potential end users;
3. efficient re-use of existing structure and services to minimise waste and cost.
This little, Heritage-listed cottage is not what it seems… the interior is unexpectedly spacious and light, defying its Victorian origins and 1970s additions that lie cocooned.
As designers we were interested in exploring the use of a very dark interior element; a boundary wall, over 16m in length, which snakes its way across cabinetry, around an internal bathroom, and into the main bedroom.
Our feeling was that through the strong, tonal palette would create a sense of depth and journey into an otherwise relatively small house. An existing 2.4m high ceiling structure was to be retained, also creating a chance to explore how spaces could be compressed against the near-black boundary wall.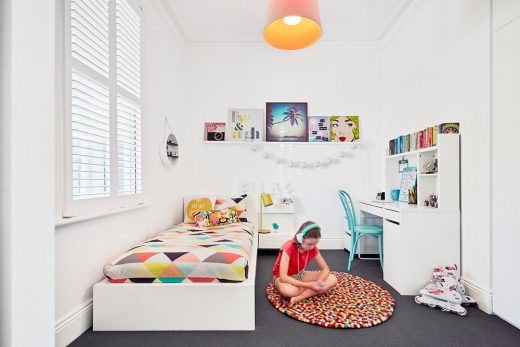 The wall and cabinetry becomes an "anchor" to the surrounding spaces, and a base onto which contrasting material choices, textures and colours can bounce. Bursts of colour pop unexpectantly in the choice of grass green carpet to the main bedroom, orange dotty tiles to the main bathroom, and aquamarine front door. The palette, although sophisticated, is fun and playful as a result.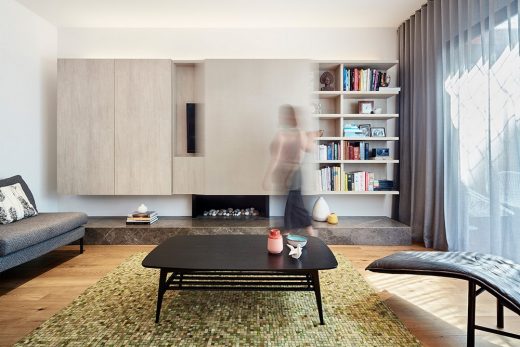 Highly efficient planning was also required to achieve maximum "flow" through the house. There is very little circulation space with the exception of a small section of the Victorian hallway which has been retained. The plan has minimised single use spaces, as demonstrated by the 2-way Laundry that also serves secondary Kitchen space. The plan allows for the changing dynamic of the current family as their children grow, while also allowing for a first floor addition at a later stage, or to suit, couples, down-sizers or single people in the event of on-sale.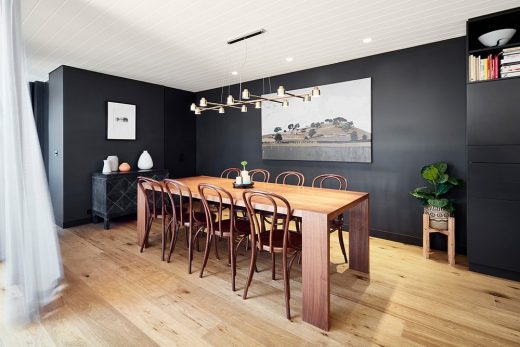 The design is also rooted in structural and economic efficiency. It was quickly understood that there was significant benefit to be found in re-working the 1970s addition.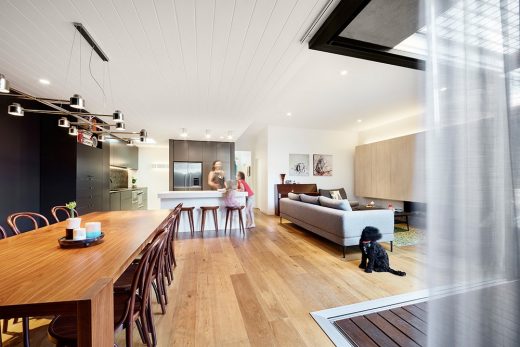 The structural floor, walls, roof, and ceiling structure were retained, but posed challenges in the orientation and scale. The 2.4m high ceiling is low by contemporary standards in a main Living space, but has successfully be worked into the design through its surface treatment and framing of the 'black' wall. The ceiling was sheeted using a standard FC external cladding material which provided the necessary texture.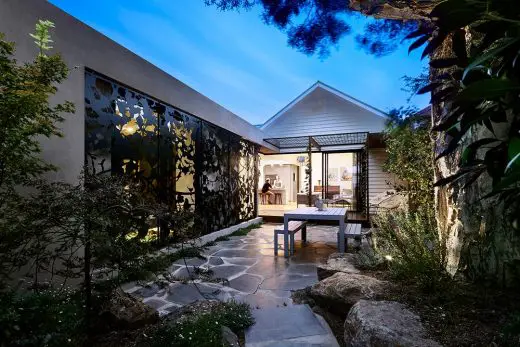 Photographs: Rhiannon Slatter
Park Cottage in Hawthorn information received 050917
Location: Hawthorn, Victoria, Australia
Australian Architecture
Monaco House Melbourne : also by McBride Charles Ryan
Comments for the Park Cottage in Hawthorn – New Property in Melbourne suburb page welcome
Park Cottage in Hawthorn