Kangaroo Island Air Terminal, South Australia Building, Travel Hub Architecture Images
Kangaroo Island Air Terminal in South Australia
1 Jun 2022
Architecture: Ashley Halliday Architects
Location: Kangaroo Island, South Australia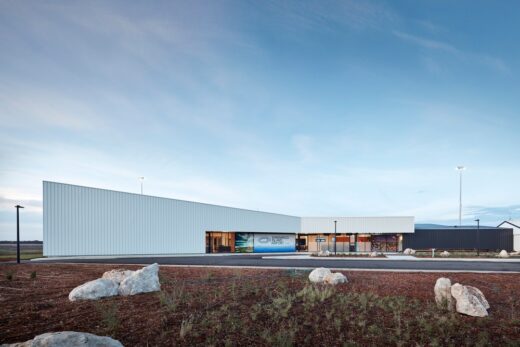 Photos: Sam Noonan
Kangaroo Island Air Terminal, Australia
The Kangaroo Island Air Terminal is more than a state-of-the–art regional air transport hub, it is a unique world-class cultural venue. More than a landmark, image or icon, it is the product and instigator of dialogue – interaction and exchange between people, with the terminal and its breathtaking natural setting. Its figure, originality and future is inspired from research, understanding and dialogue with KI's inhabitants. Shared design principles underpin all design decisions at every scale and these include: Seclusion (Island); Connection to Unspoilt Nature; Personal Relationships; Authenticity; Peace & Restoration.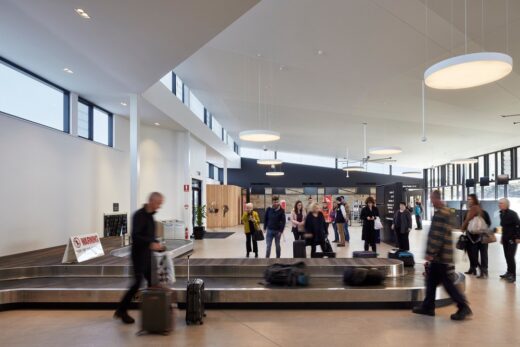 How does the design encourage this dialogue?
Seclusion (Island)
Kangaroo Island is first and foremost a land apart. Located off mainland South Australia KI is a secluded island, a place of extremes where powerful forces shape the remote coastline and nature balances precariously and beautifully in harmony at the edge of the Southern Ocean. It is a unique destination and the architectural response is appropriately un-conventional, distinctive and deeply connected to place.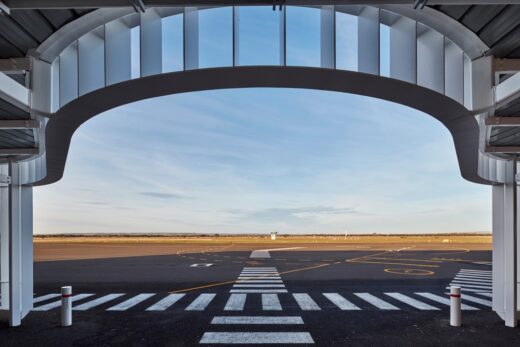 The Architectural response is something 'different' – innovative, unexpected, facilitating the experience of arriving at a secluded island, in harmony with nature – comfortably immersing people in KI's unique natural environment and enchanting them with serendipitous moments of discovery, surprise, peace, and tranquility – creating a powerful, intimate and memorable experience.
Whilst meeting IATA Class C terminal design guidelines, conventional design paradigm's (pedflow and security) were challenged and transcended. The compartmentalised nature of conventional terminal planning was carefully unpacked. Open space flows freely through the interior of the terminal following well defined circulation patterns. Arrivals, departures and visitors are focused around a central hub space – achieved by adding a third diagonal leg to the terminal pier and co-joining it with the generous check-in and arrivals hall to create a highly flexible multi-use (24 hour) KI brand hub; comprising a cafe, bar, kitchen, retail, art gallery, exhibition, promotion, and function space. The brand hub showcases healthy, natural and genuine products created on the island.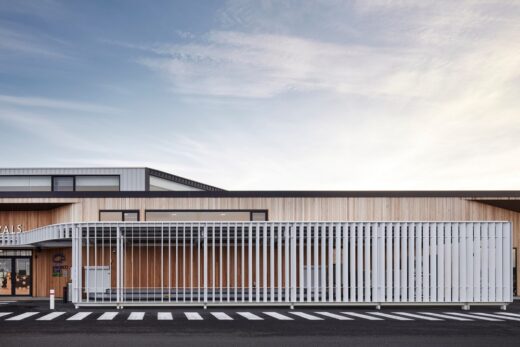 A natural, welcoming and restorative ambience is created through an open plan layout, legible wayfinding, an abundance of natural lighting and ventilation, and an uncomplicated material palette (comprising warm grey tile flooring, hardwood and local limestone feature walls, off-white wall linings, high performance clear glass and black steel bar detailing). Kangaroo Islands characteristic unspoilt natural landscape is framed by the converging roof form and expansive glazed wall framing presenting a memorable scenic vista from most vantage points within the terminal.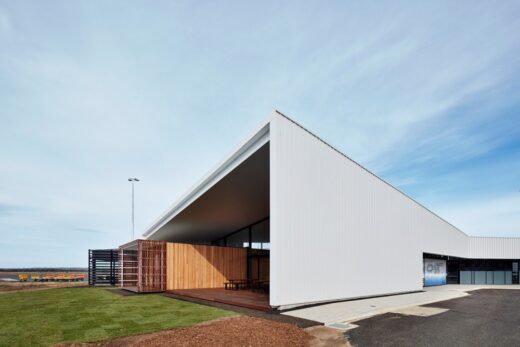 The terminals 'enhanced' community function has enhanced the terminals cultural purpose and smoothed out the peaky nature of morning and evening aircraft arrivals that originally left the terminal empty and without purpose during the day.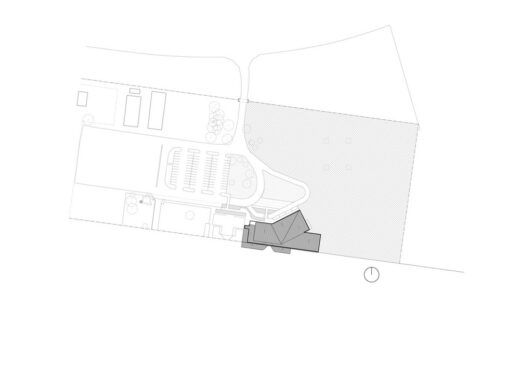 Connection to Unspoilt Nature
Kangaroo Island's soul is synonymous with its unique environment, wildlife and natural features.
The Architectural response promotes a unique and engaging dialogue between guests, KI's iconic un-spoilt natural landscape, its history and local produce – blurring the boundaries between indoors and outdoors and giving primacy to nature.
Arriving passengers are greeted by a simple and elegant contemporary building sitting distinctively within Kangaroo Island's characteristic open and unspoilt natural setting. An engaging, sensitive, sophisticated, and simple architectural language was developed that doesn't intrude upon nature, existing in harmony with the landscape. Arrivals are greeted by a striking curvilinear weathered timber façade, detailed to express and celebrate the effects of weather and time – an authentic and defining aspect of the islands weather-beaten character and resilience. The terminals arrival door is identified by a salient white veil that echoes the movement of the curved and weathered facade. Arrivals are instantly connected to country, being afforded an epic picturescape view of nearby native scrub land immediately upon entry.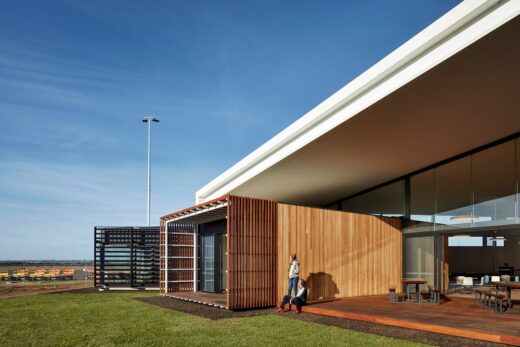 The terminal Architecture is defined by the profound experience it offers travellers as a purveyor of a unique natural landscape. Design strategies include amplifying people's awareness of the unique landscape through visual transparency, façade breathability, weather protection, tactile physical connection with the elements (earth, air, fire and water), innovative ecologically sustainable design strategies that promote health and well-being, and a refined, elegant and timeless contemporary building envelope that exudes practicality and simplicity.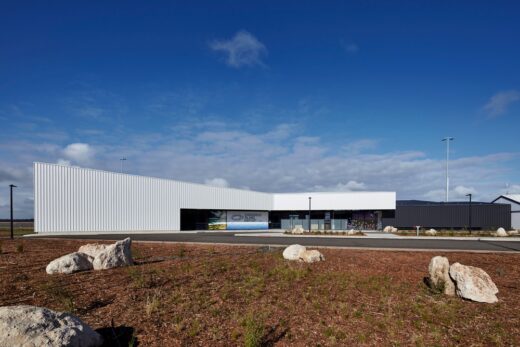 Personal Relationships
The Kangaroo Island Community is passionate, welcoming, sincere and inspired by its unique surroundings – Kangaroo Island has 'that' effect. An extraordinary hub and circulation nexus where people welcome, reconnect, rebuild, farewell, work and exchange quality produce – fundamentally a place for people. The terminal Architecture optimises traveller experience, aids in their orientation on Kangaroo Island, and promotes positive personal interaction and commercial exchange – promoting the islands people, their story and future potential.
To achieve this the building listens as much as it speaks.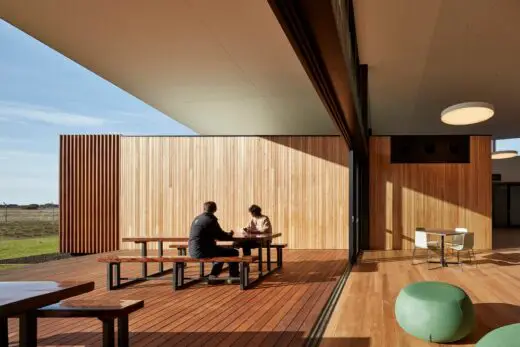 Authenticity
One of Kangaroo Island's unique aspects is the authenticity of its people and the diverse range of authentic experiences it offers. The design process involved close collaboration with Kangaroo Islands brand partners (local goods and services), artists, and contractors, to develop a unique design concept that truly represents and showcases Kangaroo Island.
It has been wonderful to experience the enthusiasm and uptake of the islanders to colonise the air terminal with their unique produce, artwork, native nursery plants, and labour – making it their own and boding well for the Architecture to continue its purpose in instigating future dialogue.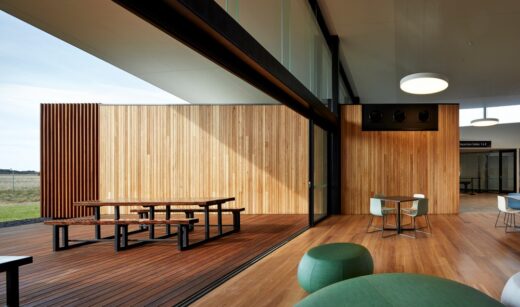 Peaceful/Restored
Kangaroo Island is much sought after destination for its peaceful and restorative qualities. The KI terminal welcomes people to KI's unspoilt natural landscape and inspires them to continue their journey and 'go-within' – to be inspired by nature with moments of deep clarity, connection and peace.
The terminal is comfortable, small-scale, and well-appointed, offering thoughtfully considered facilities with a few simple luxury touches. The look and feel is something different – more 'nature-lodge' than 'commercial terminal'. It is innovative, unexpected, and facilitates the experience of nature and wildlife. The terminal comfortably introduces people to KI's unique natural environment and offers serendipitous moments of discovery, surprise, peace, and tranquility – creating a powerful, intimate and memorable experience.
Health and well-being is promoted in the terminal through an ambitious and intelligent ESD (Environmentally Sustainable Design) approach. Highly innovative energy, natural ventilation and dynamic thermal modelling assessment influenced the buildings geometry, envelope, facade porosity, materiality and indoor climate strategies. Great results that will deliver significant environmental benefits to the island and enhance its growing international reputation include significantly reduced energy consumption and costs, achieving net zero carbon emissions (through the addition of an additional 70 kW solar PV system), promoting the island's electric car charging network initiative, and creating a predominantly naturally ventilated and day lit environment – providing significant health benefits to users of the terminal through enhanced indoor air and light quality.
Kangaroo Island Air Terminal in Australia – Building Information
Design: Ashley Halliday Architects – https://ashleyhalliday.com/
Project size: 2100 m2
Project Budget: AUD 7,000,000.00
Completion date: 2018
Building levels: 1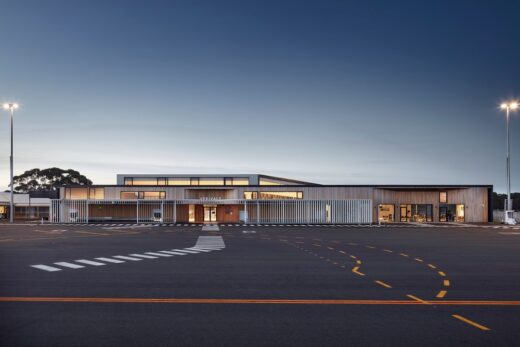 Photography: Sam Noonan
Kangaroo Island Air Terminal, South Australia images / information received 010622
Location: South Australia
Adelaide Buildings
South Australia Architecture
Adelaide Contemporary Designs by Shortlisted Architects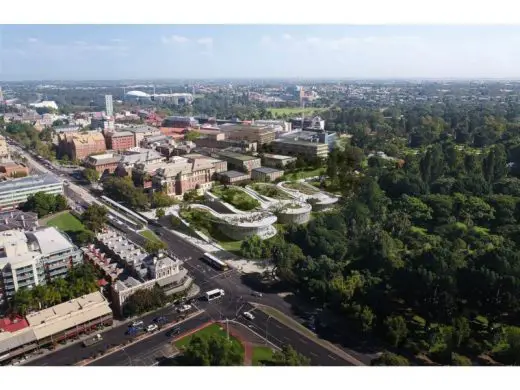 image courtesy of architects
Adelaide Contemporary Designs
Adelaide Contemporary shortlisted architects
The six star design teams:
Adelaide Contemporary International Architecture Contest Shortlist News
Realm Apartments, Austin Street, CBD
Design: Elenberg Fraser Architects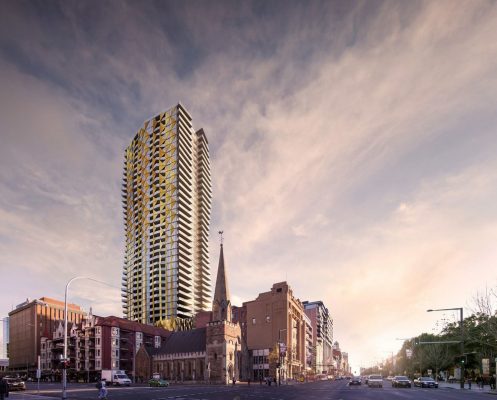 image : Pointilism Architectural Visualisation
Realm Apartments
Urban Wetland in heart of Adelaide wins national Sustainability Award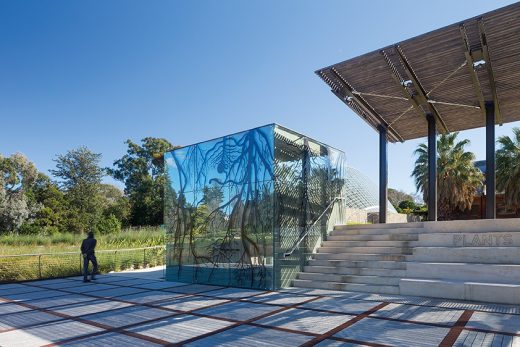 photo : John Gollings
Adelaide Botanic Gardens Wetland
Adelaide Contemporary International Design Competition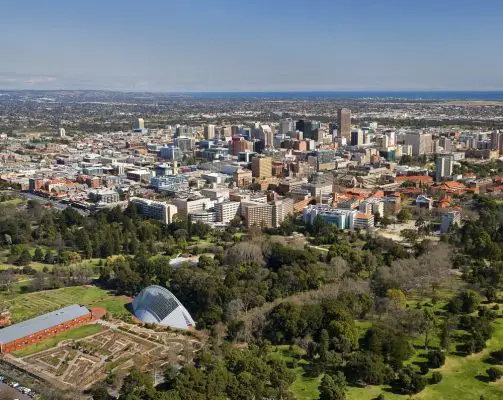 photo © davidwallphoto.com
Adelaide Contemporary International Architecture Contest News
Flinders University Redevelopment – Plaza and Student Hub
Design: Mott MacDonald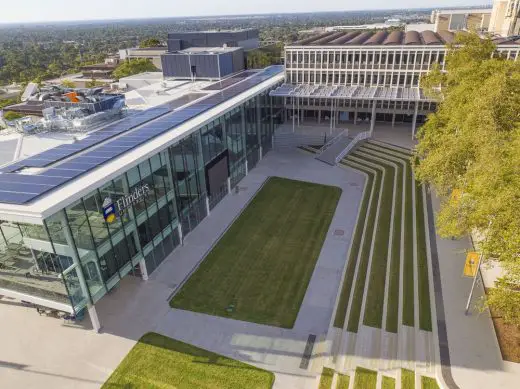 image from architects
Flinders University Building in Adelaide
SKYCITY Entertainment Complex Building
Design: The Buchan Group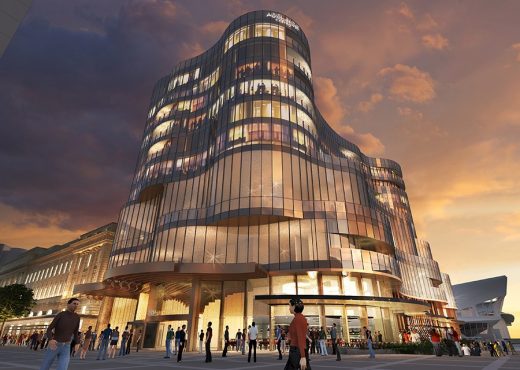 image from architects
SKYCITY Building Adelaide
Royal Adelaide Hospital Design Competition
Design: Esan Rahmani / littleBIGdesignlab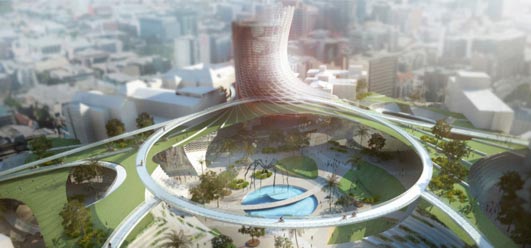 image from architects
Comments / photos for the Kangaroo Island Air Terminal, South Australia page welcome
Website: Woods Bagot Architects