White Buildings, Architectural Article, Timeless Architecture, Dialogue
White Architecture : Architectural Dialogue
Architecture Discussion by Roland Wahlroos-Ritter
27 Nov 2012
White Buildings
This week's selection of projects is simply driven by the color white. Associated with Classicism as well as Modernism, white has the allure of timelessness. It resonates with the transient and fleeting, seemingly adaptable and yet pleasantly noncommittal. In an increasingly complex world, white suggests a relieving simplicity.
Gymnastics Hall in Utrecht, The Netherlands
Design: NL Architects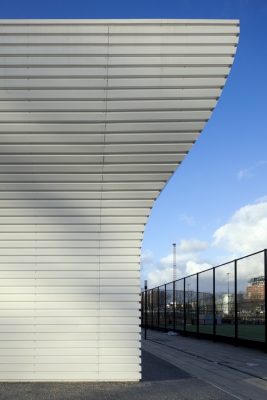 photo : Luuk Kramer
From the outside the new gymnastics hall in Utrecht by NL Architects is cladded in sober, white metal panels, but its odd shape raises curiosity. Since NL Architects were not allowed any windows that would bring in natural light into the space, they peeled off the skin to bring daylight from the top into the interior. The effect is a uniquely shaped exterior, that would otherwise be just another box; and an interior space that is not only supplemented by natural light, but with a roof that magically floats above the space.
Moliner House, Zaragoza, Spain
Alberto Campo Baeza



photo : Javier Callejas
The Moliner House in Zaragoza by Alberto Campo Baeza is a house for a poet, conceptually driven by the introspect occupation of its inhabitant. The project and all its elements like site wall, even the birch trees are plainly white, contrasting starkly with it's gray and muted urban context. Entering the compound must be like entering another world, with a metaphysical garden that seamlessly transitions into the interior, a "cloudy" library on the second floor and cavernous bedrooms in the basement. The project appears remarkably calm and at the same time surprises with distinctly differentiated spaces.
House in Tamatsu, Osaka, Japan
Ido, Kenji Architectural Studio



photo : Yohei Sasakura
The house in Tamatsu by Ido, Kenji Architectural Studio is yet another project in white contrasting with its neighborhood. Confined by an extremely small site and neighboring buildings, clever shifts of the main stair and the floors bring in light from the top and opening up constricted space vertically.
Mediatheque in Lons le Saunier, France
Design: Du Besset-Lyon Architectes



photo © Philippe Ruault
The Mediatheque in Lons le Saunier by Du Besset-Lyon Architectes is a project that is carefully tailored to fit into a complex urban setting with ease. Its shape cleverly articulates urban spaces and emphasizes the surrounding urban fabric. The facade underlines the idiosyncrasy of the building shape with hexagonal apertures, smaller on the outside, but tapering on the inside to increase the illusion of transparency and create a white space filled with light.
All four projects, although reflecting upon modernism, smartly defy the notion of the Modernist white box, they are driven by humorous twists and poetic whimsies rather then functionality and neutrality.
Roland Wahlroos-Ritter
Roland Wahlroos-Ritter is one of two Principals of WROAD. Recent design work includes the Leg Avenue Office Extension in City of Industries California, Korean Embassy in Tokyo, Mason Residence in Santa Monica California and the experimental Wall Project in Los Angeles California.
Architect Roland Wahlroos-Ritter
Roland Wahlroos-Ritter:


Architectural Articles by Roland Wahlroos-Ritter, USA
Wolf Prix Criticism of Venice Biennale. Sep 2012
Contextual Architecture. Sep 2011
Architectural Facades. Jun 2011
Urban Buildings. Feb 2011
House in Odemira, Alentejo, South of Portugal
Design: Vitor Vilhena Architects


photograph © Joao Morgado
White Arkitekter, Sweden
International Architectural Designs
Architectural Articles – Selection
Resisting Boredom : article by Joyce Hwang. Jan 2011
Sizing Identities : article by Sergio López-Piñeiro. Jan 2011
Sustainable Buildings – Building Issues : article by Adrian Welch
Comments / photos for the White Buildings – Timeless Architecture Article page welcome