What should you do with the trees in your garden? guide, Home Landscape Tips, Online Advice
What Should You Do With The Trees In Your Garden?
8 Dec 2022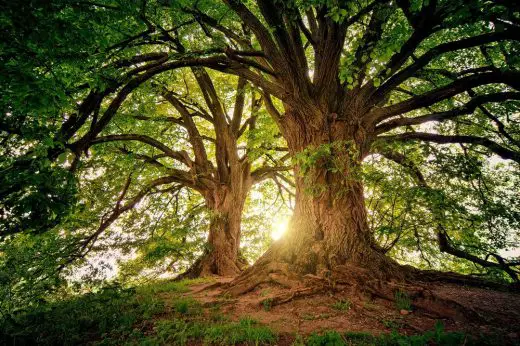 When managing a property, one of the first issues you might run into revolves around landscaping. The exterior of a property is seen before the interior, and if you want to impress, you need a clean, well-kept exterior. As you will know, areas like your garden or the perimeter around your home can look rough if you have too much going on. One issue, in particular, can be the presence of some trees.
Trees are a beautiful sight when used correctly. They can provide natural detail to the garden and offer privacy where previously you had none. Trees are a great feature in a large, spacious garden – but when you need to make more room, they might be worth removing.
So, what should you do with your trees? Here are some things to consider that might make your trees easier to work with.
Get the trees cared for
Your first step should be to have a tree specialist examine your trees' health. Especially if you do nothing to care for those trees, they could be rotten and/or weakened. This means that they could require some care and attention to bring them back to a healthy standard of living.
If you want to keep your trees, having a specialist review their health and condition would be wise. This would let you know how healthy the trees are and give you a better idea of what you can do to resolve the issues present.
Get the trees trimmed back
Another option would be to have the trees cut back. Sometimes, we find that our trees look good, but they are too wild. When trees begin to cast a shadow in the wrong area(s) or they overhang next door, it could be worth having them trimmed.
You could do this yourself with a branch cutter or a chainsaw, but it is often better to hire an arborist. Get those trees properly trimmed, and you are in a better place to ensure they do not become a problem. When trimmed, you can also look to ensure the trees are properly being cared for and are healthy.
Get the trees removed
The 'nuclear' option is full-on professional tree removal. This can be the preferred option if you want that land back to do something else with or if you feel like your garden space is too crammed with the presence of trees. With that being the case, you should get the trees removed. Do NOT cut them down yourself, though, unless you have the relevant experience.
Tree cutting is challenging and can be dangerous when done incorrectly. Hire a professional who can do the job for you correctly. This reduces the risk of injury and ensures that the tree is removed in a way that does not damage and destroy the landscape around the tree.
Your trees are very important when getting any property in order. Whether you have them restored, cut back, or cut down entirely, make sure you take them into account during any plans you create. Refrain from letting your trees become an afterthought, as it will simply make your future work more challenging than it has to be.
Comments on this What to do with the Trees in your Garden? article are welcome.
Gardens
Gardens Posts
How to Take Care of Your Growing Plants in the Garden
Expert gardening tips for your home exterior
Landscaping and garden design ideas for your outdoors
Top 3 factors for planning new landscape design
Homes
Residential Architecture Articles
Comments / photos for the What to do with the Trees in your Garden? page welcome