Expert gardening tips for your home exterior, House landscape advice, Property garden style help
Expert Gardening Tips That Will Make Your Home Exterior Look Better
22 Dec 2020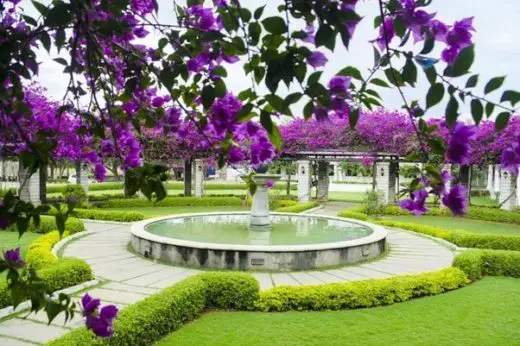 One of the most challenging tasks is to build a beautiful garden or backyard design, but once the job is done, the appearance of your house will look so charming and attractive. Even a small project to decorate the patio, porch, front yard, or backyard significantly alters the way your house looks and sounds.
Decorating or constructing a beautiful porch and yard design for the balcony makes your home more comfortable and appealing, enhances your mood, and lifts the spirit. Green plants and flowers are eco-friendly and add so much elegance to any home they enter. They link the interior of your home to nature and create beautiful outdoor spaces. But gardening can also be calming and teach transparency beyond aesthetic merit, while plants themselves purify the air and enhance the vibes.
Harmony and prosperity are synonymous with blooming flower beds and planters with trees. Green plants and flowers are peaceful and happy in appearance. They can be put on your site anywhere, adding soothing and trendy accents to the exterior design and yard decorations of your home.
Everyone can try to make the exterior of your home look better by reading through these imaginative garden ideas. For window-box flowers, hanging trees, tiny veggie gardens, and more, get your green thumbs ready. For any garden supplies, head over to All Green Nursery.
Dress Up Garden Entrances
Invite visitors with an enchanting entrance and elegant gate to your yard. A sequence of distinct spaces linked by passages and roads, even in a small landscape, brings a sense of mystery and expansiveness to an ordinary walk.
The team at DIY Garden suggests to create a journey that starts near the house with a wisteria-draped arbor and winds downhill, across terraces, along paths, and down steps that continue the eye-catching, weatherworn stone theme. Paths show the way, metal arches and gates mark transitions to various areas, many from gardener's supply catalogs and covered with vines. Further accent entries are potted bougainvillea, citrus trees, and palms, as do finishes perched on pedestals.
Floral Border and Window Boxes
Planting a vibrant border of flowering plants to enliven your entryway is one of the best ways to bring some interest to your home's front yard. A mixture of annual and perennial flowers such as hydrangeas and petunias are used for a pop of color, while a few evergreen bushes ensure year-round greenery. Using window boxes is what makes this unique style so appealing. They not only help to beautify the entryway but also help attract the attention of tourists to the house itself. This is a great way to add instant elegance to every home, but it is particularly useful for market-based guest homes, show homes, or houses.
Classic Boxwood Edged Pathway
Hedge your bets along your entry route by adding a traditional and classy boxwood hedge. Though basic and monochromatic, it is easy to form the tightly leaved branches of boxwood shrubs into any number of designs. They help direct the eye to the front door of a house, left small and round, or clipped into a short rectangular hedge, and subtly encourage visitors to use the path instead of walking on the lawn. A short hedge may be one of the lowest maintenance choices for flower beds and walkway borders, combined with a brief but vibrant groundcover such as creeping thyme or phlox.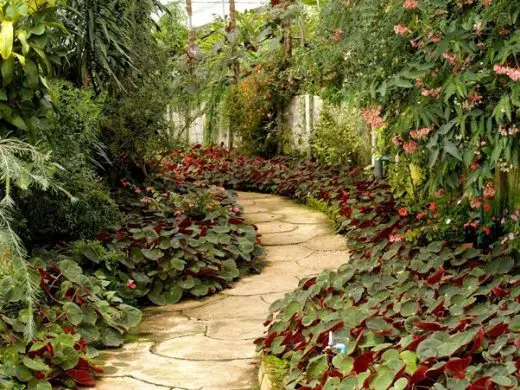 Flowerbed with Annuals and Evergreens for All Seasons
You can ensure a constant show of colors throughout the entire year by combining flower varieties that bloom during different seasons. Spring and summer flowers, as well as annual greenery, can be interspersed with evergreen bushes to create a lush cottage garden. The riot of pinks, reds, and greens is not only complementary to the theme of the house, but it makes it seem more welcoming. The window boxes are planted with the same annual variety seen at the border of the yard, which not only draws the eyes of the visitor upward but also offers a more seamless look to the front yard.
Clematis Climbing Wall
To hide an ugly wall, fence, or mailbox, you should do this. Consider establishing many trellises for clematis as an alternative to ivy. As more than 300 species exist in the genus, this showy flower comes in countless varieties. Keep it for the best displays in cool, moist soil, and ensure it gets plenty of light. It is deciduous in colder regions, although it can be evergreen in warmer areas. Either way, each summer you will be blessed with a proliferation of showy flowers. Although the most common colors are pink and purple, flowers come from white to bright red to indigo and in several different flower shapes in every hue.
Water-Wise Western Water Feature
If you live in an area with unreliable rainfall or where water supplies are minimal, consider planting foliage and flowers resistant to drought in your front yard. There is no need for water-wise gardening to mean a spartan aesthetic. In drier yards, many typical garden flowers such as roses are very hardy, and flowering herbs such as rosemary, lavender, and thyme with little watering do exceptionally well. For a large range of drought-resistant plants, a small water and rock feature, like stone fountains, may provide an attractive backdrop and create a rustic cottage feel for what would otherwise be a very ordinary entryway.
Circular Shade-Loving Annuals Flower Bed
To properly cultivate the area under mature shade trees can be difficult. In the near-constant shade of existing trees, most annuals are sun-loving and don't do well. There are, however, some annual variations as well as many groundcovers that can thrive in this environment. This kind of shaded soil is worthy of loving sweet alyssum, coleus, begonias, touch-me-nots, and pansies. To keep the flower bed clean and to make it easier to mow around the tree without damaging the roots of the tree, this well-structured bed is edged with pavers. But for a more rustic look, a rough, unmortared rock wall could be used instead.
A well-kept front garden, in general, will add appeal and value to your house. Even the smallest front yards will house flowers and greenery in green seasonal displays. Gardening is a satisfying pastime that allows you to use living objects to paint and sculpt the landscape. You can create a work of art with minimal care and a little preparation that will attract visitors and will make you happy every time you come home.
Comments on this guide to Expert gardening tips for your home exterior article are welcome.
Gardens
Gardens Posts
How to Take Care of Your Growing Plants in the Garden
Landscaping and garden design ideas for your outdoors
Top 3 factors for planning new landscape design
Buildings
Contemporary Architecture
Comments / photos for the Expert gardening tips for your home exterior advice page welcome