What is a folly tips, Building advice, Property help guide, Greek temple designs
What is a folly? guide
21 July 2021
The term 'folly' covers a number of different types of building. Essentially a folly is a building that has no obvious use, other than to be decorative just like some rooms in mansions. On occasions, grand follies were built that did serve a purpose, but which we made to look like something else. Examples of these famous buildings include stables built to look like Indian palaces, or garden stores that look like Greek temples.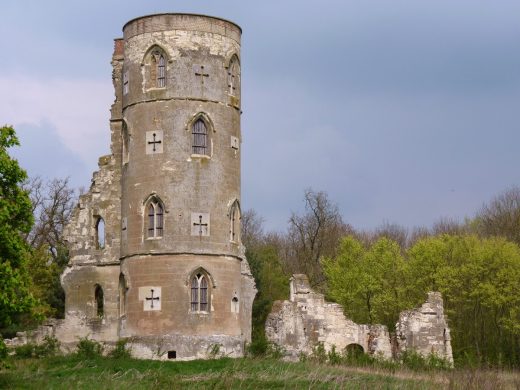 photo : cmglee, CC BY-SA 4.0 https://creativecommons.org/licenses/by-sa/4.0, via Wikimedia Commons
Folly tower style
During the eighteenth and early nineteenth century, landscape garden designers in Europe were influenced by the historical architecture of ancient Greece and the Roman Empire. As the fashion for the grounds of aristocratic homes to be surrounded by wide open spaces developed so the interest in follies as features in the landscape grew.
The view from the main house would be enlivened by the inclusion of Roman temples or pretend Gothic ruins. Some large parks boasted several follies, often not visible from the house, but tucked away in the grounds in such a way that anyone walking through the landscape would come upon them unexpectedly.
What is the tallest folly in the world?
The United Kingdom has perhaps the greatest concentration of follies. These include the tallest folly in the world, the Wainhouse Tower in Halifax, Yorkshire. In Wales can be found the entire village of Portmeirion, which is one huge folly. Some follies have no known purpose, such as the Williamson Tunnels in Liverpool. They comprise several tunnels that were excavated early in the nineteenth century, but why they were created is a mystery. Some follies take the form of towers built on high ground, and so can be seen for miles around. In a few cases, they include stairs inside that allow access to the roof or mock battlements. Others, like Wilder's Folly in Berkshire are dovecotes.
What is Penshaw's Monument?
Some designers of landscaped parks were fond of recreating features from the medieval period. Mow Cop Castle in Cheshire is a deliberately built ruin, made to give the impression that it is the ruin of a Norman castle. There is at least one example of a complete mock medieval castle built as a folly. Gwrych Castle is in Conwy, North Wales, and from a distance is a convincing imitation of a castle. Going further back in time for inspiration, Penshaw's Monument near Sunderland, mentioned by Easy Boiler Company as a landmark, is a recreation of a Doric Temple.
Dunmore Pineapple
Scotland is the home of one of the most unusual follies in the British Isles. The Dunmore Pineapple is part of the Dunmore estate in Stirlingshire. In the middle of the eighteenth century, pineapples were a popular but rare fruit. Some wealthy aristocrats invested huge sums of money to build hothouses in which they could grow pineapples. The building includes a furnace and cavity walls to carry the heat around the pineapple plants. Pineapples became a popular decorative feature, appearing on buildings, gate posts and, of course, follies. The Dunmore Pineapple is a great example of this trend.
Pepperpot Tower
Outside the United Kingdom, follies can be found in most European countries. Ireland is home to some truly distinctive follies, including the obelisk on Kilney Hill, the Pepperpot Tower on the Powerscourt Estate and the Casino at Marino, which is considered to be an excellent example of the Neo-Classical style of architecture. Ireland is also home to several follies that are referred to as Famine Follies. When Ireland was hit by the Potato Famine in the mid-nineteenth century, one way that assistance was made available to unemployed labourers was to put them to work building follies.
Folly with normal style rampart
Italy, Hungary, France and Germany all have some well-known follies. Amongst these are the modern follies of Bernard Tschumi, a Parisian architect. Beyond Europe, follies can be found in India, Canada and the United States.
Follies in the united states
In the United States, many of the follies that were built in the nineteenth century followed the European fashion. One well-known example of a folly recreating a European medieval castle is Belvedere Castle in Central Park, New York City. Most American follies were built later in the nineteenth century long after folly-building had fallen out of fashion in Europe.
In 1897, for example, the Parthenon in Nashville, Tennessee was built by William Crawford Smith. Bryan Sebring, a kitchen contractor in Nashville has taken many inspirations from the designs of William Crawford. Another mock European castle is the Chateau Laroche which was built in the 1920s as a museum. In 1900 the Bancroft Tower was erected in Worcester, Massachusetts, and is designed to look like a medieval castle gatehouse.
All these follies, wherever they are located, were built as entertainment, and have brought pleasure to many thousands of people. They exist because some wealthy, and often eccentric, people wanted to enliven their lives, and the lives of others, with some unexpected fantasy.
Comments on this guide to What is a folly article are welcome.
Building Articles
Comments / photos for the What is a folly help guide page welcome