Architecture Video Promotion, 3D Business Advice, Real estate industry CGIs
Video Promotion In Architecture Business guide
Homeowners Property Advice Article
5 Mar 2019
Video Promotion In Architecture Business
Times are changing. It's time to change with them.
Times are changing and the architecture and real estate businesses – like any industry – need to keep up with the times or risk losing precious market share to competitors.
These competitors may be taking advantage of technology like internet and video marketing to improve their reach and persuade their target audience to use their services. Businesses that are taking advantage of these modern trends are 'future-proofed' because they are protected from the threats of such competition.
By why is this? Well, modern marketing techniques are very persuasive. The internet is now the go-to for prospective property buyers for example. 50% of buyers found the home they purchased on the internet, according to The National Association of Realtors.
Below we'll consider how these trends have developed and where they are heading. We'll also look at what they mean for architecture professionals and how to harness the power of modern marketing to design a future-proofed architecture and real-estate business using video marketing tools.
Background- Change is an opportunity
"Change is the only constant" said ancient Greek philosopher Heraclitus. Since then, this thought has become axiomatic in western philosophy. So in that context, many industries are undergoing rapid transformation. It seems that things are changing faster than ever thanks to technology, and this makes it a lot easier to showcase sales opportunities in architecture and real estate. Digital video marketing is a perfect example of harnessing technology in a fast-changing environment.
Technological trends and video
As technology advances, so has the real estate industry. And videos have become key tools for realtors to share their listings and introduce themselves to prospective clients. Moreover, intro videos make the introduction even more impressive.
This quote from Hubspot- a leading marketing service- captures the trend that is backed up by the facts: Almost 3 out of 4 homeowners are more likely to use a real estate agent that publishes video, according to Propmodo. However, only 1 in 10 agents actually create video listings – a lost opportunity! Video is also a booming online media format: YouTube is the 2nd largest search engine after Google with an astonishing 3 billion searches a month according to Mushroom Network.
Drone footage and 3D walk-through modeling/architectural rendering are further examples where technology is literally making new angles available to view. The appeal of such content can't be underestimated since it provides a perspective, authenticity and storytelling opportunity that is extremely persuasive.
4 Reasons Why Video Leverages Architecture and Real Estate Marketing
Here are 4 reasons why video is so successful in architectural and real estate industry promotion:
Video is highly shareable
Prospective clients can easily share videos on online streaming platforms like YouTube or else on many other channels.
Video transcends language and cultural barriers
Because it capitalizes on visualizing the building, plans and development, video captures the prospective client's imagination and can significantly increase the odds of a successful deal.
Videos/slideshows bring inanimate structures and architectural plans to life
The dynamic nature of videos or animated slideshows gives an extra dimension of movement and life to otherwise potentially dry and static images. For example, featuring a happy family interacting can greatly increase the appeal of the home because viewers can more naturally project themselves/their family into that situation, such as this video below: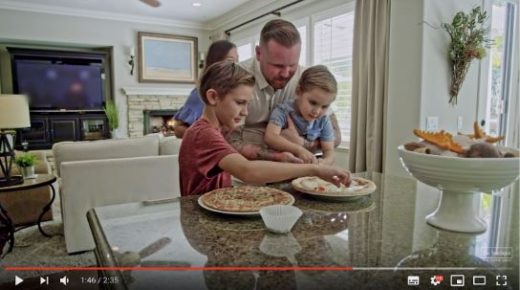 Video provides a premium aesthetic and luxurious feel
Using cinematic video or photography techniques that are crisp, smooth and well-framed and color graded will add a distinct premium look and feel to your property or architecture plans. Such techniques add value and can boost your sales price due to the heightened perceived value in the eyes of the client. The old adage 'beauty is in the eye of the beholder' reminds us that we should portray property as an object of beauty.
Future-proofing your business using video marketing
If you find the prospect of creating a video or slideshow from scratch daunting and would appreciate a cost-effective, quick and professional solution, consider using Renderforest. Here are 2 examples that can be used as a benchmark for future video marketing projects.
First, here is a Real Estate slideshow toolkit by Renderforest: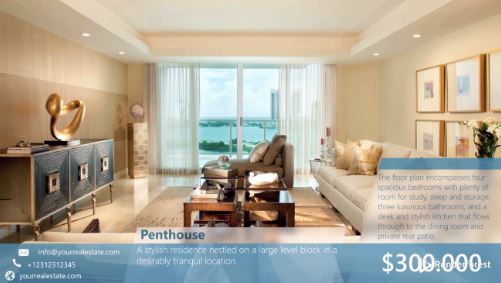 This video template above can be adapted to promote a variety of properties. It can also include other info, for example, locations, maps and contact information. It's fully customizable with over 40 scenes to choose from and the ability to customize the font, icons, colours, place holders and text bands. To make a custom video or slideshow, upload your videos or photos and place them into the scenes and customize the elements in the simple drag and drop interface. Once that's done you can publish instantly to the web. We also suggest using a Teleprompter app for video subtitles. This is another way to make your video professional.
Another example from Renderforest is an architectural template for logo animation. This example is well suited to architectural needs since it enhances the elements of good design and draftsmanship.
What's more, branding is a critical success factor in any modern business since it's the face of your business and it's the most recognizable part that people relate to. That means having a logo that is appealing will enhance the rest of your business, and your sales will receive a boost as a result. Animated logos are the cutting edge of modern branding for many reasons. They help improve brand recognition, trust, online engagement and ultimately, online conversion of browsers into paying clients.
To create your animated logo in three steps, just upload your logo, add music from a selection and publish the video within minutes onto your website and other channels.
Conclusion- the future of video marketing for architecture and real estate is now
Although everything is changing fast in the modern world, some things do stay the same: architects still need to showcase their designs and real estate agents still need to display their properties. We've looked at the growing importance of video marketing in these industries- an importance that's too big to ignore.
We also looked at Renderforest as a tool that makes professional video production quick, affordable, and easily accessible. So now you have the knowledge and tools, it's time to put them to action to showcase your properties in a new way that will wow your audience and make them much more likely to live in your property. That's a (future-proofed) win-win for you and your clients.
————————
Bio: I am the Chief Marketing Officer at Renderforest, a Content Marketing Specialist and an Expert in SEO, Social Media Marketing, and Link Building who enjoys sharing the experiences gained along working as a marketer and helping other entrepreneurs succeed.
My works have been published on different blogs and mediums like Crazy Egg, Forbes, Upwork, ShareThis, etc.
Twitter: https://twitter.com/roman_daneghyan?lang=en
Building Articles
Dorotheen Quartier, Dorotheenstrasse
Architects: Behnisch Architekten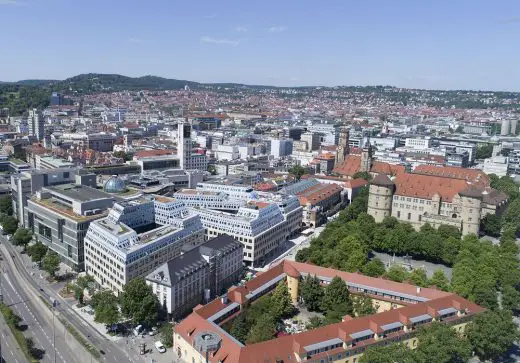 photograph : David Matthiessen
Dorotheen Quartier
Comments / photos for the Video Promotion In Architecture Business page welcome
Website: Building Automation