Top Tips For Decorating A Kitchen, House Interior Lighting Advice, Property Lights Style Guide
Top Tips For Decorating A Kitchen
10 July 2020
The place where you create delicious food for the whole family should be cosy and pleasant to the eye. Giving a creative touch to your kitchen will let you and your family feel more comfortable and homely. Therefore, if you've been postponing the renovation of your kitchen for ages, it might be a high time to start doing it.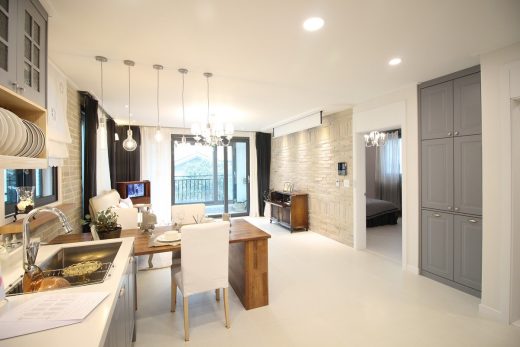 There are many ways in which you can decorate your kitchen. Nowadays, the profusion of items for interior design is impressive. How to choose the things that will look good in your kitchen?
We created a list of top creative tips for decorating a kitchen which may come in handy when you decide to make your kitchen look more charming and help you with your choice.
LED Lights
Often in the kitchen, people use only general light which frequently does not illuminate all the parts of the room equally. Indeed, the place where you prepare food has a lot of furniture and appliances that create an additional shadow. LED strip lights in a kitchen will create the needed ambient light and illuminate the parts to which normal lighting doesn't have enough access.
Another great fact about led lights is that they can be in different colours, and you can choose the one according to your preferences. All guests will be surprised by your creative idea and maybe even want to steal it.
We all know that the kitchen is the place where there can be a lot of moisture. If your kitchen is always dry, then you probably never cook in it. A spilt jar of juice, a vapour from steaming vegetables, or the drops of water after washing fruits- all these are part and parcel of the cooking experience.
Therefore, you might need to consider buying waterproof led lights in order to feel safe while placing them in the area where water might have access. What a great solution!
Chalkboard Paint
Recipes, grocery lists, reminders- we need a notebook for all these. And sometimes we forget where the notebook is. Chalkboard paint is a creative solution for those who are not afraid to experiment with their interior design. You can use it on a wall or on furniture, and voila- you can easily draw and write on them.
Those who would definitely love this idea are your children. For some reason, kids always want to draw on walls or furniture. Probably, a prohibited fruit tastes sweeter. But why shouldn't you make a prohibited fruit allowed?
Not only does this creative decision have a practical purpose but also an aesthetic one. You and your family members can draw on a wall and write reminders to each other that will personalise your kitchen.
A Mini Indoor Garden
Those who love cooking know how important herbs and spices are. Rosemary, parsley, basil, cumin, oregano, cilantro can make any dish have an unforgettable taste. However, very often, we buy dry herbs instead of fresh ones. We can store them for longer and get them in any shop. There is no denial, dry spices are also very delicious, but the true taste and aroma are hidden in the fresh ones.
Having a small indoor garden with herbs is the dream of every cooking lover. You can have it right in your kitchen. Using a wooden pallet or a box, you can make your own D.I.Y. herbal garden and have all necessary ingredients within a hand's reach.
The best herbs to grow in your mini garden are basil, chives, mint, coriander, dill, fennel, parsley, rosemary, and sage. Remember to not plant perennials together with annuals and to water them regularly.
Decoupage
If your kitchen furniture needs some renovation, but you don't know what can make it look more stylish, you should consider doing decoupage. This technique of glueing coloured paper cutouts onto the furniture is for those who enjoy D.I.Y. and are very creative.
You can hide the scratches or bleaches on the furniture by glueing flowers, leaves, and many other patterns on it. The technique makes the furniture look as if the paintings have been made by hand, which gives a very vintage touch to it.
You can use the cutouts from the magazines, newspapers, serviettes, book pages in order to give the makeover to your kitchen furniture. The best thing is the affordability of this decoration technique. Also, it is very pleasant to be done and can even become your new hobby. Who knows?
Top Tips For Decorating A Kitchen – Conclusion
We hope you have found our top tips for decorating your kitchen useful. Giving your kitchen an exciting new look doesn't have to cost a fortune and if you grow your own herbs you can even save money!
Comments on this guide to Top Tips For Decorating A Kitchen article are welcome.
Kitchens
Kitchen Design Posts
Make Your New Kitchen Tech Savvy
Items You Should Invest In For Your Kitchen
Consider While Renovating Your Kitchen
Kitchen design common mistakes to avoid
Residential Property Articles
Charlie West Condos in Hell's Kitchen: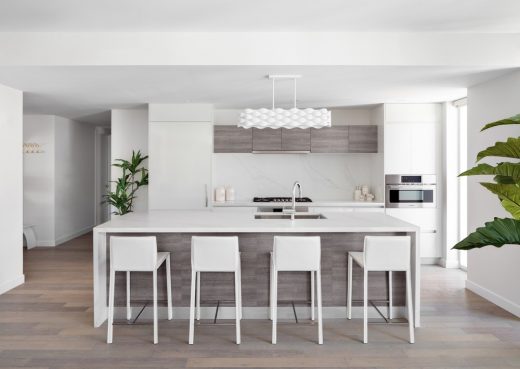 photograph : Inessa Binenbaum
Comments / photos for the Top Tips For Decorating A Kitchen page welcome