9 expert tips to nail your UK kitchen extension guide, British home interior decor advice
9 expert tips to nail your kitchen extension in the UK
7 July 2022
Kitchen extensions are a popular renovation option for several homeowners, but especially for those living in Victorian terraces. Reinvigorating the back of your house with floor-to-ceiling glass and a modern aesthetic increases space, style and value.
However, when you decide to start building a kitchen extension, knowing the best way to maximise its impact isn't always obvious. A poor quality design could mean you miss out on the potential to increase the value of your property by 38%.
Whether you're thinking about a single-storey rear extension, a side-return extension, or even a wraparound, here's how to nail your project from the get-go.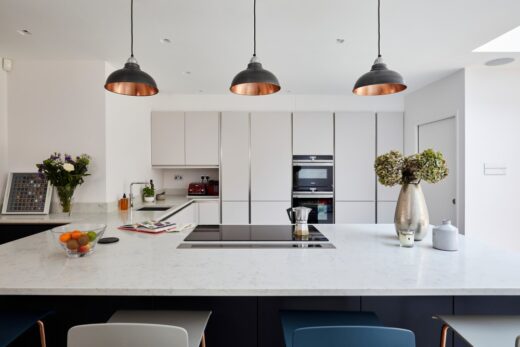 Consider the cost-effectiveness at every stage of your project
With the cost of living rising, including the cost of materials, finding ways to reduce your overheads and build a sustainable, affordable home is imperative. Thankfully, there are several ways to maximise your budget and avoid overspending.
Use cost-effective materials
Most people assume cost-effective materials are less attractive or effective than their alternatives. However, materials such as reclaimed wood, bamboo, straw roofing, natural stone, and traditional red bricks are all aesthetically pleasing, durable, and budget-friendly.
Another way to keep building costs down is to retain any materials you already have in your house. For example, can your floor slab be used to save you money on digging new foundations? Explore the condition of your current property and see what materials you can keep. This will also help you avoid costly assumptions.
When it comes to decorating, save money by using off-the-shelf sizes. Pick products from brochures such as Velux roof windows to avoid elements being made to measure or bespoke, which can all increase their cost.
Think about the structure of your extension early on
All structural elements need considering when producing the design to ensure there's a balance between aesthetics and cost. For example, some homeowners desire an 'exposed beams' aesthetic, but it's more costly due to applying finishes and fabricating nice details. Conversely, if the joists and beams are boxed in and hidden, less precision with the ceiling finish is required.
Build your kitchen extension near services and drains
To avoid complicated or unfeasible solutions in terms of your home's drainage and water supply, keep rooms such as your kitchen or downstairs toilet as close to services and sewers as possible. This makes installing your plumbing much easier (and cheaper!)
Keep your construction light
Not only do you need to consider the cost-effectiveness of the materials you use, but also their weight. For example, materials such as timber frames, laminated veneer lumber, pre-fabricated panels, autoclaved aerated concrete, self-healing concrete and corrugated iron are all lightweight building materials that are easy on the budget. Smaller foundations are required with lighter loads, which results in less digging, less labour, and less concrete.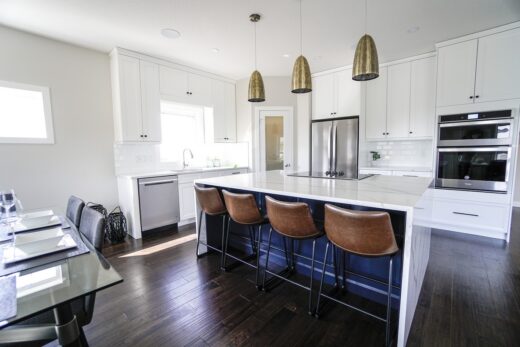 Select building methods that suit your contractors
To save time and money, try to select building methods and build-ups that best suit your chosen building contractors. For example, they may prefer working with timber, so a timber frame construction such as a timber suspended floor might be the most cost-effective option.
Simplify your project where possible
Consider where you can simplify your project. Can the roof design be changed to make it easier to build? Do internal walls need moving or can you work around them? Simple builds take less time and cost less money.
Extend this ethos to your finish and fittings. By choosing these carefully and exploring various suppliers, you'll achieve the desired finish at a fairer price.
Play around with the layout
Once your finances are in order, it's a great time to explore the layout of your kitchen extension. For rear and ground floor side extensions, the extra space they afford allows you to play around with unique design options. Think seating, dining tables, kitchen islands and break-out areas to create a multi-functional space.
If you're not sure where to start, grab some masking tape and mark out the extra space you think you'll need. Then start moving furniture and marking the places new features will go. This will help you work out what realistically fits. Do you really need 4m2 of extra space, or will 3m2 be enough?
Give your neighbours the head's up
Being neighbourly is never a bad idea, and this includes speaking to your neighbours when you're planning to extend your home. If your kitchen extension affects your party wall (the wall you share with your neighbour), you'll need them to agree to your home extension. Otherwise, you risk a trespassing charge.
Another benefit of heading next door with a muffin basket is to work out if your neighbours plan on doing their own extension in the future. If this is the case, you could look at undertaking a joint venture, which offers more flexibility. For example, you can often get away with a larger development at the planning stage due to the reduced impact the works will have on each other. It could also save you both on costs if you agree to use one contractor to build your kitchen extensions.
Comments on this guide to 9 expert tips to nail your UK kitchen extension article are welcome.
Kitchens
Kitchen Design Style Posts
Design A Sleek Contemporary Kitchen
Kitchen design ideas that are eco-friendly
Top ways to bring color into an all-white kitchen
Buildings
Residential Architecture Articles
Comments / photos for the 9 expert tips to nail your UK kitchen extension advice – page welcome