Design ideas to achieve a luxurious kitchen, Kitchen material tips, Home interior decor advice, Property cooking space decor
12 Design Ideas To Achieve a Luxurious Kitchen
17 Oct 2022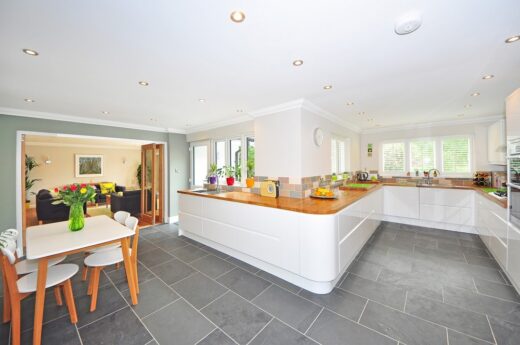 Ready to create a luxurious kitchen to make delicious meals and family memories? If you want to upgrade your cabinets, flooring, backsplash, and more, this article offers some great ideas to change an ordinary cooking space into one with pizzazz.
So, take out your notebook and prepare to jot down some great options shared below to help start your renovation!
1. Kitchen Cabinets with Natural Wooden Tones
Wooden kitchen cabinetry brings a level of craftsmanship and luxury that can't be matched. Whether you're shopping for custom kitchen cabinets in Silver Springs, MD, or through a larger distributor, take advantage of trending contemporary detailing and hues to redesign your cooking space. Avoid darker tones and opt for brighter options to enhance the natural lighting in the room.
2. Rethink Your Countertops
Tired of your tile-covered countertop? Take your kitchen to a luxurious level with a profile relying on different materials to create an impressive focal point. Waterfall styles that create a more dramatic counter appearance greatly change from standard flat slab setups that do little to blend in with the overall aesthetic.
3. Upgrade Your Kitchen Island
A kitchen island is one of the most noticeable features in a kitchen next to cabinetry and countertops. In fact, it's an extension of these aspects! Enhance the attractiveness of your cooking area by upgrading your island with high-end materials and incorporating additional features, such as a dishwasher or sink. Also, consider replacing it altogether and installing one that has a bolder shape instead of a standard cube or rectangle to maximize visual impact.
4. Add Ambiance with Lighting
Kitchen lighting should add more than functionality to your cooking space. Luxury-styled kitchens rely on lights to add depth to the room and ambiance. Ensure that any options you decide to install bring a level of sophistication to your aesthetic and match in shape, finish, and brightness.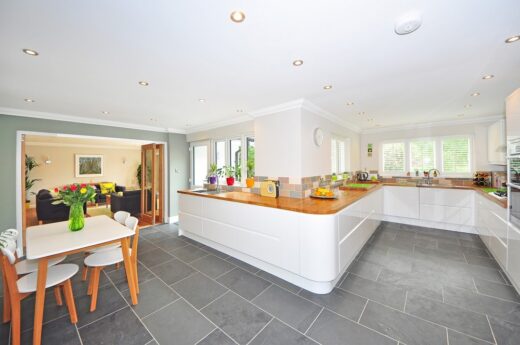 5. Create a Sleek All White Look
Nothing compares to an all-white kitchen. Whether you opt for a more glossy modernized look or go for a classic 50s styling, cooking areas that feature this crisp appearance are highly popular and gorgeous. It's a timeless aesthetic and won't ever go out of style. If you're a minimalist, you'll appreciate this hassle-free look in your home. Make sure you invest in solid craftsmanship and simple lines to achieve this aesthetic.
6. Incorporate Two-Tone Color Combos
Kitchens with a touch of luxury deliver a level of depth that monotone versions do not. Choosing a two-tone combination of colors for cabinetry, walls, and countertops can go a long way in not only creating an interesting cooking space but can weather the test of time when it comes to style trends. Painting your kitchen is affordable and easily redone as your tastes change over time.
7. Go High-Tech
Modern kitchens should feature state-of-the-art features as part of their design. From smart refrigerators to charging stations and touchless faucets, incorporating useful technology to enhance your cooking experiences are a must.
8. Glam Up with a Splash of Metallic
Transforming your kitchen into a glamorous space requires more than luxe materials and custom furniture. You need to bring in touches of copper and gold on your light fixtures, cabinetry hardware, and range hood. Metallic accenting has long been a defining luxury feature, including in your cooking area.
9. Stick with Natural Materials
Whether you opt for a heavily veined marble countertop or woodgrain paneling for your refrigerator, exotic, naturally made materials will add a level of decadence to your kitchen you can't achieve with paint or laminates. When used in a contemporary style, you'll create a beautiful fluidity between nature and functionality that your guests will admire.
10. Work with a Professional Interior Designer
If you want to create a top-of-the-line kitchen experience, definitely take the time to consult with a knowledgeable interior designer with experience creating luxury-quality living spaces. They'll be familiar with the brands and styles representing this aesthetic and can provide insightful advice to get the most out of this area in your home.
11. Don't Skimp on the Details
While you're considering the different materials and color palettes you want to incorporate into your kitchen, don't forget the finer details that create a more elegant space. Think about surface textures and accents when choosing a backsplash or cabinet system. For example, fluted patterns are subtle but add a higher sense of elegance to wooden features.
12. Upscale Your Appliances
Ultimately, the biggest investment in your quest to create a luxury kitchen will be upgrading your appliances. Your refrigerator, sink, dishwasher, and other related components will not only add functionality but elevate the overall design of this room. Consider what your cooking needs are and choose appliances that contribute to the look and feel of your cooking space.
Conclusion
No matter what luxury kitchen design you have in mind, the possibilities are endless for creating the ultimate high-end look. As you decide on your style, color preferences, and overall layout ideas, remember what elements you want to incorporate and the materials you'll use. Also, remember that key focal points will require special attention to pull off a luxe cooking experience, so don't skimp on essential features like countertops or cabinetry.
Comments on this 12 Design Ideas To Achieve a Luxurious Kitchen article are welcome.
Kitchens
Kitchen Design Style Posts
Enhance Your Kitchen with A Dramatic Island Bench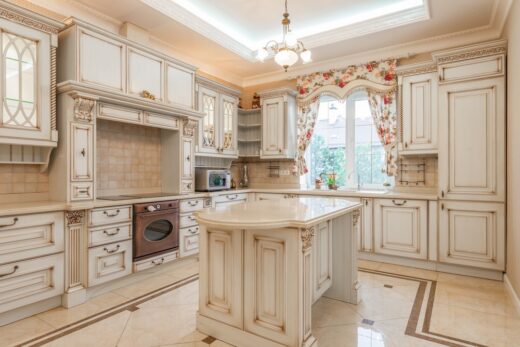 9 expert tips to nail your UK kitchen extension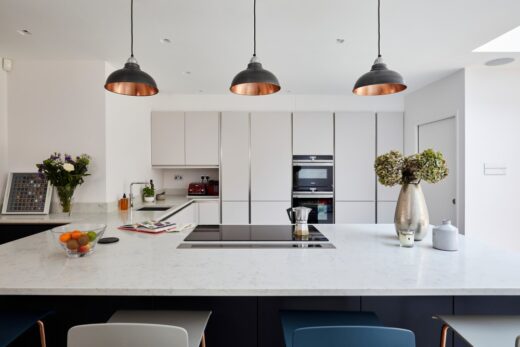 Design A Sleek Contemporary Kitchen
Kitchen design ideas that are eco-friendly
Top ways to bring color into an all-white kitchen
Buildings
Residential Architecture Articles
Comments / photos for the Design Ideas To Achieve a Luxurious Kitchen – page welcome