Top 6 best fabric for outdoor patio furniture tips, Property outdoor space chairs guide, Real estate design
Top 6 Best Fabric For Outdoor Patio Furniture in 2022
10 August 2022
Outdoor patio furniture sets are constantly exposed to different weather conditions and external elements present outdoors. It can be challenging to always protect your sunbrella outdoor patio furniture sets, especially without any protective cover or fabric. Besides offering high-level protection to your outdoor furniture sets, furniture fabric can help you enhance the aesthetic appeal of your furniture.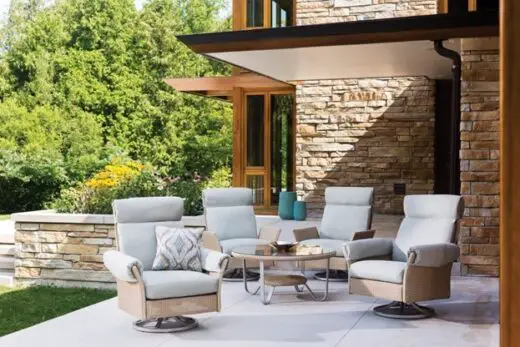 Furniture fabric can be a game changer for your outdoor furniture sets and home exteriors. Therefore, you must make wise decisions when choosing fabric for your sunbrella patio furniture. If you want to upgrade the fabric of your patio furniture but don't know where to begin, you have come to the right place.
In this article, we have listed six best and most popular furniture fabrics that you can consider choosing for your outdoor furniture sets.
So without further ado, let's dive into the article.
Polyester fabric
Polyester fabric is one of the most popular and widely used fabric materials in the market. Polyester fabric is famous for its cheap price and wide color option. Most fabrics made out of polyester offer bright and vibrant color addition to your outdoor decor. If you are looking for an affordable and colorful fabric material, polyester fabric is all you need.
Polyester fabric is water resistant, cos, and readily available anywhere. To a certain extent, this fabric can also protect your furniture from harmful UV rays and other weather conditions.
Acrylic fabric
Acrylic fabric is generated from acrylonitrile material obtained from petroleum and coal. Acrylonitrile is then further polymerized to fabricate acrylic fabric. Acrylic fabric is the best material to use during the winter seasons. It helps you retain heat and keep you warm during cold days. Moreover, these materials are used for manufacturing sweaters, gloves, hoodies, athletic wear, and other warm clothes.
Consider using light and elegant color acrylic fabric to decorate your patio furniture sets. Cushion covers can also help you enhance the visual appeal of your decor.
Marine vinyl
Marine vinyl fabric is known for its material thickness. Most vinyl fabric ranges from 0.06mm to 1.5mm in thickness. Based on the layers used in making marine vinyl fabric and the weight of your fabric, the overall quality of the fabric can be determined. You should consider choosing the type of marine vinyl fabric that matches your budget preference, decor requirements, and other related factors.
Olefin fabric
Olefin fabric is generated by polymerizing propylene gas. It is also known as polypropylene fabric as it is formed from propylene gas. 16% of fabric production across the world is based on olefin manufacturing. The olefin fabric material is an excellent choice for outdoor furniture sets, cushions, and curtains. You can consider making matching design fabric for your outdoor furniture sets, windows, and outdoor decor. Choose a fabric color that matches the vibe of your house and styling preferences.
Textilene fabric
Textilene fabric is another most popular outdoor furniture fabric commonly used for sunshades, outdoor furniture, cushion, and more. Textilene fabric material is generally waterproof, flame retardant, and mold-resistant. If you have kids in your home, then this fabric material can help you avoid mold and other damage issues. However, not all manufacturers offer the same quality of Textilene fabric. It is recommended to check the quality of the fabric before purchasing the product to avoid compromising your comfort levels.
Polyvinyl Chloride (PVC) mesh
Polyvinyl chloride fabric is made from two substances – chlorine and ethylene. Chlorine and ethylene are combined to form ethylene dichloride. Ethylene dichloride is then polymerized to create a powder-like substance called polyvinyl chloride mesh. This substance is further processed to obtain desired color and texture of the fabric. This highly processed fabric is largely-used for industrial and commercial purposes, making it an ideal choice for outdoor furniture sets.
With various options to choose from, it is easy to feel overwhelmed. Choose the fabric considering your comfort levels and budget preferences.
Comments on this guide to Top 6 best fabric for outdoor patio furniture article are welcome.
Property Patios
Patio Design and Furniture Posts
13 tips to help you decide on patio furniture
How do you make a peaceful patio
10 design ideas to breathe life into your outdoor patio
Make your patio into inviting gathering place
Creative ways to enhance an outside patio
Residential Property Articles
Contemporary Property Articles – architectural selection below:
Comments / photos for the Top 6 best fabric for outdoor patio furniture Guide page welcome