Top 4 European cities to travel to for architecture Guide, Building Design Tips, Online Advice
Top 4 European Cities To Travel To For Their Architecture
6 Jun 2021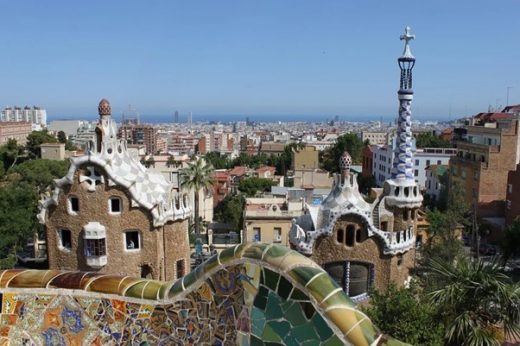 Do you get swept off your feet by walking or driving through cities with stunning buildings, bridges or other architecture? Then we have listed four cities where you must travel to. We, as architecture enthusiasts, have selected four cities which you have to visit. So read this blog and get ready to be inspired for your next holiday.
1.    Amsterdam
Amsterdam, the capital of The Netherlands, has one of the best architecture in the whole of Europe. With the many canals that run through Amsterdam, you could say it is quite pittoresk. But when you arrive at The Damsquare, there is the Royal Dam Palace which hallmarks the golden age at best. There are many other architectural properties from that time when you walk around the canals.
Another great masterpiece in Amsterdam is the Rijksmuseum, which is the largest museum of The Netherlands. It houses historical art pieces such as those of Rembrandt, Vermeer and Van Gogh. Interested to see more architecture of the Netherlands?
We suggest you rent a car without a credit card (Dutch: auto huren zonder creditcard). There are many other places close to Amsterdam when considering renting a car. For example: rent a car in Almere (Dutch: auto huren Almere), this is close to Lelystad where you can visit the Batavia, a ship that sailed all the way to the South of Africa in 1629.
Must sees: Nemo Science Museum, Beurs van Berlage, Muziekgebouw, EYE Film Museum.
2.    Barcelona
When you think of Barcelona, most people tend to think about FC Barcelona and Camp Nou. But you, as an architect junkie, may think about Gaudi. A Catalan architect who designed many buildings in Barcelona. His best known building is of course: Sagrada Familia, the absolute highlight of Barcelona nor Spain. The Sagrada Familia is known for being the church that's never completed.
But it's expected to finally be finished in 2026, 100 years after Gaudi's death. Barcelona's architecture is described as colourful, harmonious, naugthy and distinctive. You'll notice when walking through the city, that every corner is angled. This is because this detail would result in greater air circulation in the streets and there would be a higher visibility around the corners for cars and public transport.
Also, when you take a helicopter view over the beautiful city of Barcelona, you can glare at the grid pattern of equally sized blocks. Barcelona has a stunning architecture that is definitely worth your while.
Must sees: Palace of Catalan Music, Basilica de Santa Maria del Mar, Casa Vicens, L'Eixample District.
3.    Helsinki
Helsinki is typified as a young European city. With Helsinki being the third largest Nordic city, it has a lot of magical architecture to offer. The style of architecture can be seen as minimalistic and modern and functional. Helsinki is a city without any skyscrapers.
However, since the increase of population is immens, there are many conversations about the fact that this will soon be over. So, grab your chance while you can. There are many places to visit in the Finnish capital. Wherever you go, it's up to you. Be amazed at the typical minimalistic architecture which forms an unique and cohesive example of Neoclassical architecture. Which is characterised by a grand scale of greek/roman details, simplicity but dramatic use of columns.
Must sees: Museum of Contemporary Art Kiasma, Helsinki Music Centre, Kaisa-talo, Kamppi Chapel, Löyly.
4.    Budapest
Budapest is often referred to as "The Paris of Eastern Europe", and they're not wrong. We want you to put Budapest on your list to visit, right now! Because throughout Budapest there are multiple styles that all point to the Eastern European heritage.
It's absolutely breathtaking. Stroll across the Szécheny Chain Bridge with your love. The first bridge that spans the river (Danaube) between Buda to Pest which led to development of the city Budapest. The city and its architectural buildings are well preserved throughout the years which, as a result, is a delight to anyone who's hungry for Hunagry's architecture.
Must sees: Church of St. Anna, Museum of Applied Arts, Szent István Park, Napraforgó Street.
Top 4 European Cities To Visit For Architecture
Are you going to buy your plane ticket, rent a bus or jump on a train to one of these beautiful cities? Bear in mind that there are still many Covid-19 restrictions which you'll have to follow when you enter another country.
Comments on this Top 4 European cities to travel to for architecture guide article are welcome.
Travel
Travel / Dating Posts
Best cities to visit for casual dates
Building Design
Architecture Design Articles
Comments / photos for the Top 4 European cities to travel to for architecture advice page welcome