5 Brands that will give your kitchen an upgrade Guide, Building Design Tips, Online Property Advice
5 Brands that will give Your Kitchen an Upgrade
6 Jun 2021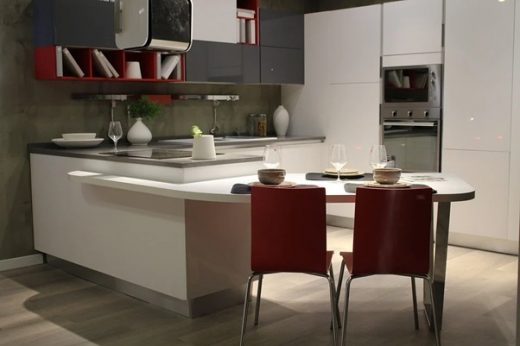 Have you bought a new kitchen and are you looking for items that fit its exclusive and luxury style? Or are you done with your old kitchen and do you want to give it an upgrade without having to renovate everything? Well, in both cases you have found the right article. In this article we tell you about some cool and luxurious brands that have fun, innovative and high quality items for your kitchen. With these items it is super easy to give your kitchen the luxury finish it deserves.
If you are not in the mood to remodel yourself but have a fine taste for luxury, then you should opt for ex display designer kitchens from brands you know and trust. Having a ready made kitchen that fits your mood is just the best idea ever.
From toasters to taps and from ovens to refrigerators, the five brands in this article have everything you need. Are you curious what brands we are talking about? Then make sure to read on!
Smeg
Are you looking for real design products for your kitchen that are absolutely a feast for the eyes? And is it not a big deal if it comes with a hefty price tag? Then the Smeg products are for you. Smeg responds to design and ensures that your equipment becomes the focal point of the kitchen. Smeg sells retro-style refrigerators, toasters, kettles, coffee machines and kitchen mixers in cool colours such as red, pastel green, pastel blue, cream and pink. For example, upgrade your kitchen with Smeg items in the same colour. Combine a red refrigerator with a red toaster and kettle and your kitchen is more retro than ever. Or combine some pastel green and pastel blue Smeg kitchen appliances and give your kitchen a vintage look.
Miele
"Immer besser" is Miele's motto. And that is not without reason. Miele kitchen appliances are of the highest standard, whether you buy a refrigerator, oven or dishwasher. In addition, Miele has products with a sleek design. They are modern and impeccable. If you are looking for kitchen appliances with the WOW factor, then Miele is the right brand for you!
KitchenAid
One of the most prominent brands in the field of high-quality kitchen appliances, is the American brand KitchenAid. This brand is known for its colored stand mixers or – as the brand calls it – kitchen robots. The kitchen robots need less power to give a lot. But also blenders, kettles and hand blenders are among the top appliances from Kitchenaid. Here, too, design plays a major role. You will find Kitchenaid equipment in cool colors such as cream, green and dark red. Because of the high quality and cool design, KitchenAid appliances come with a price tag.
KitchenAid also has a mixer specially designed for smaller kitchens: the Artisan Mini mixer. The Artisan takes up a lot less space on your kitchen countertop. And it saves you some money as well! With the Artisan mixer you are more than ready for some baking. Just make sure you put on kitchen shorts to avoid splashing on your merino t shirt or merino longsleeve.
Meir
Have you ever heard of the brand Meir? Meir is an Australian brand specialised in coloured high quality taps. They have taps for the bathroom and toilet, but also for the kitchen. The special thing about Meir's taps is that they come in different colours. For example, Meir has taps in black, gold and rose gold. The taps are colourfast and rust resistant due to the galvanised finish. Galvanisation creates a hard layer of metal on the faucet and is more wear-resistant than traditional spraying or powder coating of faucets. There are also other brands on the market that sell coloured taps, but other than Meir, they often sell taps that are sprayed are powder coated.
Siemens
The brand Siemens also has top quality kitchen appliances and is and will always remain innovative. They also use an app with which you can control various kitchen appliances from your mobile phone. If you are looking for products where technology is central, then you have found the right partner in Siemens.
With kitchen items from the above brands, you can be sure that you get everything out of your kitchen. Whether in the field of design or technology or a combination. Which of the five brands listed in this article do you prefer? We are very curious!
Comments on this 5 Brands that will give your kitchen an upgrade guide article are welcome.
Kitchen Design
Kitchen Articles
Installing Modular Kitchen in Your Home
Selecting the Right Storage Cabinets for Your Kitchen
Natural Stone Countertops in Your Kitchen
Building Articles
Residential Architecture
Comments / photos for the 5 Brands that will give your kitchen an upgrade advice page welcome