Tips and tricks when repainting your house, Building protection tips, Online property paint advice
Tips and Tricks when Repainting your Home
10 Nov 2021
Did you know that to keep your house not only looking sharp but also to keep it protected from the elements and free of rot you should be painting the exterior of your home every five to seven years? Most homeowners don't realize how often they need to be painting their homes and the longer you go between paint jobs, the more problems happen to the structure of your home.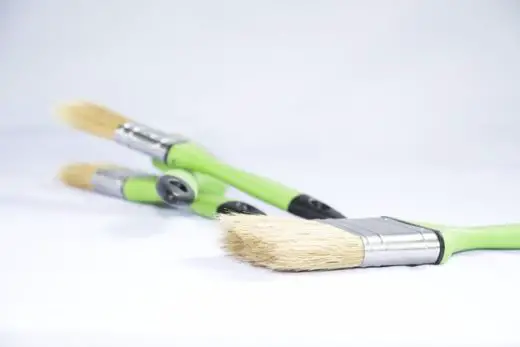 Tips and Tricks when Repainting your Property
But how do you know where to start when you have never taken on such a big home improvement project? Well, it's helpful to look to the experts to see what they recommend. Just like any big home improvement project, experts recommend taking some time to research and plan before starting. You have some choices to make and you need to know how to make them. 
Things like paint colors and materials on the house will impact the choices you make. It is also helpful to make sure you have the time to dedicate to painting as it can often take several days to finish painting the exterior of your home. Start with a plan and use the tips to help make your house bright and beautiful with a fresh coat of paint.
Choose A Color First
You've been scrolling Pinterest and searching the web and you think you've found the perfect color to paint the exterior of your home. Now what? Well, choosing an exterior paint color can be complicated simply because of lighting. So before you invest a lot of money by purchasing gallons and gallons of your favorite exterior paint color, take a few samples home and test them out. 
Contractors recommend putting the samples on all of the different sides of the house and then looking at the color during different times of the day. This allows you to see the color in all of the different shades based on the amount of light. Once you choose a color, make sure that the trim color will correlate well with it. It is helpful to put the two colors side by side to see how they work together. 
Fix the Problems First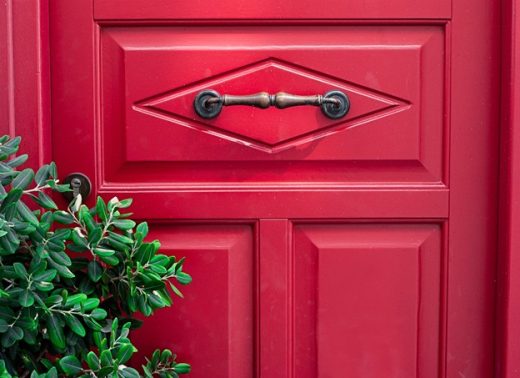 Now that you have chosen your dream color you are ready to start right? Not exactly. As tempting as it may be to take a brush and roller and just start painting, it is important and necessary to make any structural fixes first. Depending on the type of siding on your house and how often it has been painted over the years, there can be a varying amount of fixes that need to be made.
If you have any rot, it is worth hiring a professional to fix this first. Although it is true that paint adds protection to the siding, if you are painting over rot you are putting a bandaid on a much bigger problem. So as much as you may not want to address the problem, it is necessary if you don't want to have any even bigger problem further down the road. 
There are a lot of tips and tricks to painting your house, but no matter what you do first, you need to make sure your house is safe and secure from rot or decay before adding a new coat of paint. It is also important to seal up any cracks along the surface before adding a fresh coat of paint on top. 
The 3 Ps: Pressure Washing, Protection, and Priming
Most novice painters think that once you have filled in the cracks with caulk and protected window and door trim then you are ready to paint. But you are missing one very vital and crucial step: pressure washing. In order for the paint to truly stick and stick well, you need to pressure wash the entire house.
This will not only make sure you are starting on a clean surface, but it will also help to get rid of any chipping paint or debris that may have built up over time. Both before and after you pressure wash, make sure you have used painting tape to protect the window and door trim. 
Once everything is set in place, priming comes next. You want to choose a prime color that is closest to the final paint color. Although the prime color is underneath the final color, it can impact how the final color appears if it is too dark or too light. Ask your local hardware store what primer they would recommend. 
Tricks of the Trade
It may seem like starting at the bottom of your house would be easiest, but most commercial painters and painting contractors would recommend starting from the top. If you work from the top down, any drips or streaks can be covered up easier as you go along. And before you start, remember to protect things such as bushes or flowers that you don't want to be covered in paint with drop cloths or plastic because a spill or drip is bound to happen. 
You've planned and prepped and now you are finally ready to put the first coat of paint on. Pros in the painting business say it is best to use a sprayer if possible. Spraying the paint ensures that the paint will go on evenly across the surface of the house. 
There is also a trick called back-rolling where another person comes behind the sprayer with a roller to even out the paint even more. Whichever of the different painting methods you decide to use, you want to make sure the paint goes on evenly to give the exterior of your home a clean and crisp appearance. 
Bringing New Life to Your Exterior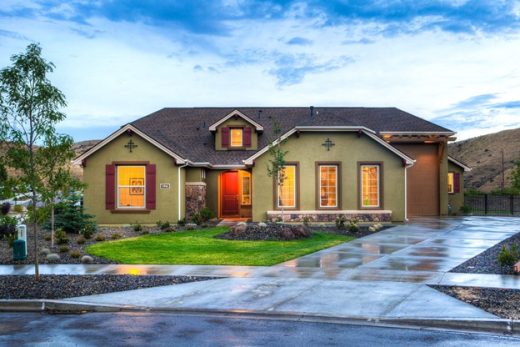 Painting the exterior of your home is a large task to take on yourself, but it is definitely possible. And once you finish the job, the reward is absolutely worth it so that not only does your home look brand new, it is also protected from the elements for at least another five years.
And even better, you saved some money in the process, so you can treat yourself to a getaway to recover your sore painting muscles. The best part is that when you come back home from your well-earned vacation, you will pull up to a house that looks beautiful and know that you are the one that made it happen. 
Comments on this Tips and Tricks when Repainting your House article are welcome.
Painting Your Home
Painting Your Home Articles
Acrylic Painting Materials To Include In Your Studio
Exterior Painting Based On Your Home's Style
Things You Should Know About Painting Your Home
Residential Buildings
Residential Architecture
Tee House, Celadná, Czech Republic
Design: CMC architects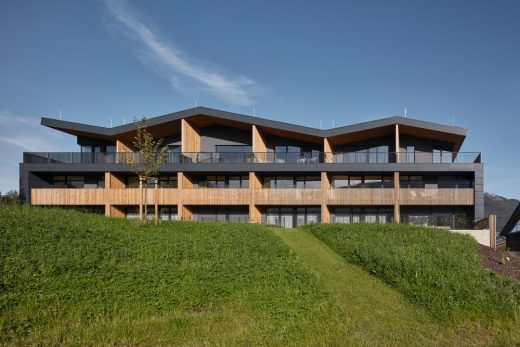 photograph : BoysPlayNice
Tee House Wellness Center, Celadná
Comments / photos for the Tips when Repainting your House page welcome