Things to know about container housing guide, Building home tips, Permanent eco-friendly property advice
Things to Know About Container Housing: buying or building
5 May 2021
What to Know About Shipping Container Homes Before Making a Purchase
Are you considering buying or building a shipping container home? If so, you are not alone. The use of shipping containers in architecture has been a cool trend for the last couple of years. In fact, the popularity of shipping container homes continues to grow. The benefits are many, starting with the price. If you can't afford a classic home, you might be able to afford a container-style house instead.
There will be a significant cost reduction when working with shipping containers. Along with affordable pricing, the fact that shipping container housing is Eco-friendly is also a significant perk.
Coupled with fast building, the ergonomic shape and size, building with shipping containers allow for some truly creative results. However, before jumping into the container housing market, there are quite a few things you should know.
Let's take a deep dive into the many things you should think about before purchasing a shipping container home.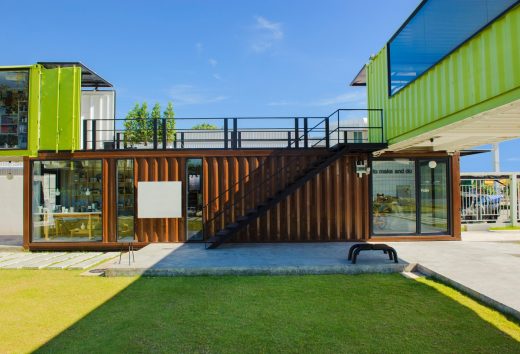 photo courtesy of author
Things to Know About Container Housing Before Buying or Building One
Simplicity Doesn't Mean Being Irresponsible
If you decided on this housing choice for yourself, you should still pay a lot of attention to several aspects of shipping container houses, no matter the reasons for it.
There are certain elements that you have to supervise in the process of getting your shipping container house. Every little element is important and needs your full attention if you want the best for your future living. Take a look at Shipping containers for sale.
However, don't stress out too much. There is no need to get through this process all by yourself. There are architects, construction counselors, interior designers who will gladly explain all the options and variants.
Important Aspects of Container Housing
Please remember to take these steps when researching this kind of housing project, so you can fully enjoy your new shipping container home.
Verify the containers before buying them.
You can read the container's technical specs, even gather reviews, and look at online photos. Doing so, however, won't guarantee that you have the perfect idea of the containers you are about to buy. The best course of action, if possible, is to go to the warehouse of your provider. It would be best if you asked to see the containers and inspect them inside out personally.
Before committing to a container purchase, you need to know what you're buying. Like any other product, there can be various levels of condition and quality.
Is it a One-trip Container?
When you are researching shipping containers for your project, more than likely, you're going to encounter what's referred to as a one-trip container. A one-trip container will only be a little bit more expensive than a used container. As the name implies, a one-trip container has only been loaded with goods and shipped once.
After reaching the final destination, they are sold for other uses. The price is still affordable. As we said, the difference from the other ones is not that significant. Yet their condition is great, after being only one time overseas.
Know The Local Regulations on Shipping Container Housing
You want a shipping container house, but do you know your country's regulations regarding this type of building? The rules and norms differ so much from one place to another, so you can't do absolutely anything that crosses your mind.
In some countries, there will be different limitations and standards. You will need to know the local regulations to ensure that you can build a shipping container house.
For example, in the US, there are only some states that openly accept container housing. The states of Oregon, California, Alaska, Tennessee, Texas, Louisiana, and Missouri all find shipping container homes a perfectly acceptable housing choice.
With the need for more affordable housing evident, it is certainly possible that other areas will become more receptive to have container-style housing choices.
Before having your heart set on building a container home, make sure you check with local officials to see if they will grant you a building permit.
Check All The Container Options
When it comes to shipping containers, you will find there are a few options. There are different heights, widths, lengths, materials, etc. If you want to be creative and get the house as close as possible to your dreams, check several options before buying them.
Generally, there are two common sizes which are 40×8 which provides 320 square feet of living area, and 20×8, which gives you 160 square feet of living space.
The standard container ceiling height is 8.5 feet. There is, however, a version available that has a slightly taller ceiling. These higher ceiling containers are known as "high cube."
Personally, if you can find one, they are a much better option than the standard height container. These containers have an additional foot of ceiling height which makes an incredible difference. Where the extra foot really comes in handy is when you start insulating.
A High Cube container is approximately fifty percent more costly but well worth the extra money. Take a look at some of the neat shipping container houses found in the Czech Republic. The more you look the more chances you'll find ideas to incorporate into your thought of well-designed living space.
Gaia Shipping Container House by Architect Joshua Woodsman – Pin-Up Houses in the Czech Republic: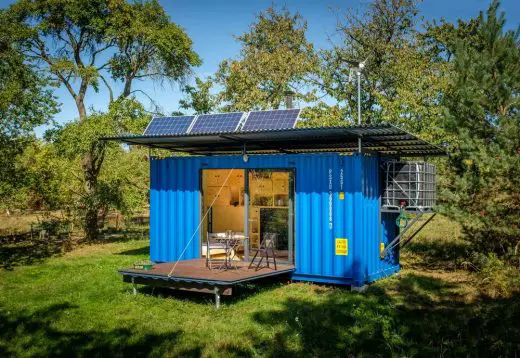 photograph : Jakub Zdechovan
Work With Shipping Container Professionals
If you want the best result, hire a contractor that is specializing in container housing. Work with professionals that cover all the steps, even from the very first idea emerging in your mind on what your dream container will eventually look like.
Much like modular housing, shipping container homes are a specialty that only certain contractors are familiar with.
Learn About Container Housing Structure
Knowing what you can and cannot do with shipping containers, learn a bit about their structure and limitations. For example, do you live in an area where there are high winds? How about an area that has significant water? These are the kinds of things you will need to plan for in advance.
You Still Need a Budget With Shipping Container Homes
Expect to spend some decent money. Even if container houses are cheaper, don't expect to have a minimal budget. If you want quality and good living conditions, prepare to spend the right amount, even if it exceeds your initial expectations.
Try For Minimum Welding
Minimum Welding is certainly a key when building a shipping container home. For your final shape and structure, avoid too much cutting and welding whenever possible. The more cuts you make in a container, the weaker it will become. It will also increase your expenses as well.
Your Insulation is Key With a Container Home
Insulation is a key factor in your container home project. Insulation is one of the most vital factors to get the best comfort within your shipping container home. Work only with the best specialist for this step. Shipping containers are susceptible to any climate changes. You need to have good insulation if you want to have a protected house, no matter the outside conditions: wind, rain, snow, storms, etc.
Remember you are working with a large metal box. Have a plan for insulating right from the get-go.
Plan Your Plumbing In Advance
Properly planning your plumbing is smart whether you are building a traditional home or a container house. Start deciding how the plumbing will work before buying the containers and deciding the house structure. Much of the thought process will center around how you plan to incorporate your kitchen and baths into the structure.
Seek Out a Builder For Your Container Home
As shipping container homes continue to grow in popularity, there are bound to be more and more builders entering the market. Picking someone who has experience working with shipping containers will be essential. Do your homework like you would when selecting any other kind of contractor. Get some references and speak directly to the customers.
Final Thoughts
A shipping container home could be a great housing alternative or could be something you end up wishing you had not done. One of the key things to consider is that they are very much like tiny homes unless you really do some significant customization with numerous containers.
Hopefully, you have found our tips on what to think about with shipping container housing to be useful in your decision process. As you can see there is quite a bit to know before buying or building a shipping container home.
Comments on this Things to know about container housing article are welcome.
Building Articles
Modular building like a shipping container cafe
Benefits of Living In A Container Home Guide
6 Things To Know Before Building A Shipping Container Home
Building Articles
Residential Architecture
Comments / photos for the Things to know about container housing page welcome